2020 was an absolutely wild year. Our lives changed dramatically, and for the most part, we lived in fear. The virus impacted so many people, from losing jobs to losing loved ones. This experience was certainly eye-opening, reminding us that the only constant in life is change.
The world focused on important things: appreciating your friends and family, caring about keeping others safe, and being grateful for those who put their lives at risk for us.
Today I'm sharing a list of 100 things I did in 2020: the good and the bad. It's important to me that I don't just share a 'highlight reel', or look at things through rose-tinted glasses. This year was pretty terrible, and I'd like to remember that both good and bad times happened.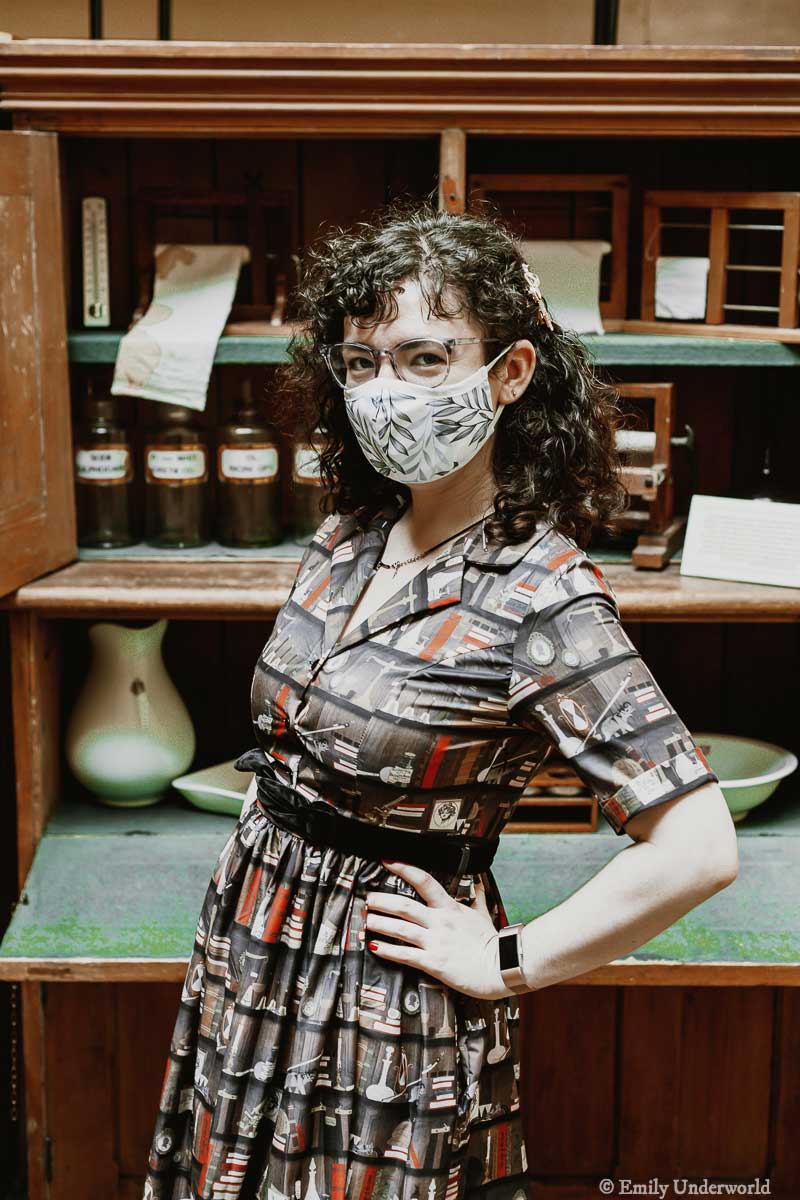 I decided to keep a 'quarantine diary' in 2020, because writing helps bring me some solace, and well… I didn't have anything better to do!
2020 started on a high for me: finishing my Master's degree, starting a new job, and watching my friends graduate. Then March happened, and it all went downhill. Doomscrolling, living in absolute fear because I'm immunocompromised and crying over such horrific news.
Things got a bit better over the summer, but overall it's been pretty atrocious. I've tried my best to enjoy creative hobbies, and I'm very grateful to live with my friends, but it's been tough.
Here are 100 things I did in 2020… in no particular order.
Got a Merit in my Master's degree! I'm really proud of this.
Started a new museum job in March… then got furloughed after working there for one day. Yes, I'm serious.
Got my first curly girl haircut at Curl Talk London.
Lost my Great-Grandmother. May she rest in peace.
Had a 'proud mum moment' watching my friends graduate from their Master's degrees in January.
Shielded and isolated a lot, because I'm immunocompromised. Lupus isn't fun!
Felt very grateful for my flatmates, who followed covid restrictions and respected that I'm at risk. They even went on a scavenger hunt to various shops to find me some paracetamol at the beginning of lockdown.
Listened to Taylor Swift's new music… a lot.
Played many hours of Animal Crossing New Horizons.
Visited the Old Operating Theatre and Herb Garret. It's amazing!
Wrote 59 blog posts, and updated lots of old posts.
Set up a Bookstagram! Taking photos of books this year has been such fun.
Started a second blog, all about blogging and freelancing.
Sold some art on Redbubble.
Uploaded some YouTube videos, after abandoning my channel in 2017.
Read 77 books. I might aim to read 100 books in 2021! Feel free to add me on Goodreads.
Educated myself about Black Lives Matter.
Got rid of my 2020 planner. What a waste of a year, am I right?!
Cried. A lot!
Meditated.
Stopped wearing makeup. I'm not going out anyway! This has really helped me feel better about my face.
Went for lots of walks around the East London canals.
Said a very emotional goodbye to my bestie Alicja, who moved to Oxford for her job.
Stopped dyeing my hair… I'm letting my grey hairs flourish!
Migrated my blog to Lyrical Host.
Started an embroidery hoop… that I still haven't finished. Oops.
Made some fonts. Check out my Shop and Freebie Library if you want to have a look.
Had a smear test.
Watched a lot of documentaries. I shared 15 Must-Watch Netflix True Crime Documentaries, give that a read if True Crime is your thing!
Re-watched all the Pixar films on Disney+, and loved their new film Soul. Read my top Disney Plus recommendations post if you like.
Did some virtual museum tours. The Frieda Kahlo museum is amazing, I'd love to see it in real life some day.
Slowed down, and appreciated the little things.
Missed my friends and working in a team.
Baked many tasty treats.
Visited Kew Gardens again, one of my favourite places.
Sat in a park with a friend for hours and hours, catching up until it got dark.
Removed 200 inactive Instagram followers… yes, it took hours. I've had my account since 2011!
Walked to Tower Hamlets Cemetery Park a few times. It's my favourite local area for an escape.
Learned how to cook lots of different meals.
Had a huge clear-out of clothes, books, and random junk.
Played guitar and sang.
Melted in July during the heatwave.
Enjoyed some peaceful moments sat outside in the sun with my flatmates.
Signed a lot of petitions.
Bought some new plant babies from Patch.
Planted some wildflower seeds.
Got lots of emails from my Grandad featuring his latest paintings.
Went to the cinema in January to see Little Women.
Filmed myself singing! I uploaded a few videos to TikTok, I'm proud of myself for battling 'the fear'!
Stayed up all night for the summer solstice.
Reflected on what I want from life, and stopped giving so many f*cks. I wrote a blog post on things to stop caring about.
Stopped shaving my legs.
Spent less time on social media, and took a break from blogging.
Went viral on Pinterest!
Watched all the Studio Ghibli films.
Obsessed over Baby Yoda in The Mandalorian.
Wished I had an alethiometer from His Dark Materials.
Complained for a week when we didn't have any internet.
Went nocturnal for a period of time.
Felt hopeful for America after listening to Kamala Harris' speech.
Practiced Italian on Duolingo.
Savoured a caramel latte from Greggs.
Wrote in my journal, and kept a food / chronic illness symptoms diary.
Turned 25 on Halloween.
Illustrated some sunflower cards for Thortful.
Video called my family.
Hugged some trees.
Ate fish and chips with a teaspoon because our kitchen drawer got stuck.
Cut my partner's hair… terribly.
Redesigned my blog… twice.
Handmade some gifts for my friend's birthdays.
Created some filters for Instagram stories.
Made some gif stickers on GIPHY. They currently have 50 million views!
Ate cereal for dinner, because I can.
Published my first Medium article, all about my experience discovering I have aphantasia. 
Watched the Twilight series for the first time since I was a teenager. I laughed, a lot.
Paid off my student overdraft! This is a big one for me, I've been battling it for several years.
Made some free printables and phone wallpapers.
Changed my blog ad provider from Adsense to Ezoic.
Did a lot of university research studies, and earned £350 from them.
Reached 5000 followers on Pinterest!
Found lots of new blogs to read.
Made some adjustments to my clothes. I'm not amazing at sewing, but I'm learning.
Didn't buy any new clothes, shoes or makeup for the entire year. A big achievement for me!
Started using period pants and washable sanitary towels. Blog post coming soon, but essentially, I love them.
Deep-cleaned our house.
Uploaded some free stock photos to Unsplash.
Reconnected with an old friend from childhood.
Counted all the loose change I could find in our house. Yes, I got that bored.
Had my first Christmas away from my family.
Finally got a weighted blanket and a SAD lamp! Thanks to my very generous brother who absolutely spoiled me at Christmas.
Worked on loving myself more.
Cleared out my email inbox. It took hours, but totally worth it.
Set up a printables shop on Etsy.
Unfollowed people on Instagram who make me feel bad about myself, and diversified my feed a lot more. Now I'm finally loving it again!
Had a lot of 'kitchen rants' with my flatmates about the government, Brexit… the usual.
Celebrated my Graduation at home, and had a photoshoot with my partner, because the ceremony was cancelled.
Played a lot of solitaire.
Ran out of medication, and had some horrible side effects. I'm very grateful for NHS 111!
Set myself some reasonable goals for 2021.
What did you do in 2020?
If you decide to write a similar list, let me know in the comments. I'd love to read it!
Let's hope that 2021 is even just a little bit better than 2020.
Wishing you all the best,