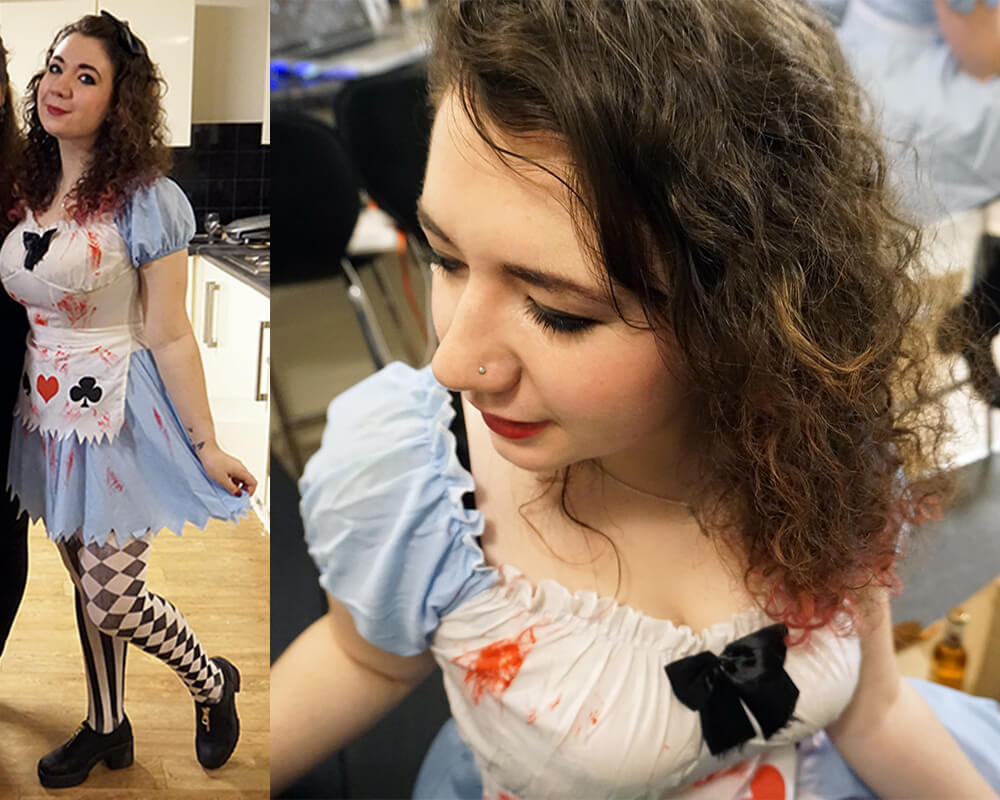 Just about everyone and their dog knows it was my 20th birthday on Halloween, because I made such a huge deal about it. It feels weird not being a teenager any more… do I have to be responsible now?! I took a few days off social media because I had 4 2000 word essays due for uni, and had a few nights out with my friends to celebrate my birthday / halloween. I'm back now, and I figured I'd have to share with you what I wore for halloween!
Alice in Wonderland is one of my favourite books / films ever, so of course I wanted to be her for halloween. I found an awesome zombie Alice outfit, so I went with that, but instead of doing zombie makeup (I lack the skills), I just decided to be 'dead' with foundation slightly too light for my face and a lot of black eyeliner.
On Friday night, I went on the bloggers #HauntedLDNPubTour (yes, while dressed up), then headed to my uni bar for a few drinks with my friend. Then we headed to the club Saucy, joined by another friend because they had a halloween night on. By this point, I'd had far too many drinks, but when it reached midnight, of course I had to have a birthday shot. My friends started loudly singing happy birthday to me, joined by random strangers, and I died of embarrassment at the thought of being 20 years old. The night ended with a 4am McDonald's of course, it was perfection.
On Saturday, I watched Sweeney Todd with my flatmates while trying to recover from my hangover and opening my birthday presents. I got a lot of Alice in Wonderland gifts, which are so cute! We then got dressed up, and had a few pre-drinks while waiting for our other flatmates and friends to join us for my birthday party. We took a ton of photos, some of which are up on my Instagram, but we were already wasted by this point! Silly games like Ring of Fire and Cards Against Humanity, combined with PIZZA and tequila made it an awesome night. I'm so grateful to have such lovely friends who made an effort to organise two nights of amazing-ness for me. Oh and one of my best friends came as an 'alive' Alice in Wonderland, so we made the perfect duo of 'before and after death'! ?
Thanks for reading, I hope you all had a lovely Halloween!