It's that time of year again… Valentine's Day is coming up. It's a bit like Marmite, you either love it or hate it. My boyfriend is in California until June, so we can't be one of those annoying couples and go on a cute dinner / cinema date, but that hasn't stopped me from procuring a few little gifts and a cute card for him, which will probably cost a fair bit to post to the US.
Last year, my boyfriend and I weren't "officially" together until a few days after, but we spent the day making pancakes together, he watched Tangled with me (definitely a keeper if he'll watch Disney princess movies), and then we saw Big Hero 6 with my best friend, which was lovely. This year, I'll probably be spending my Valentine's Day with my friends getting a bit drunk and complaining about life the universe and everything, (like we do every weekend), so I'm more on the "I hate Valentine's Day". Perhaps we should stay in the flat all day to avoid seeing cute couples and resenting the fact that my boyfriend is in America.
I digress. Today I'm showing you the personalised gifts I got my boyfriend from Snapfish, and maybe a cheeky item or two for myself – I'm sad and lonely okay?! 
When looking for a card, I tried to find the most un-romantic one I could… maybe a bit ironic for Valentine's Day, but we're just not that kind of couple. I decided on a cute one with a picture of cookies and milk on it, which was £2.49. Continuing with the 'we're a weird couple' theme, I realised that the only photo that exists of us together is a hideous Halloween one from 2014, dressed up as Scooby Doo characters, when we were just friends. Since then, we've not taken a single photo together, so I decided to get it printed on a cute little magnet to go on my fridge to laugh at. The magnet was £2.99.
For my boyfriend's actual gift, I got him a large mug with a collage of pictures that remind me of him… mainly food. He likes to cook me breakfast, so I included a picture of that, a curry from a lovely Indian restaurant we had dinner at when he came back for Christmas, and a few other pictures of him being an idiot, along with the ugly Halloween photo again. The mug is bigger than a standard one, so it's perfect for him, a tea addict! The mug was £12.99, and I'm not going to risk shipping it to California, so it'll have to stay in my flat until he returns.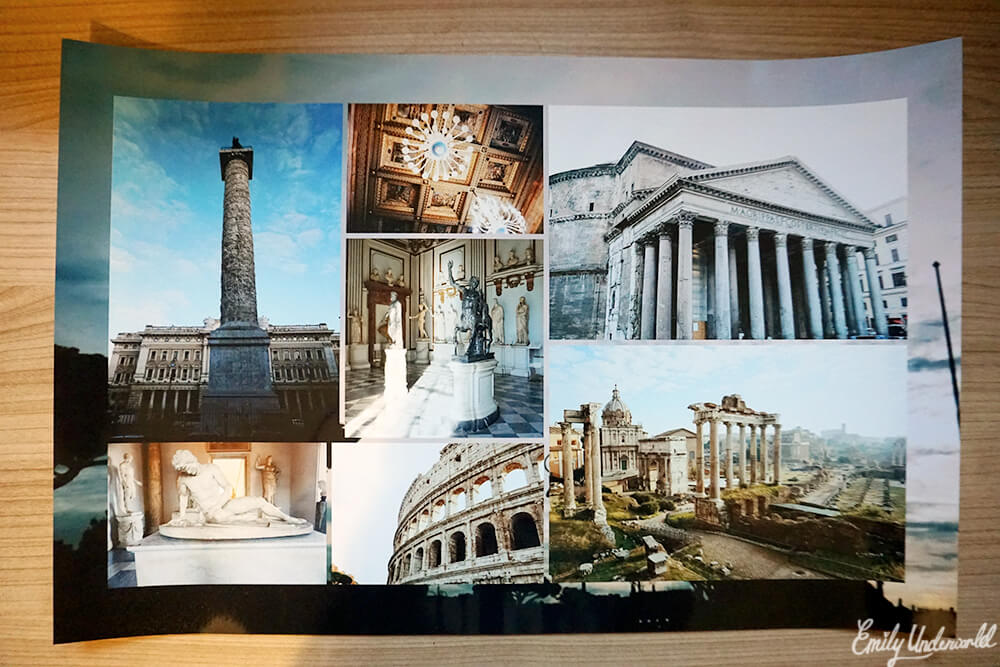 I couldn't think of what else to get him, so I decided to treat myself a little and get an amazing collage poster print of a few of my Rome photos. You've probably seen these photos before in my Snapshots from Rome blog post, and two of them actually won prizes from my university last week, which is exciting! I decided on the 18″x 12″ size for only £6.99, and the quality is amazing, it's going to look great on my wall. The Snapfish website is so easy to use, I arranged my photos exactly the way I wanted them, and even used one of them as the background, which makes it even more unique.
These arrived in literally a few days – Snapfish are definitely on the ball with getting personalised items made and delivered, so there's still time to order before Valentine's Day! They do a huge range of other personalised items, including cushions, phone cases and canvases. If you don't have anyone to get a Valentine's Day present for, why not treat yourself? Or wait until another occasion arises, like Mother's Day or Easter!
Thanks for reading,

Find me here: Bloglovin | Twitter | Instagram | Music YouTube | Vlog YouTube
*Snapfish gave me a £25 gift card to spend on their Valentine's Day gifts for this blog post.