I'm moving tomorrow! It's so overwhelming to sort out all of my stuff, but I'm excited too. I'm keen to decorate my new room, and organise everything ready for my final year of university. When I was back home a few weeks ago, I decided to sort out all of my stationery in my vintage school desk, and I filmed some clips and took some pictures to show you all, because I know I'm not the only stationery lover here!
This was my first voiceover video, so I definitely need to get the hang of not being awkward, but I think it came out okay. You'll have to watch the video to see everything inside my desk, but the blogger side of me was like "hey this needs to be a blog post too", so here we are.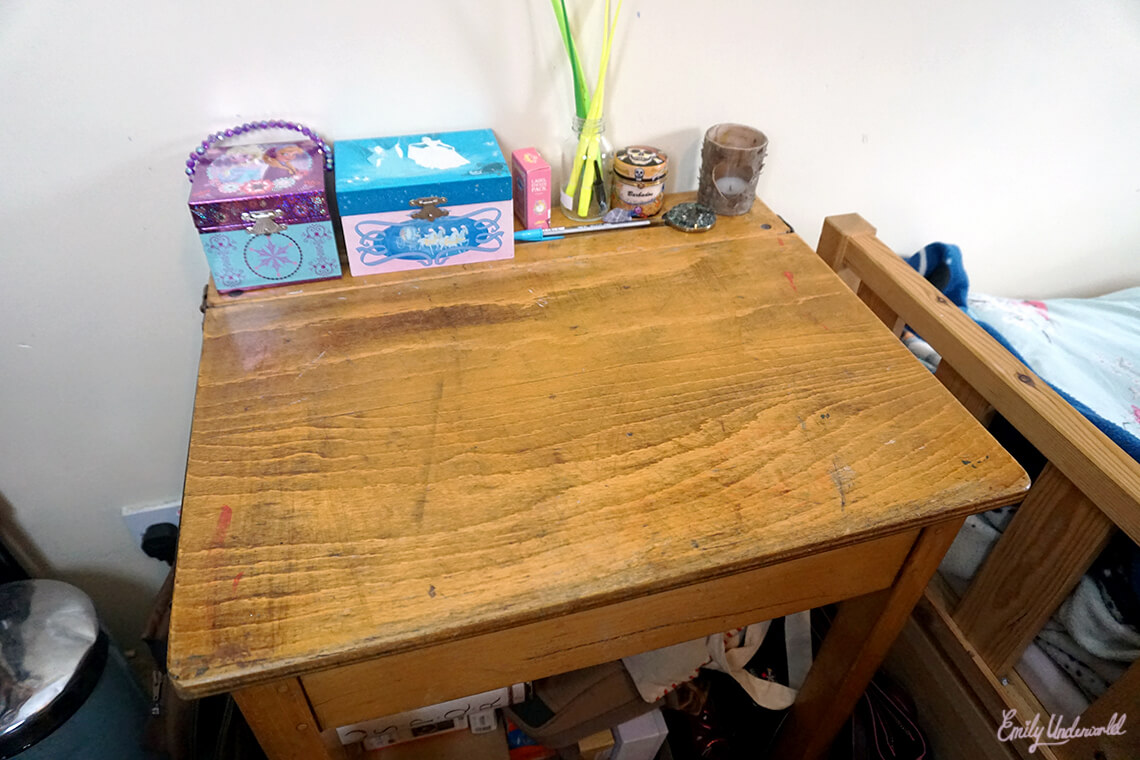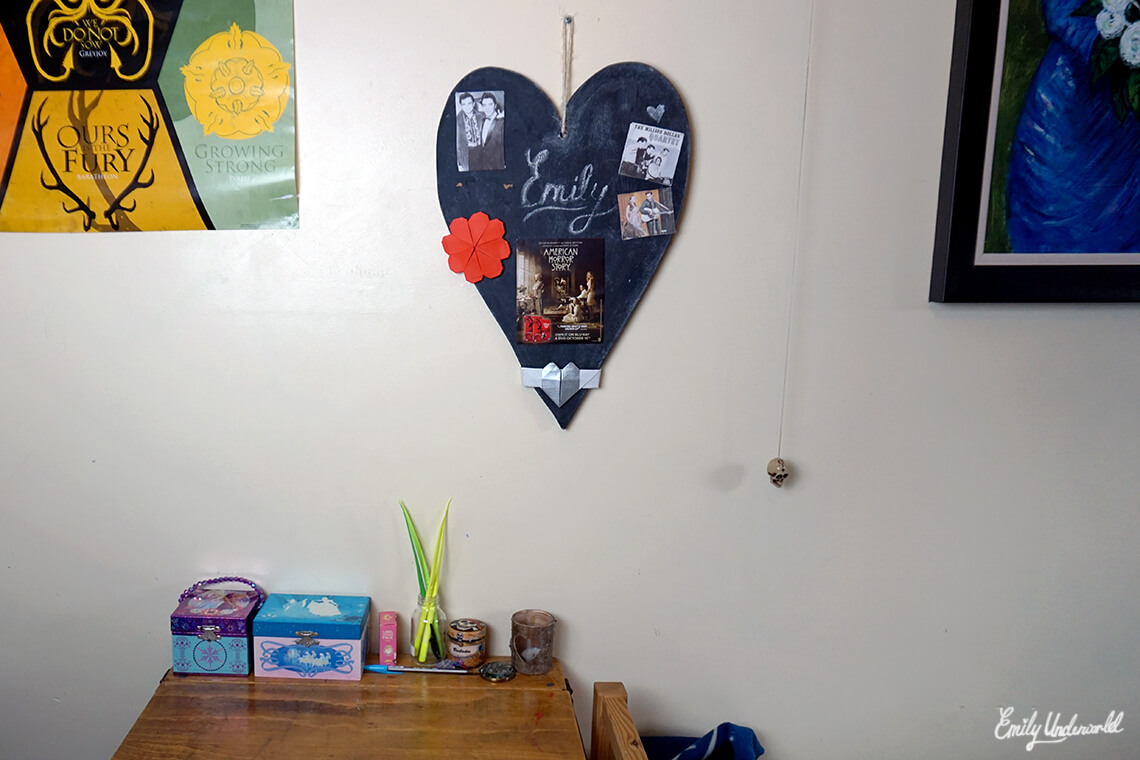 I have a cute heart-shaped blackboard above my desk, in between a Game of Thrones poster and a painting my Grandad did for me. And yes, that is a skull lightswitch!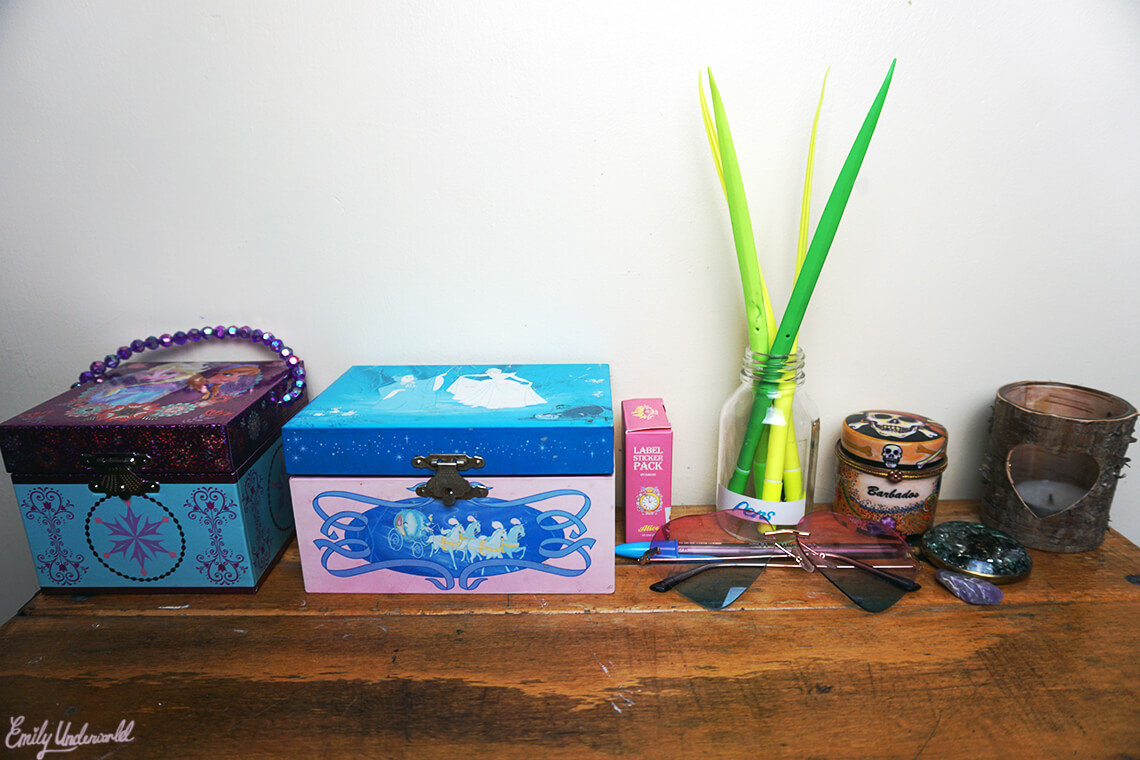 On top of my desk, I keep two Disney jewellery boxes – the Frozen one is new, my Mum got it for me last Christmas, and the Cinderella one I've had since my childhood. I don't keep jewellery in these, but rather loose change and other random things like paracetamol! Next to these, I keep some Alice in Wonderland label stickers, a glass jar of pens that look like grass (so cool), a pot from Barbados with ink cartridges inside, a paperweight and a candle. I can't keep much else on top of the desk because it's a lift-up one, but it works so well for me.
Inside my desk I stuck a lovely decal of one of the Alice in Wonderland book illustrations, which makes it more personalised and pretty, without ruining the vintage vibe.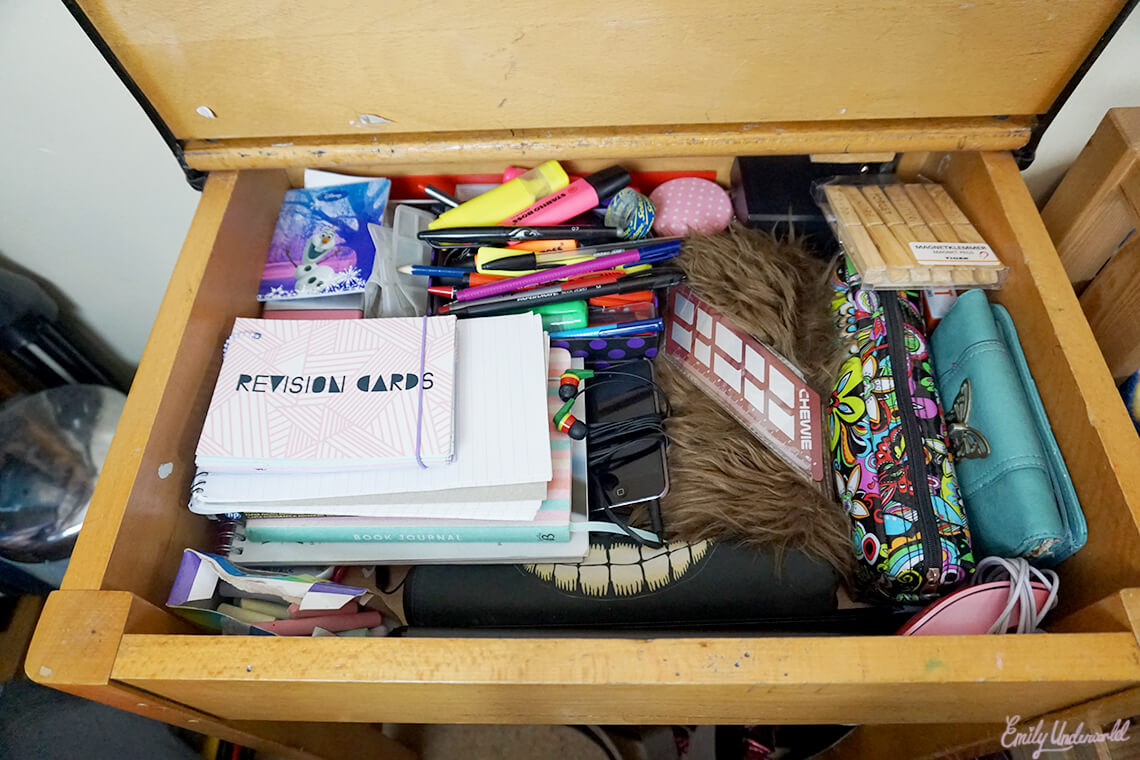 And this is what I have inside my desk, underneath the notebooks, bullet journal and kindle pictured above. I'll be doing a separate post and video ASAP regarding my bullet journal, so I skipped taking pictures of that for now (I do flip through it briefly in the video however if you want to see). I try my best to keep it organised inside, with notebooks / my book journal / sketch pad / revision cards all stacked up, and my pens all in a little box and pencil cases. How cute is the chewbacca pencil case?! I also keep my iPod in here because I often listen to it while studying.
I hope you enjoyed a peek into my desk, make sure to watch the video if you want to see everything in more detail. How do you organise your stationery?
Thanks for reading,

Find me here: Bloglovin | Twitter | Instagram | Music YouTube | Vlog YouTube