Hello, it's been a while. I haven't written a blog post in over two weeks now, because I just needed a break. I've got a lot planned for 2021, but first I've decided to reflect on my 2020 goals, and set my intentions for 2021.
I hope you enjoyed the festive season, even though we've been isolated from our friends and families.
Christmas this year was definitely a weird one: the first time I wasn't with my family. Thank the gods for video calling! My flatmates and I managed alright. We made a lovely Christmas dinner, enjoyed a walk, played some board games, and then watched the new Pixar film, Soul. I'll have to add Soul to my Disney Plus watchlist blog post!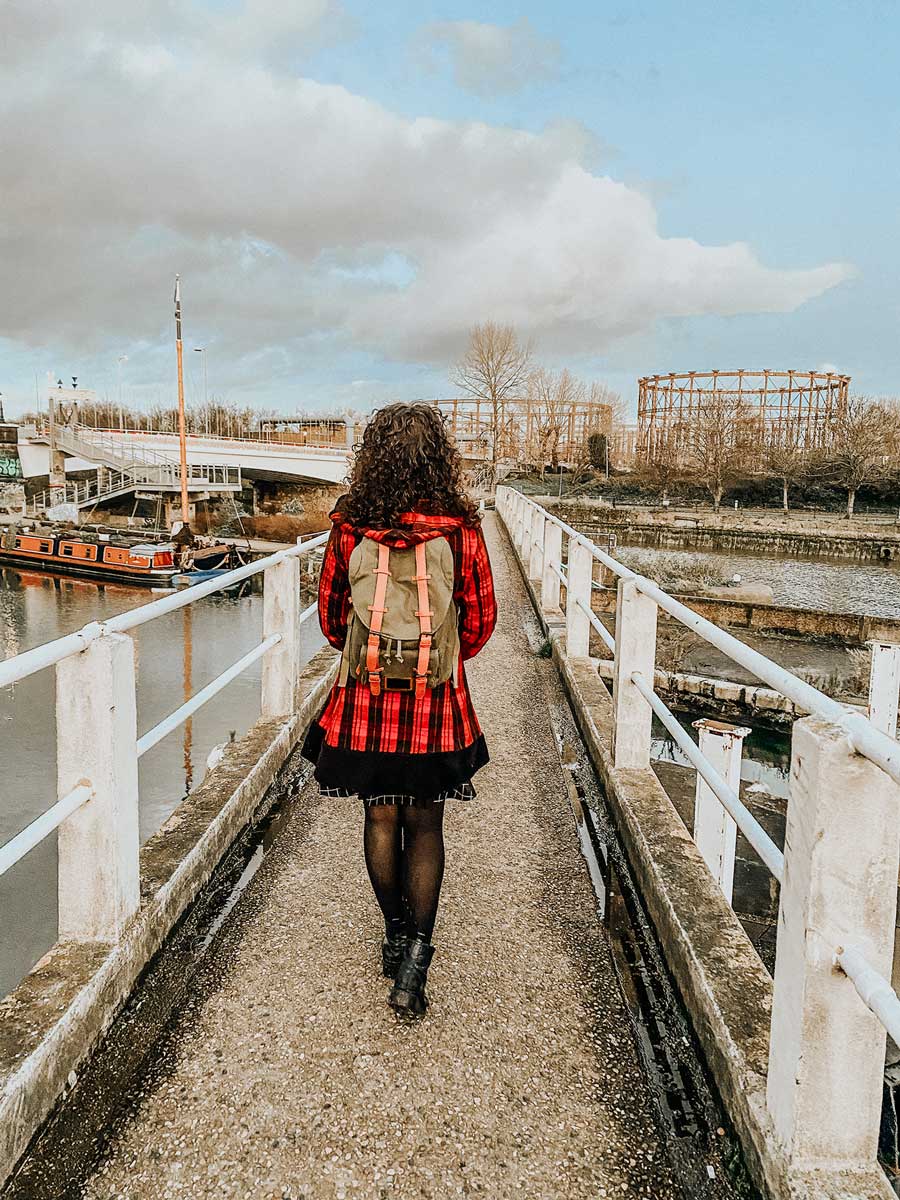 Reflecting on my 2020 Goals
I don't know how, but I managed to reach all of my 2020 goals, except for one (travel, because duh).
My biggest achievement of 2020 came *just* before the UK went into lockdown in March: I finished my Master's degree. Previously, I went part-time with my studies and got a thesis extension, following the mini-stroke I had. I am so proud of myself for finally getting my MA in Classical Art and Archaeology. I got a Merit too! My Graduation was cancelled, but that's okay.
I spent a lot of time this year thinking about what I want in life, taking breaks from social media, educating myself, and setting healthy boundaries. It's not been easy, but I have found joy too: slowing down, appreciating the little things, focusing on what matters, and ignoring the things that don't matter!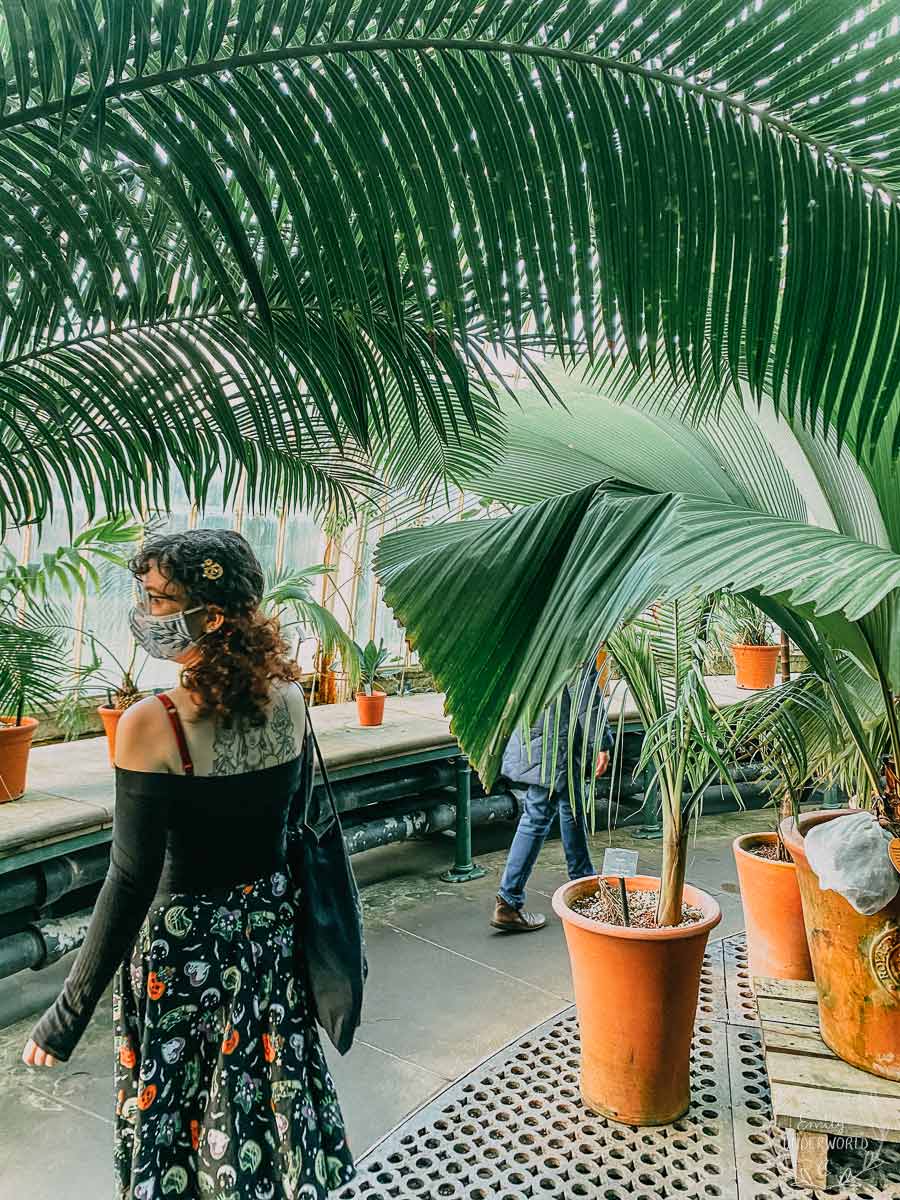 Like many people, during lockdown I threw myself into creative hobbies! I might as well be a Pinterest Craft Mum, to be honest. If you're a crafty type, have a read of 5 Things To Do During Quarantine (Not Social Media or Netflix) and make sure to join me on Pinterest.
Finances have been a real struggle this year for many people, myself included. I wasn't needed at the museum during the lockdown periods. As I do shift work, I didn't get paid or furloughed. Despite this, I did manage to make some lifestyle changes to save money. I reduced my expenses (my phone bill is now only £6 a month!), and managed to pay off my student overdraft, after battling it for several years. I was also able to take on more paid blogging work than I could while studying. Read my blogging tools page for tips on finding sponsored blog post opportunities.
Speaking of blogging, my blog absolutely blew up in 2020. I am so grateful (and amazed) to have reached nearly 300,000 people this year. To put that into perspective, last year I reached 50,000 sessions! It's all thanks to Big Pin Energy, and improving the SEO on my old blog posts.
In November, I moved to Ezoic for ads, which literally doubled my revenue. Then I migrated my hosting to Lyrical Host. They were so helpful with my migration, and I've been loving their resource library. Plus, my blog is running a lot faster than it used to. If you're thinking of switching hosting provider, you can get 10% off your first month with the code EMILYUNDERWORLD.
I've been writing on this website since January 2014, so it's been nearly 7 years now. I wrote a personal post about why I still love blogging after 6 years, give that one a read if you fancy it.
This year I created lots of free resources, including phone wallpapers, checklists and printables. I set up digital art shops on Redbubble and Etsy too!
2020 has been incredibly difficult. I'm very grateful to live with my partner and friends: spending time with them has been the highlight. Whether we're baking banana bread, going for walks around the woods and canals, or ranting about the government, they bring me such joy.
My 2021 Goals
I'm not setting myself any really challenging goals for 2021. After 2020, we don't know what 2021 will bring.
My main goal is to continue my self-growth journey and focus on contentment.
I'm talking self-care, meditation, healthy habits (no doomscrolling!), continuing to educate myself about important issues, and prioritising quality time with my loved ones.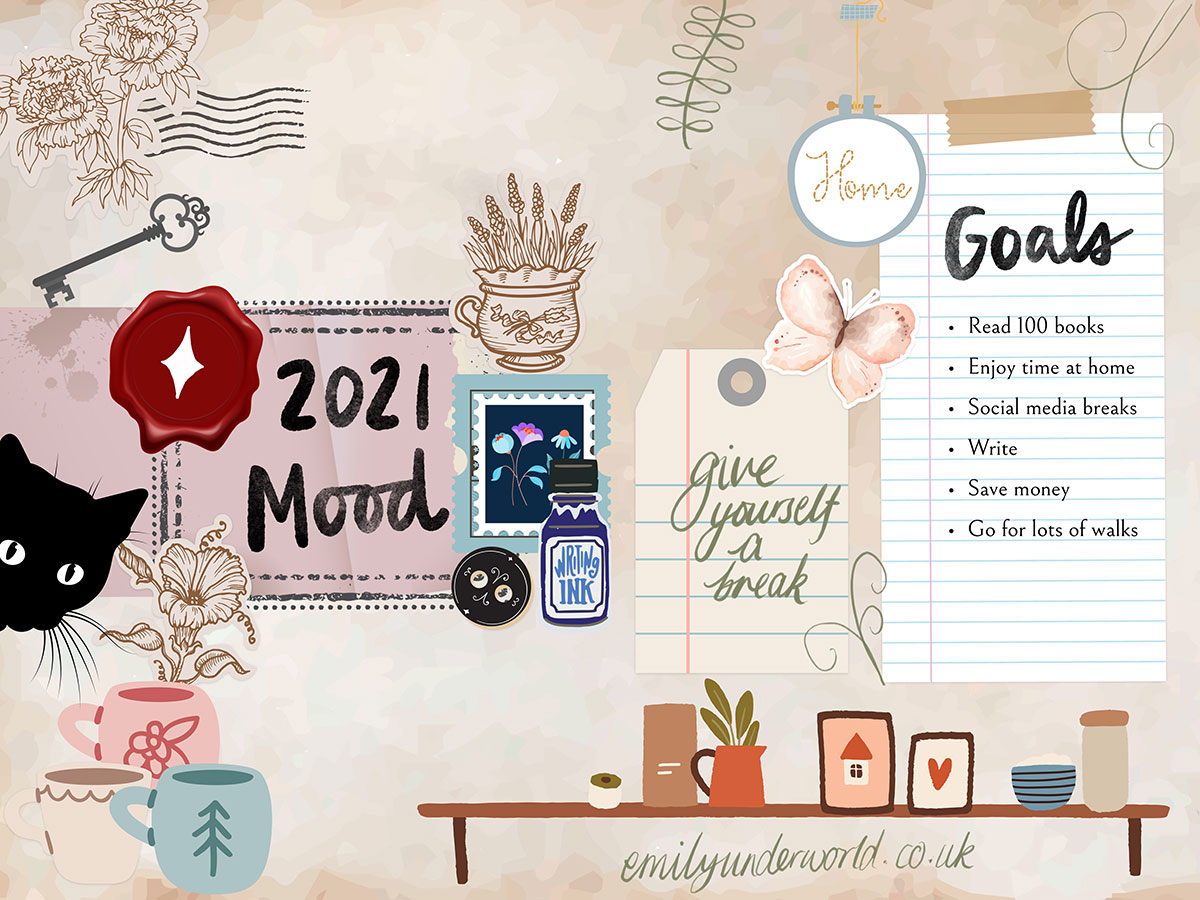 In terms of my career, to be honest I think it'll have to wait. I highly doubt museums are looking for assistant curators at the moment! Hopefully, I'll be back at work soon, but for now, I'm focusing on freelance writing work, my blogs, and writing essays on Medium.
I'm aiming to earn £1000 per month from freelancing and blogging in 2021. I figured having a target to aim for would help motivate me. I would also like to have a consistent blogging routine, especially now I'm managing two blogs!
Finally, I'm planning to continue enjoying my creative hobbies. Art, singing, guitar, embroidery, and upcycling my clothes… just for the fun of it.
Free January 2021 Botanical Calendar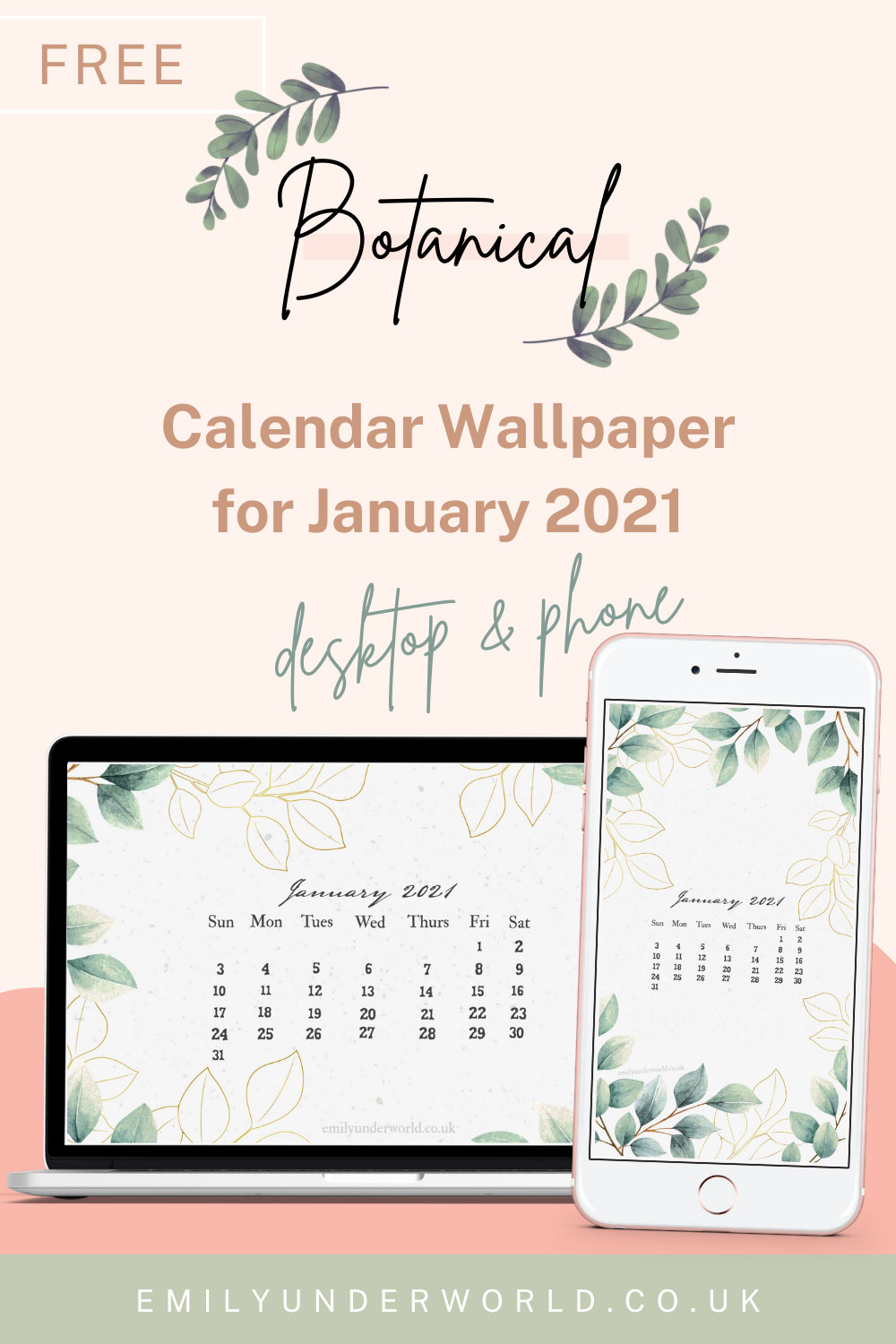 I created a January 2021 calendar for you on Adobe Spark. If you like it, do let me know! If there's interest, I'll create more for each month.
You can print this, add it to your digital journal, or set it as your laptop/phone wallpaper.
The calendar comes in 3 sizes: desktop wallpaper, phone screen / Instagram Story, and A5 paper. I've uploaded PNG and PDF files, you can download below.
Update: I have since removed the calendar, because it's not January any more. Feel free to check out my other free downloads in my Freebie Library.
I also created 20 free feminist phone wallpapers for 2021. You can grab those too if you like!
I hope you reach all of your 2021 goals. If you need a bit of advice to help set goals, have a read of my blog post all about using gratitude and productivity for goal setting.
Have a lovely New Year, and make sure to prioritise self-care during this time. Many of us will be starting 2021 in a lockdown, as we've spent most of 2020. As an immunocompromised Londoner, I'll continue to stay at home isolating when possible.
Let's continue to support each other, and be thankful for the incredible medical staff, emergency services and caregivers. Grab my quarantine self-care checklist printable, and take a deep breath. We will get through this.
What are your goals for 2021? Did you reach your 2020 goals?
All the best,

Find Me Here: Instagram | Bookstagram | Twitter | Pinterest | TikTok