AD – affiliate links highlighted with *. I've never written a Black Friday blog post before in my six years of blogging (7 years in January!), but there's a first time for everything.
I have mixed feelings about it: I'm definitely not a fan of mindless consumerism, and I care about the planet! However, for many people (myself included), Black Friday is the only time I can afford to buy Christmas presents. It really highlights how huge companies can really mark down their prices and still make a profit, and overvalue the 'worth' of the original prices. Please be mindful with your shopping, support local businesses and shop ethically where possible.
With that said, sometimes you just can't shop ethical. Especially when it comes to tech equipment like cameras and phones. Do you really need the latest phone? If you need a new one, could you buy it second-hand or refurbished instead? Think about it properly before spending. I recommend checking out Fairphone, they're the most ethical on the market.
Today's blog post is a list of Black Friday deals for bloggers. Whether you're in need of some new tech, a WordPress theme, or want to up your blogging game with a course or ebook… You'll find something here.
I've read many ebooks and courses over the years. I only recommend products from creators who have genuinely helped me. Get yourself a deal below, and support an independent creator.

The Best Black Friday 2020 Deals For Bloggers
Tech
WordPress Themes, Blogging Tools & Resources

Get 30% off any Bluchic* product!
Thursday, November 26 9pm ET – Monday, November 30 at 11:59 pm.
If you're looking for a new WordPress theme, this is the ideal time.
Professional design? Check. Easy to use? Check. No coding skills needed? Check!


Creative Market
My go-to website for everything blogging and social media is Creative Market*. You can get everything from WordPress themes to graphics, templates and fonts.
Check out their free goods of the week on the right.
Browse Creative Market for discounts*, up to 75% off!



Wonderful Plans Bundle
Want to get organised and improve your productivity? Wendaful have a huge discount on their planning bundle!*
You can get it for $47, down from $97.
It's a massive bundle of products, including an ebook, digital planners, printables and so much more.


Graphics + Pin Templates

Angie Gensler is offering $10 off (52%) her Daily Hashtag Image Templates* with code BFHASHTAG, making them $9. (23rd – 27th Nov)

Grab $18 off (48%) Angie's Lead Magnet & eBook Templates* with code BFTEMPLATES. Get them for $19 (23rd – 27th Nov).



300+ Canva Templates, Plus 20 New Ones Added Each Month by Entrepreneur Templates
Black Friday Offers:
These are a perfect all-in-one solution for your branding, social media and digital presence! Including
Instagram Posts, Instagram Stories, Facebook, Pinterest, Workbooks, Ebooks, Email Newsletters.


Just need some new Pin Templates?
Grab these Pin Templates by Blogging Her Way*. Use code BHW2020 for 20% off from 23rd Nov – 30th Nov.


Ebooks + Courses




Self-Care & Wellbeing
Self-Care is so important. Make sure you don't overwhelm yourself during the holiday season, and look after yourself. Grab my Self-Care freebies here, and check out some of my favourite products below.
Remember that Self-Care isn't capitalism! Sometimes some pampering is great, but Self-Care is truly all about practicing mindfulness and loving yourself as you are.
Feather & Down.* I swear by their Sleep Sprays! Get 30% off with code EABF20 (24th-26th Nov). Missed it? Use code BF3020 (27th-29th Nov) for 30% off.
Waterstones * have lots of Black Friday deals, with many books 50% off! I'll definitely be taking advantage of this one. Make sure to also check out Bookshop.org, they support local bookshops, who definitely need the money right now. Some may also be running their own Black Friday sales! Hive is another online bookshop that support your local high street.
The Spark Company. * Badass Feminist Apparel! Every purchase helps a woman in need, and their products are ethically made. No sweatshops. 100% cotton. Check them out and get up to 40% off. I need this 'On Wednesdays, We Smash The Patriarchy' t-shirt!
Nails Inc. * Get 20% off everything until 30th November. I love their 21-free nail polish range: they're vegan, cruelty-free and 73% plant-based!
Revolution Beauty* are offering 50% off everything. Vegan, cruelty-free and inexpensive makeup. I don't wear makeup any more, but I used to buy my favourite products from Revolution.
Paperchase are having a Black Friday sale on the 27th Nov, if you're in need of some new stationery or a 2021 planner.
Get £10 cashback with an annual Disney+ subscription, via TopCashBack. * I've been loving Disney+ in 2020, you can find out my recommended shows, documentaries and movies here.
JewelleryBox * is a great place for inexpensive but lovely jewellery. I've bought gifts from them many times. This year, they've got a Black Friday sale, as well as some exclusive early bird offers. Plus free delivery if you spend over £10.
Beautiful Handcrafted Clay Jewellery
I wanted to include a big shoutout to Polly at Candid Collective. I know Polly from school, and was excited to see her launch a business this year! She makes the most beautiful clay jewellery in Cornwall, and I really recommend checking out her shop.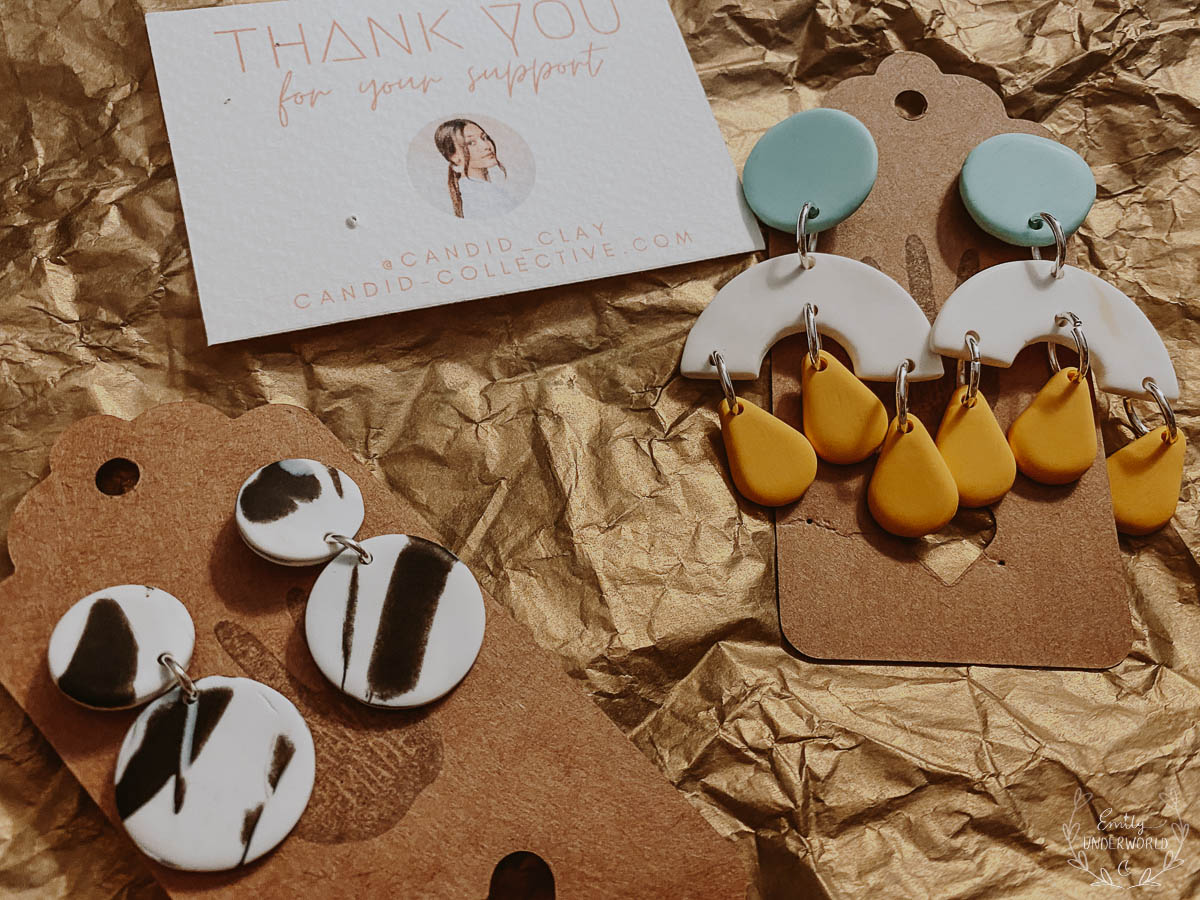 Instead of running a Black Friday sale, Polly is doing Food Bank Friday. 50% of all profits from every sale made between 25th Nov – 2nd Dec will be used to buy food, hygiene products + cleaning supplies for her local food bank.
I bought some lovely earrings for myself and Alicja on Candid Collective's launch day. They were packaged beautifully, and we both love the earrings! Check out Candid_Clay on Instagram too.


Finally, I wanted to mention Oxfam. Did you know they have an online store? All profits help fight poverty. Oxfam don't only sell preloved items, they also have a great 'Sourced by Oxfam'* range. For Black Friday, you can get up to 40% off this range, 26th – 30th Nov. I really recommend checking it out, I got some lovely gifts for my friends and family from Sourced by Oxfam last year!
You can also get a free Tony's Chocolonely bar with any 'Unwrapped' order over £20* (ends 25th Nov). I absolutely love Tony's Chocolonely, they're the most ethical chocolate brand that currently exists. I wrote all about them in a blog post, and how they're fighting slavery.


Free Stuff!
The best things in life are free, right? I'm always on the look out for free trials! Here are some of my favourites. These are referral links, meaning I earn a commission or reward for sign-ups.


I hope you found a great Black Friday 2020 deal here!
If you want to find out all the blogging and social media management tools I use, browse my shop and freebie library page.
Make sure to also check out my Gift Guide blog posts if you're shopping for someone else!
All the best,


Find Me Here: Instagram, Twitter, Pinterest, TikTok, YouTube.