Congratulations, you've stumbled upon the ramblings of a weirdo who spends too much time on the Internet…
About my blog
I started writing my first blog when I was around the age of 13/4 (too young if you ask me! so embarrassing). I decided when I started university to *almost* wipe the slate clean and move over to WordPress, delete the majority of my old posts, and change my blog name to Emily Underworld, a name that randomly came into my head one day. I study Classics, which includes Greek Mythology of course, and my favourite stories are all about Hades and the Underworld. I guess this is kind of my own underworld, a place that is just mine, separate from my 'normal' life. I feel like it also gives off a bit of an Alice in Wonderland vibe.
What else I do with my life
I'm currently undertaking my MA in Classics and Archaeology at King's College & UCL. I'm planning on continuing my studies by working towards a PhD, with the aim of pursuing academia, or museum curation… or both!
I'm really into music: I play the guitar, a bit of piano, and I'm a soprano singer. I'd love to be in a musical, particularly The Phantom of the Opera. I'm a huge fan of Elvis Presley and The Beatles. I've been lucky enough to perform in many professional settings, including concerts, at weddings and on BBC Radio! I've got a few covers on YouTube…
I also like to generally be creative & arty: in 2012, I won a mural competition for the 20th Century Fox & Tim Burton film "Abraham Lincoln Vampire Hunter", it was probably the coolest thing that's ever happened to me! I've also won a few photography competitions at King's College.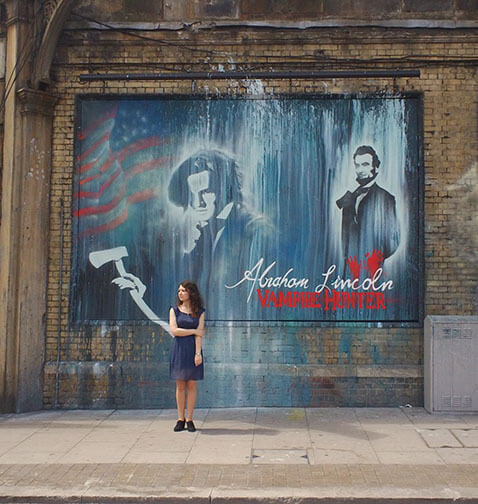 I haven't got much else to say, but I'm on Twitter if you wanna chat!