Hello! Welcome to my blogging resources page. I am so excited to share all of my favourite blogging tools with you. These resources will help your blog run smoothly, look pretty, and grow an audience!
I've been blogging for seven years now, and have learned so much over the years. Below you will find the ebooks, blogging tools, and digital marketing resources I personally recommend. I'll also share some of my top tips for creating a profitable blog in 2021.
Affiliate links are used, meaning I earn a commission from qualifying purchases.
My Blog Host + Theme
WordPress Theme
My WordPress theme is Jellybean by Ltsdesigns.
If you're looking for a free theme, I recommend Astra. It's easily customisable and quick to load.
My Ad Network
My display ads are served by Ezoic, an ad network that works with Google Adsense.
You can find more info about Ezoic below in the 'earning money as a blogger' section.
My Host
My blog runs on self-hosted WordPress.org.
I migrated to Lyrical Host in December 2020, a hosting platform designed for bloggers. The process was quick, and their tech support is so much better than my previous host! Plus my blog loads quicker than it used to, which is important for user experience and SEO.
Use the code EMILYUNDERWORLD for 10% off your first plan payment with Lyrical Host. They start at £9.99 a month.
BlueHost is another popular hosting platform for bloggers. They're the most affordable blogging host, with rates starting from £2.87 a month with a free domain.
Blogging Tools & Techy Things
Find all my tech tools and set-up for Blogging and Photography on my Amazon storefront.
Here are the other tools I use for blogging. Some of these are affiliate links, meaning I earn a commission.
WordPress Plugins
Yoast for SEO is essential. Utilising SEO on my blog posts brings in a lot of organic traffic from Google. Yoast is free to use and I swear by it. They also have some free courses about SEO, I recommend taking those.
Smush is great for compressing images to make them load faster. I use the free version.
One Click Accessibility is the plugin I use for the accessibility toolbar at the top of my blog.
Social Media Scheduling
Tweetdeck for scheduling tweets and managing multiple Twitter accounts. It's free.
Tailwind for scheduling Pinterest pins, and connecting with other bloggers on Pinterest. It's not essential for Pinterest, but I do find it helpful and convenient. The Communities feature is pretty great too for finding other bloggers in your niche. You can get a free trial of Tailwind here.
I wrote about how I promote my blog posts here.


Some of my favourite blogging books, courses & tools
I have personally bought several Pinterest Courses and ebooks over the years. Big Pin Energy is my favourite. In 2020, I smashed my blog goals, with the highest number of views and sessions I've ever had in my 7 years of blogging! I really recommend it if you want to learn how to use Pinterest effectively with their new algorithm changes.
I am now reaching an average of 1 million monthly impressions on Pinterest, and 30,000 monthly blog sessions. I even had a viral pin that brought me 12,000 blog views in one day.
My June 2020 Referrer Stats are featured below… notice how much higher my Pinterest clicks are compared to Twitter or Facebook!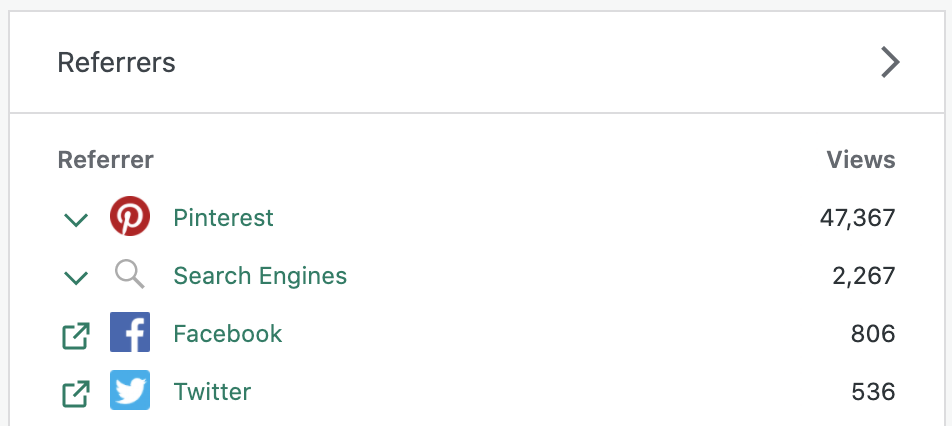 Top tip! Don't feel like you need to buy everything to get started. Decide what you want to focus on improving, and work at it. Rome wasn't built in a day! If you want to monetise a blog in 2021, I've shared some of my tips further down on this page.


Skillshare
I have learned so much from various courses & classes I've taken on Skillshare. The courses I've taken vary from blogging, SEO, and affiliate marketing, to crafts and DIY.
At the moment I'm learning all about digital illustration with Skillshare's art classes, they're very helpful for a hobby artist like me who didn't go to art school.
Top tip! You can try out free unlimited Skillshare courses for two weeks.


Creative Market
Creative Market is a brilliant place for digital products. It's where I bought my WordPress Theme Jellybean by Ltsdesigns (and my previous one, Dainty by Hearten Made). I often buy resources on Creative Market for blogging and graphics design.
Top tip! Creative Market give away six free goods each week.
Every Monday there are new digital products you can download for free. This include fonts, social media templates, digital illustrations, icons, and stock photography.


Blogging + Social Media Tips
I've written several blog posts about blogging and social media, after 7 years of trial and error! Here are some of my favourites:


Earning Money as a Blogger
Finding Sponsored Blogging Work
Most of the time, sponsored blog post enquiries land in my email inbox. I don't tend to pitch brands, but I'm trying to push myself out of the comfort zone a little to get out there more!
I tend to ignore Instagram DM's because 9 times out of 10 it's a dodgy MLM, or a brand asking me to buy their fast fashion product at a discounted rate. Not for me.
I also sometimes find suitable sponsored blog post opportunities through Facebook Groups and on Twitter. Recently I've been using Get Blogged, Blogger Outreach and Intellifluence to find paid blogging work too.
Blogger Ad Networks
For many bloggers, Mediavine is the holy grail of advertising. I am yet to apply for Mediavine, because you need 50000 monthly sessions to be considered. My highest so far is around 47000, so maybe I'll be able to apply soon.
Google Adsense has been quite hit and miss for me, so I switched to Ezoic a few months ago. They work with Google Adsense as a Publishing Partner, but enable you to earn more money from advertising.
You need to reach 10,000 monthly sessions to use Ezoic, so the threshold is much easier to attain than Mediavine. I've only been with them for a few months, but my earnings have literally tripled compared to Adsense.
Affiliate Marketing Programs for Bloggers
Affiliate marketing is a great way for bloggers and social media influencers to earn an income online. I share all about the ways I earn money online through side hustles and freelance writing over on Internet Wages.
Here I'll be recommending my top-performing affiliate programs. Some of these are referral links, meaning I earn a commission.
Ultimate Bundles. This is my favourite platform for affiliate marketing. Ultimate Bundles pay a 40% commission rate and provide many resources for helping you succeed. Anyone can join for free. I love their products as a customer myself, and I've learned a lot since joining.
ShareASale is an excellent platform for affiliate marketers. Many of your favourite brands are on there, including Etsy! ShareASale is owned by AWIN (more info on that below), but I find the platform easier to navigate than AWIN. Either way, I'm using both!
I also use AWIN and Amazon Associates, although their commission rates are lower than Ultimate Bundles. I mainly use these for linking to specific products, like books, makeup or skincare. AWIN generally pays more than Amazon Associates, and you can find many premade ad graphics on there for your blog, email marketing, or social media. Commission rates vary per brand, but pretty much all the household-name companies you might like to work with are on AWIN.
If you're interested in Amazon Associates, the best-performing commission for me actually comes from promoting their free trials of Prime, Prime Student, and Audible with their Bounty Program.
Check out the Amazon Affiliate Affluence Ebook for everything you need to know about Amazon's Affiliate program, and how to earn more from it. The writer earns over $1000 per month just from Amazon. I wrote so many notes while reading this ebook. It's the best and most practical advice I've read about how to succeed with Amazon Associates.
Your hosting provider likely has an affiliate program! Lyrical Host and BlueHost do.
If you're completely new to affiliate marketing, I'd recommend Kayleigh Zara's Affiliate Marketing ebook, and for an in-depth guide, check out Neesha's Affiliate Marketing ebook. To find the best affiliate programs for bloggers to join, check out this brilliant masterlist. It includes 600+ programs and a video walkthrough.
Free Stuff
Visit my Shop & Freebie Library page to find my products, art, and free stuff! This includes social media templates, stock photos, fonts, phone wallpapers etc.
If you have any questions or need some advice, feel free to drop me an email.
All the best,