So, you want to work with a London Lifestyle Blogger?
I am open to collaborations with brands for blog posts, including product reviews and guest posts, if they are relevant and interesting to my readers, e.g. things to do in London for students. I write mainly about university, London, creativity, and anything 'lifestyle': homeware, photography, books, baking, fashion, beauty etc. Drop me an email at emilyunderworld@gmail.com!
Previous Experience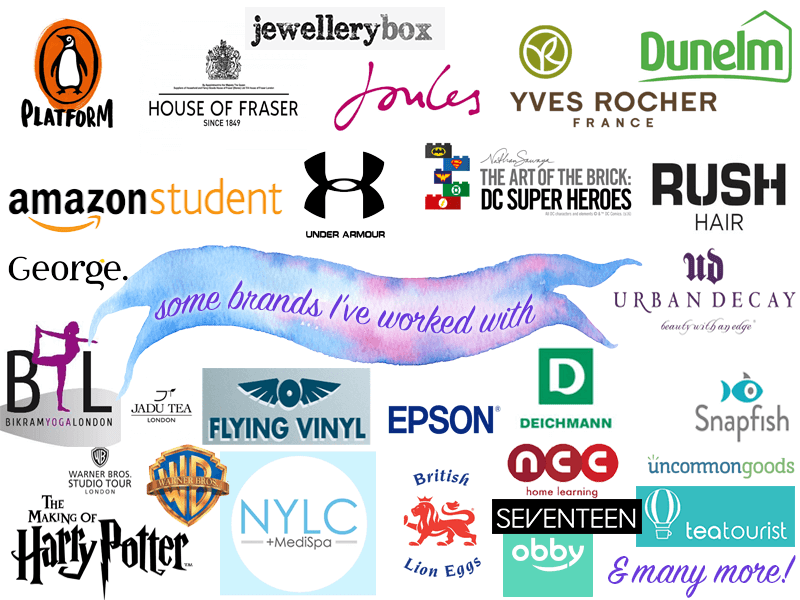 I've previously worked with many brands for various blog post collaborations, some of which are featured above. I also designed a mural for a Tim Burton & 20th Century Fox film a few years ago, Abraham Lincoln Vampire Hunter, which was displayed in Shoreditch!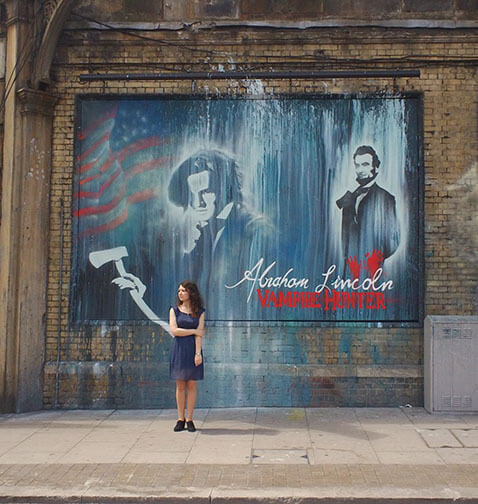 Statistics
[su_tabs class="my-custom-tabs"] [su_tab title="DA & PA"] Domain Authory: 32
Page Authority: 41 [/su_tab] [su_tab title="Follower Count"]
Combined social & blog following of over 9000.
Bloglovin': 1070 followers
Email subscribers: over 2400
Twitter: 2100 followers
Instagram: over 1100 followers
Pinterest: 1800 followers
Facebook: 250 likes
YouTube: 400 subscribers on my main channel, 260 subscribers on my music channel.
I also create fonts, which have more than 55,000 downloads on DaFont.com.[/su_tab] [su_tab title="Equipment & Programs I Use"] * Macbook Pro & self-hosted WordPress for blogging
* Sony A5100 24.3mp mirrorless camera
* Professional softbox lighting for indoor photography
* Photoshop & Illustrator CS6
* Final Cut Pro X for video editing
* Wacom Bamboo graphics tablet for fonts & art[/su_tab] [su_tab title="Qualifications"] Relevant Qualifications: Media Studies A Level (Grade A, with an A* in the coursework: a horror movie trailer, and a music magazine). I've also completed a Google Digital Garage Certificate of Online Proficiency and Online Marketing Fundamentals.
Other Qualifications: English Literature A-Level, History A-Level, Music A-Level. I've just finished my Ancient History undergraduate BA with honours degree at King's College London, and I am continuing my studies with a Master's degree. I'm also currently working on a Forensic Science Level 3 diploma with NCC in my spare time. I've won several photography prizes at my university, from trips to Athens & Rome. [/su_tab]e
[su_tab title="Featured In"] I have written for the Student Pocket Guide several times, and I was also featured in Bellvue's '33 of the Best Student Blogs to Follow in 2016′ list. Recently I've been featured in several 'best London lifestyle blogs of 2017' lists, including Clarendon London's 30 top London lifestyle bloggers.[/su_tab] [/su_tabs]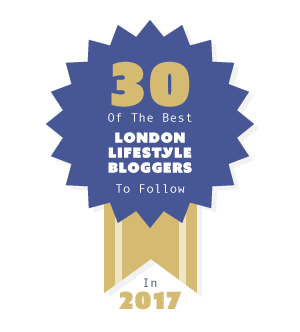 YouTube
I also have a YouTube channel, where I upload creative videos, London / travel vlogs, hauls, vinyl record videos, and more. I currently have 400 subscribers, and over 25,000 views.
Click here for my disclaimer, copyright, terms & conditions and privacy policy information.
 I'm happy to provide more information about my stats / demographics, or a media kit if desired.
[su_button url="mailto:emilyunderworld@gmail.com" style="stroked" background="#73bdba" size="8″ center="yes"]Click Here To Email Me[/su_button]
 I hope you'll be in touch!
[su_animate type="flash"]
[/su_animate]