Hello. I hope you're all coping with quarantine, and staying safe. Self Care is my THING. I've become such a pro at practising self care activities over the past year, and I can't stop talking about it!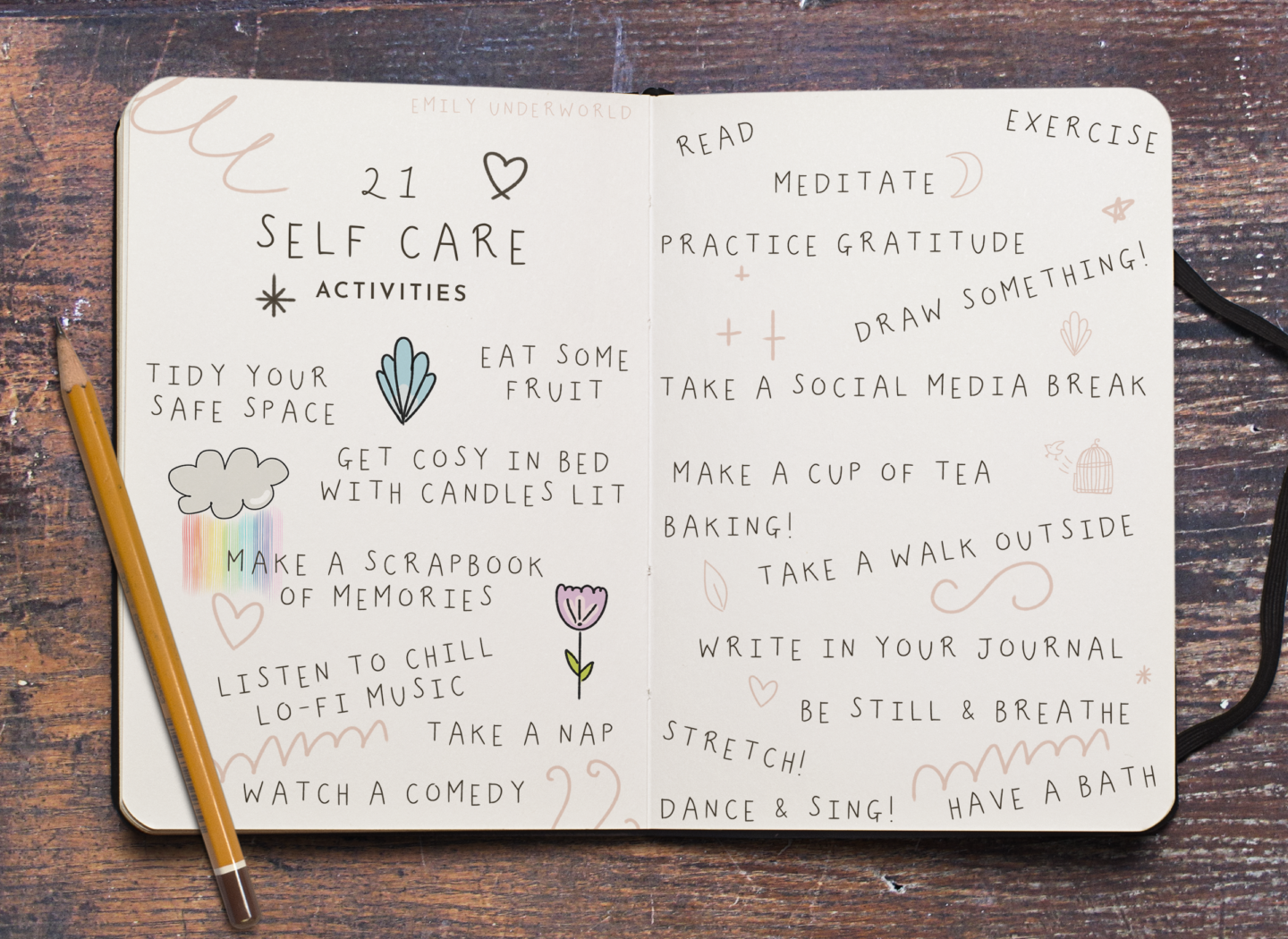 Self Care is so important. Improving my mental health and mindfulness has become a huge priority to me, ever since getting diagnosed with C-PTSD. I've made a lot of discoveries about myself, including the realisation that I don't have a visual imagination (and that most people do!). You can read all about aphantasia if you're interested, and my self care journey.


I recently shared a graphic I made on Twitter, including 21 self care activities. It got quite a lot of attention for a small creator like myself, so I decided to make a free printable version, so you can download it. You can also get the font for free if you like it!
I was blown away by the number of downloads the self-care printable has had on my Gumroad account! So I've decided to share it on the blog too. I really hope it helps some of you find some self-care activities to do while you're at home.
Keep reading for 21 self care activities you can do right now…


21 Self Care Activities To Do Right Now
Tidy Your Safe Space
Get Cosy in Bed With Candles Lit
Make a Scrapbook of Memories
Eat Some Fruit
Listen to Chill Lo-Fi Music
Take a Nap
Watch a Comedy
Read
Meditate
Exercise
Practice Gratitude
Draw Something!
Take a Social Media Break
Make a Cup of Tea
Baking!
Take a Walk Outside (get some fresh air, but please make sure to practice social distancing. If you have a garden space, use it! I like to combine going for a walk with going to buy essentials at the shop, to limit the number of times I need to leave the house).
Write in your journal. I'll be writing a blog post featuring journal / writing prompts soon, so stay tuned!
Be Still and Breathe.
Stretch!
Dance & Sing!
Have a Bath


Video Version
Get the printable below!



The number of views on my recent blog post '5 Things To Do During Self-Quarantine (without Netflix or Social Media)' has been absolutely wild! Please make sure you take care of yourself during this time. If you're lucky enough to be quarantining with your loved ones, look after each other. If you're isolating by yourself, please remember that you are not alone. We're all in the same boat.
You are not alone.
Call a friend, talk to people online, and stay safe. Most of all, if you're struggling with your mental health during this time, don't suffer in silence. Don't be afraid to reach out, whether to those you trust, have a phone call with your GP, or contact one of the NHS recommended helplines. When my mental health was at an all-time low, the kindness from strangers and friends alike got me through it.
I'd love to know what your favourite Self Care Activities are!
All the best,


Shop my favourite Self-Care Books and Journals:
Pin this for later?