I've been vegan since around February, and living in London means there's so many places to get vegan food! Over the last few months, I've visited many restaurants and cafes that offer vegan food, and some that are specifically vegan or vegetarian, so I've decided to compile a variety of my favourites into a big blog post for you! (Also because my Instagram is always filled with pictures of vegan food, so I thought they could serve a dual purpose).
My Favourite Vegan Restaurants

Mildred's: Soho & Camden
My friend (who isn't even vegan) loves Mildred's and could believe I'd never been, so we had dinner there together one night in Camden. It's a lovely restaurant, with lots of options on the menu, and they have branches at Soho and King's Cross too. I had the vegan Sri Lankan sweet potato curry with roasted lime cashews, green beans, pea basmati rice and coconut tomato sambal… doesn't that sound delicious?! It was. I would definitely recommend Mildred's to any vegetarian or vegan, and even my meat-loving friend enjoys it! They do good cocktails too.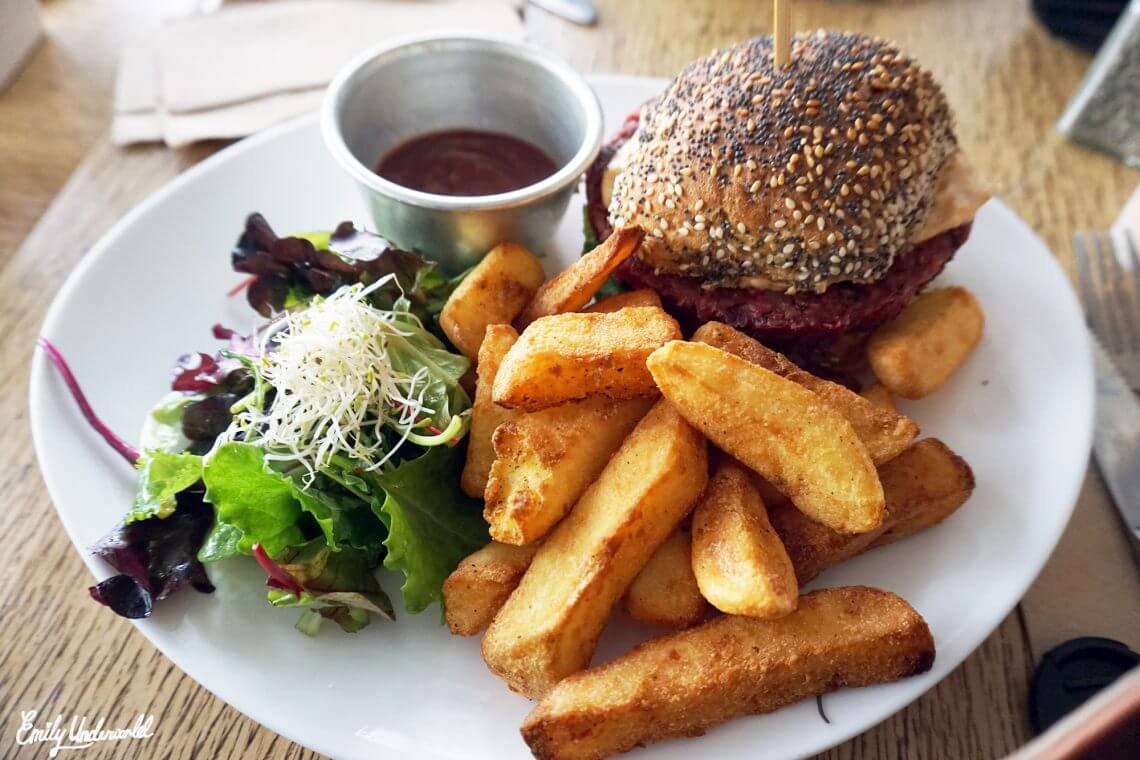 Campbell's Canal Cafe: Camden
I've spent many an evening in Campbell's Canal Cafe in Camden, since I turned vegan. It boasts beautiful views over the canal with big windows, and their menu is great. I usually go for an iced chai latte, but I choose something different to eat each time because it all looks so good. I'm planning on writing a separate blog post about it with more pictures, but if you're in Camden, this is the place to go if you're vegetarian or vegan. Their burgers are great, and they do an awesome sharing platter of tofu fish fingers, onion rings and chips with dips (featured in the first picture of this blog post), which I enjoyed with a friend. Campbell's Canal Cafe also offer delicious smoothies, and they host musicians and run open mic nights too! I listened to a South Korean guy sing Coldplay and Oasis the other night, he was really good.

Cabana: Covent Garden, Westfield, Brixton, Islington & More
You're probably thinking, a Brazilian barbecue has vegan options?! Well surprisingly, yes, it does. Cabana's menu has useful little symbols next to vegetarian and vegan items on the menu, making it easy to order to your dietary requirements. Personally, I usually just get a portion of sweet potato fries (theirs are crispy and heavenly), and several 2 for 1 cocktails with a friend, but I've been meaning to try out a proper meal! There are several Cabanas across London, in places like Westfield and Covent Garden, and look how cute the kite ceiling decorations are! The sweet potato fries I mentioned are the ones shown in the first picture of this post, yum.
Vegan Cafes & Bakeries!

Cookies & Scream: Camden
You probably know how much I love Cookies & Scream already, considering I wrote a blog post about it last month. I just had to mention it again here, because their bakery is entirely vegan and gluten free, and they make the most delicious milkshakes (for only £3.50 may I add), as well as brownies, cookies, ice cream sandwiches, and other delicious baked goods depending on the day you go! I've been so many times, my goal is to try out all of their milkshake flavours!

Wild Food Cafe: Neal's Yard
While out with a friend in Covent Garden, we got hungry, so I googled for nearby vegan restaurants / cafes. The Wild Food Cafe in Neal's Yard was recommended, so we gave it a go. Like everywhere else in Neal's Yard, it's decorated in bright colours and is very welcoming. I went for their burger and sweet potato wedges because I was starving, but as much as I tried to enjoy it, I wasn't a fan of the burger. However, they had lots of other options on the menu, which is raw-centric, and my friend really enjoyed her meal, so I'd still recommend it. The staff are lovely, it's a unique place, and their dessert menu looked delicious!

The Hive Wellbeing: Hackney
Last month, I checked out The Hive in Hackney with some fellow Girl Gang bloggers, which was organised by Laila from TapeParade. We had intended to go to the Black Cat Cafe, which is apparently another good (and 100% vegan) cafe, but it wasn't big enough for all of us, so we migrated to The Hive. I had avocado on toast, an almond milk iced latte, and a delicious raw cocoa and pistachio brownie. I still need to check out the Black Cat Cafe!
Vegan Pizza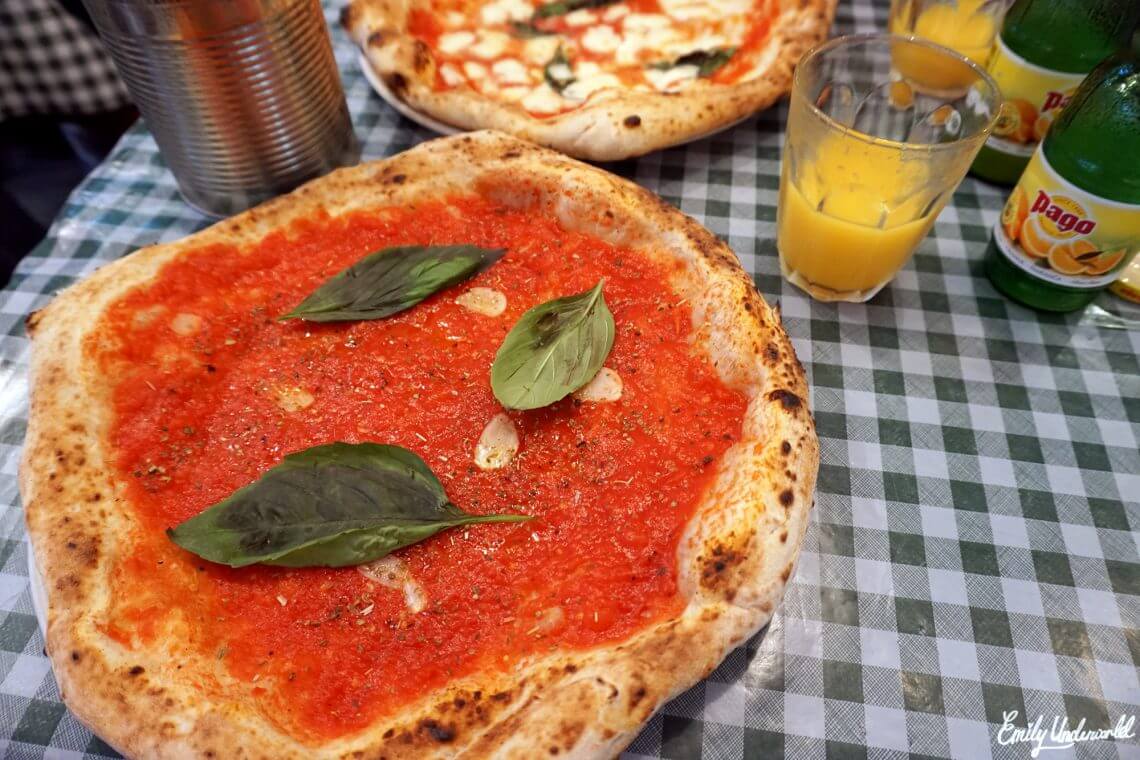 Pizza Pilgrims: Soho & Carnaby Street
Pizza Pilgrims is great. It's cute and quirky with an Italian-themed interior, the pizzas taste delicious, and it's inexpensive. I've been to both their Carnaby Street and Soho restaurants, and enjoy their Marinara pizza, which is cheese-free, and flavoured with basil, oregano and chopped garlic. Did I mention that it's only £5.50?! You can't go wrong.

Zizzi: the Strand, Covent Garden, Westfield & many other locations.
Zizzi is definitely my favourite place for vegan pizza (so far!). They use vegan cheese made from rice milk, which is tastes creamy, and even have an entire vegan menu, including vegan sorbet gelato! Zizzi have many locations, are reasonably priced and often have deals like a free bottle of wine with two meals!
Hot Dogs!

Top Dog: Soho
I was never much of a hot dog fan anyway, but it's nice to know that I can get a vegan one at Top Dog in Soho if I want! I had their vegan tofu hot dog with sweet potato fries (of course), and I really enjoyed it.
Don't forget that there are tons of vegan street food options in places like Camden, Shoreditch and Dalston. I particularly like the Street Feast in Shoreditch, there are lots of vegan choices. There are also many omnivorous restaurants that you can get vegan meals at, including Pizza Express, Voodoo Rays (I hear their pizza slices are amazing), good old Wetherspoons, and even Nandos!
Are you vegan? Where are your favourite places to eat?
All the best,