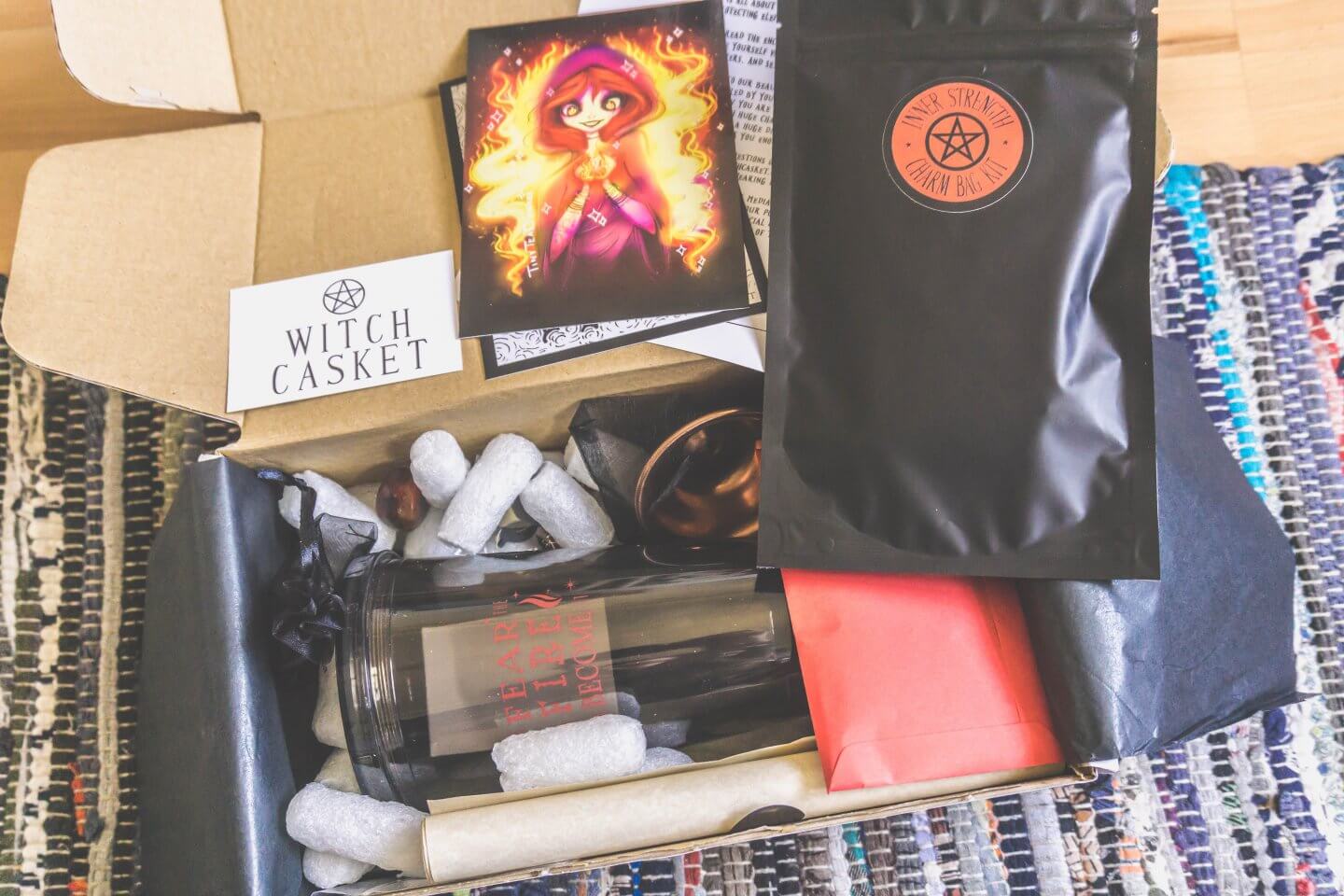 What is Witch Casket?
Witch Casket is a UK cruelty-free, vegan magickal subscription box, run by a mother and daughter. Each box is based around a particular theme, e.g. Earth, Spring, the night… anything magickal. 
The variety of items included is wonderful: jewellery, tea, spells, crystals, incense, art prints, things for your altar, and more. Plus at least three items in each box are exclusive to Witch Casket. This subscription box is truly a treasure trove of goodies for any witch!
A Witch Casket comes in unmarked packaging, so your postie / family / flatmates don't have to know what you've ordered. It's perfect for those who don't want to share their magickal interests with the world!
Witch Caskets aren't based on a particular religion or path, e.g. Wicca, making the boxes universal to all interested in magick and witchcraft.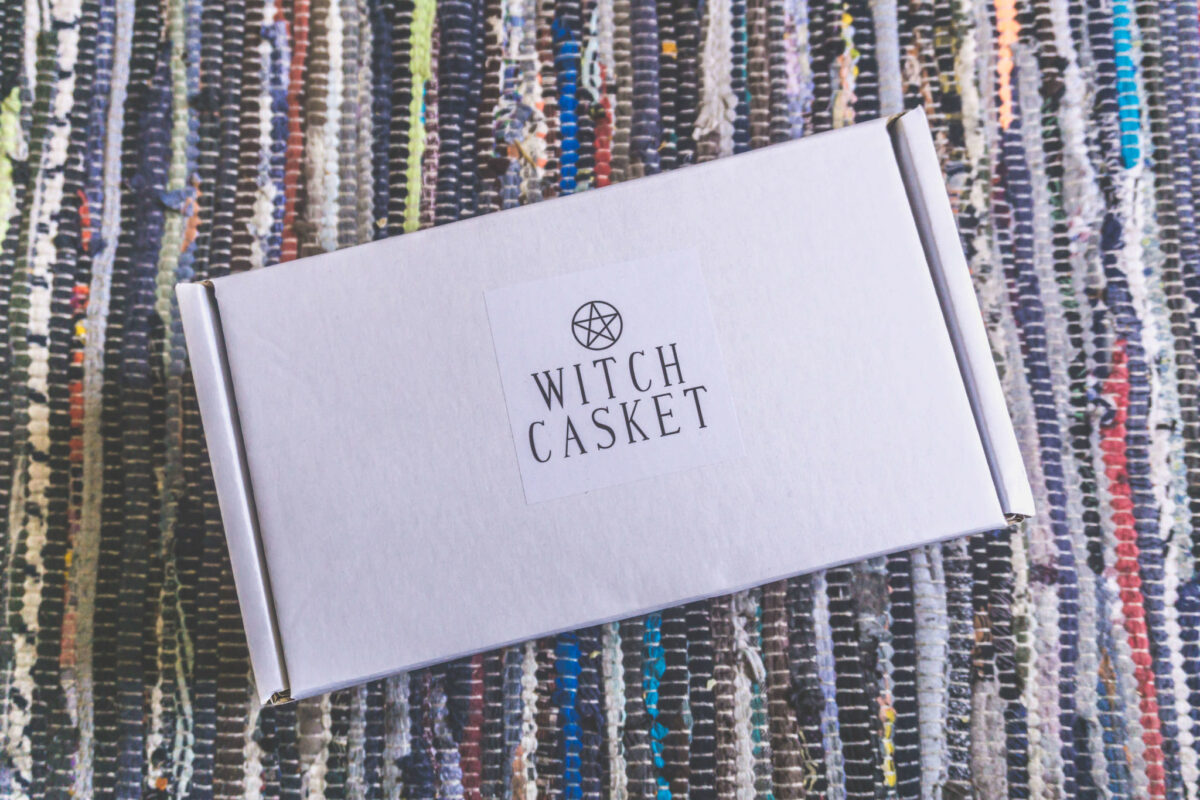 Unboxing May's Fire Witch Casket Box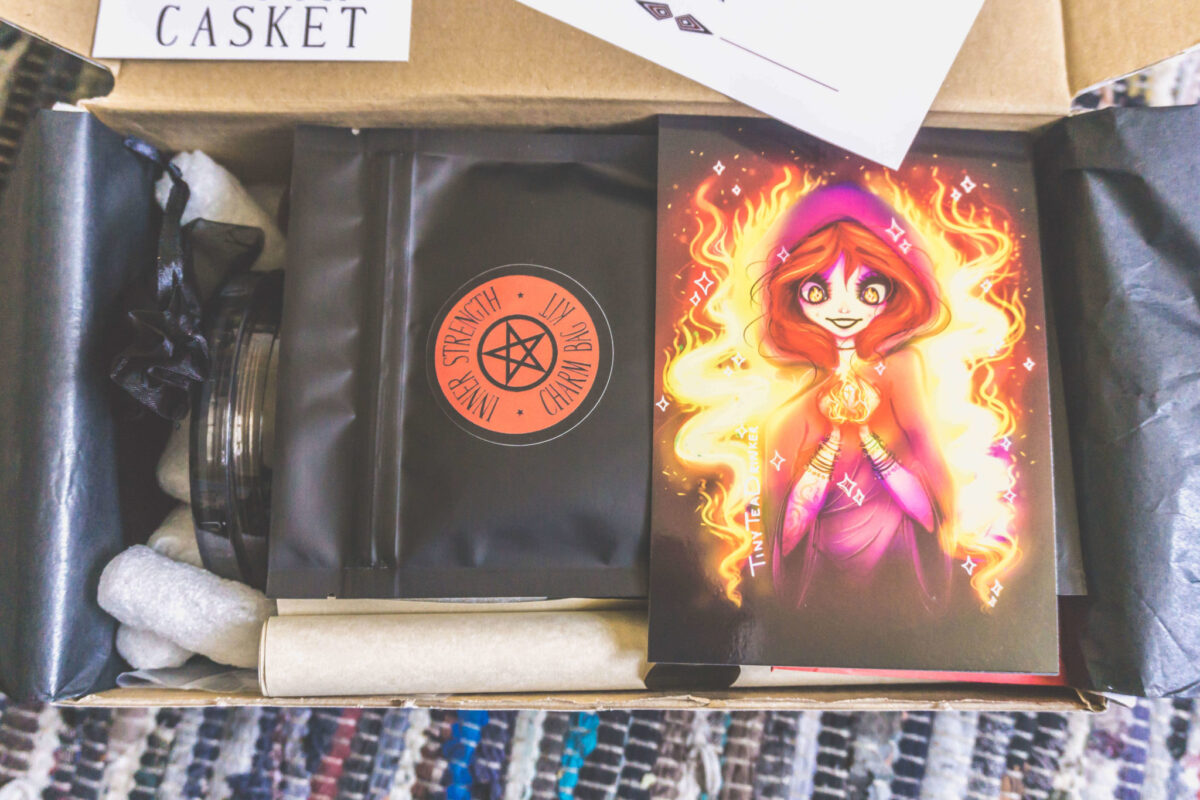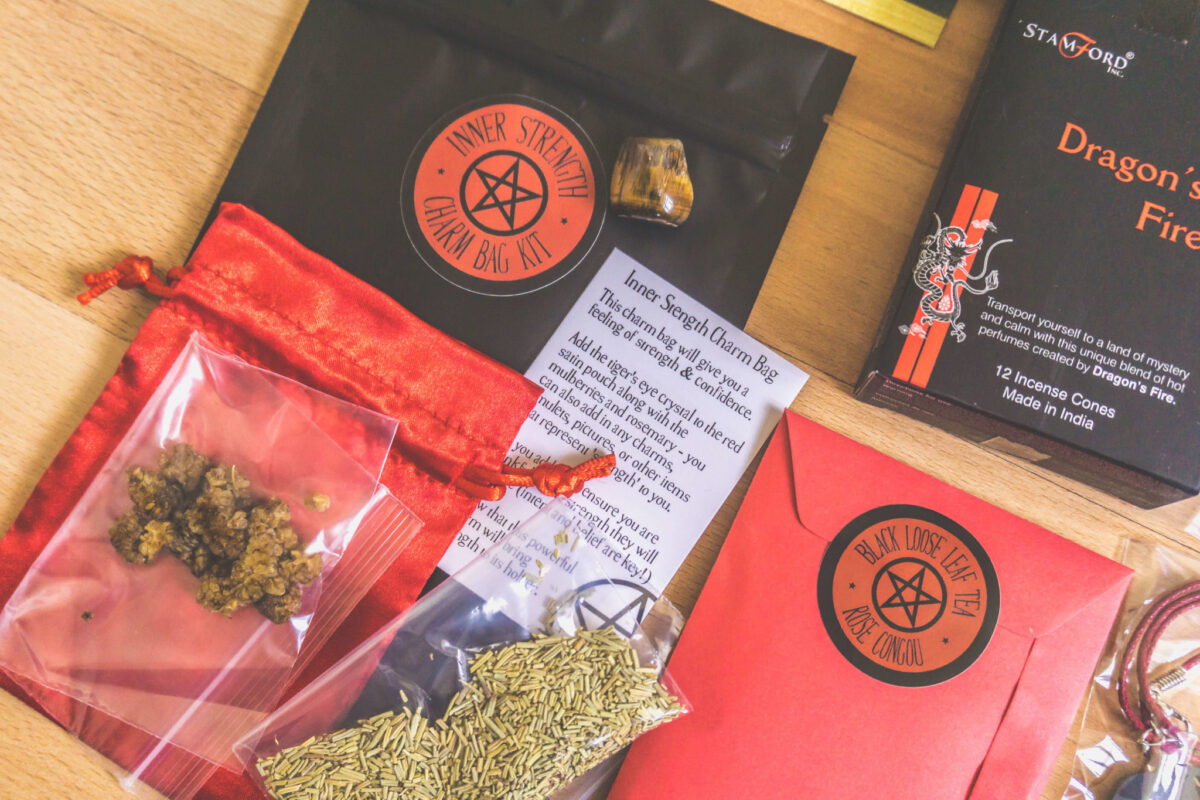 My first box was focused on the passion and power of the fire element.
I was very excited to find two crystal tumblestones, all the necessary tools for the spells provided, and lots of cute extras. I love trying new loose-leaf teas, so I was very happy to find a decent-sized bag of rose tea inside.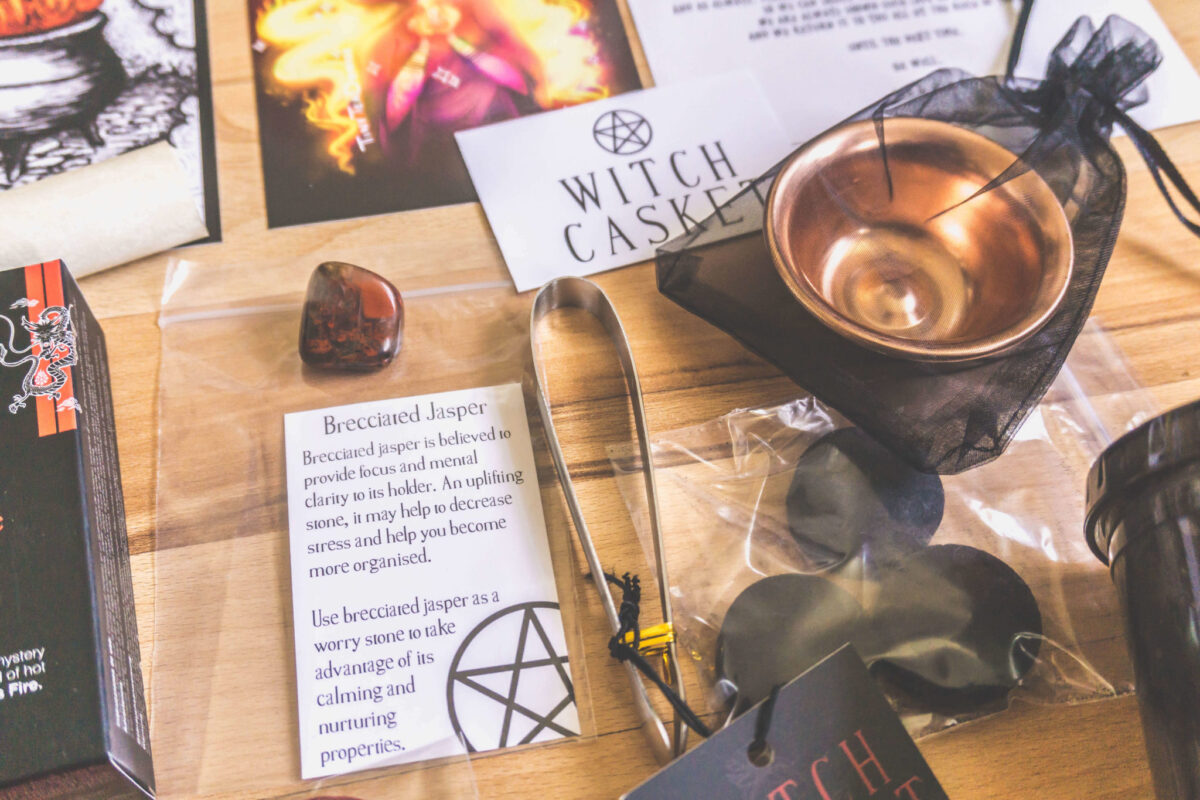 The box is perfectly curated to fit the fire theme. The red and black packaging, relevant art prints, and even a travel tumbler cup with a fire quote on it… I couldn't ask for more!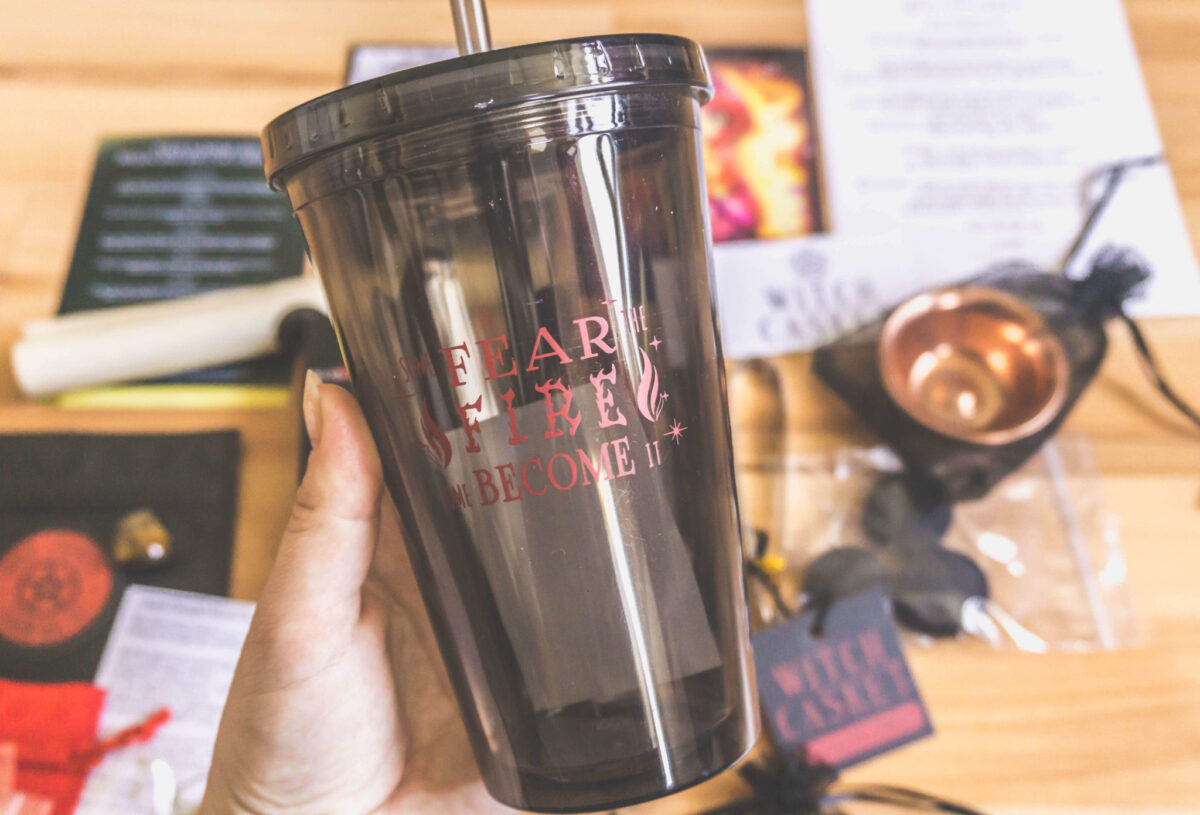 The Contents!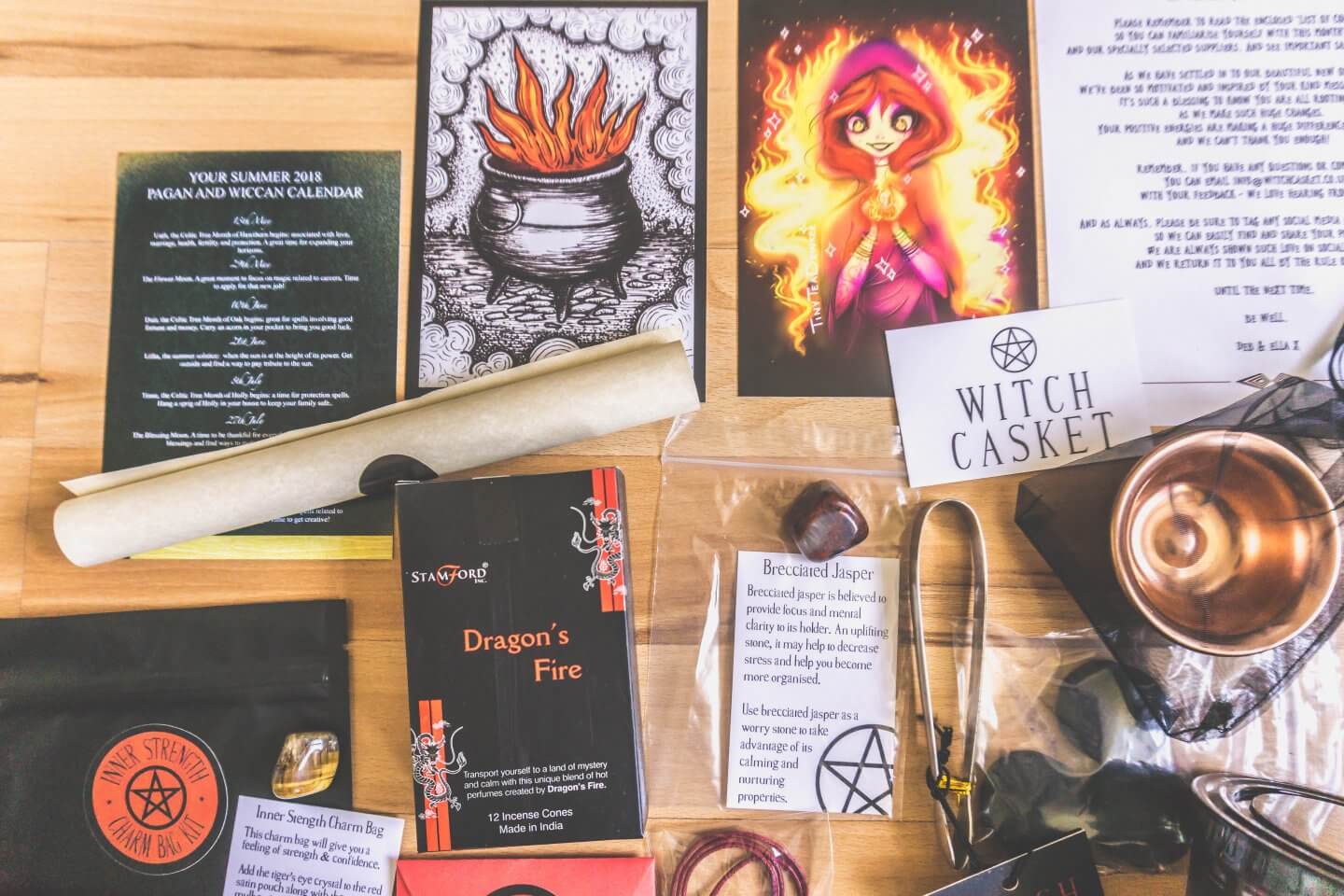 'Fire' Travel Cup (Witch Casket Exclusive)
Inner Strength Charm Bag Kit, including a tiger's eye stone (Witch Casket Exclusive)
Fire Element Button Badge (Witch Casket Exclusive)
Cauldron Necklace, from Curiology (Witch Casket Exclusive)
Fire Element Parchment Scroll (Witch Casket Exclusive)
Cauldron Pocket Mirror (Witch Casket Exclusive)
Black Loose Leaf Tea – Rose Congou, by Teacakes of Yorkshire
Brecciated Jasper Tumbled Stone & Info Card
A6 Art Print, from Tiny Tea Drinker
A6 Art Print, from Tea Cake Art
Dragon's Fire Incense Cones
Brass burner/offering bowl
Pack of 3 charcoal discs
Charcoal disc tongs
A Secret History of Witches postcard, a gift from Little Brown Book Group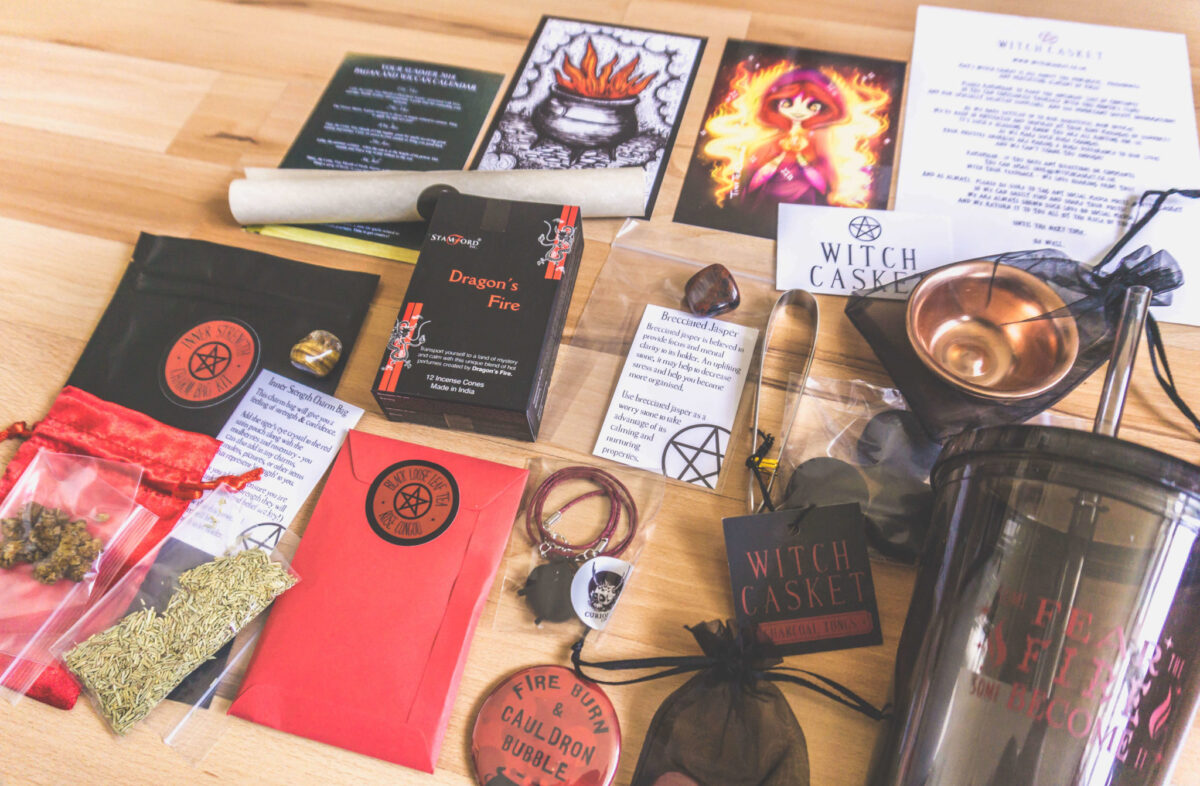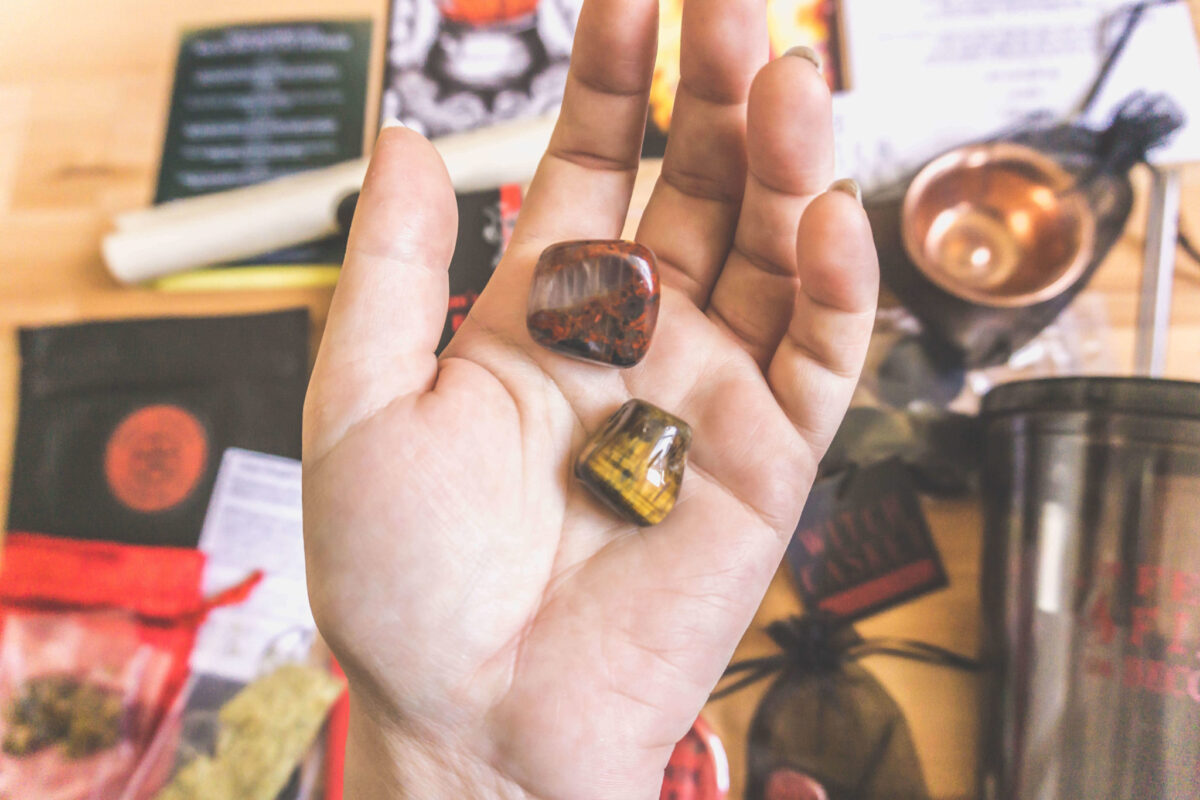 Witch Casket Review: My Thoughts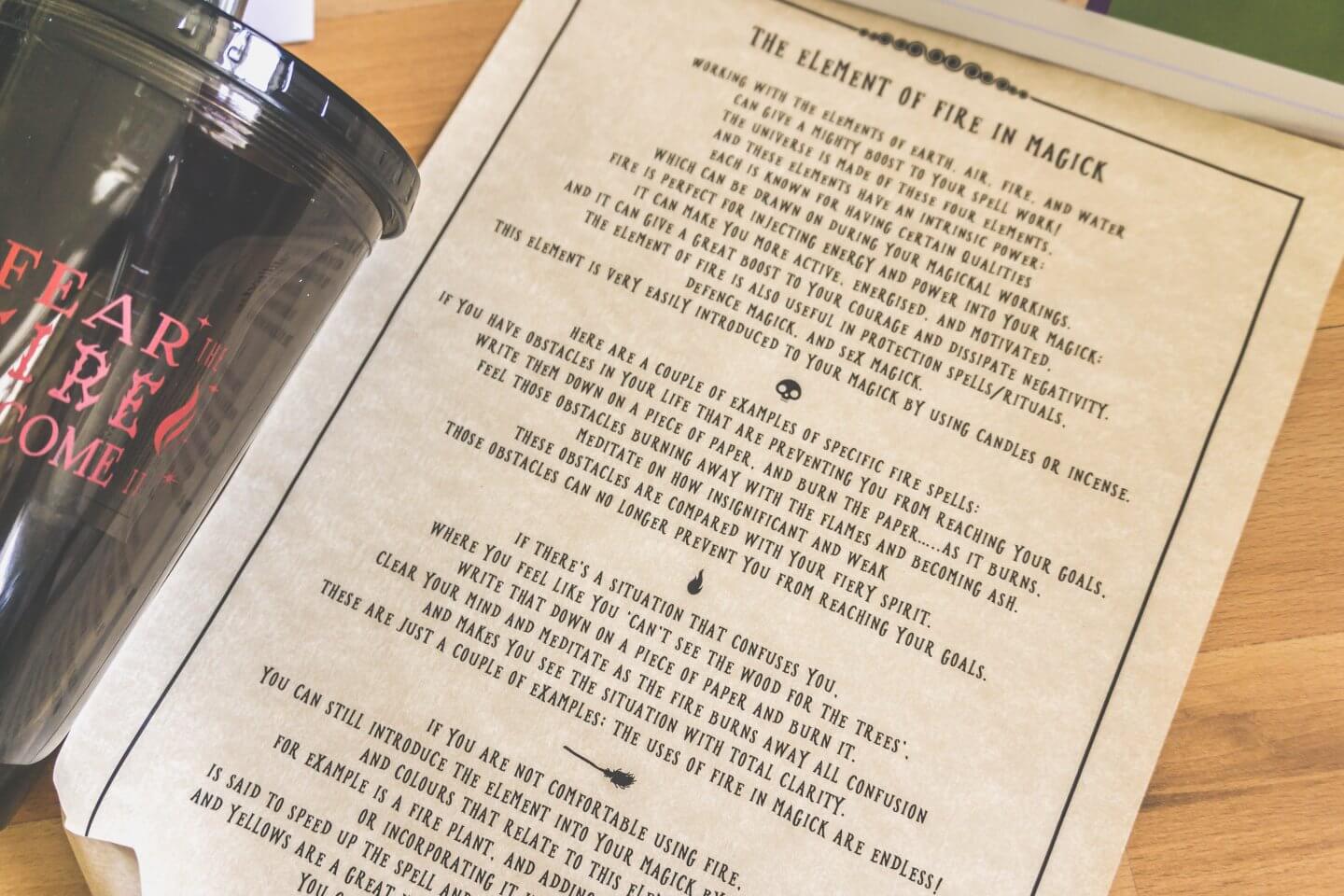 The creators of Witch Casket certainly put in a lot of effort to make each box fit a cohesive theme. I loved the information scroll and spell instructions included, because we all need help sometimes! I would definitely recommend Witch Casket if you're getting into witchcraft, spirituality, or you want to start a crystal collection.
Personally, I couldn't afford this as a monthly subscription at the moment. As a one-off treat, it was lovely… although my June box is already on the way, oops. If someone got me one of these as a birthday present, I'd definitely be happy!
Witch Casket is £27 per month, including free UK shipping on the 15th of each month (they do have international options too). Each box contains a minimum value of £45, and they're jam-packed with wonderful witchy goodies.
Did I mention that Witch Casket products are ethically-sourced, cruelty-free and vegan-friendly?!
Thanks for reading,
Emily