This blog post features gifted items from Dunelm.
Recently I moved into my final year student house with some friends, so of course I've spent days making my room look all cute and organised, ready to go back to uni. We've had so much to organise – bills, rent, travel arrangements etc, as well as unpacking, trips to IKEA, followed by building things we bought there, so that's my excuse for not blogging in over two weeks… but hey, I'm back now and everything is wonderful.
Anyway, let's talk about my bedroom. The lovely people at Dunelm were kind enough to involve me in their Student Essentials campaign and sent me a giftcard to pick up some cute things for my new room, focusing on student essentials like bedding. My mother and I took a trip to Dunelm before I came back to London, and we went a little crazy for all the lovely things they have in there. So without further ado, here's what I got…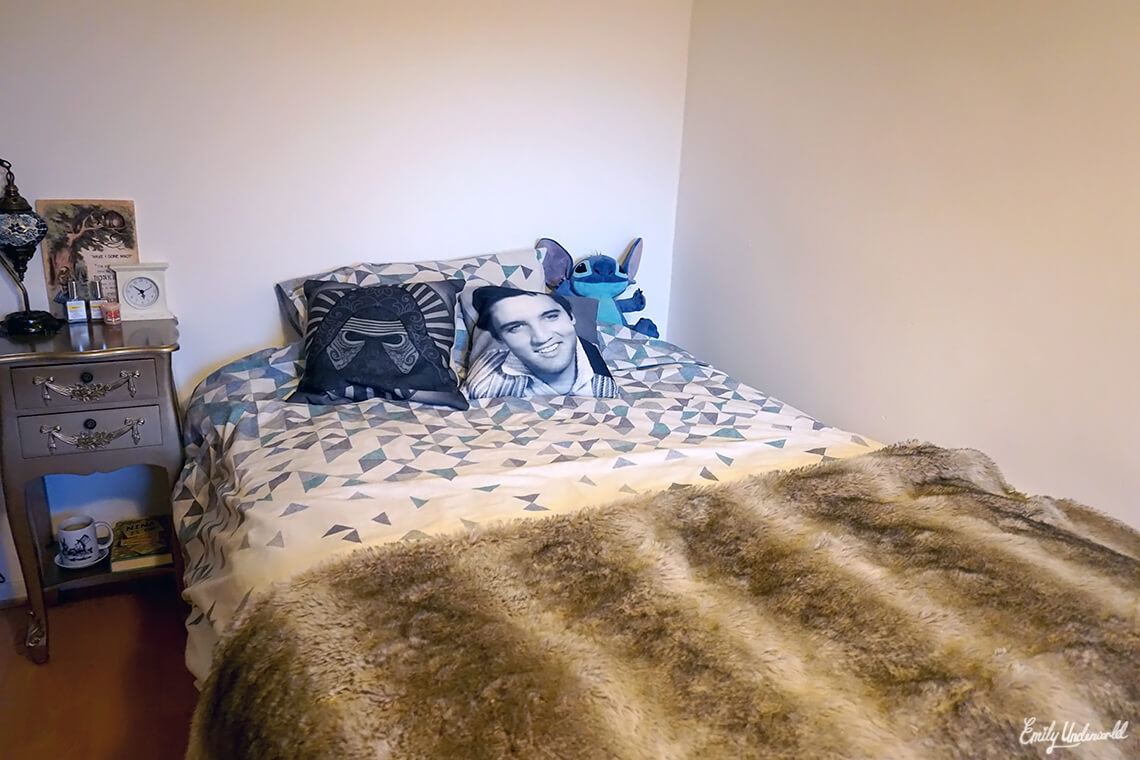 Bedding is pretty much the focal point of a bedroom in my opinion, so I wanted to get something a bit quirky, but comfortable, without being too distracting, as I like to keep toys and cushions on my bed. My new room has purple curtains, so the Elements Riley duvet cover set, with blue, grey and purple tones is perfect. The walls are looking a bit bare at the moment because I haven't got anything to stick my posters up with yet (I'm worried that blutack will damage the walls), but I'm definitely happy with the way my bed looks! I almost went for the Salvage Ticket bedding, or the Skandi Geometric set – it was a tough choice because Dunelm have so many cute designs! At the end of the bed, I have my faux wolf fur throw from George @ ASDA, and on top, I have a Stitch plush toy from the Disney Store, a Kylo Ren cushion, and an Elvis cushion.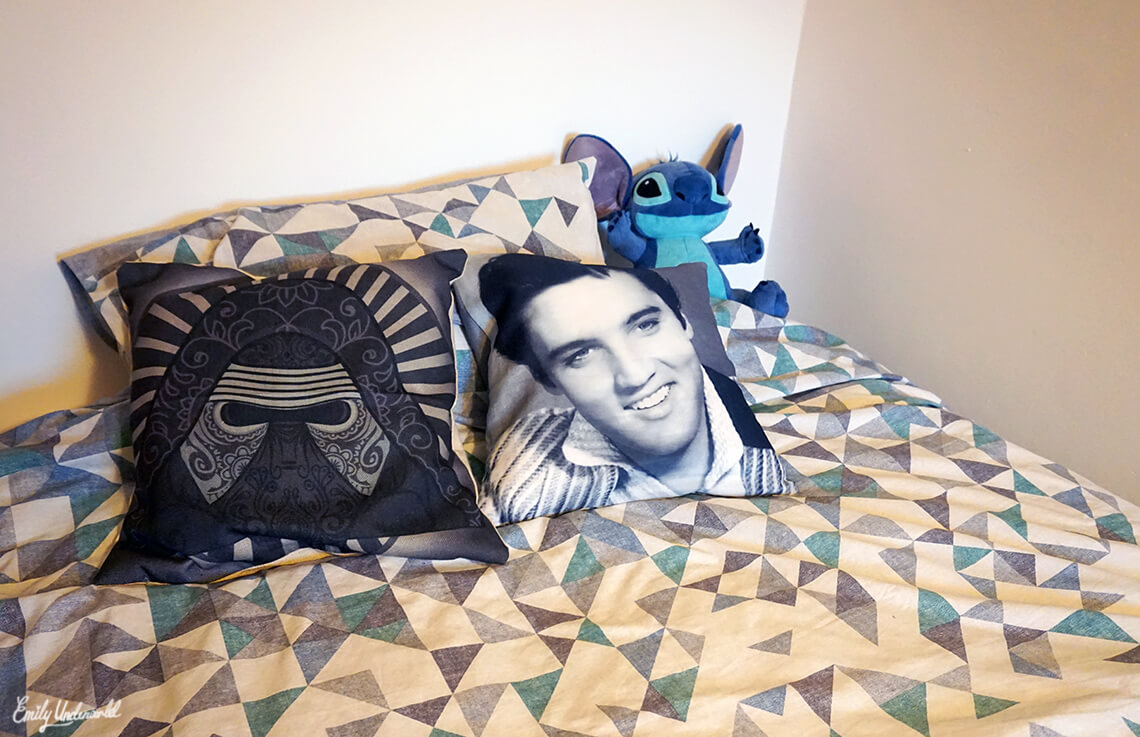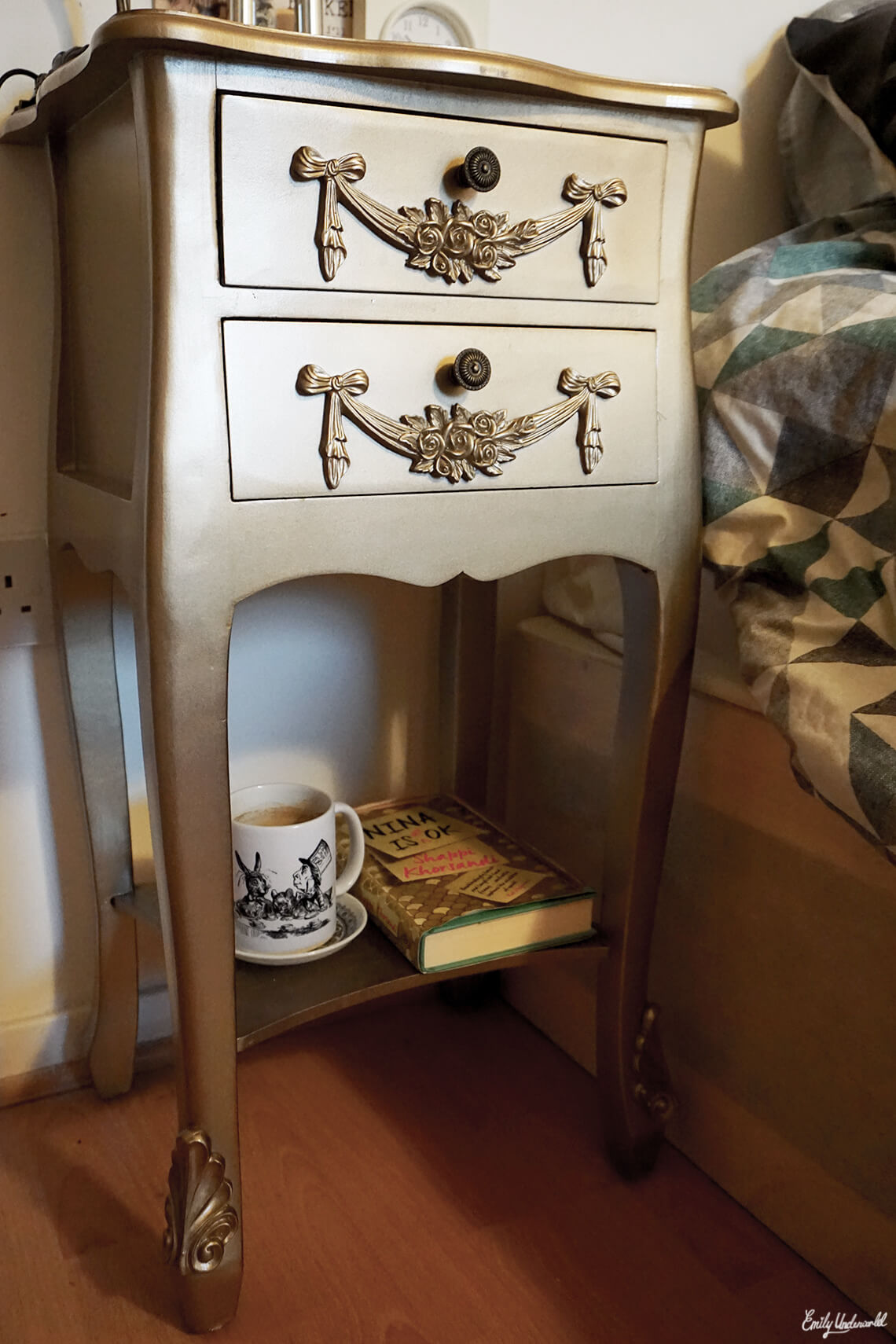 My absolute favourite part of my bedroom is the gorgeous gold Toulouse bedside table I got! I'd originally picked up the white version, but when we got to the till, my mum noticed that they had gold and silver versions too. I decided to go for the gold because it matches my purple curtains well, and it's stunning, I couldn't be happier with it! The white one is available for £59.99, and the gold and silver for £69.99. The entire Toulouse range is utterly beautiful, I'd definitely recommend checking it out.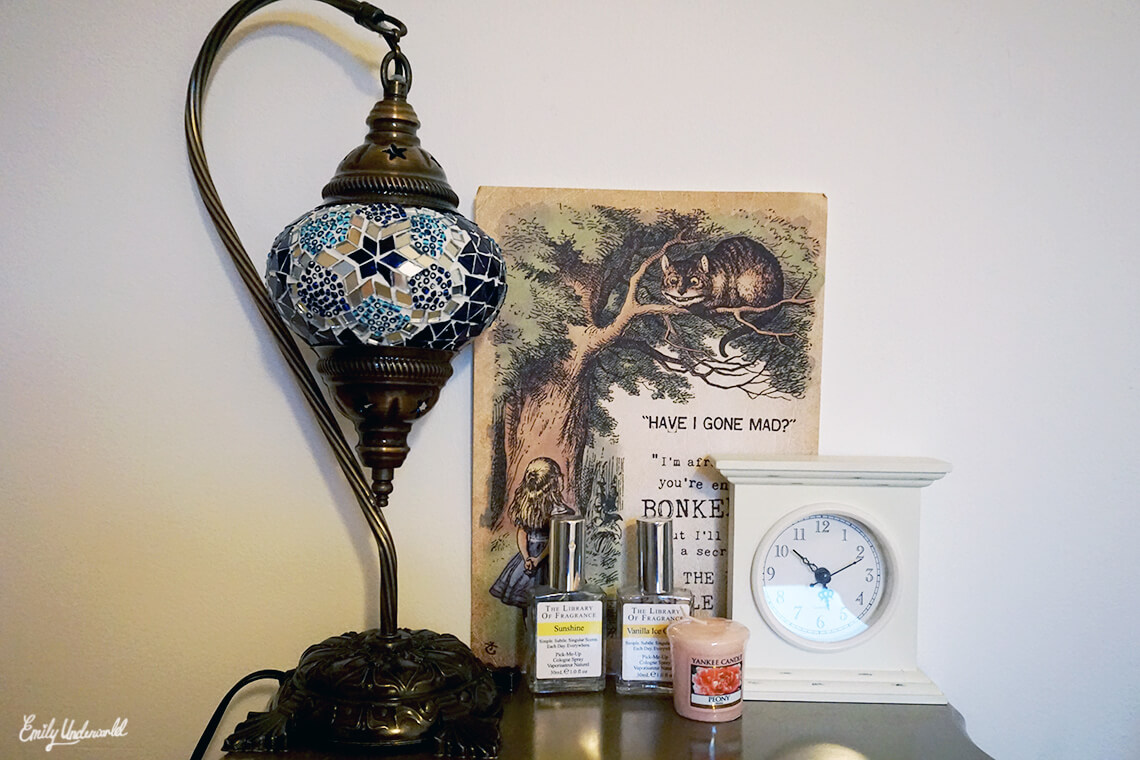 On top of my bedside table, I have my beautiful mosaic Turkish lamp from Camden (unfortunately the bulb inside broke during travel, so I'll have to pick up a new one), my favourite perfumes from The Library of Fragrance (Sunshine and Vanilla Ice Cream), a Peony scented Yankee Candle, an Alice in Wonderland print, and finally, an adorable Classic Elegance clock that I picked up in Dunelm for only £5. A clock for your bedside table is a total student essential, because we're always running late!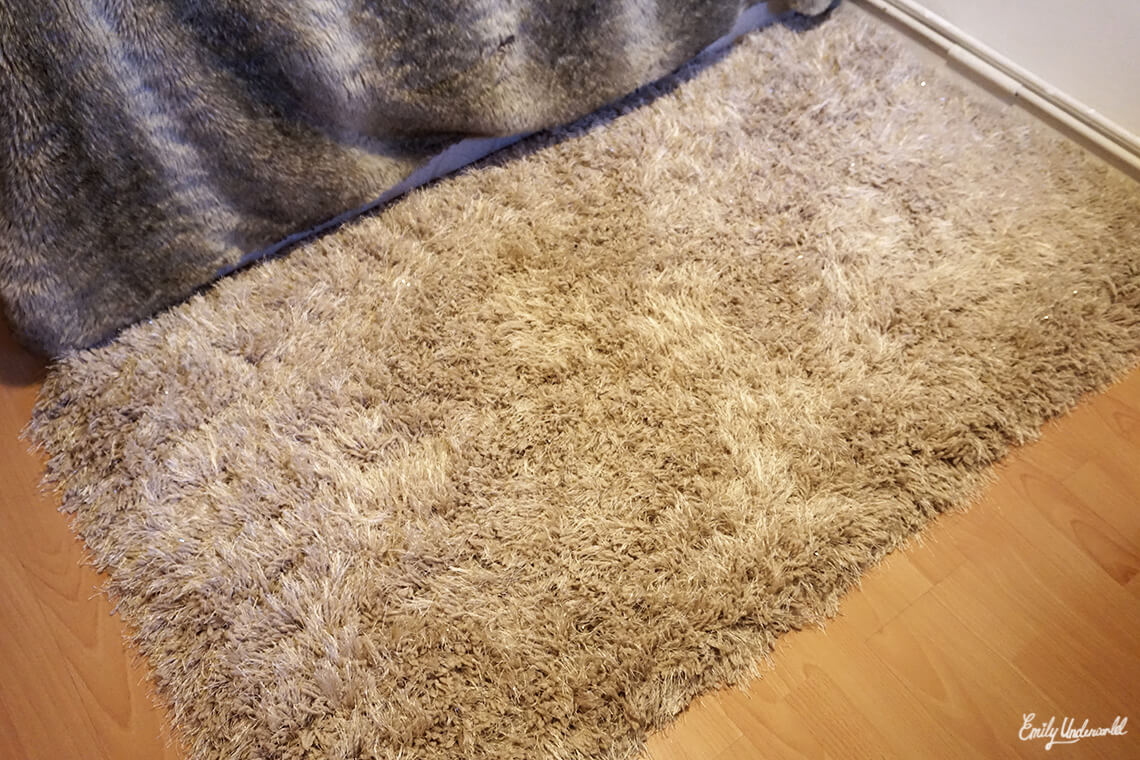 On the floor at the end of my bed, I have a wonderful Gem Sparkle Shaggy Rug. It's soooo fluffy, and I love the little sparkles! Is there anything better than lying on a fluffy rug with a book after a long day at uni? Nope. I got the smallest one (80 x 150 cm) for £29.99, which is literally the perfect size for my bedroom and makes it look much more homely.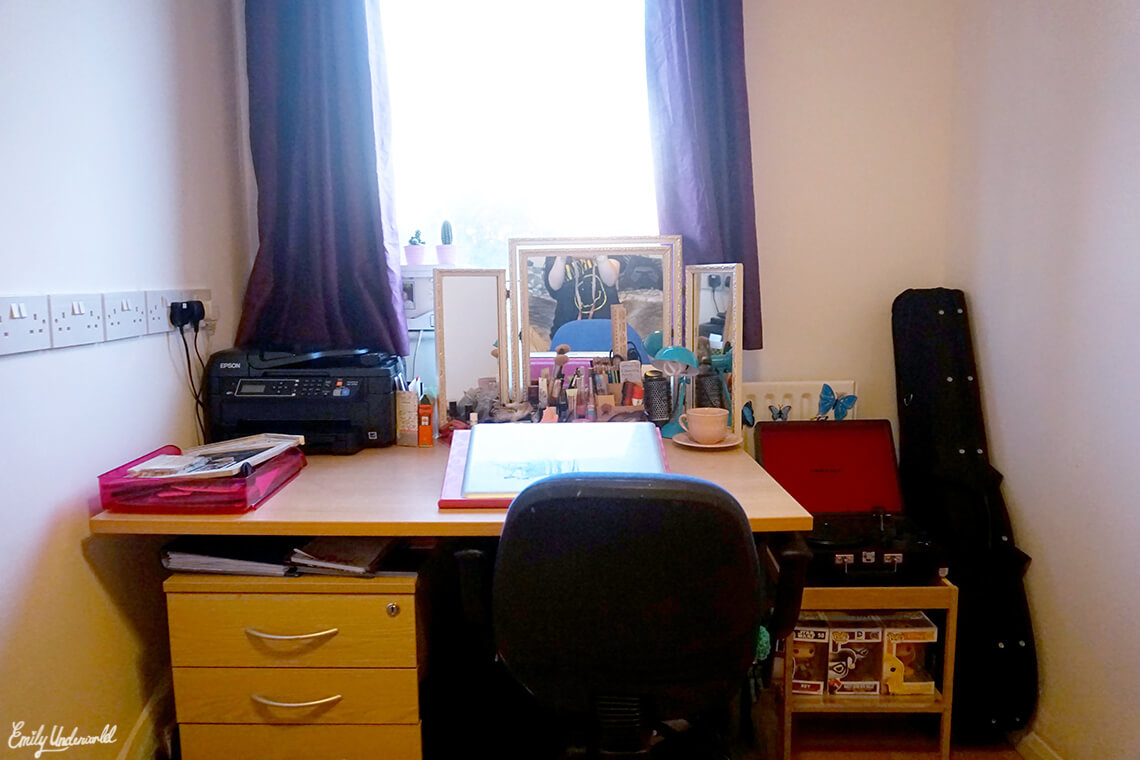 I'm aware that this post is getting a bit picture-heavy, but I still have so much to show you… Here is my general desk area, which I've tried my best to organise, because it's the most important part of a student bedroom (except the bed of course!).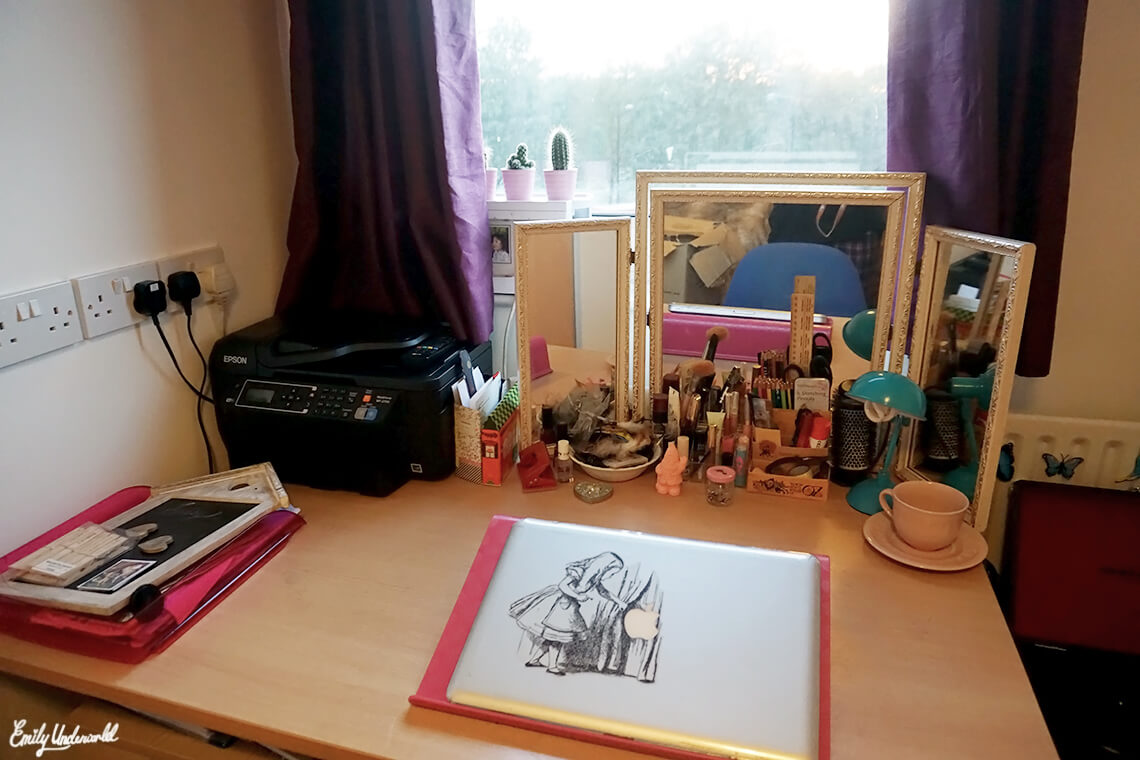 On my desk, I have my new Epson printer (review here), my makeup, a gorgeous vintage mirror, a desk lamp, a teacup, a tray with some uni work and other random things in, and a cute pink laptop stand with my Macbook on from IKEA.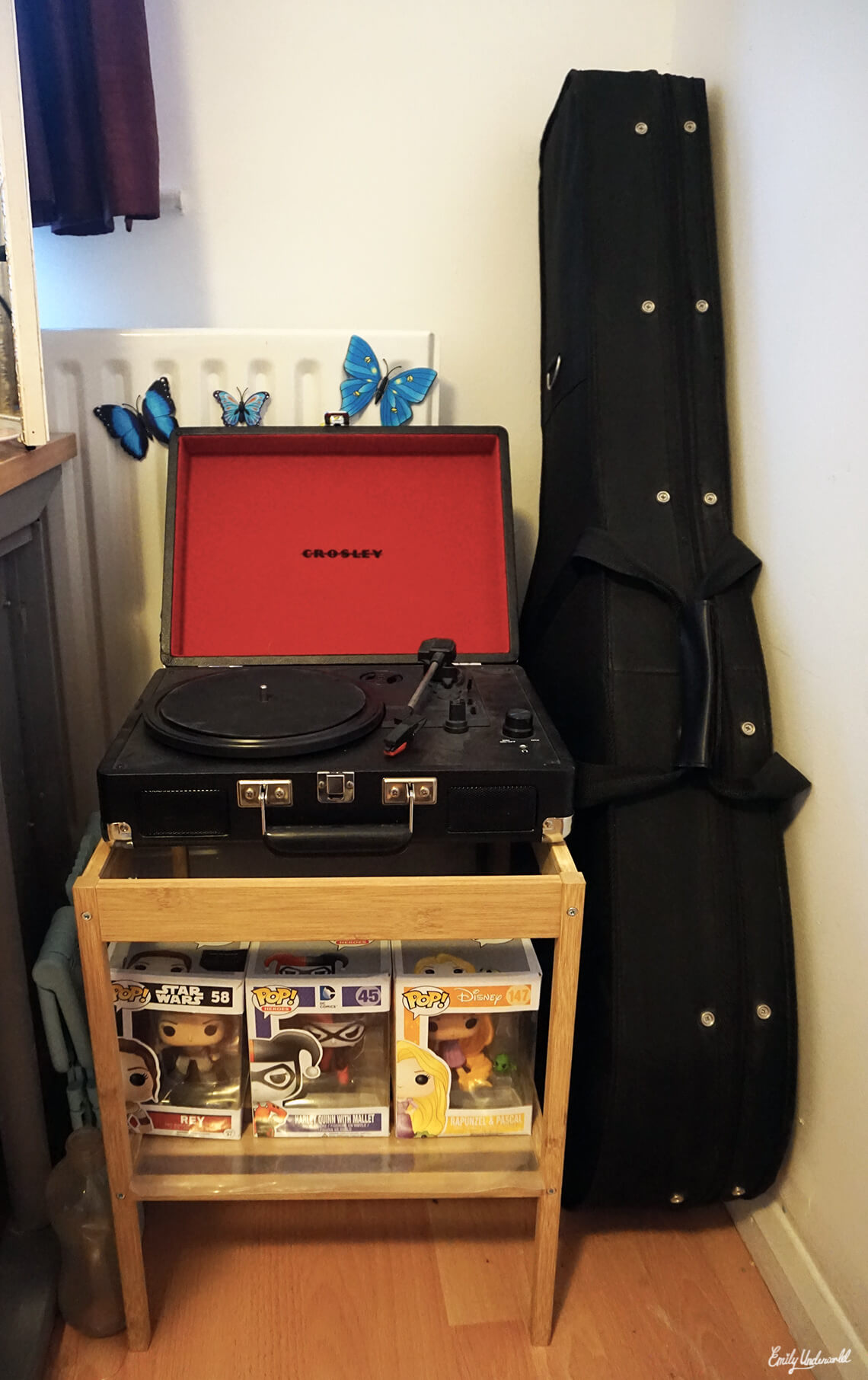 Next to the desk, I have my guitar, and a little bedside table that I got in IKEA for £9, which I'm using as a record player stand.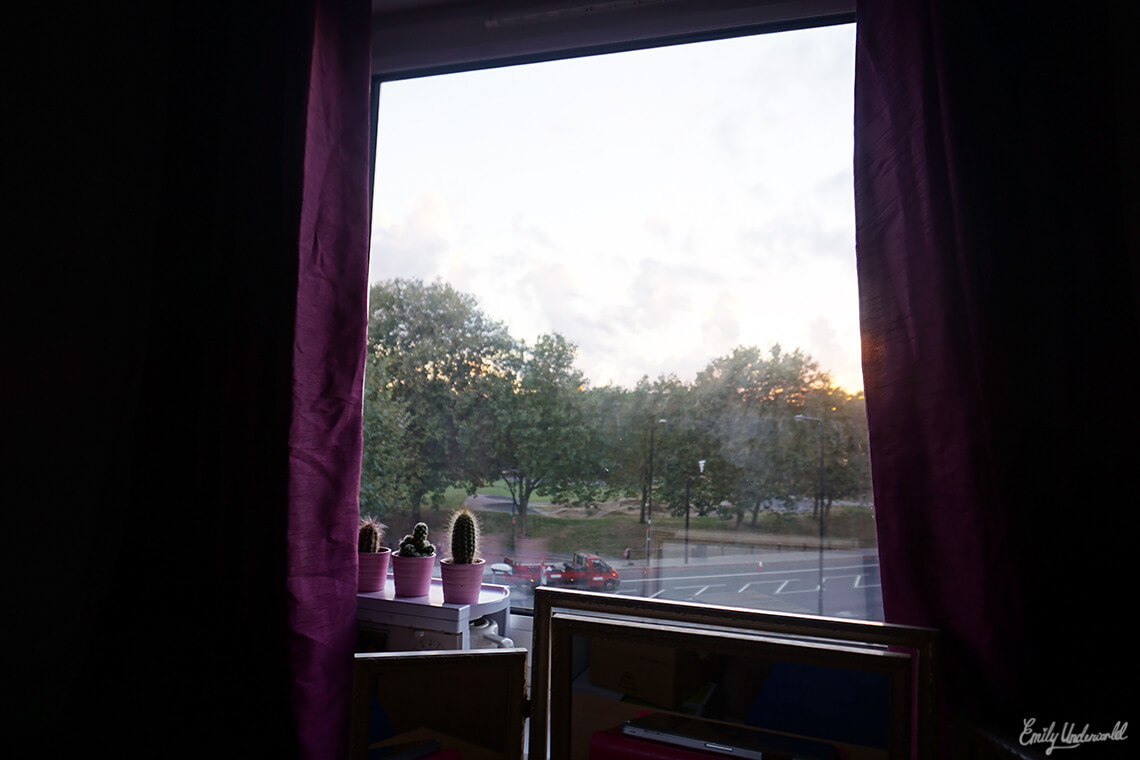 I have a lovely London park view out of the window, it makes studying at my desk so much more enjoyable. Watching the sunset is amazing! And yes, I have a set of little cacti on top of a Teasmade on my windowsill.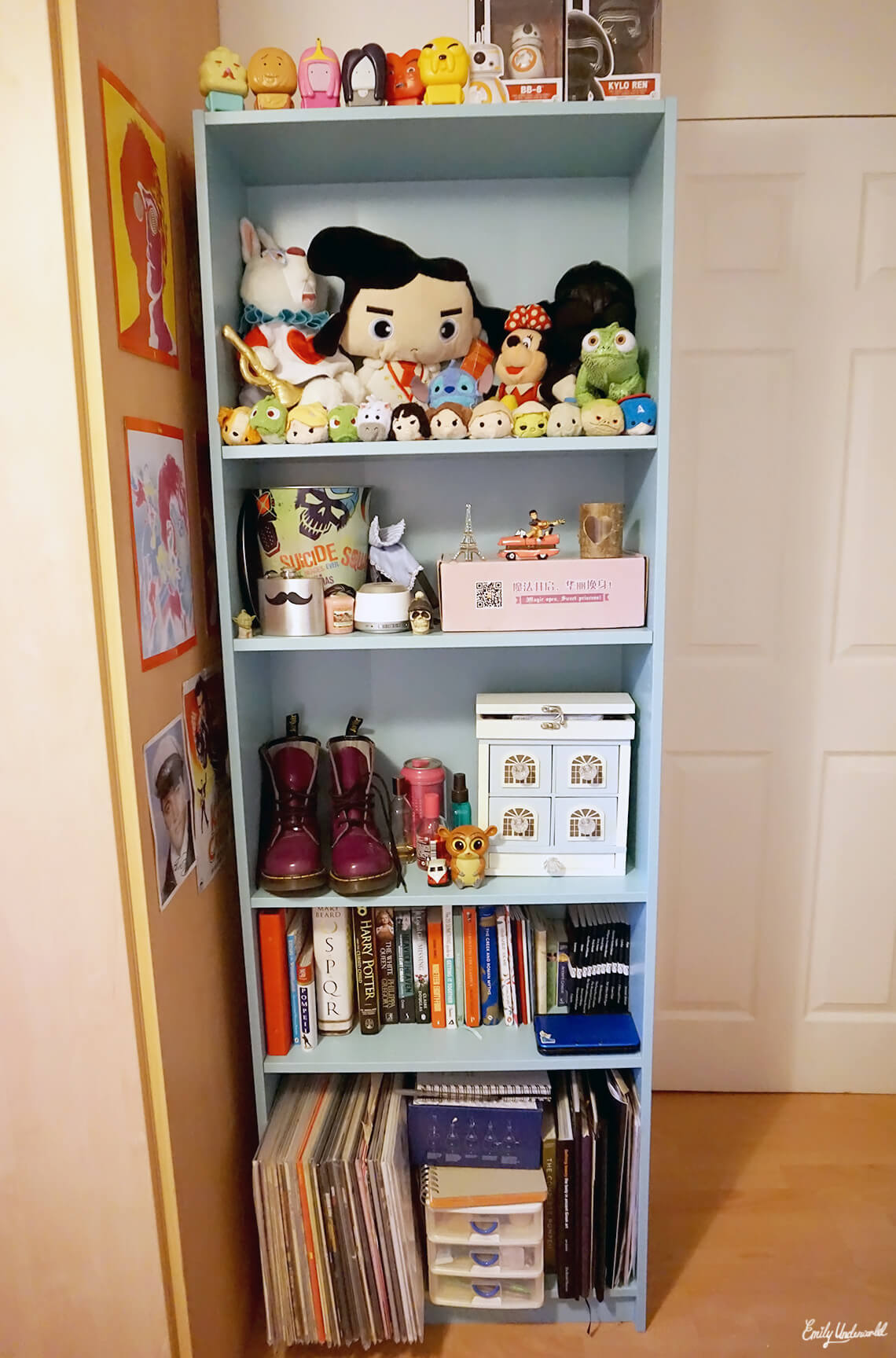 And here is my bookshelf, which is organised but cute, with lots of toys! I got the bookshelf in IKEA for £21… it was a nightmare to get it home on the bus.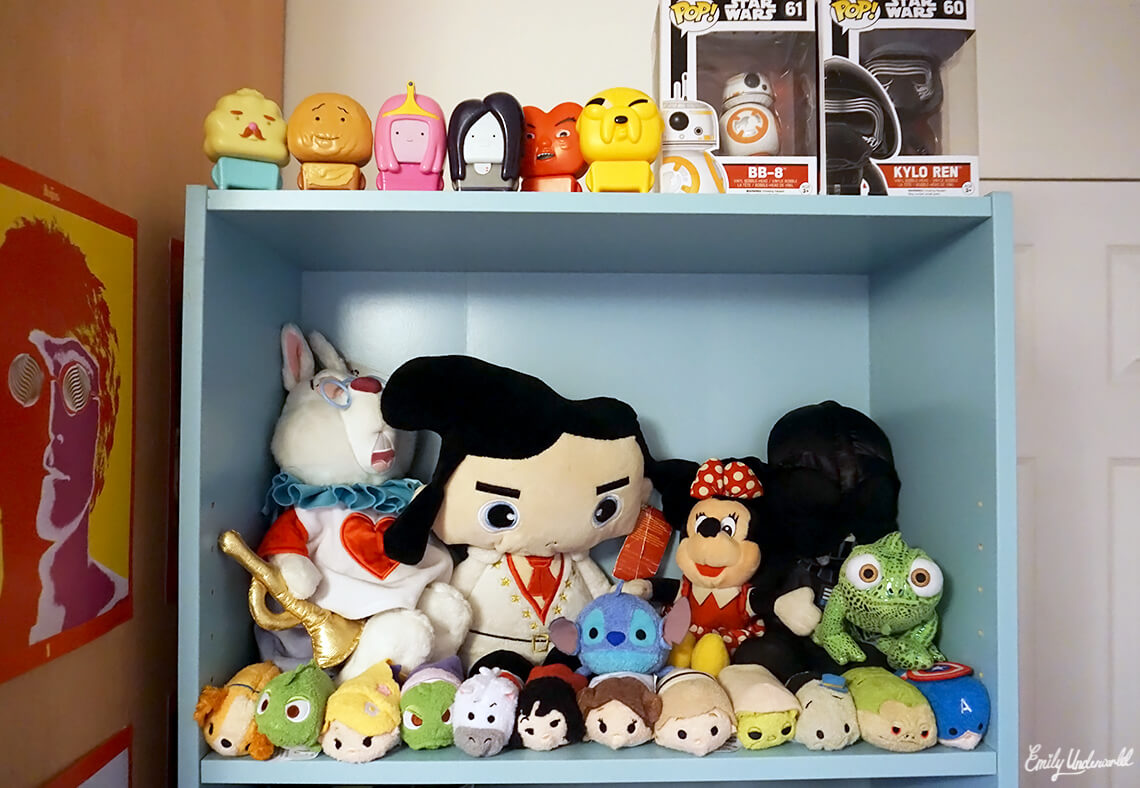 Toys and posters are my favourite way to personalise a student bedroom, to make it colourful and inviting. When one of my friends saw my room, he said it looked like an explosion of my personality, which I love!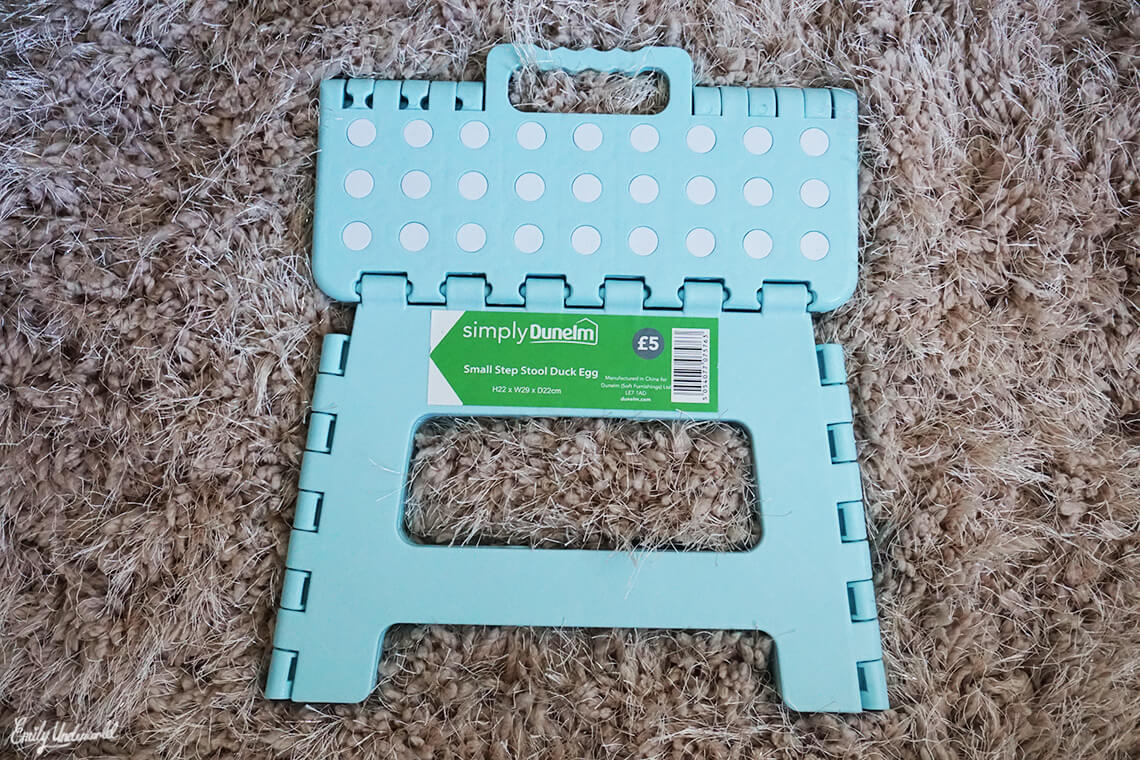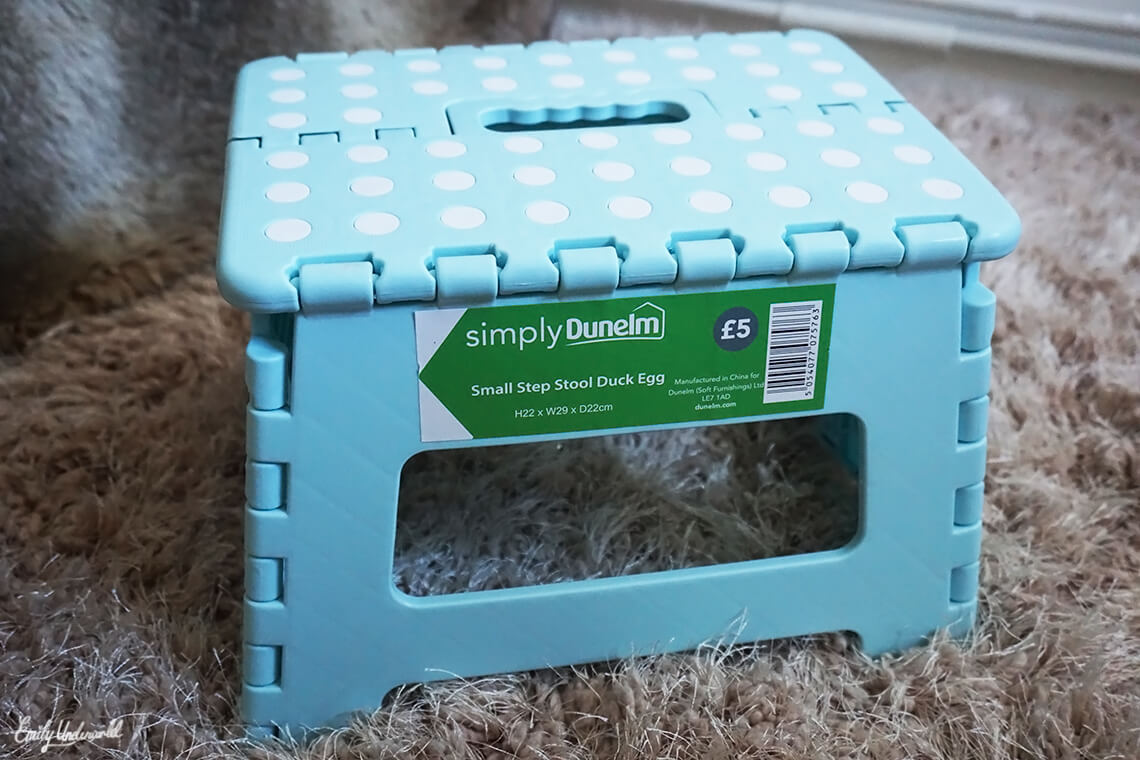 I picked up a few more student essentials from Dunelm, including towels, an amazing Essentials Memory Foam Mattress Topper that makes my bed so comfortable, and a cute little foldable duck egg step stool because the shelves in my wardrobe are so high and I'm short!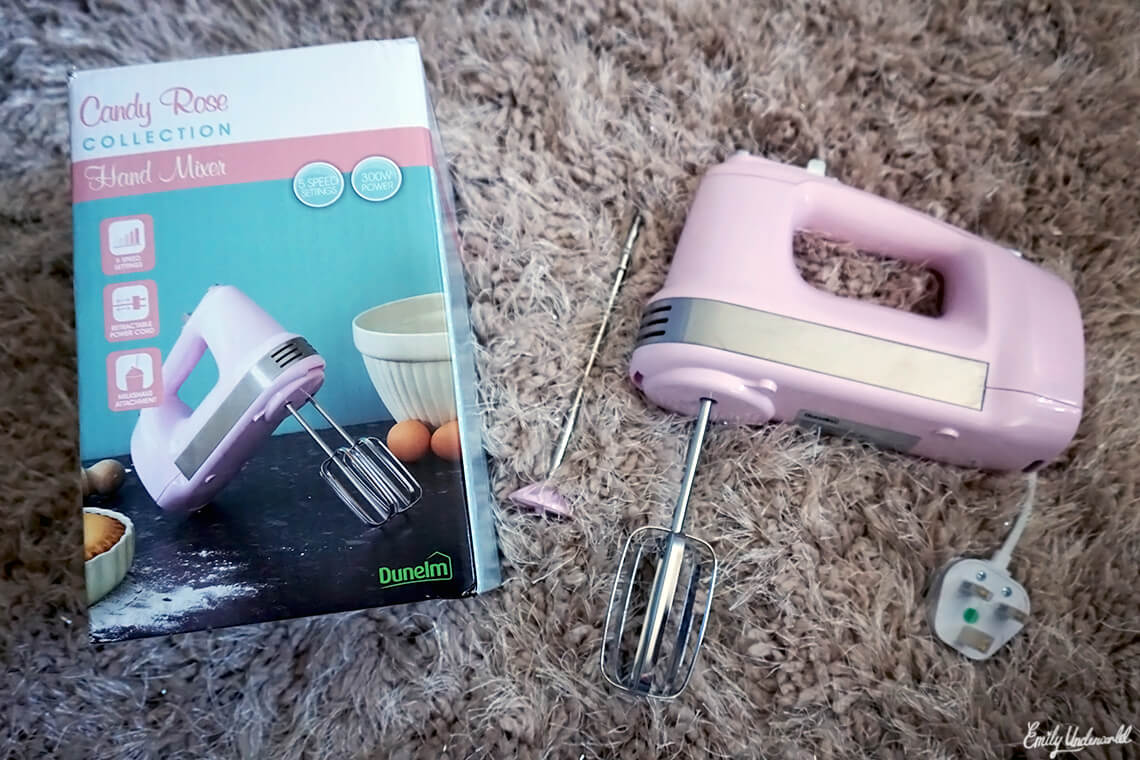 I also got a cute pink Candy Rose hand mixer, because that's a total student essential, right? I love baking, but at uni I can't steal my Mum's baking tools so I had to get my own mixer. Mum actually has the same Candy Rose hand mixer in blue, so I got the pink one, which was only £14.99 and very powerful! I've made plenty of pancakes already. If you haven't heard of the Candy Rose collection yet, you definitely need to check it out – there's loads of cute baking equipment, utility stuff, dining sets and essential electricals like kettles and toasters, all in adorable colours and inexpensive prices, which are so perfect for us gals at university!
If I haven't already persuaded you to check out Dunelm for Student Essentials, go, now! Even though I'm a third year student, I found lots of useful things that I didn't already have, so totally check it out even if you're not a fresher. Their slogan 'Everything you need for uni except A Levels' is totally true. Dunelm even have a student checklist pdf, which is so helpful to keep track of everything.
 Thanks for reading,
Follow
Find me here: Bloglovin | Twitter | Instagram | Music YouTube | Vlog YouTube
*I was given a giftcard by Dunelm for this blog post, but it is not sponsored.