AD – Pizza Union gifted me a meal at their Aldgate East restaurant.
Pizza Union is the first UK Italian pizza bar, boasting proper stonebaked Roman-style pizza in only 3 minutes. I've been to Italy a few times, and I like to claim that my Italian heritage is why I love their food so much, but really, pizza and gelato is just amazing, so I couldn't resist checking it out.
My boyfriend and I were invited down to the newest branch of Pizza Union near Aldgate East station a few weeks ago to review it, and I could tell instantly that it was my kind of place. Maybe I've been living in East London as a student for too long, but I love restaurants with a cool, chilled-out vibe like this. Oh, and neon lights are always a win.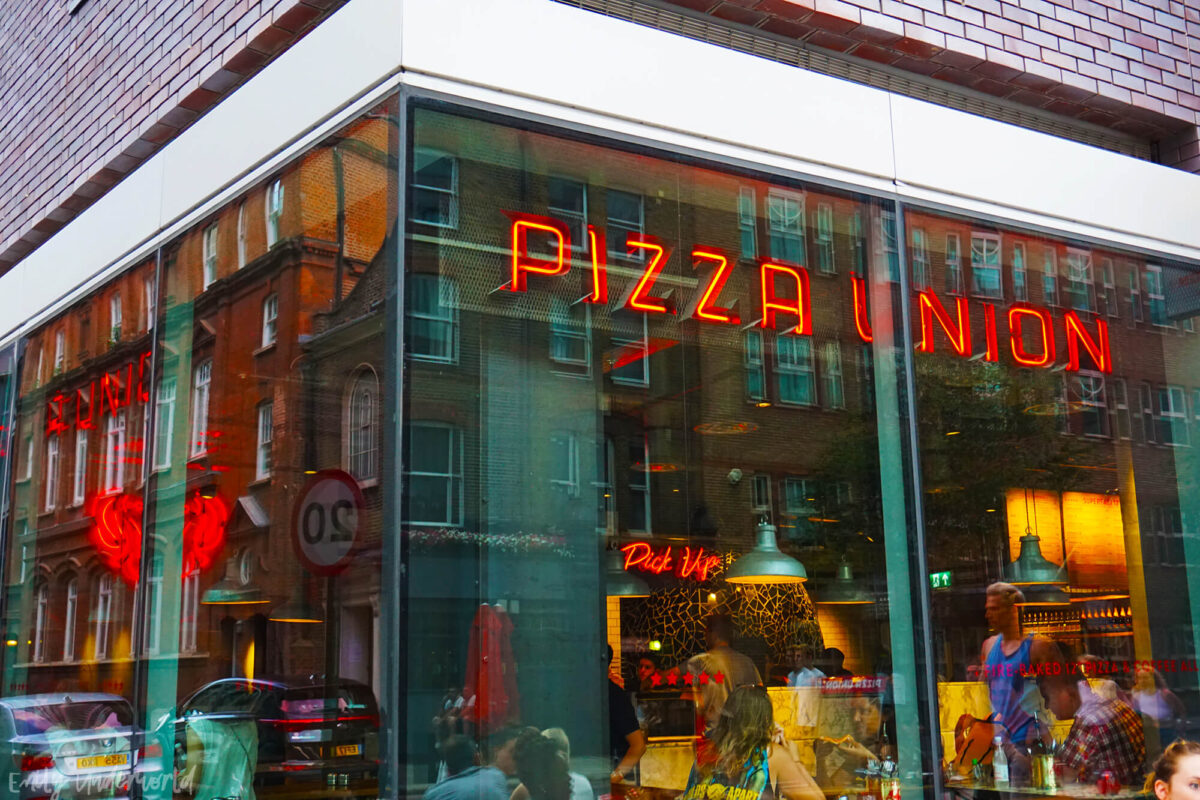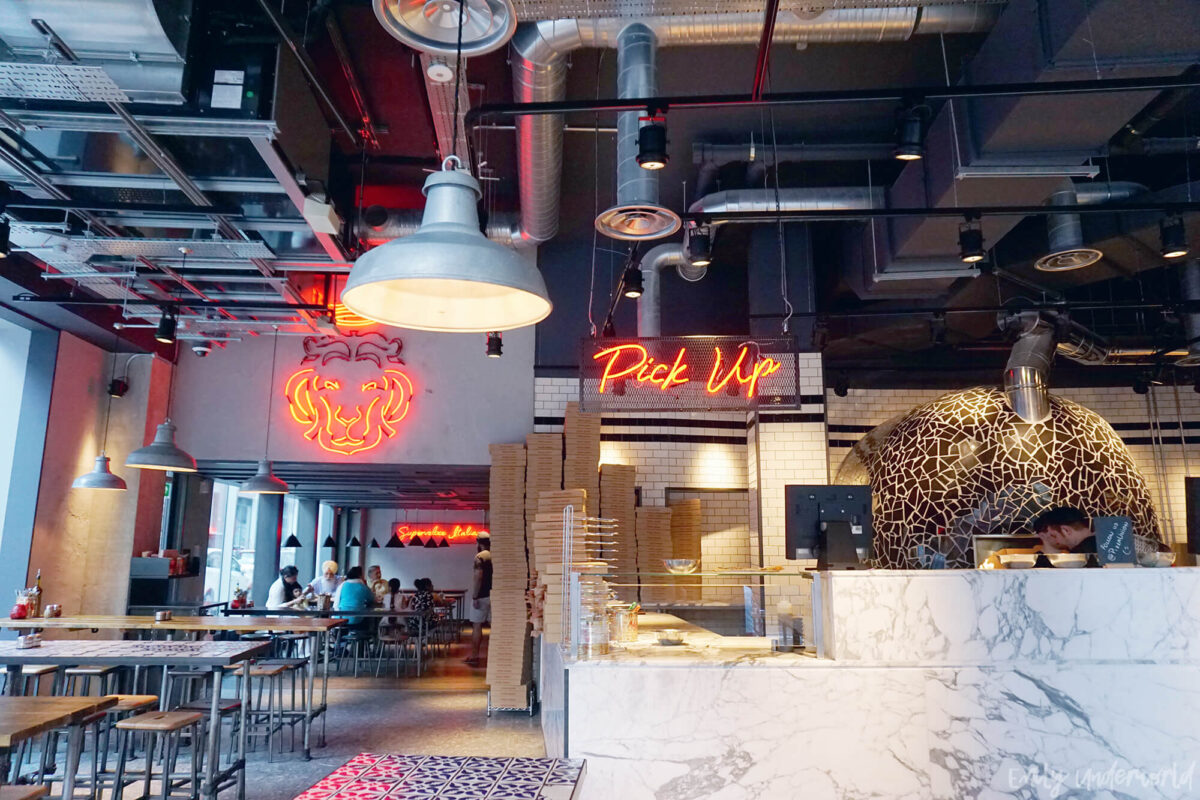 I absolutely adore the huge clay oven that they bake the pizza in, look how gorgeous it is!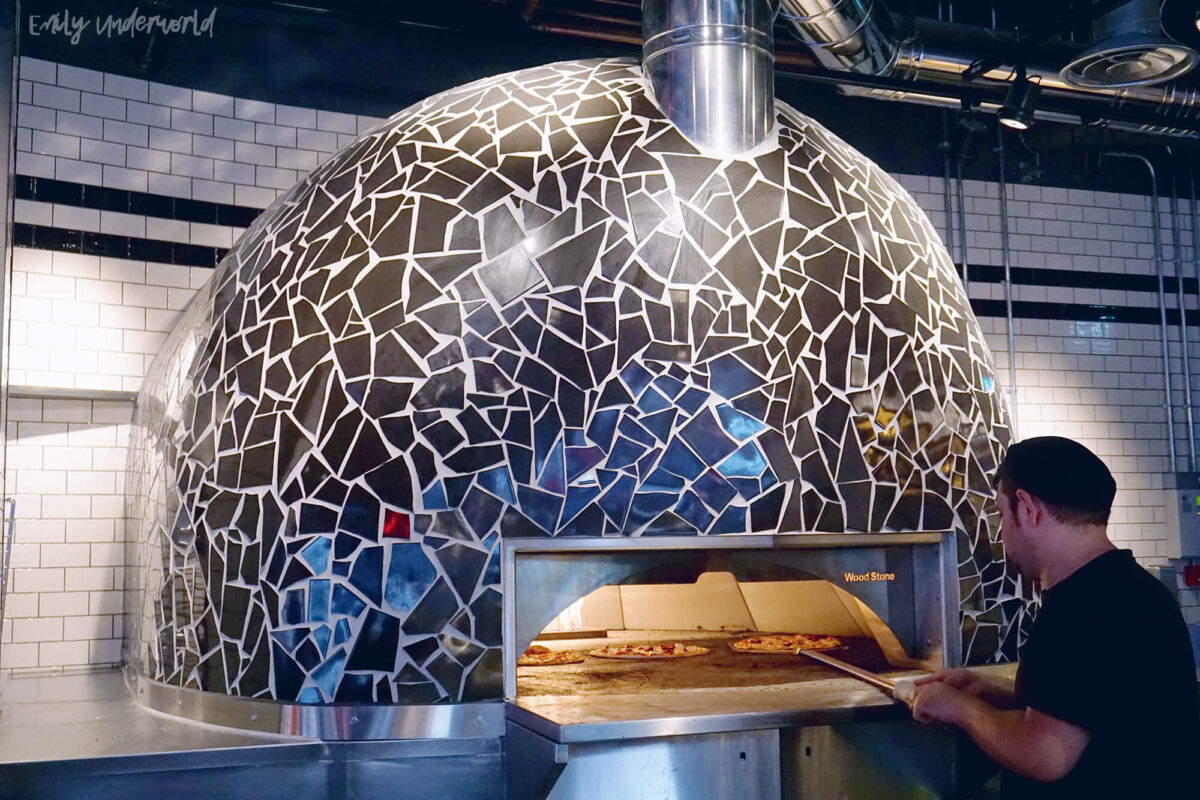 Time for pizza!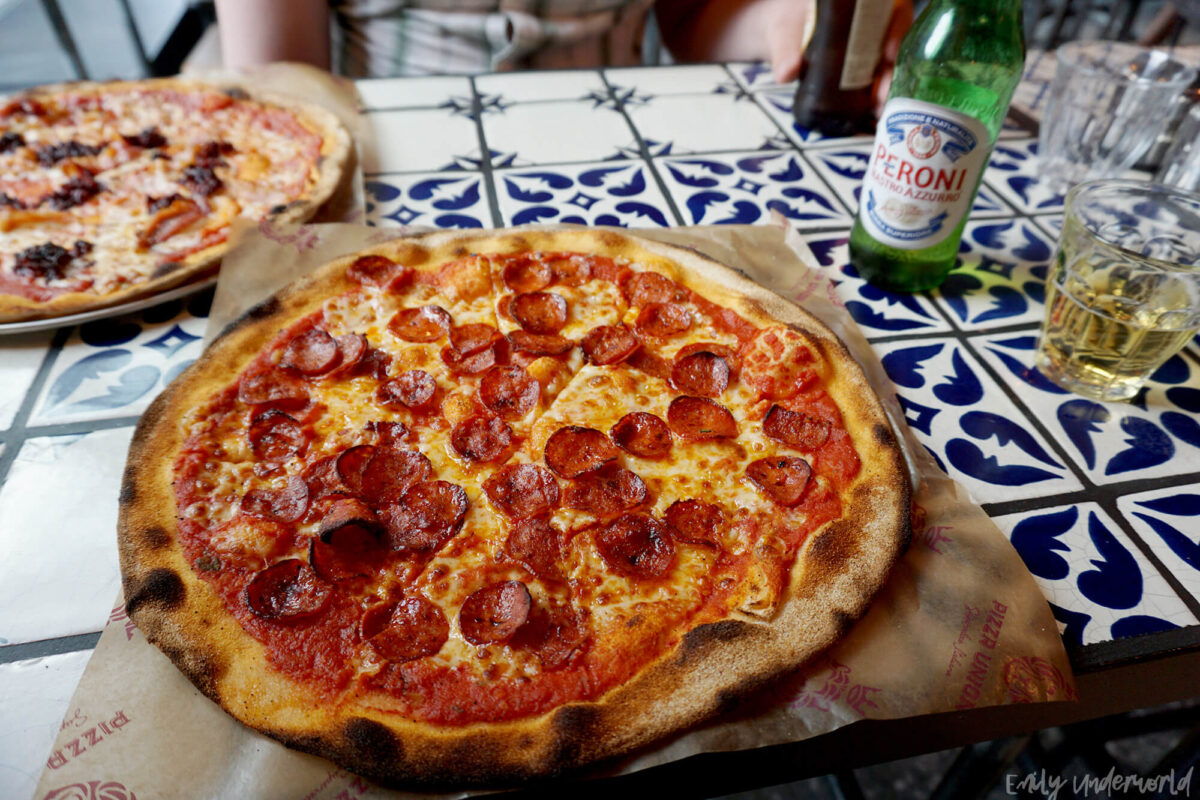 Their menu is simple and traditionally Italian, with lots of salami, ham, and mozzarella of course. I went for a traditional 12″ pepperoni, which was perfection, and thin enough to leave me a little room for dessert. We had a bottle of peroni each too, because you can't go wrong with beer and pizza.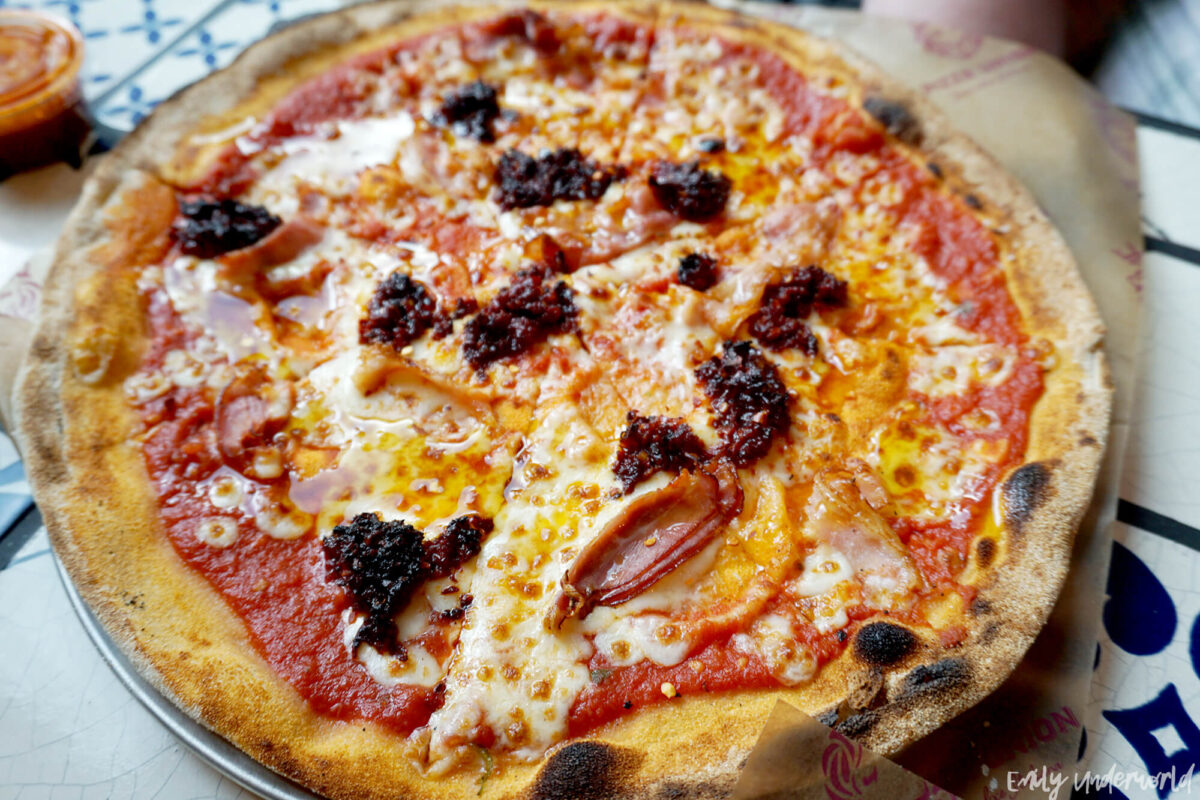 Ollie went for the Rossa, which has pancetta bacon and n'duja spicy sausage on it. Usually Oliver likes to complain that nothing is spicy enough (he is a maniac when it comes to curry), but this time he was definitely happy. I didn't even try any of his because he demolished it so quickly!
If you're wondering about prices, Pizza Union's 12″ margarita with mozzarella is only £3.95! Mine and Ollie's pizzas were £5.95 each, which is really good for central London.
As for their 'superfast' 3 minute claim, we were waiting for about 15-20 minutes for our buzzers to go off (you go up and collect your food yourself). However, it was a Saturday evening, and rather busy! Compared to every other pizza restaurant I've been to though, it was very quick.
The Dessert of Dreams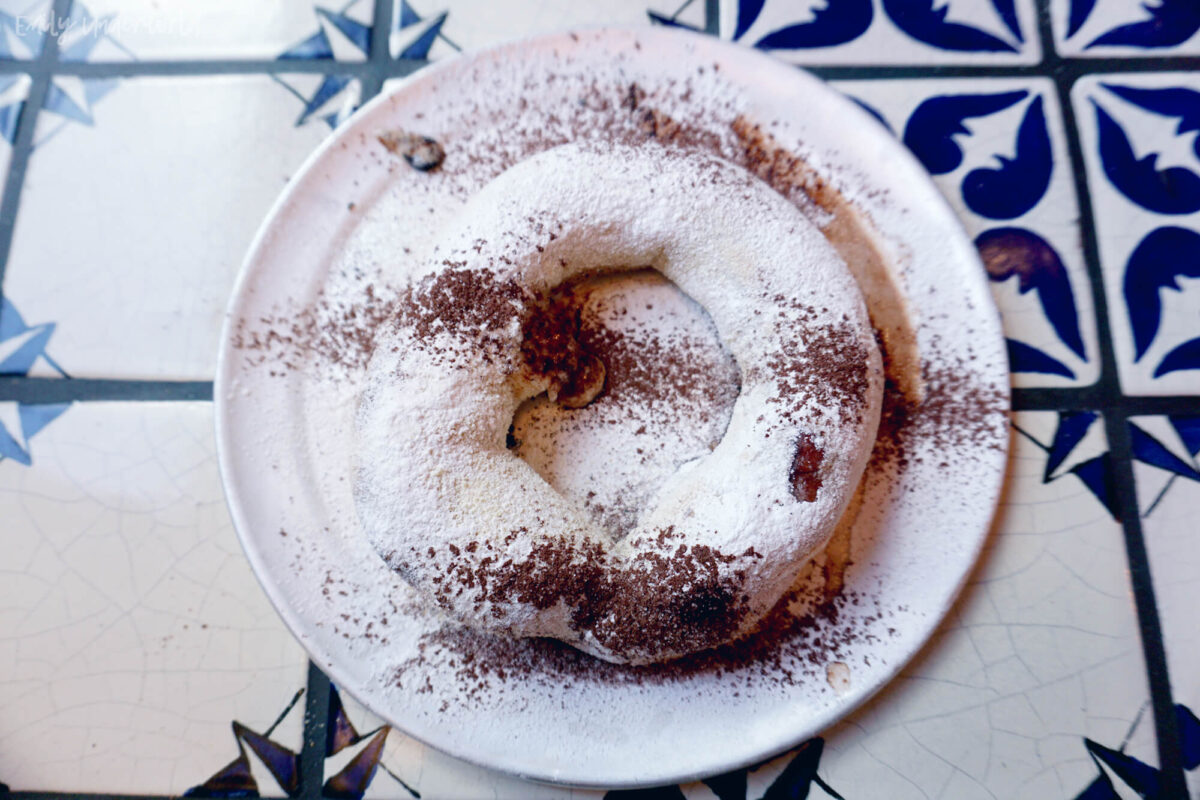 I couldn't resist their Dolce Classico dessert – Nutella, marscapone and dough-y goodness for £3.20. It is legitimately one of the best desserts I've ever had. I couldn't finish it all after the pizza, but I'd definitely go back to have it again. Great, now I'm hungry.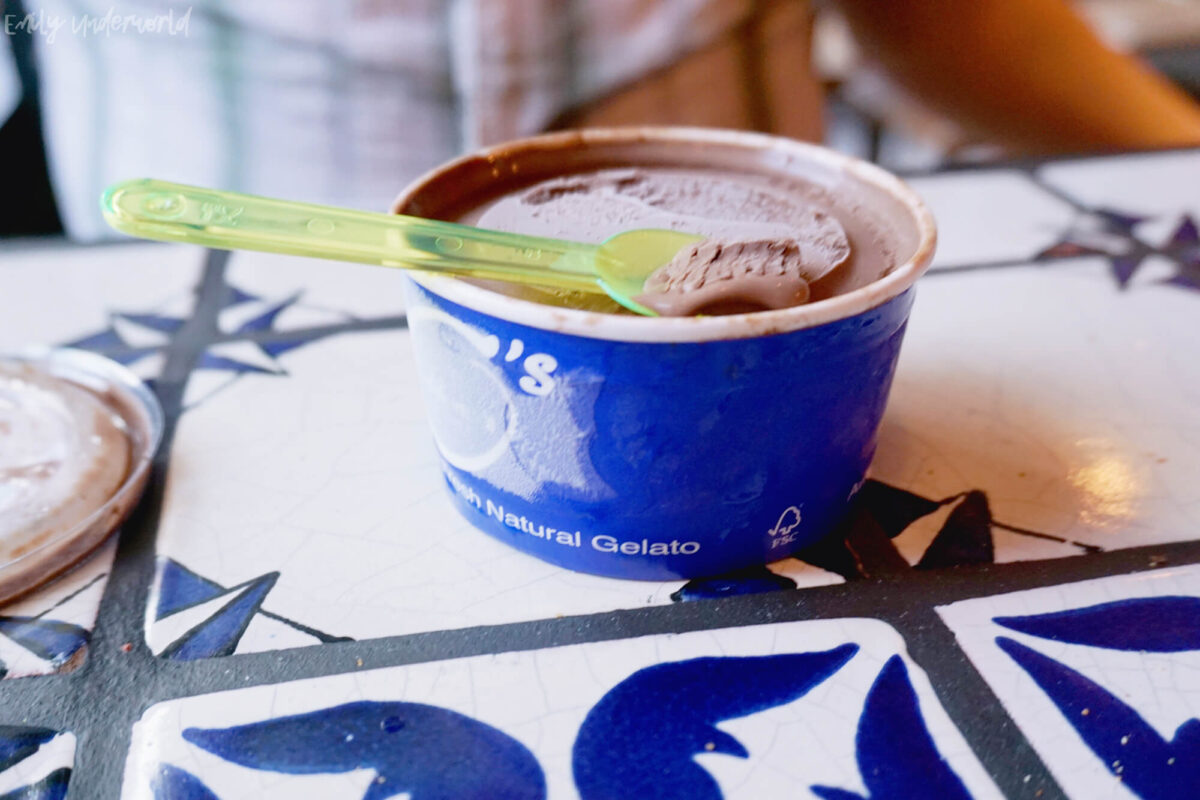 Ollie had a cute little chocolate gelato, how very Italian! Someone take me back to Rome please.
---
Pizza Union is a great place for Italian pizza, baked properly, with a casual vibe. It's inexpensive and they have several branches across London (King's Cross, Spitalfields, and Aldgate), so you can't really go wrong. Did I mention that they also do takeaways?! They're open from 11am-11pm daily.
Make sure you come back next week for a review of Paradise Slice in Brick Lane, New York Style! (yes, I have a pizza addiction).
Thanks for reading,
Emily.
*I was invited to Pizza Union to review their new Aldgate branch. This blog post is not sponsored and all opinions are my own.