This is a guest post by Matthew from The Tech Fools, featuring some excellent tips to help you enjoy your Netflix subscription in 2021!
With over 200 million subscribers in nearly every country in the world, Netflix has proved to be the world's most popular video streaming service, beating Disney Plus in the so-called streaming wars. 
While a big part of its popularity comes from Netflix's extensive catalog, which keeps growing with original titles available nowhere else, the platform's ease-of-use also has something to do with its growing user base. Netflix is available on almost every popular platform and comes with lots of extra features to let you enjoy your watching. 
For users who are looking to take their streaming experience to a whole new level, here are some of the best improvement and customization options to get you started.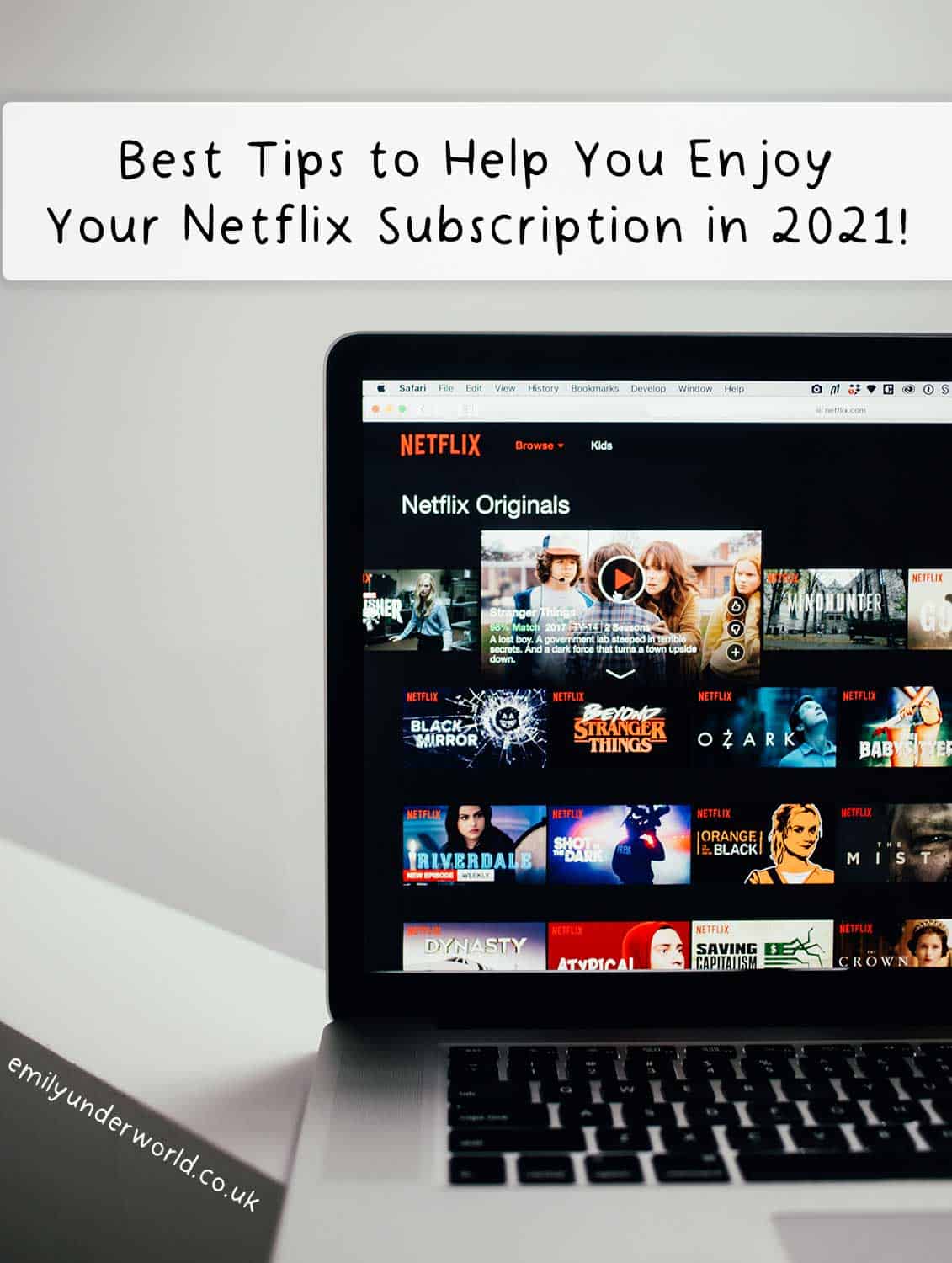 Personalize your viewing with profiles
Netflix has personalized recommendation technology that decides what programs appear on your homepage, based on what you search for, watch, and click on. If you are using your Netflix account with other people, setting up different profiles helps keep everyone's choices separate. Note that you can create up to five profiles on your Netflix account. 
You can create different profiles with your own names, pictures, and settings. So, if you enjoy watching telenovelas, but your husband only watches action movies, you can create two different profiles and receive recommendations specific to your preferences. 
This feature also comes in handy if you have kids. You wouldn't want to be bombarded with Dora the Explorer related recommendations when all you want is some good action-packed treats. 
Watch Netflix Without Restrictions Using a VPN
An issue with video streaming is that content is availed to you based on your geographical location. Why pay for a subscription to watch your favourite shows only to realize that they are not available in your region?
Don't worry, though, as you can use a VPN for Netflix to unlock content that is not available in your region. A reliable VPN will basically give you a different server location from where you are, fooling Netflix into thinking that you're in that particular region so that it can serve you those shows and movies only available in your current server location. 
Edit your Viewing History
Maybe you watched a scandalous movie and didn't want anyone else to find out or you don't want to experience an embarrassing situation when you start receiving subsequent recommendations by Netflix algorithm. Save yourself by always checking and editing your watch history to clear all the titles you wouldn't want to appear on your queue or even influence your Netflix feed. 
On your Netflix account, head over to "My Profiles" and click on "Viewing Activity." You'll see a list of all the titles you've ever viewed on Netflix. You can then delete any title you don't want to show. 
Download Titles to Watch Offline
One of the most significant disadvantages of streaming is that it requires high-speed internet connectivity. Netflix has made things easier, though, as users can now download select titles to watch offline. Finally, you can take some of your favorite movies and series with you without worrying whether your flight will have a reliable Wi-Fi connection. 
Note that you can only download using the mobile app, and also that downloading requires quite a lot of storage space and time. 
Disable Dubbing on Foreign-Language Titles
In a bid to be more inclusive and accommodating, Netflix has introduced more outstanding foreign language titles to its ever-growing library. This has, however, come with a lot of dubbing. For instance, Netflix will give you the dubbed version of Élite or Lupin by default, which is often very annoying. 
While Netflix claims their users prefer the dubbed version, most people want to experience these TV series aurally for optimum enjoyment. If you are one of those people, you can turn on subtitles by simply clicking on the audio, then subtitles menu in the bottom right-hand corner, and selecting the audio in its "Original" language. You can then choose subtitles in your language of preference. 
Binge-Watch with Friends
Netflix has made it possible for those in long-distance relationships to have some good bonding time. You don't have to wait to be reunited with your loved ones to finally finish the last episode of Dead to Me. 
Services such as Netflix Party and Kast are perfect alternatives to Skype and FaceTime. Simply download Kast on your phone or desktop, or launch it in chrome. You'll be given access to a window that you can view with other people. Inside the window, you can do many things, like streaming your favorite movies and shows, while still connecting with one another. 
You can also download the Netflix Party chrome extension, which will appear in your browser. Once you settle on the movie you and your loved ones want to watch, click the "NP" to generate a unique link that you will send to whomever you want to invite to the "party." Immediately everyone joins in, a sidebar will appear where you can chat away as you enjoy your movie. 
Turn your Movies and TV Shows into Audiobooks
Are you tired of staring at the screen, or you want to just watch without really watching? You can enjoy your favorite titles as audiobooks too. 
When watching a title, click the subtitles menu on the utility bar, go to the audio tab, and tap "Audio Description." This way, a narrator will be prompted to narrate whatever is happening on the screen in a way that is not as distracting as it is. You'll be able to do other things like taking a walk, sleeping, etc while still catching up on your favorite show. Note that not all titles have this feature. 
Switch up your Subtitles
Netflix allows you to disable or enable captions, subtitles, and alternate audio for different movies and TV shows and also lets you change your subtitles' outlook, including font size, style, and shadows. Simply go to "My Profile" on your account, and select "Subtitle Appearance" to personalize your subtitles however you like it. 
Netflix has so much to offer in terms of entertainment. But, you can take your viewing to a whole new level by tweaking a few settings and using the above-mentioned tools. 

I hope you found these tips to help you enjoy your Netflix subscription helpful! Let me know in the comments if you have any more Netflix tips to share!
Thank-you to Matthew for contributing this blog post, make sure to check out The Tech Fools for excellent content about all things tech and internet privacy.
If you enjoyed this post, you may also like: