In a quest to improve the free resources I offer on this blog, I've decided to make collections of free phone wallpapers. There's just something about changing up my phone lock screen every now and again… I'm a sucker for beautiful graphics featuring inspirational quotes! Plus, they're really fun to make.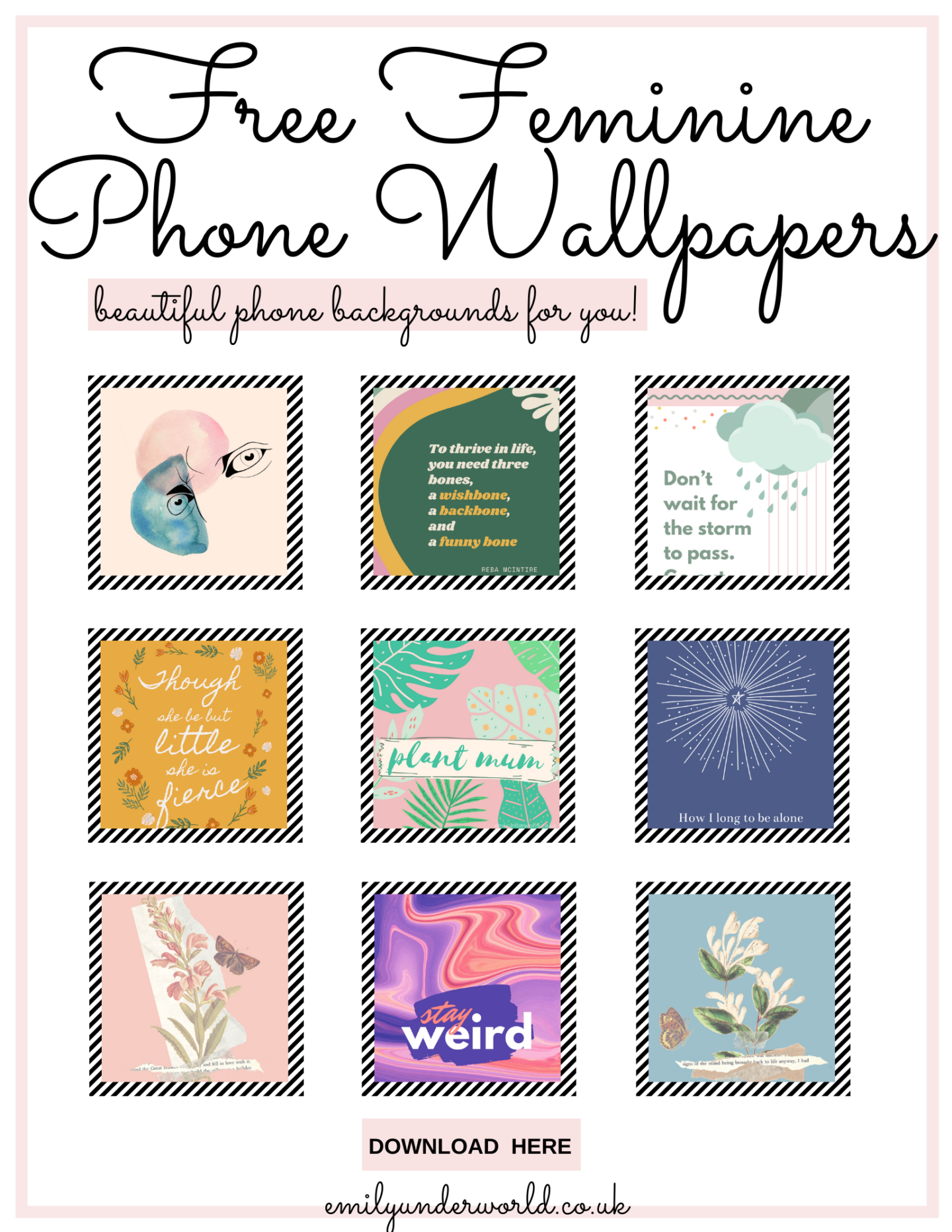 The first collection features 11 free feminine phone wallpapers for you (and me!). I made these designs on Canva: some are adaptations from Canva templates, and others are entirely my own creation.
Feel free to use these free feminine phone wallpapers however you please! Make your phone lock screen elegant and inspiring, or share them with your friends.
How To Use The Phone Wallpapers
I've uploaded the files as PNG images.
To use them, simply download the images from Gumroad straight to your phone or to your computer (to transfer via Dropbox, Bluetooth, or Google Drive for example), then set them as your wallpaper!
These will work on both Android and iOS devices, but there will be some variation depending on your screen size. The dimensions of each wallpaper are 1080 × 1920 pixels.
Download 11 Free Feminine Phone Wallpapers Below.
Tips are appreciated, but absolutely not required! Simply enter £0 if you want to download the wallpapers for free.
If you're interested, I've also created several self-care printable worksheets, and cute planner pages available for free download on Gumroad.
---
To thrive in life, you need three bones, a wishbone, a backbone, and a funny bone'

Reba Mcintire
---
If you're feeling creative, head on over to Canva to create your own phone wallpapers! I had a lot of fun making these… perhaps next time I should make some desktop wallpapers?
Let me know in the comments below if you like any of these phone wallpapers, and I'll definitely work on more!
All the best,