AD – I was gifted the ECO duvet from The Fine Bedding Company to review.
Is your sleep sustainable? Have you ever thought about how ethical and eco-friendly your bedding is? Today I'm introducing you to The Fine Bedding Company ECO duvet, so you can sleep well while caring for the planet.
I'm all about eco swaps and reducing my impact on the planet, so I was eager to test out this duvet when The Fine Bedding Company reached out to me.
I actually needed a new duvet for the warm seasons, because I only had a thick winter one… not the best for a hot London flat in the summer! Better yet, prices start from £40, making them a more affordable luxury bedding option.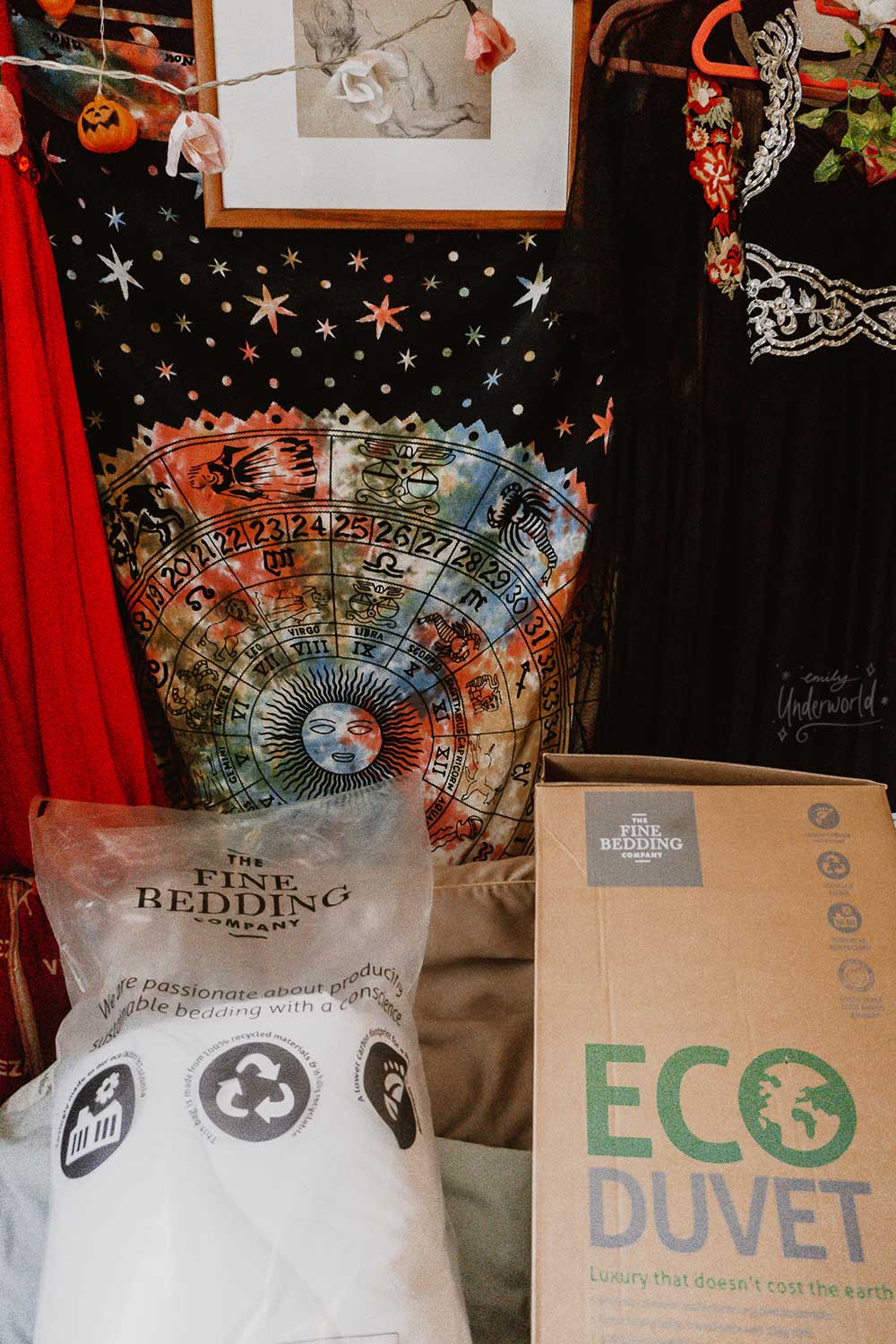 The Fine Bedding Company
Before I get into the ECO duvet review, here's some info about The Fine Bedding Company and their sustainability efforts.
Who are the Fine Bedding Company? Well, they're a British company that have spent the past 100 years specialising in bedding.
Starting out as a supplier to cruise ships, The Fine Bedding Company now supply luxury hotel bedding and even created the "first truly home washable duvet that fits in a domestic washing machine".
They are the first filled bedding company to receive the Downpass Seal, a prestigious certification that "documents the ethical sourcing of down and feathers from waterfowl". This means that the feathers are responsibly sourced and traceable, with no live-plucking, and highly audited for ethical practices.
While the ECO duvet I'm reviewing does not contain any feathers or down (it's made from plastic bottles!), I thought it was worth mentioning that The Fine Bedding Company also sell down bedding. If you're vegan, the ECO duvet is a great option for you.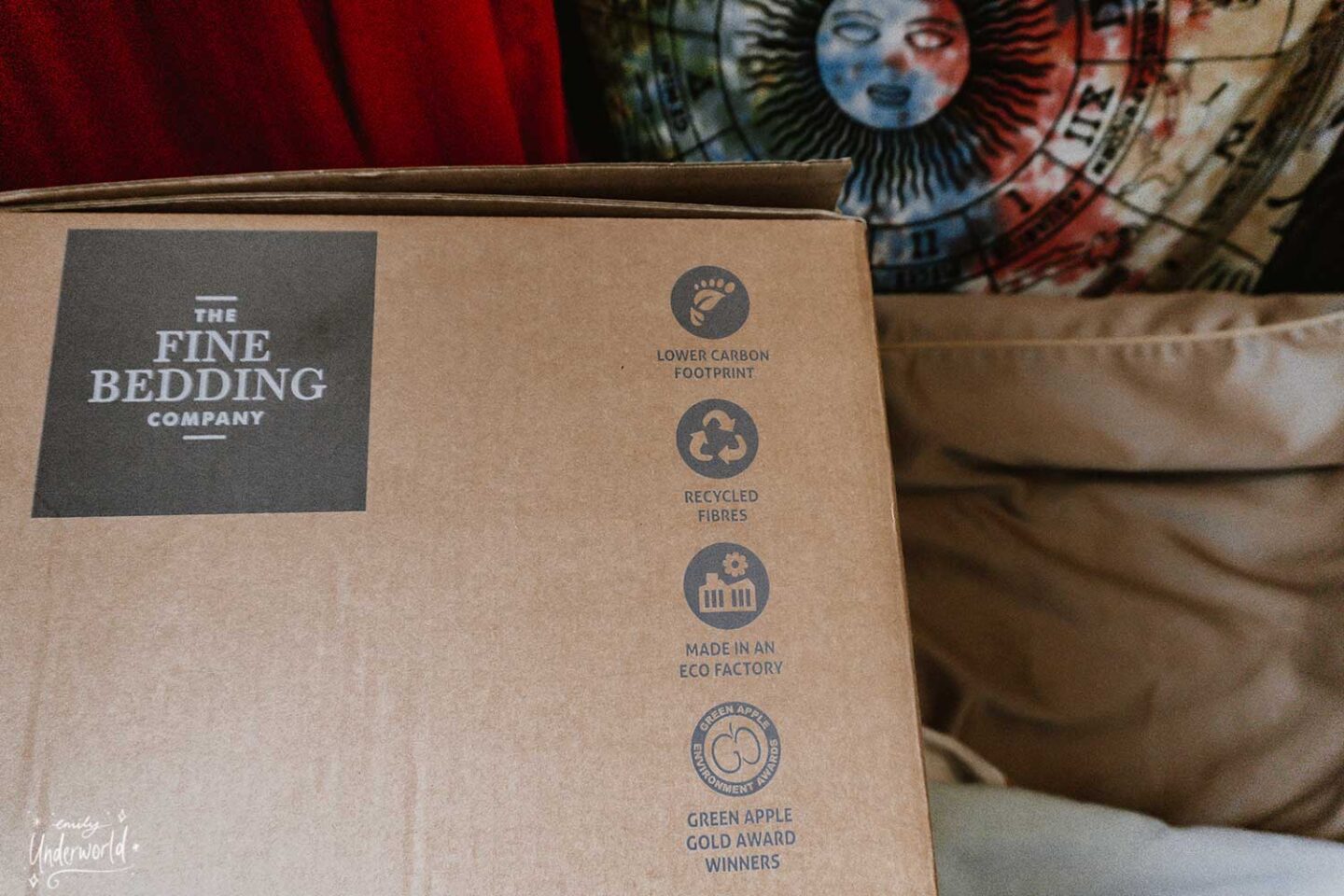 The Eco Factory
In 2000, The Fine Bedding Company established their award-winning 'Eco Factory' in Estonia. It's a state-of-the-art facility, with a focus on sustainability. Their impact on the community and economy of Estonia was recognised with the West-Viru county Silver Medal Award.
Their duvets have a 19% lower carbon footprint than the industry standard and 90% of waste is recycled. I was pleased to read about their ethical supply chain too, and emphasis on fair working conditions.
You can read more about the Fine Bedding Company's Story on their website. I'm seriously impressed with how their bedding is sustainable from start to finish. The attention to detail is excellent!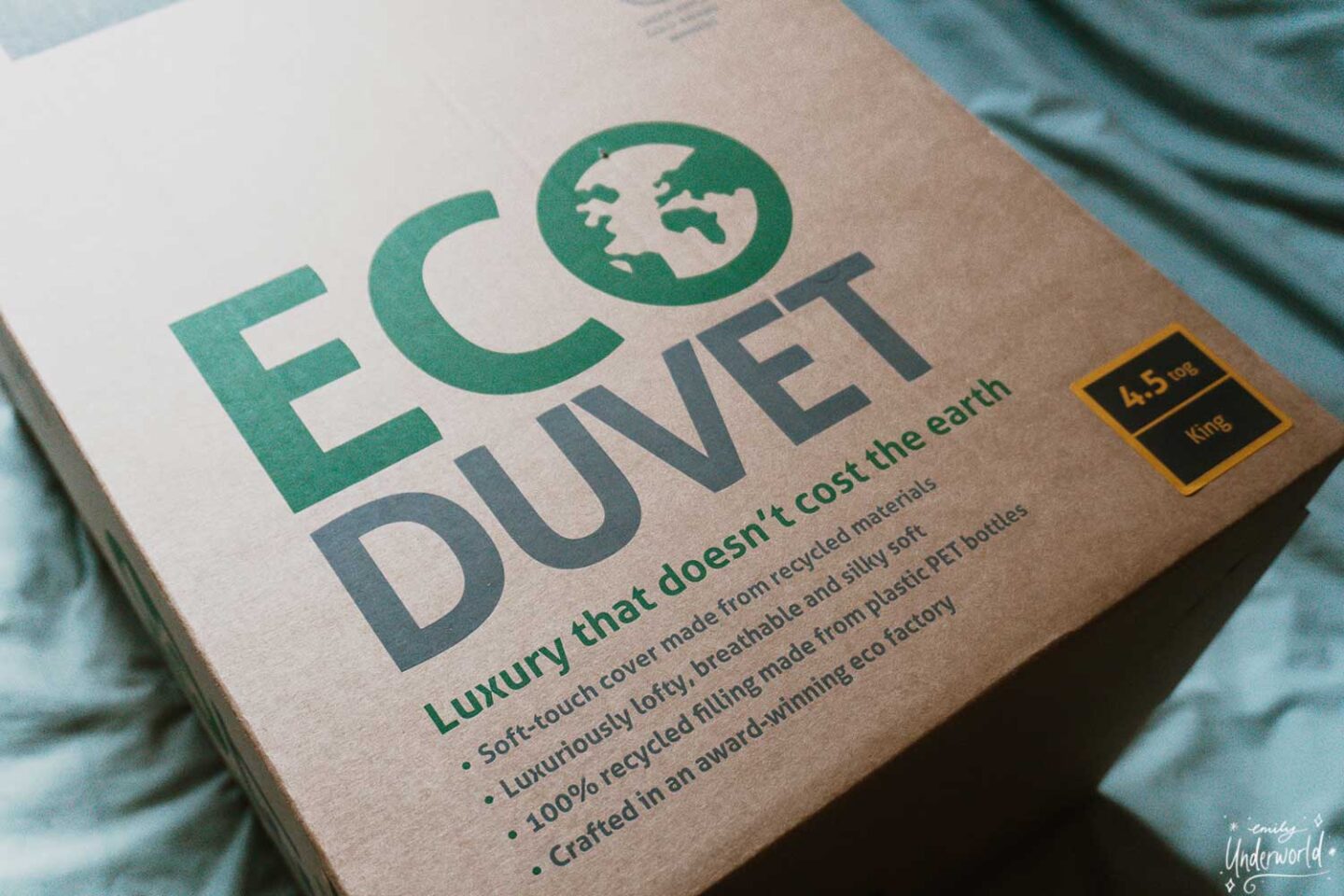 What is the ECO Duvet?
This is the first-ever duvet made using 100% renewable energy. The First. Ever.
The ECO duvet itself is made from 100% recycled materials, including both the filling and the microfibre cover. The Fine Bedding Company turn PET plastic bottles into a soft and fluffy filling.
The 10.5 tog double duvet contains approximately 120 plastic bottles – how cool is that?!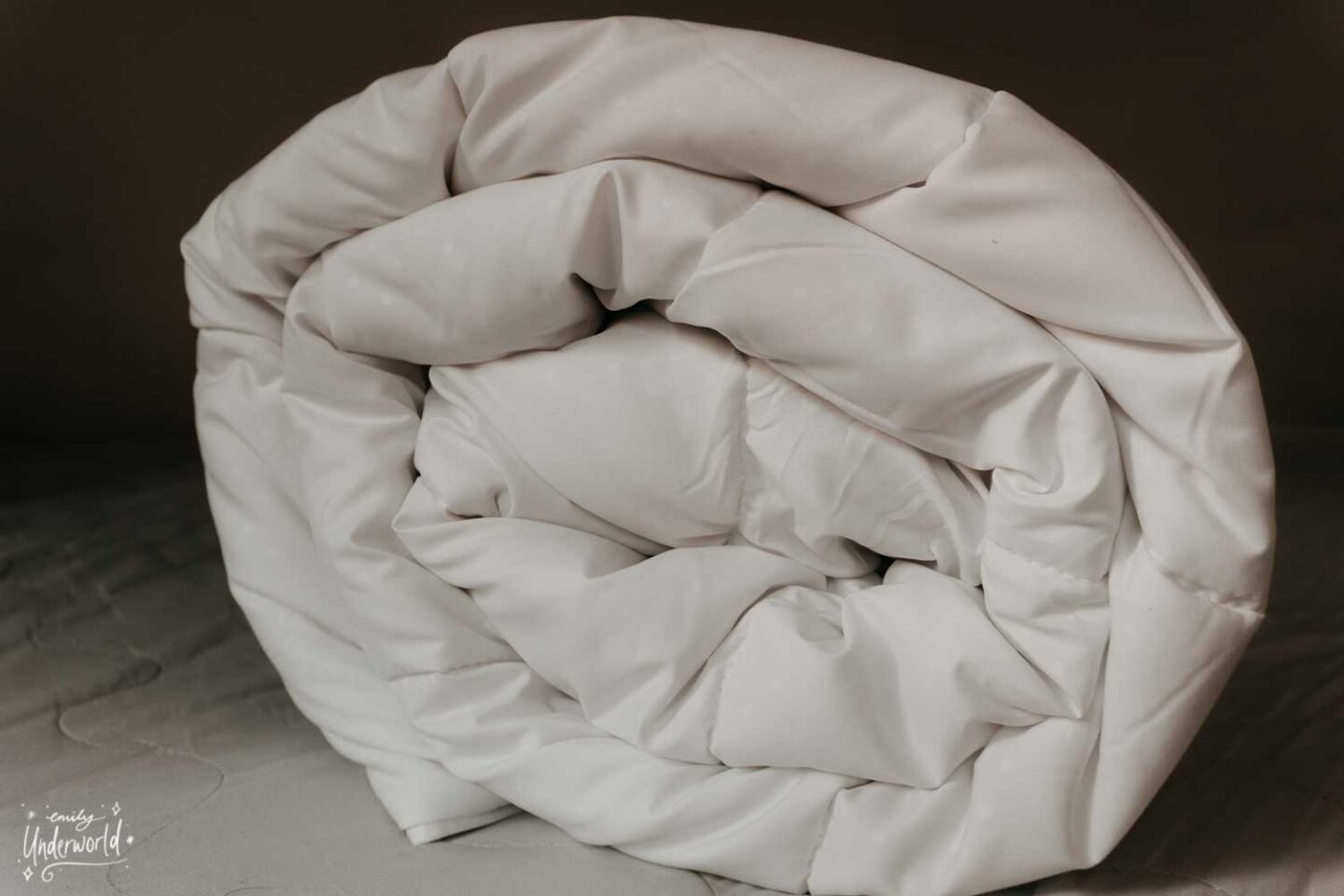 The Fine Bedding Company ECO Duvet Review
I went for the 4.5 tog duvet for the spring-summer season. It's breathable and lightweight: perfect for sleeping soundly during heatwaves.
I'm very impressed with how soft and luxurious the ECO duvet feels, and I was glad to find out that it's hypoallergenic too. I suffer from allergies, so I always opt for hypoallergenic materials where possible. I don't want to irritate my body while trying to rest.
When my partner felt the duvet, he thought it was filled with feathers. He almost didn't believe me when I said it's plastic bottles!
The quality of this recycled duvet means I can use it for years. Reusing and looking after what you already own is key to living more sustainably.
The summer ECO duvet fits in our washing machine, unlike my thick winter duvet, so it'll be much easier to clean. It's designed to be washed at a lower temperature (30 degrees), which is better for the planet too.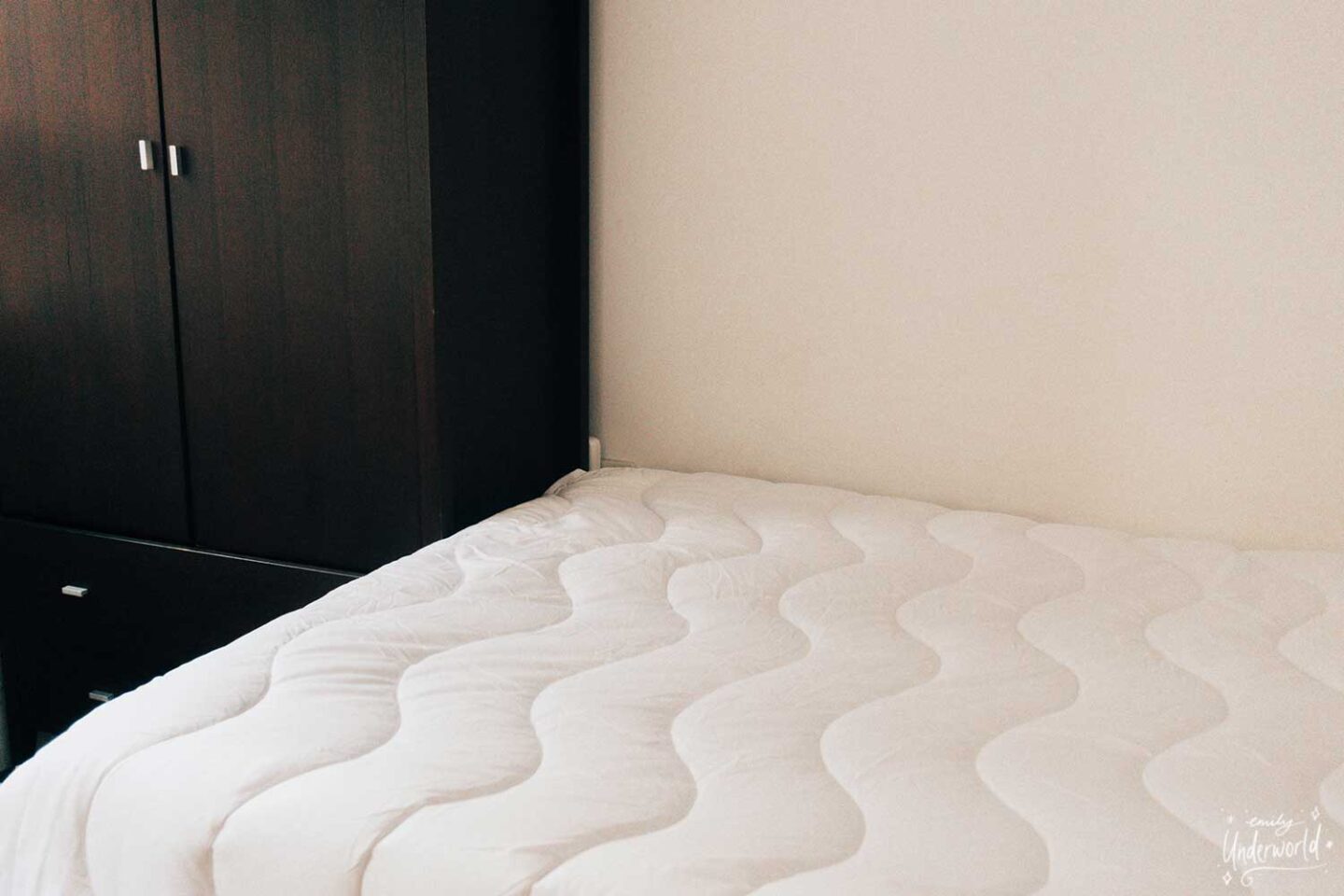 The Fine Bedding Company's packaging is also 100% recycled and recyclable. They have been awarded the GRS (Global Recycling Standard) for recycling, sustainability and environmental practices.
If you're looking for a new duvet, I highly recommend The Fine Bedding Company and their ECO range. Prices range from £40 to £85, depending on duvet size and tog.
All the best,

More Ethical Lifestyle Blog Posts