Bookstagram is a huge deal. It's massive. There are so many bookstagrammers, it blows my mind. I love that reading brings such joy to so many people, and there's a huge community out there to connect with. Today I'm sharing 130 Bookish Hashtags for Bookstagram.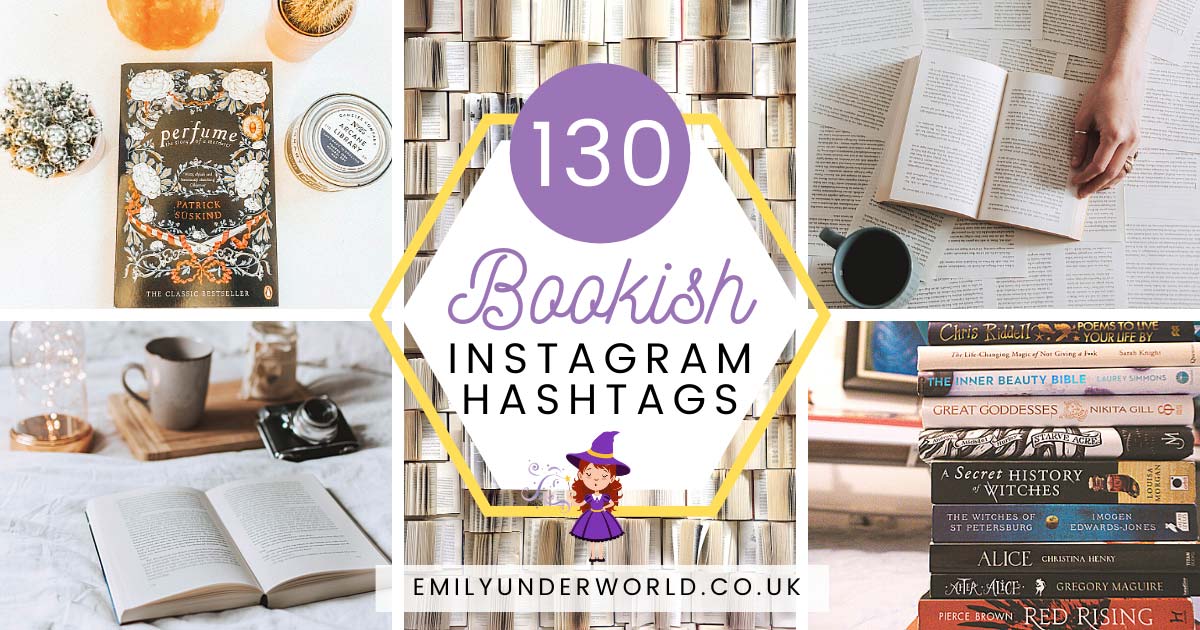 What is a bookstagram?
It's an Instagram page, solely focused on books. Think book collections, recommendations, bookshelves, beautiful book photography, and well, people who like books.

I set up a bookstagram (@classicalarchaeologist) a few months ago.
The idea was to keep my book reviews separate from my usual content on @emilyunderworld.
I've been on Instagram for a long time. I set up my profile in 2011! Over the past year or so, I haven't been enjoying it much at all, but bookstagram changed that.
I absolutely love bookstagram. Recently I haven't been logging into my regular Instagram account at all!
I'll continue writing book reviews here when I want to, but most of my bookish content will now be on bookstagram. I'm also on Goodreads if you want to see my lists.
Here's a fun fact: I had a Booktube (a bookish YouTube channel) back in 2015-2016. It was fun for a while, but I just fell out of filming after getting diagnosed with lupus.

Let's move on to the topic of today's blog post: hashtags.
One of the main ways to get noticed on Bookstagram (and Instagram generally) is with hashtags.
I've curated a list of 130 Bookish Hashtags for Bookstagram, I hope this will be useful for someone!
Make sure to switch up which hashtags you use. You can use up to 30 per post, either in your caption or in a comment.
I've separated the bookish hashtags into different sections based on theme.
130 Bookish Hashtags for Bookstagram


The Basics and General Bookstagram Hashtags
#bookstagram #bookstagrammer #booksofinstagram #bookish #bookphotography #bibliophile #bookaesthetic #readstagram #bookishpost #bookworld #ilovebooks #bookishlyengaged #bookstagramit #readreadread #readingislife #allthebooks #featuremybooks #bookster #literaturelover #booktography #bibliofeature #bookpic #cheerstobooks #tinybookmoments #bookishgirl #bibliophilelife  #backtobookishlove #bookstagramista #mybookfeatures #booknerd #bookishfeatures #bookishglee #bookishallure #bookishness #bookwormlife #littlebookworm #instabooks #readingrocks #readingstagram #bookblogger #fortheloveofreading #readersgonnaread
Hashtags for Book Recommendations and Reviews
#goodreads #bookrecs #whattoreadnext #igreads #bookreview
TBR (To Be Read) Hashtags
#toberead #tbr #tbrlist #tbrstack #tbrpile #bookhaul #bookmail
Currently Reading and Monthly Wrap-Up Hashtags
#currentlyreading #monthlywrap #currentread #amreading #readalong #weekendreads #whatimreading
For Specific Photos (e.g. bookshelves, flatlays, book spines, open books)
#flatlaybooks #bookspines #openbook #pileofbooks #shelfie #shelfiesunday #shelfiesaturday #bookshelflove
Hashtags for Beautiful Book Covers
#beautifulbooks #covermania #coveroftheday #ilovebigbooksandicannotlie #prettybooks
Book Genre Hashtags
#literaryfiction #yafiction #classiclit #classicliterature #yalovin #ireadya #ireadromance #romancereads
Second-Hand, Vintage and Antique Books Hashtags
#antiquebooks #secondhandbooks #vintagebooks #vintagebookstagram #oldbooksmell #prelovedbooks
Books and Flowers Hashtags
#booksandbotanicals #booksandblooms #booksandplants
Bookish Merch and Gifts Hashtags
#bookmerch #bookishmerch #bookishgifts #merchmonday
Bookish Lifestyle Hashtags
#idratherbereading #bookishphotos #alwaysreading #cozyreadingmoments #booksandcandles #becauseofreading #booknook #bookandcoffee #booksandtea
Book Collection Hashtags
#booksbooksbooks #bookaholic #readingaddict #booksonbooks #allthebooks #avidreader #bookdragon #bookhoarder #booksaremagic #booksaremylife #booklion #booksharks
Bookish Challenge and Goals Hashtags
#stackchallenge #readinggoals #readingchallenge
Bookstagram Community Hashtags
#thebookishdreamers #booknerdigans #bookishlovegroup #bookstagramuk #ukbookstagram #readersofinstagram #bookcommunity #booksphere #booksconnectus #bookclub
Don't forget the Book Emoji Hashtag!
#books📚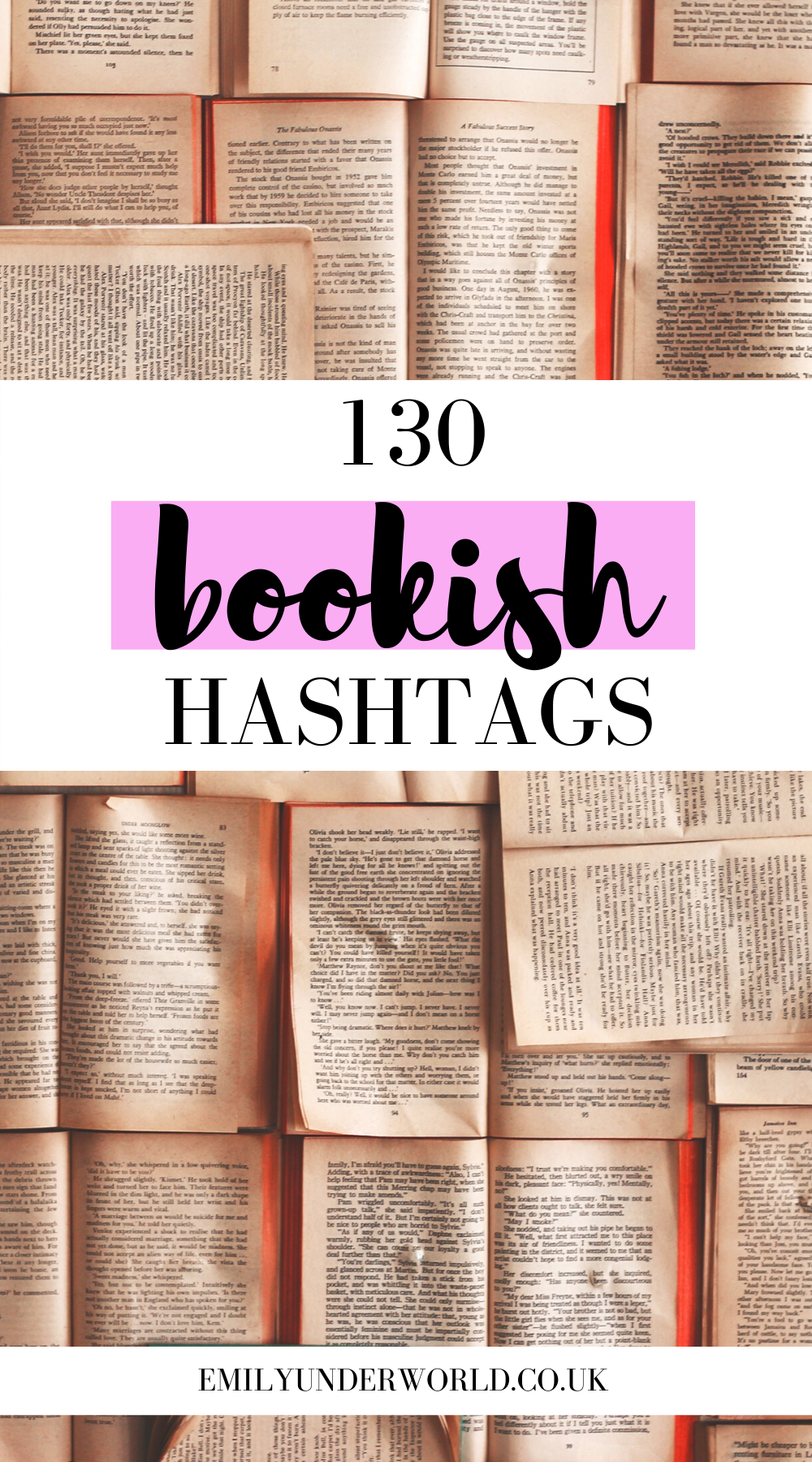 Do you have a Bookstagram? If you do, I hope you found this helpful.
A little shoutout to my gals @alicjawrites and @bibliophile_daydream – they both have beautiful Bookstagrams. Plus, they're lovely humans. Trust me, I live with them! You can find me here: @classicalarchaeologist.
All the best,


Related Posts:
Pin this for later?