Good morning, today I've got a blog post for you that I'm pretty excited about…
10+ Beautiful Free Printable Planners!
I'm always creating stuff on Canva, whether that be YouTube thumbnails, things for the blog, or even my CV (and my boyfriend's). There are tons of beautifully-made premade layouts too, for pretty much whatever you want, so if you haven't heard of or used Canva yet you need to get over there and try it. Did I mention it's free? I'd especially recommend Canva if you have a YouTube channel, because it's so easy to create channel art, thumbnails, end cards etc.
Anyway, I was browsing their designs recently, and came across loads of gorgeous printable planners, so I had to share them on the blog. If you head over to Canva yourself and select the A4 page design type, you can scroll through and find your own planner of choice and completely customise it, or create your own from scratch. There are so
There are so many awesome designs on there, but I didn't want to completely overwhelm you, so here are 10 of my favourites, ready in pdf form for you to save and print! Yay for fun, free (except for your ink and paper of course) stationery!
Click on the images for full-sized downloadable pdfs.
As you can see from my picture, these look great printed out in different sizes, you could stick them inside a bullet journal or notebook, put them on a pinboard, keep them on your desk… endless planner fun.
If you want to save this blog post for later reference, make sure to pin the image below on Pinterest!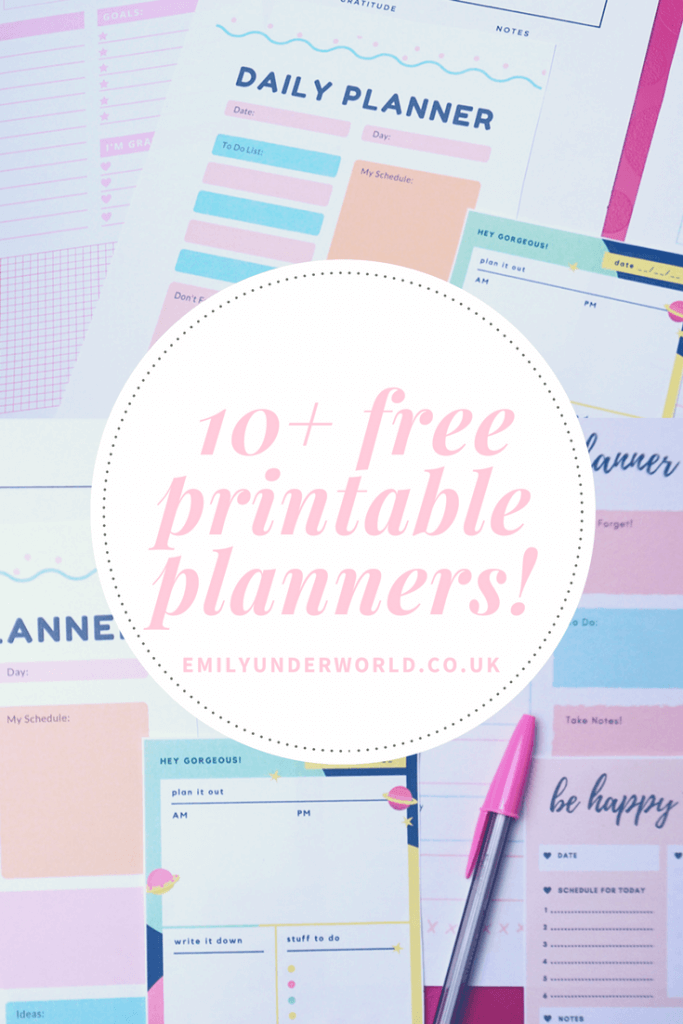 I hope you enjoyed this, I'm definitely going to work on creating my own printable planners and blog organisation stationery for you, so stay tuned!
All the best,

Credit to Canva for creating these awesome planner pages!