This blog post 'How To Effectively Use Gratitude and Productivity for Goal Setting' contains a gifted planner from Mål Paper.
My main goals for 2020 are to slow down, reflect on what I'm grateful for, and to live ethically and creatively with intention.
I've also committed myself to life-long learning. Education, reading, connection and curiosity.
Self-Care, Gratitude, and Meditation are all so incredibly important for health, wellbeing and growth. They play an important role in my personal development journey, and will help you set and achieve your goals.
How To Effectively Use Gratitude and Productivity for Goal Setting
I recently read the famous Atomic Habits book by James Clear, and The Book of Self Care by Mary Beth Janssen. Both of these books were incredibly helpful in different ways. I wrote lots of notes! Habits and self-care are important facets of gratitude and productivity, and will certainly help with goal setting… followed by actually achieving those goals.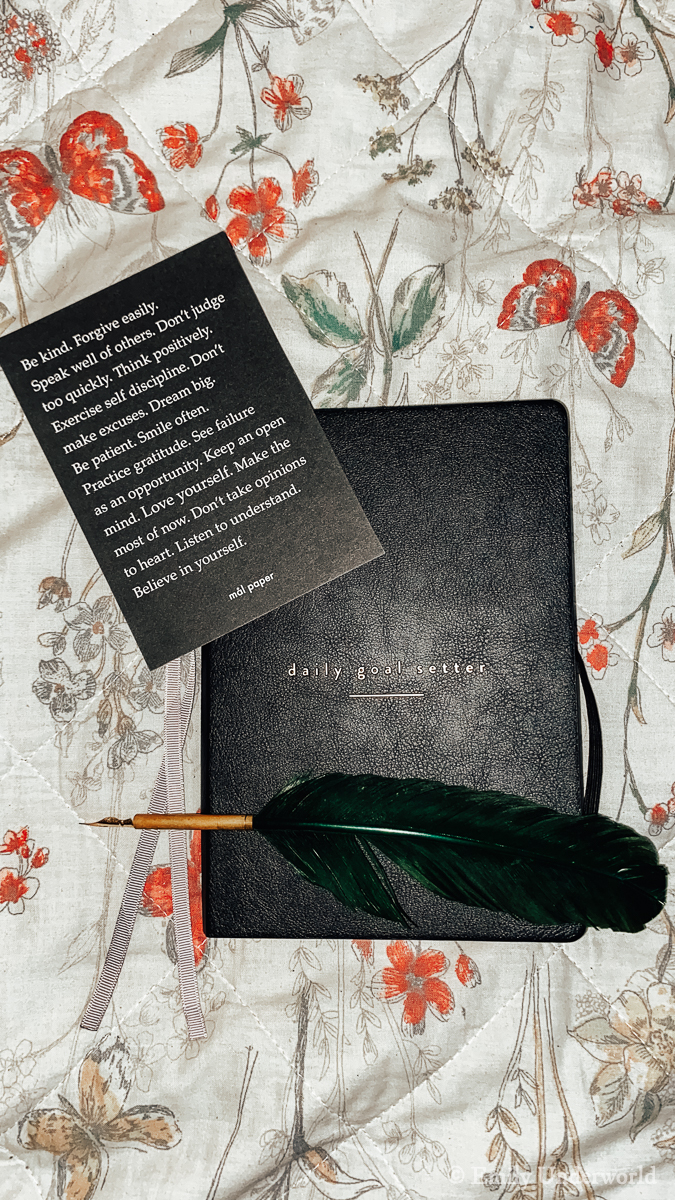 Habits
We all know the importance of creating good habits, and abandoning bad habits. Many of us start up a new 'good habit', such as eating healthily, regularly exercising, or not looking at our phones first thing in the morning.
The struggle is the next step: maintaining and committing to it.
James Clear teaches 'Habit Stacking', which essentially means bundling together new habits with your established habits. For example: doing some stretches while brushing your teeth in the morning, or some quick aerobics while making your cup of tea or coffee.
The first step is to write down all of your habits, good and bad. Be honest, and non-judgemental. Nobody else will see this list!
Then group the habits that typically occur together, e.g. waking up, washing your face, brushing your teeth, putting on clothes.
Decide which habits don't serve you, the ones you want to reduce or eliminate. This could be anything from wasting hours scrolling social media, to drinking alcohol frequently. I recently wrote about why taking breaks from blogging and social media is essential for me.
Think about which new habits you want to include in your life. I recommend reading every day, 'analogue afternoons' (no screens!), and meditation.
Finally, figure out when the new habits would fit best into your routine, and stack them! Even if you only practice meditation or read a book for 10 minutes a day, the repeated activity will benefit you.
James Clear explains all of this in a far superior manner, I do recommend reading his book!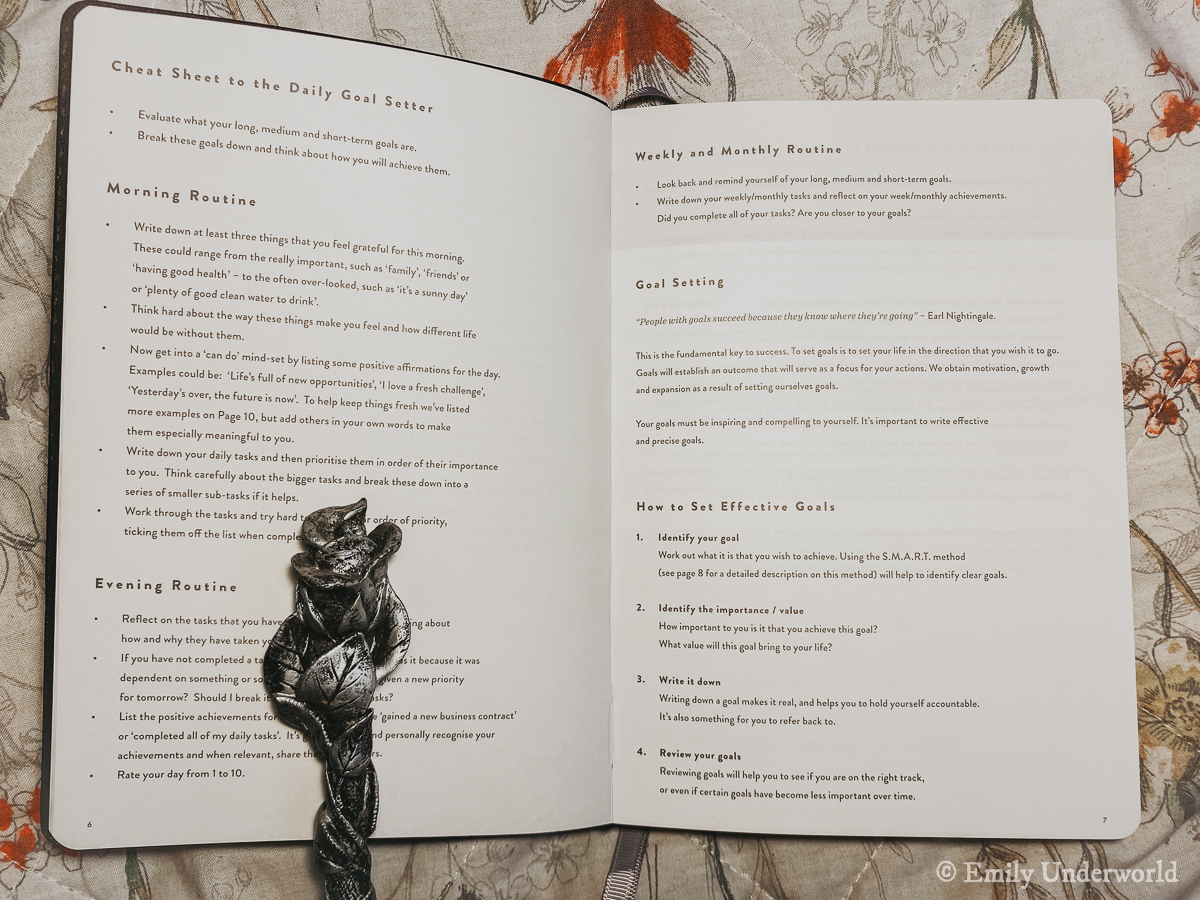 Gratitude
Consistently working on gratitude will help create a positive mindset, and improve your self-awareness. End every day by focusing on what you're grateful for, no matter how small. Celebrate the little things, the small wins, and appreciate that you're on a journey.
Showing gratitude for your achievements also helps encourage you to keep going! Consciously think or write about the things you're grateful for, whether that's even just a little step towards a goal. Trust me, it's worth it. No matter how small, you've made progress.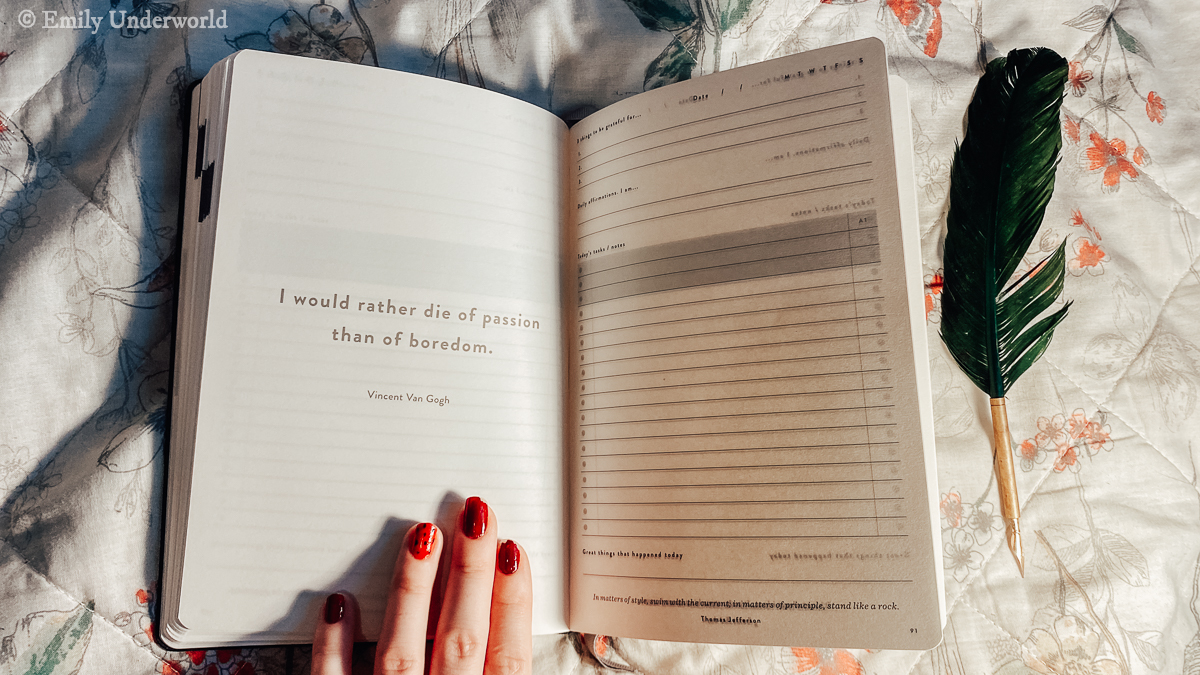 Productivity
Prioritise.
That's really the main thing when it comes to productivity.
Prioritise your to-do list. What needs to be done right now, and what doesn't? Think about how you can streamline your tasks and make better use of time.
Stop multi-tasking. Why not try time-blocking instead? After reading a blog post from Michelle at Daisy Butter, I've been inspired to try it myself.
Keep reading to find out which planner I've been using to stay productive and practice gratitude with my goal setting!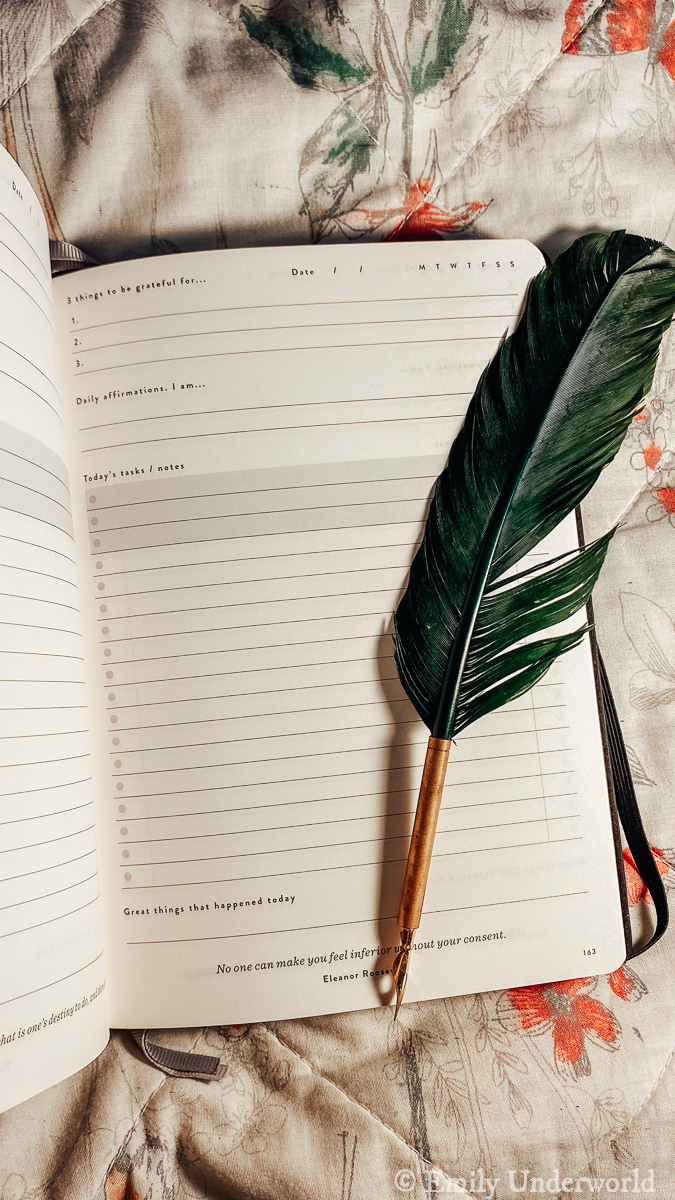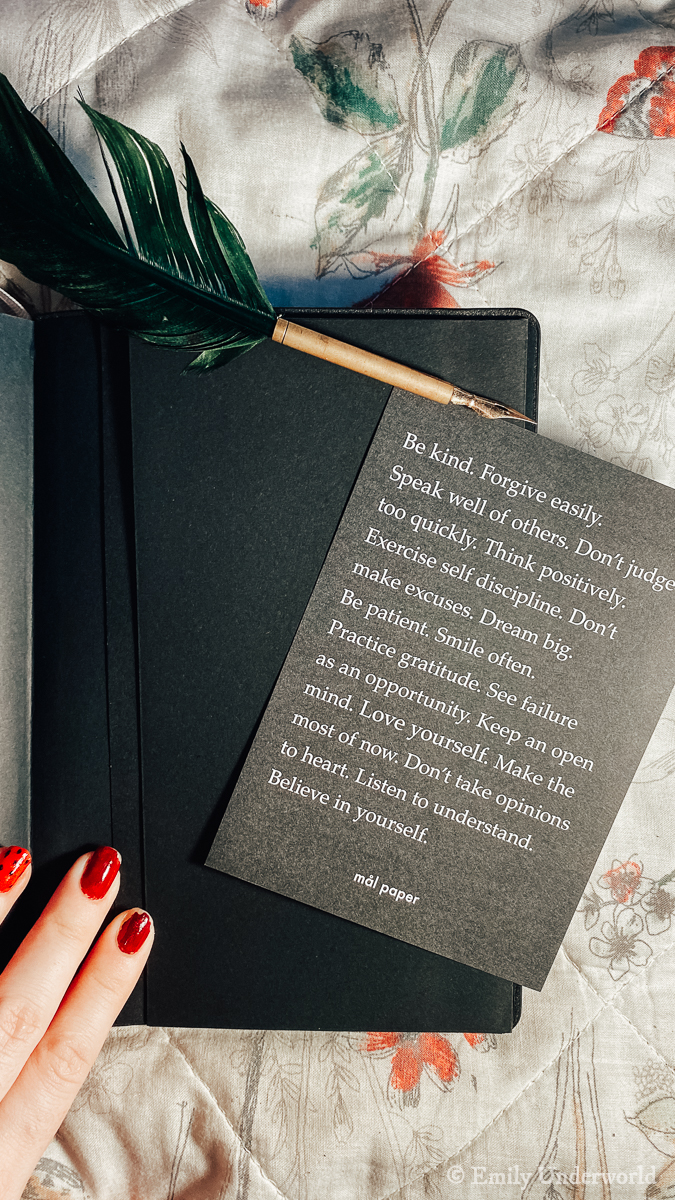 The Daily Goal Setter
The Daily Goal Setter by Mål Paper is a gratitude journal and productivity planner all-in-one.
I love it.
The design is simple and elegant, with no clutter. In 2020, I've become minimalistic and intentional with my purchases. Now I have no need for a separate gratitude journal and weekly planner.
The Daily Goal Setter provides an easy way to set your long-term, mid-term and short-term goals, as well as keeping track of monthly, weekly and daily tasks. The most important part is reflecting on how far you've come, what you could do better, and maintaining gratitude.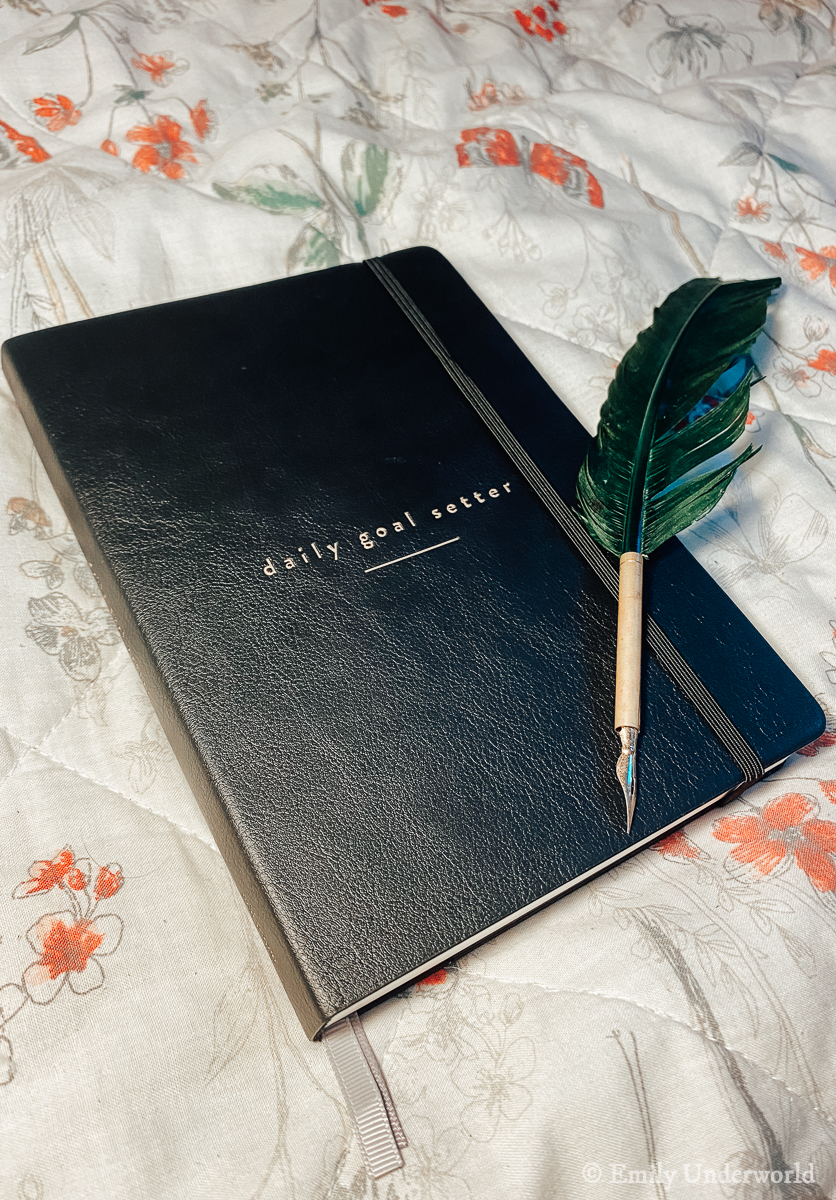 Details:
PU Faux Leather Softback Cover
Embossed Detail
142x205mm – 5.6×8.25″
274 pages
16 lined note pages
6 dotted note pages
Undated pages
Year to view grid
12 monthly planning grids
Lasts for 6 months
100 gsm ivory paper
2 Ribbon Dividers
Document holder
Elastic fastening
Get your Daily Goal Setter Productivity Planner for £21.95 / $29. Mål Paper also have a free pdf version if you'd like to try it out! They offer free UK shipping, and worldwide shipping is available.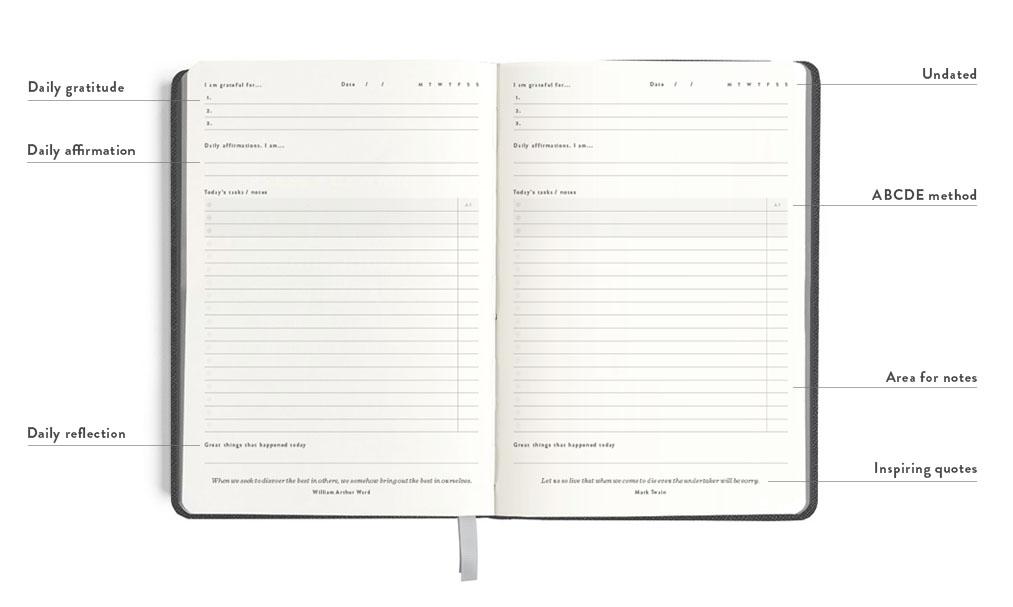 Shop The Post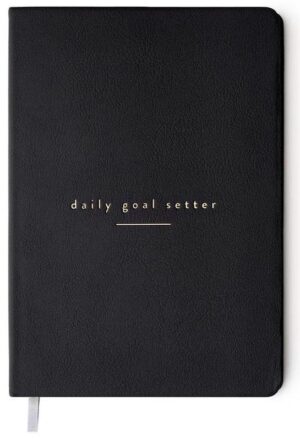 Daily Goal Setter
---
Do you effectively use gratitude and productivity in your goal setting?
All the best,

Find Me Here: Instagram | Twitter | Pinterest | TikTok
Related Blog Posts:
P.S. I have several free Self-Care and Journal Prompt Printables available to download here.