I uploaded a video of my bullet journal to my YouTube channel a while back. It's one of my most popular videos! Everyone is being so lovely about it, so I thought I'd take some pictures and write a blog post too.
What Is a Bullet Journal?
A bullet journal is a system of organizing thoughts, tasks, and daily life. It is both a physical and digital organization tool that can help keep you on top of your schedule while also being flexible enough to cater to your needs. A bullet journal may be the perfect solution for those who find themselves constantly forgetting about appointments or struggling with a lack of time management skills… like me!
Why Start a Bullet Journal?
Since starting my bullet journal, it's become integral in organising my life. A bullet journal is also a lot of fun: I've decorated mine a lot with stickers, magazine cut-outs, and even glitter nail polish! It's become a kind of art journal for me too, a way to be creative.
I love how many different ways you can use your bullet journal: organizing by month or week, adding inspirational quotes or photos of things that make you happy. If you're looking for a new creative hobby to try out this year, I recommend giving the bullet journal system a go.
Finally, it's well-known that journaling is an excellent way to process your emotions. It's great to write out your feelings, then let them go. Plus, I find that bullet journals for mental health help with tracking moods and prioritising self-care. Scheduling in time for meditation and walks outdoors makes the world of difference!
Inside My Bullet Journal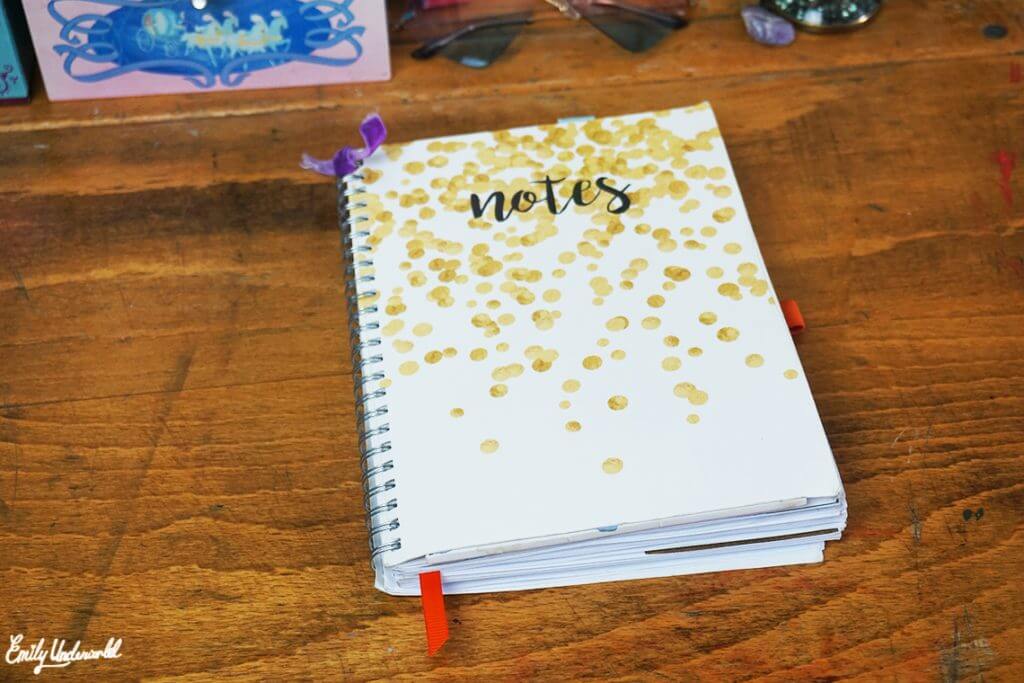 I made my bullet journal from a pretty gold confetti notebook.
I didn't want to spend £12 on the Leuchtturm1917 journal that most people use for their bullet journals, because I didn't know if I'd enjoy bullet journaling. I'm also a broke student. The great thing about bullet journals is that you can create one from any notebook.
Anyway, I'm really happy with how my bullet journal turned out, and I've been using it every day.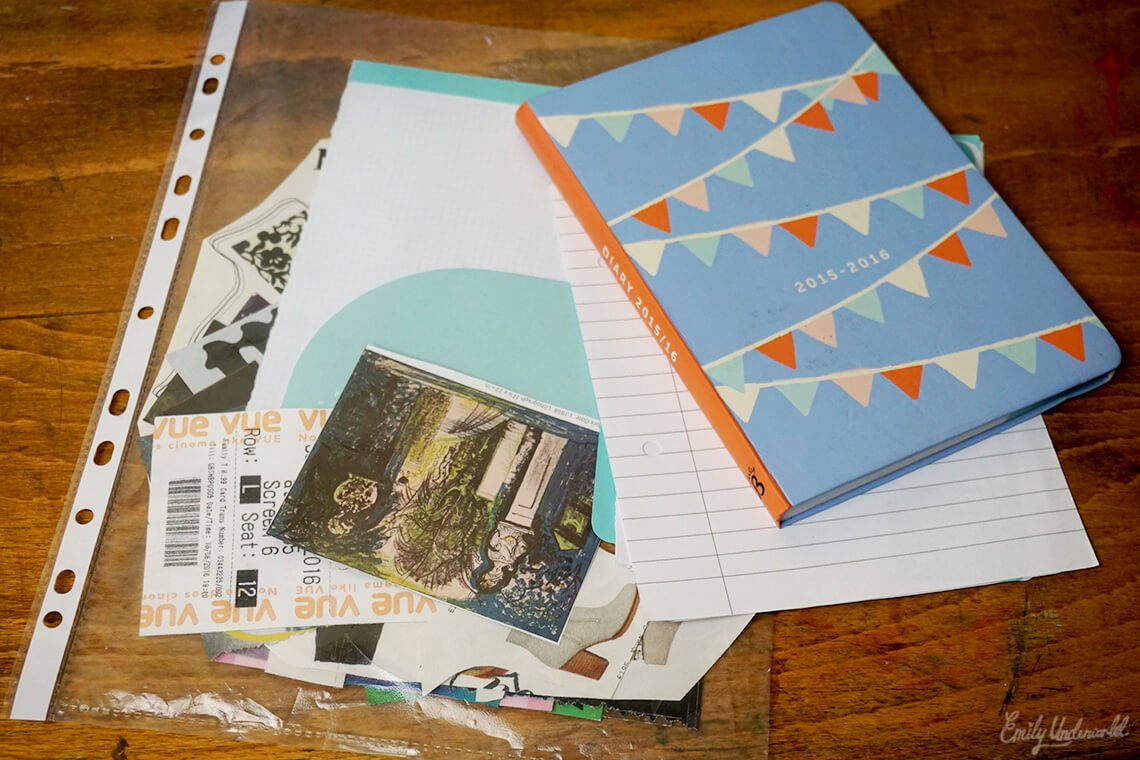 My planner for the previous year was a cute academic diary from Busy B, but this year using a bullet journal because it's more customisable and creative.
I had a few pages left in my Busy B planner, so I pulled them out and stuck them into my bullet journal. I also stuck in some pockets, which are really useful!
In the pockets, I keep important things like a tube map, passport photos, and a tiny little notebook that I use for blog and YouTube ideas.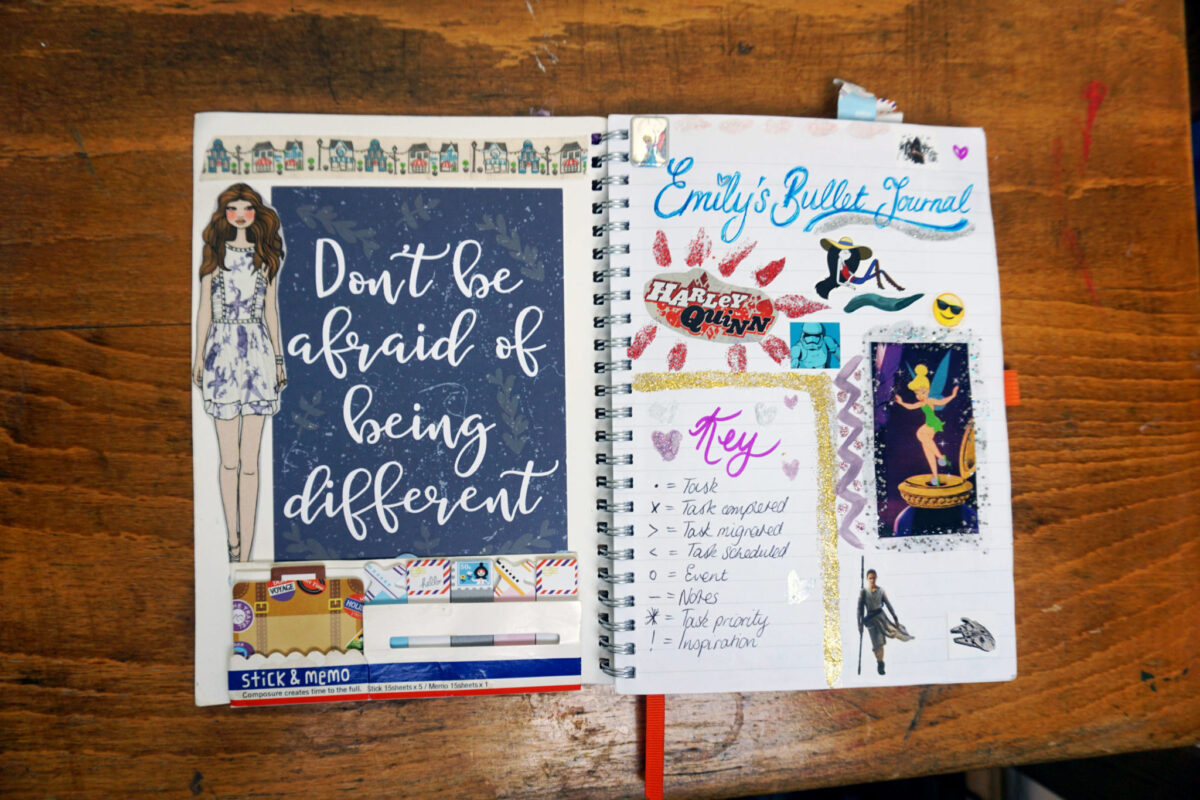 I'm really happy with the first page of my bullet journal.
I added a cute art print, and a set of memo tabs (which are useful for marking important pages). On the opposite page, I've written out my key and decorated it with things I love… Star Wars, Disney, Adventure Time, and Harley Quinn!
I've been experimenting a lot with different layouts for my daily log, so I've pictured a few examples below. The daily log is one of the most useful parts of a bullet journal, so I'm trying to find a layout that I love. 
As you can see, I've been decorating these page a lot. I often cover up days when I don't have plans, making cute collages.



Monthly spreads are also very useful, so you can see everything happening that month at once.
I like to have a monthly to-do list opposite my monthly spread, so I can have a brief overview of things I need to do that don't have a specific day.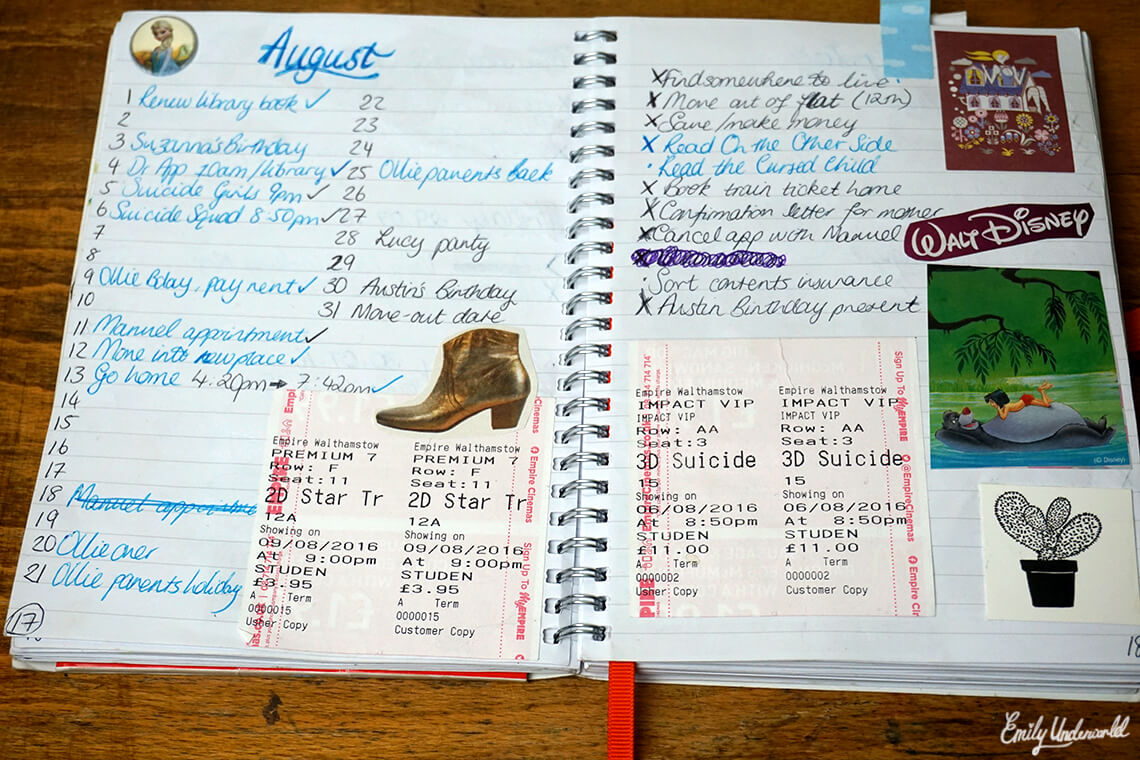 One of the things I love about a bullet journal is that it's not just a planner.
I've been adding lots of fun and useful pages like habit trackers, goals, things I want to learn to do, a bucket list and even a Pop Funko wishlist!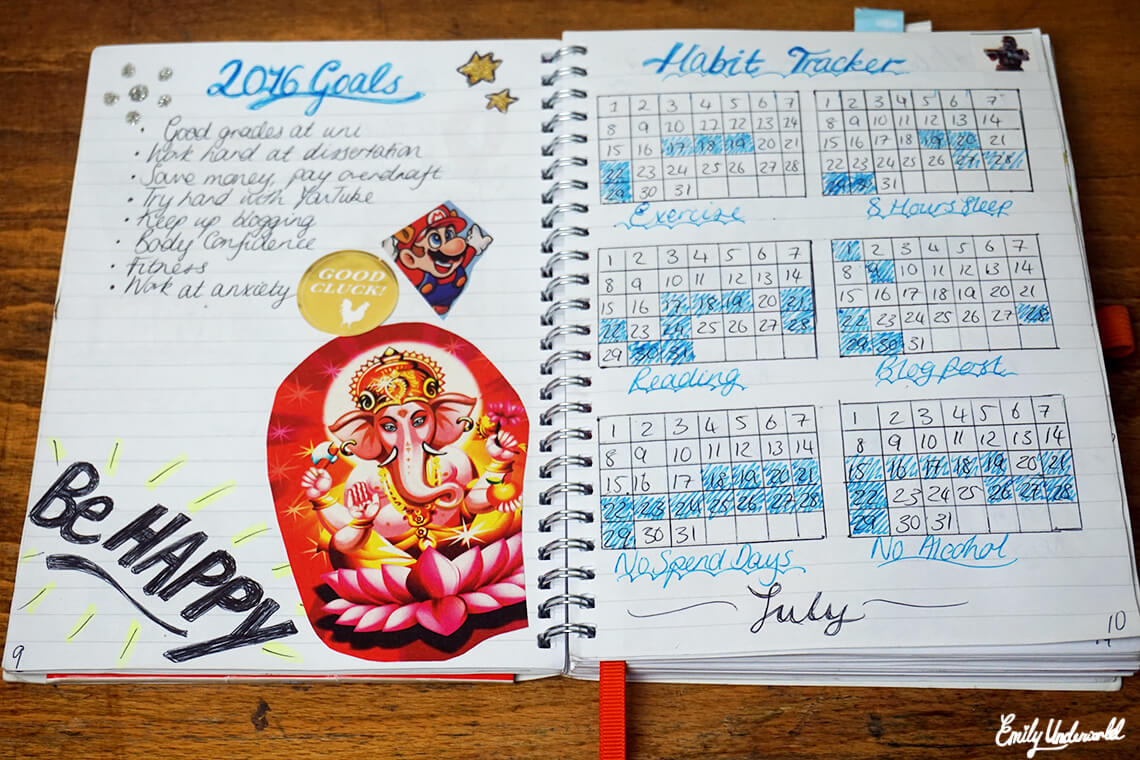 At the back of my bullet journal, I have a page of useful phone numbers, empty timetables ready for the upcoming academic year, and a yearly calendar.
I also took out the page marker and pen holder from my old planner and stuck them in, both of which have proven useful. As you can tell, I'm all about repurposing things!


If you want to see a flip-through of every page inside my bullet journal, check out the video below.
Do you have a bullet journal?
All the best,


Daily Planner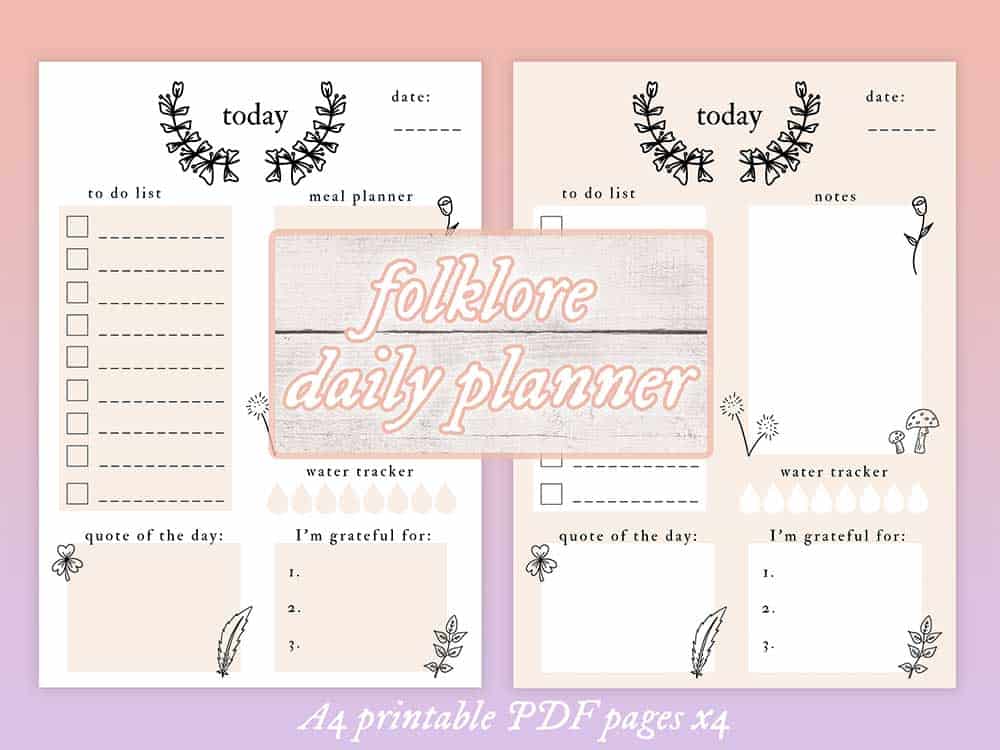 Weekly Planner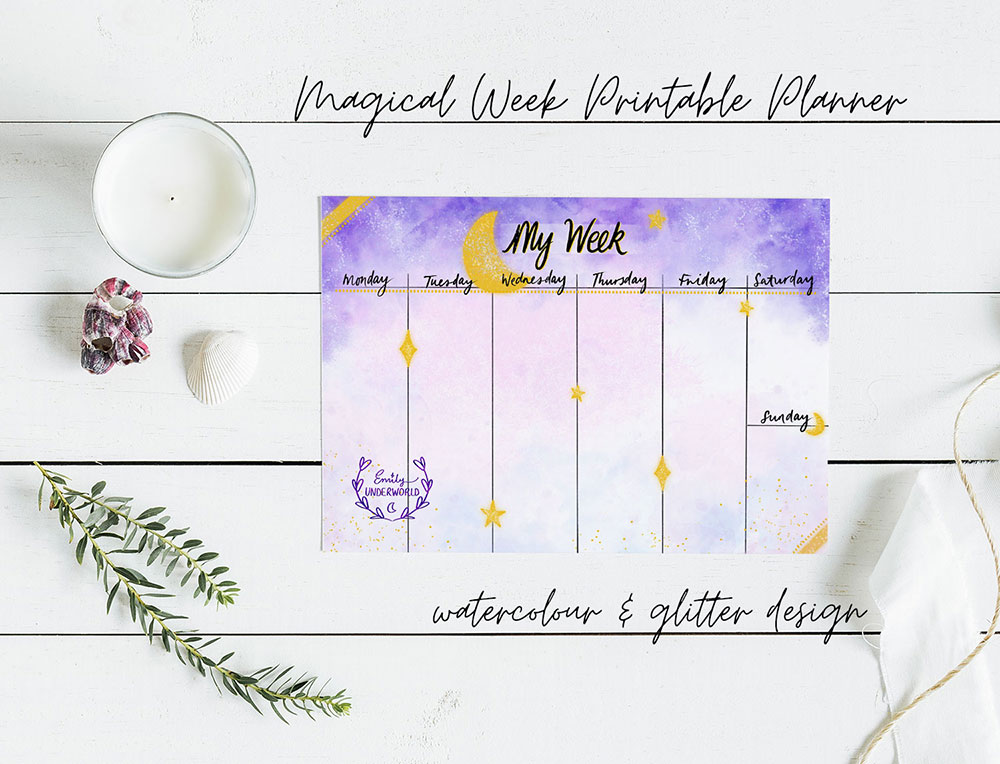 Related Journalling Blog Posts: