Wondering what to type in to find the best aesthetic Instagram story stickers? I got you! Here are 50+ Instagram story sticker creators, and keywords to type in on Giphy for the best GIF ideas.
I shared some of my favourite Giphy creators last year, in a blog post all about where to find cute stickers for Instagram stories. Today I'm sharing lots more!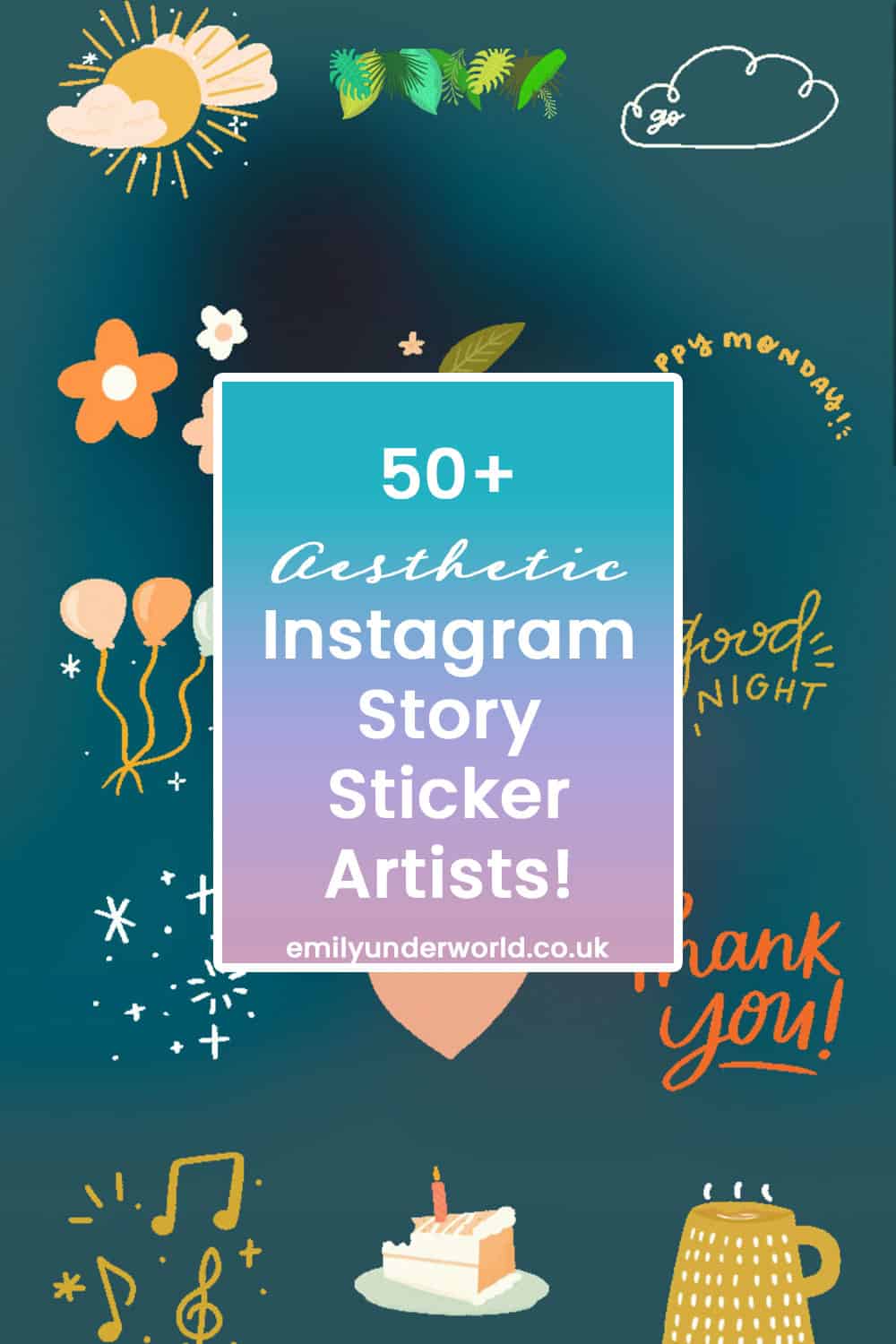 I became a Giphy sticker artist too. You can find my stickers by typing in 'emilyunderworld' on Giphy or the Instagram story sticker search bar. My stickers have over 50 million views, which is absolutely mindblowing to me!
Oh, and you can use them on TikTok as well.
How To Use Stickers on Instagram Stories
Press the + symbol on the top right of the Instagram app.
Select Story
Take / upload a photo or choose 'create' to type.
Click the square smiley face button at the top.
Use the search bar or click on GIF to find stickers.
Drag and pinch to move or resize your sticker.
Add more stickers if you like!
I recommend downloading the Giphy app, so you can 'favourite' the stickers you like. That way you won't lose them in the future. You can also copy and paste gifs and stickers right from the app.
50+ Instagram Story Sticker Artists
Bujo Aesthetic Instagram Story Stickers
Are you a bullet journaler? I am!
If you're a fan of bullet journals, paper, scrapbooking or crafts… search these words to find the perfect aesthetic Instagram story stickers:
tape
washi
latifundija – super cute doodles!
bujo
beige
collage – you can have so much fun with these!
lines
frames
paper
captions
If you want to see how I use these, follow my bookstagram / digital journal Instagram @classicalarchaeologist!
Witchy Instagram Story Stickers
witchy
goth
gothic
crystals
cottagecore
tarot
magick
Search 'emilyunderworld' to find my witchy stickers. I'll work on more ASAP!
Boho Botanical Instagram Story Stickers
botanical
boho
bohemian
🌻 (yes, you can search emojis on giphy. More about that later in this post!)
the uncommon place
gladdest
Cute Quote Sticker Ideas
lidiaontheroad
megantje
steffi
studiojonesie
hanmade
muchable
foopklo
marieboiseau
ohlalalita – simple white handwritten stickers
Indie Aesthetic Instagram Story Stickers
Emmadarvick – I love Emma's designs!
Bossgirl – full of girl boss quotes and pink doodles.
Gravitando – the cutest Harry Potter stickers.
Vaporwave – for a very ~ vibey ~ aesthetic.
Haley Ivers – cute minimalistic doodles.
Anchetulil – indie drawing stickers.
Melaniejohnsson – abstract / flat design illustrations.
Aesthetic – I don't think I need to explain this one!
Cosy Hygge Lifestyle Stickers
Are you all about the cosy hygge lifestyle? Me too! Here are some of my favourite creators and keywords for hygge story stickers:
Lizapro
Merelscorner
Malenaflores
Handmade – these are perfect if you run a small business, you're an artist or share your creative hobbies!
Hygge
The Secret Emoji Gif Stickers!
I only discovered this recently: you can put an emoji in the search bar and it'll show you related stickers. You might know this already, but hey, it's worth sharing in case you didn't.
I've tested this out with lots of emojis, and it doesn't work with all of them. Here are some that do work!
🕯 📓 🏺 🌻 🦋 
Alright, that was a lot of aesthetic Instagram Story Stickers! I hope you found this helpful.
For more ideas, follow me on Pinterest and have a look at my previous Giphy sticker ideas blog post.
All the best,


P.S. Check out my Redbubble if you like my designs and would like to purchase any stickers!
Related Posts: