As we're nearing the end of 2020, today I'm sharing a new collection of feminist phone wallpapers for you. I always switch up my phone lock screen for the new year!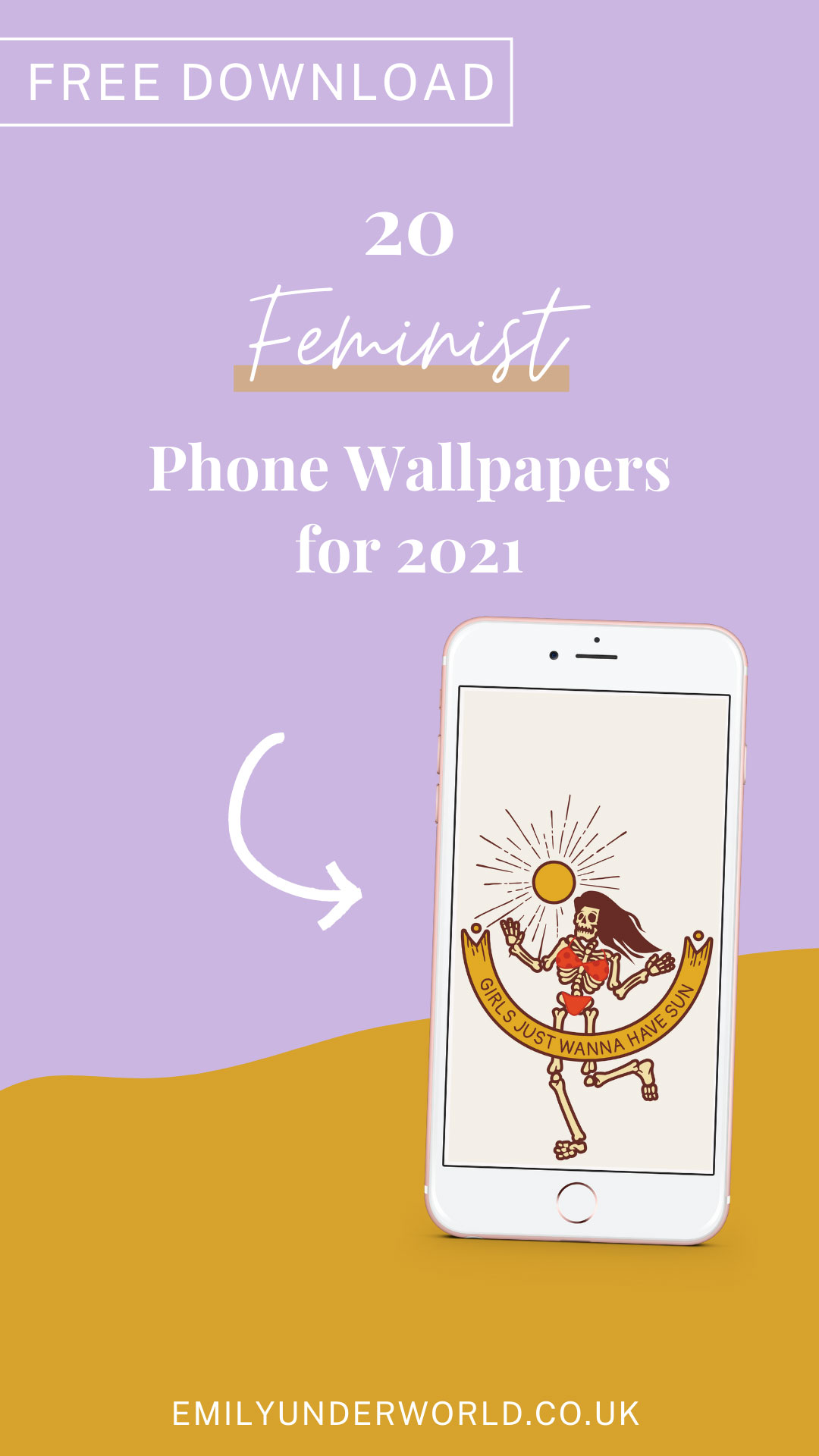 2020 has been, to put it mildly, a tough year. We're not out of the woods yet of course, and 2021 will likely be hard too. With a vaccine on the way, and months of adjustment to 'the new normal', I'm hoping that 2021 will be at least a *bit* better than 2020.
I've spent this year slowing down and learning a lot. I've set better boundaries with others, and educated myself about many things, including Black Lives Matter of course.
I enjoy creating free resources and printables to share with you, so here are some feminist phone wallpapers. I hope they inspire and motivate you to reach your goals in 2021!
Most of all, I want to encourage women, especially women of colour, to take up space. Women are so often told to stop being emotional, 'bossy', 'unladylike'… *insert sexist insult here*. Enough is enough. Stop this nonsense! Don't diminish yourself, your abilities, or your achievements.
I also want to say that it is absolutely fine to like feminine things! It does not make you any less of a feminist.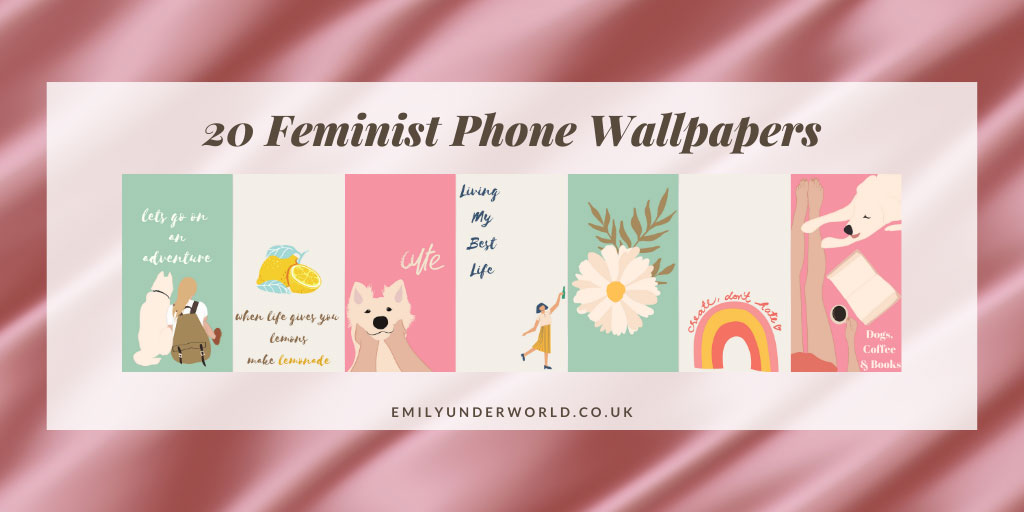 Some of these wallpapers are feature cute dogs, flowers, and the colour pink. One of them is literally just an aubergine (eggplant if you're American) *winks*. Choose whatever makes you happy, laugh, or feel inspired.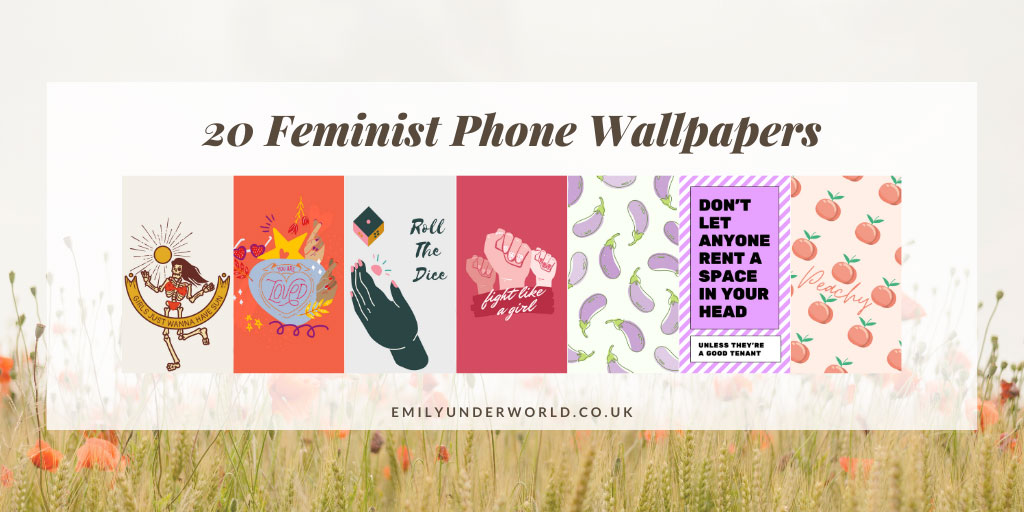 I made these designs on Canva. Some I adapted from Canva's templates (they're great!), others I created entirely myself. Some of the graphics used were purchased by myself on Creative Market.
Feel free to use these free feminist phone wallpapers however you like! Make your phone lock screen inspiring and motivational, or share them with your friends.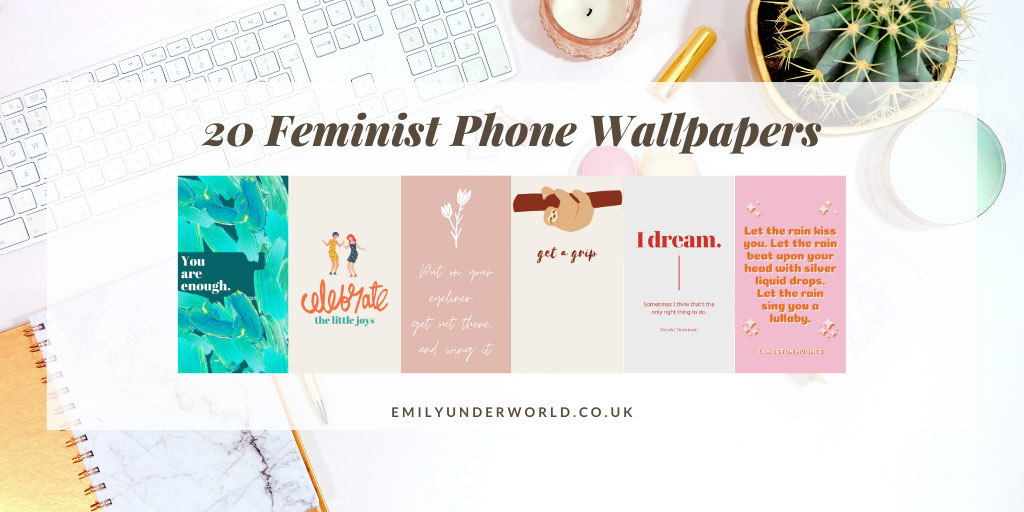 How To Use The Phone Wallpapers
Simply download the PNG images from Gumroad straight to your phone or to your computer (transfer via AirDrop, Dropbox, Bluetooth, or Google Drive for example), and set them as your wallpaper!
These work on both Android and iOS devices, but there will be some variation depending on your screen size. The dimensions of each wallpaper are 1080 × 1920 pixels.
Get Your 20 Free Inspiring Feminist Phone Wallpapers Below.
Tips are appreciated, but not required at all! Simply enter £0 if you want to download the phone wallpapers for free.
More Free Phone Wallpapers and Printables
Feel free to download my other collection of feminine phone wallpapers.
I also created several free self-care printable worksheets, and cute planner pages. Check out my Shop and Freebie Library page for more!
---
If you're feeling creative, head over to Canva to create your own phone wallpapers! I enjoyed making these, I'm working on some iPad and desktop wallpapers too.
Let me know in the comments below if you like any of these phone wallpapers, I'll definitely make more.
All the best,