Today I'm sharing a couple Procreate colour palettes I've made, because why the heck not? I had a lot of fun putting these together (small joys during lockdown) and thought someone might like to use them.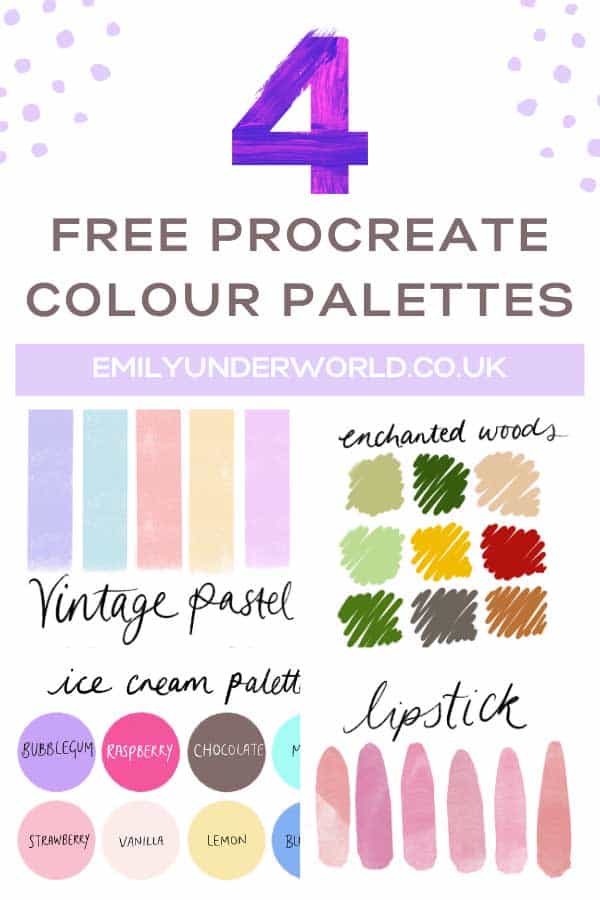 I find colour palettes useful when drawing on Procreate or designing in Photoshop… I know lots of artists don't use them, but I feel like I need a colour scheme to stick to or I'll end up getting carried away! Anyone else have this problem? I like all the colours.
Procreate comes with a few preset colour palettes, you can download them online, or create your own. I've only been using Procreate with my iPad Mini for a few months, and I absolutely love it. It's probably the best £10 I've ever spent. I hear they've got an iPhone app called Procreate Pocket now too… I don't have an iPhone (anyone else use an android?) so I haven't tried it, but that's pretty awesome for those who don't have an iPad. I've been following tutorials on Pinterest, TikTok and Skillshare to learn the best tips and tricks.
With the latest update (Procreate 5X), you even can automatically create colour palettes from photos! This new feature is so helpful, I've used it a few times when drawing butterflies. It's quicker than using the eyedropper tool to grab each colour from my reference picture.
How To Use Procreate Colour Palettes
To use these colour palettes in Procreate, simply download the .swatches files from the Gumroad link below. Airdrop or transfer them to your iPad then open in Procreate.
Alternatively, you can save the PNG images and use those with the new colour palette creator tool. Here are the steps to create palettes from an image:
Step 1: Click the colour icon at the top right-hand corner of Procreate.
Step 3: Click the + icon
Step 4: Choose 'new from photos'
Step 5: Select the colour palette photo you've saved!
A third method is to simply use the eyedropper tool to manually select each colour from a picture. This method will work with other digital drawing apps or Photoshop too.
For more information about how to make and use Procreate colour palettes, check out Procreate's handbook.
4 Free Procreate Palettes To Download Or Save
Vintage Pastel Procreate Colour Palette
5 vintage-inspired pastel colours, including purple, blue, yellow, orange and pink.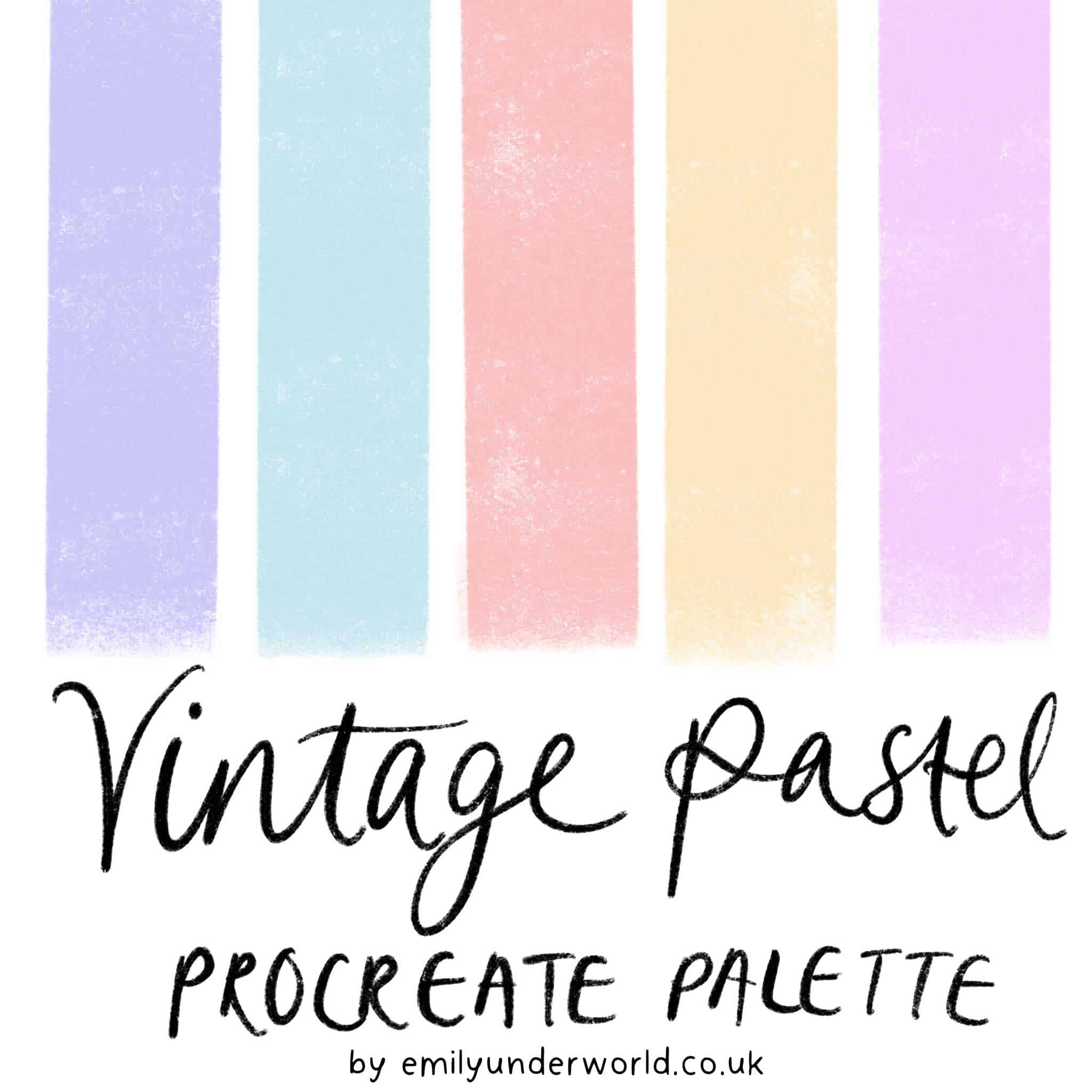 Enchanted Woods Procreate Colour Palette
9 shades of green, brown, yellow and deep red, inspired by the forest!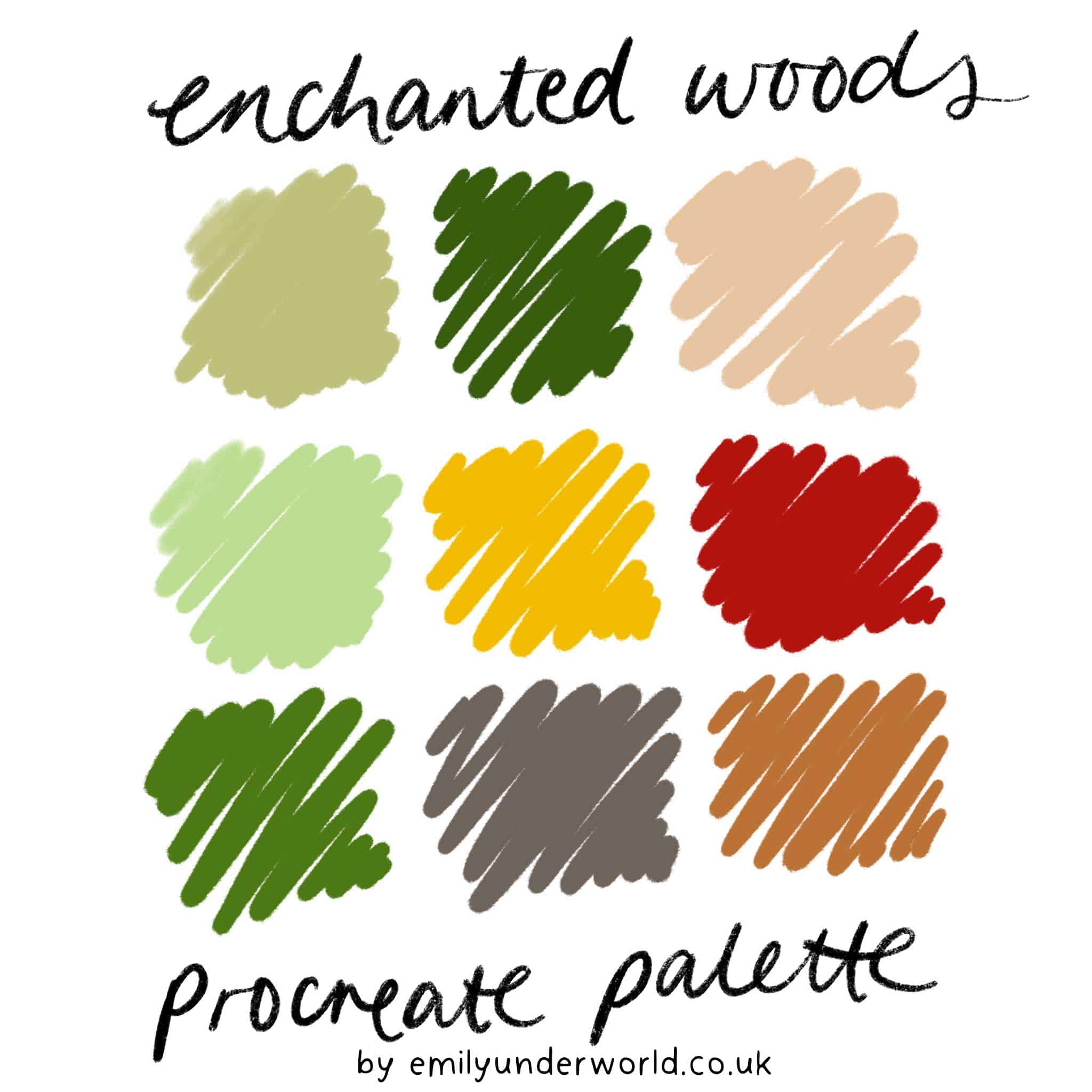 Ice Cream Procreate Colour Palette
8 colours inspired by ice cream flavours. What's your favourite flavour? I'm a classic Strawberry kinda gal.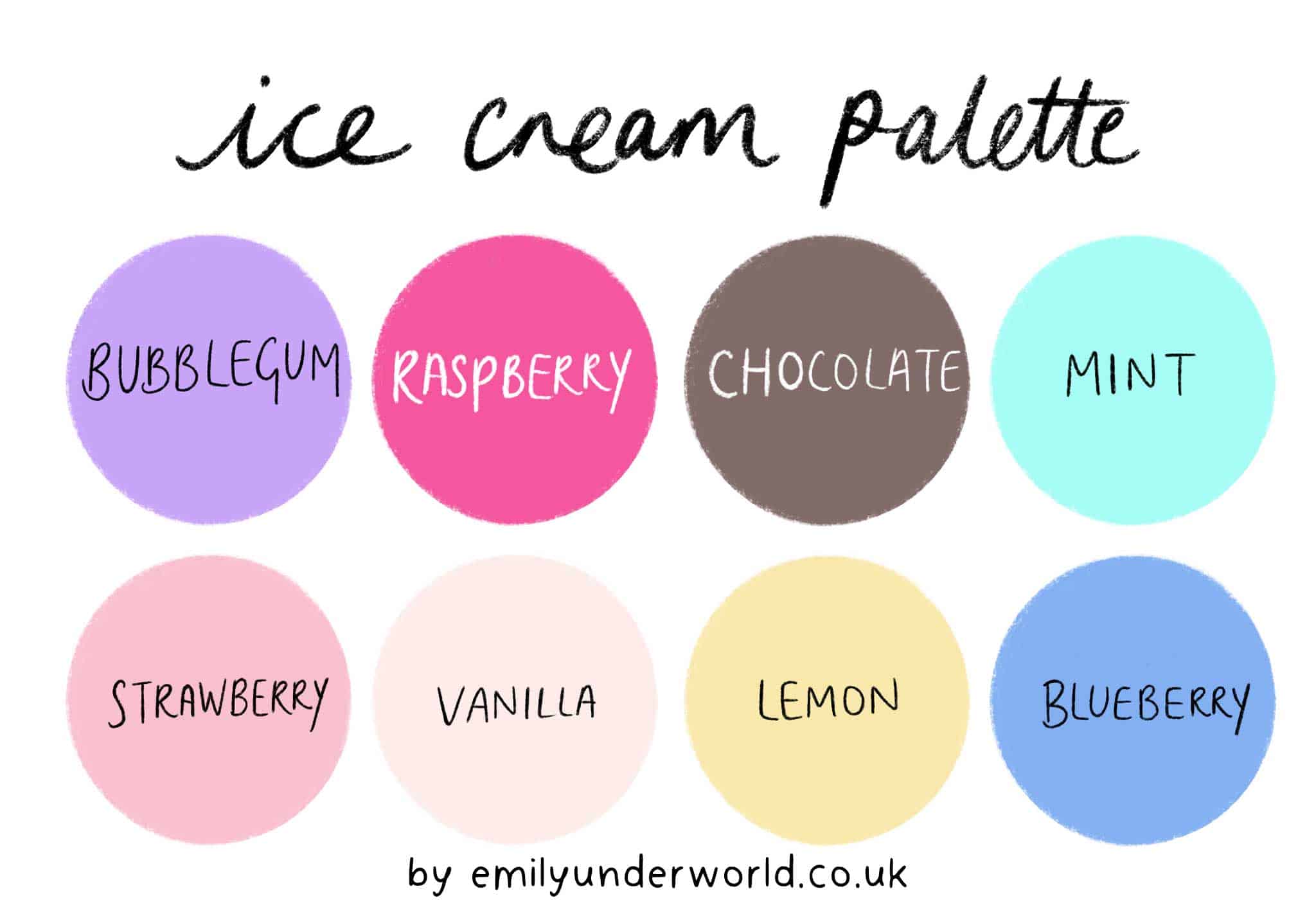 Lipstick Procreate Colour Palette
12 shades of pink and nude, inspired by lipsticks. This one includes 6 main colours (pictured below), and 6 lighter variations.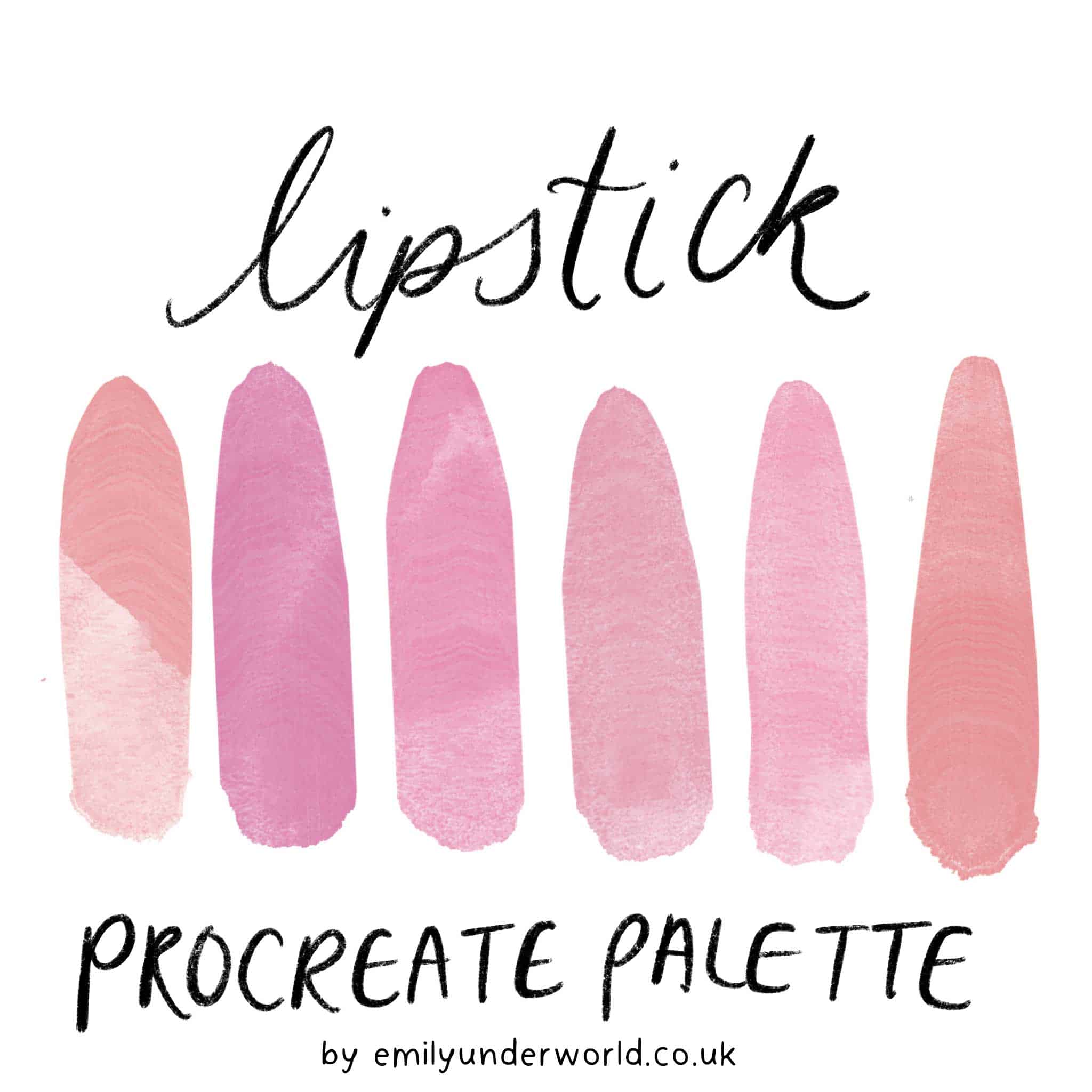 Some illustrations I've created using these colour palettes
Time for a cheeky little #artshare… my prints are now available to purchase on InPrnt!


Download the 4 Free Procreate Palettes
You can download the images and procreate palette files from Gumroad. Put £0 in the box to get them for free.
Download


Enjoy, and make some beautiful art! Feel free to tag me on Instagram @emilyunderworld so I can see your work.
These are of course free, but please don't redistribute or sell them. I know some people buy Procreate palettes, but that's just not my thing. Colour is free! … except for Tiffany blue, because I'm pretty sure they copyrighted that…
Anyway, I'll make more colour palettes in the future and update this blog post when I do. Make sure to check out my Shop and Freebie Library for my other resources.
For more colour palettes, I really recommend the Coolors website and app. It's a great way to easily generate colours that work well together!


You may also like:
Pin this for later?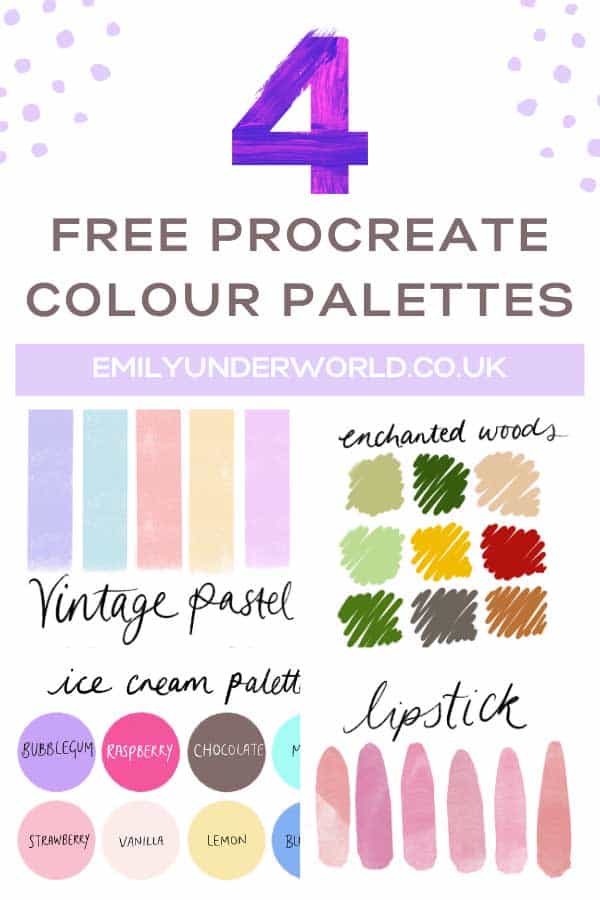 P.S. Make sure to grab a free two week trial of Skillshare if you haven't already, there are so many excellent art classes on there.