AD – This is a guest post.
Are tired of buying the same gifts for your loved ones year after year? If you want to shake things up a little, you should look for some present inspiration. There's only so many notebooks or bottles of wine you can gift someone with; instead, you need to find a gift that truly speaks to them. Check out the following six unusual gifts for every lifestyle.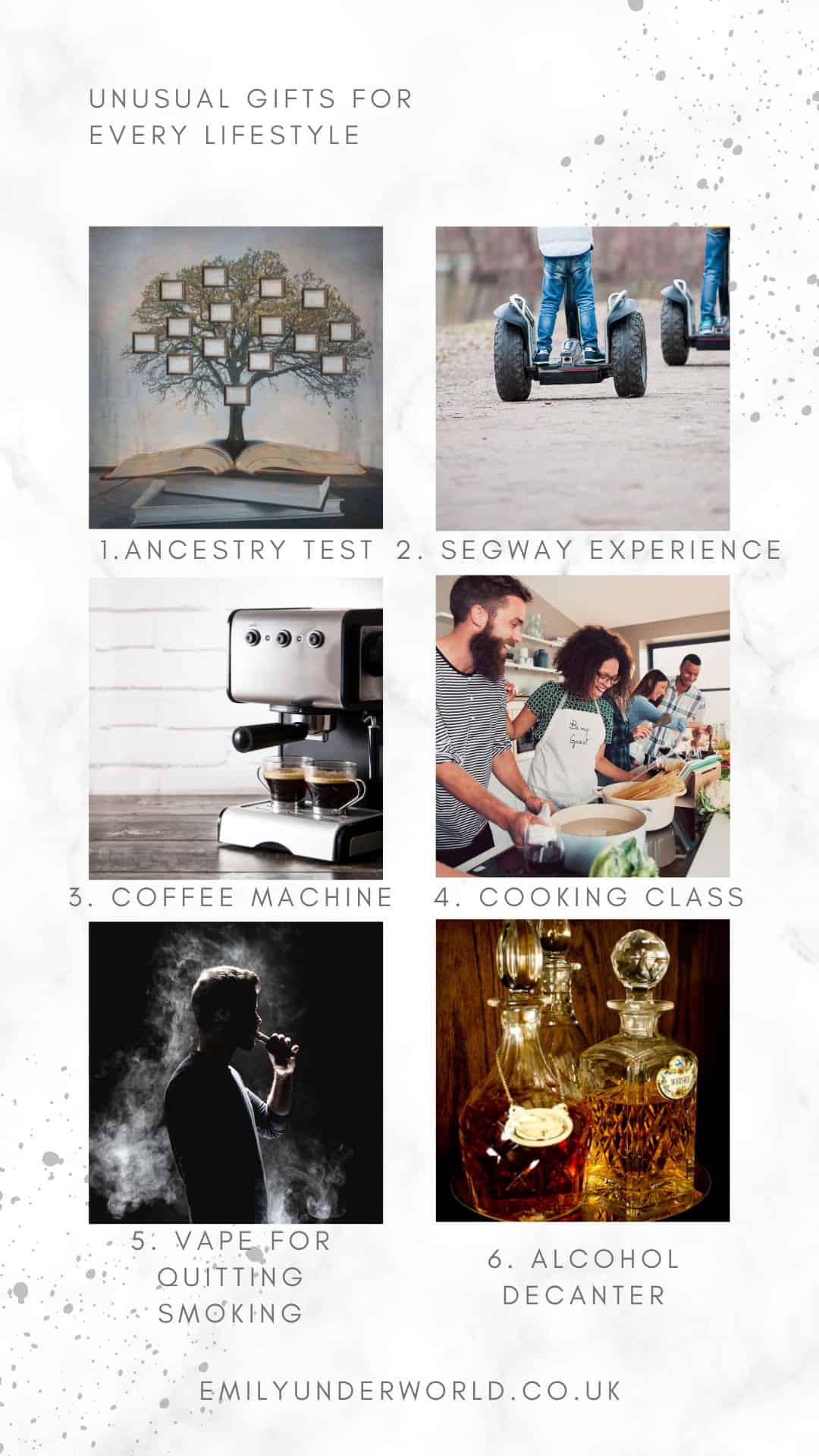 For History Lovers: An Ancestry DNA Test
If your mum, dad or aunt is more than a little obsessed with their family history, you should present him or her with an ancestry DNA test. This will help them to discover where in the world they come from, which can provide them with a deeper insight into their family history.
Not only is this extremely thoughtful, but the results provide great conversation!
For Vaping Fans: An Aspire Tank
Does your partner, brother, or best friend love to vape? Or perhaps they're trying to quit smoking. Heighten their experience by providing them with an aspire tank. The premium product from Redjuice will not only improve airflow, but it can also increase the flavour of an e-liquid and offers exceptional usability. It is one gift they will remember on their birthday, anniversary or Christmas, and it will prove how much you appreciate them.
For Thrill Seekers: A Segway Experience
If a loved one has a need for speed, and adores the feeling of adrenaline running through his or her veins, you should treat them to a Segway experience. You can trust their heart will be pounding once they travel from A to B on a Segway, which can reach speeds of up to an incredible 12.5 miles per hour.
It is a great gift for all ages, as it is perfect for your teenage brother to your 60-year-old mother. It's an outdoor experience they're unlikely to forget in a hurry!
For Foodies: A Cookery Class
You can guarantee a foodie will jump at the chance to expand on his or her culinary repertoire, which is why you should book them a ticket to an upcoming cookery class from an acclaimed chef.
This will allow them to not only test their skills but learn new ones, so they can recreate delicious dishes in their own home once the experience is over.
For Coffee Lovers: A Coffee Machine
If your mum, grandparent, or friend appreciates the deep flavour of coffee, you can trust they will love to unwrap their very own coffee machine.
No longer will they need to step inside a coffee shop to experience a delicious cup of joe, as they can brew an americano or espresso in the comfort of their own home.
If they need to know how to operate a proper espresso machine, then you should also consider gifting them with a masterclass in coffee or a lesson in latte art.
For Alcohol Fans: A Glass Decanter Set
Nothing screams style and sophistication quite like a glass decanter set. It's the ideal gift for those who appreciate different alcohol spirits, such as whiskey, rum, and brandy. So, you can guarantee they'll love to display the unique yet elegant set, and will gladly pour themselves a drink after a long, hard day.
They will also think of you each time they use it, so it's one gift that will certainly stand out from the crowd of presents they'll receive throughout the years.
What unusual gifts would you love to receive?
All the best,

More Gift Guide Blog Posts: