Are you learning about witchcraft? If so, you're likely interested in reading a variety of books about witchcraft and paganism. When starting your witchy journey, it can get pretty expensive with all the books and supplies you'll want to pick up.
Today I'm sharing a selection of 13 witchcraft books available on Kindle Unlimited. There are hundreds of different titles on there that cover everything from paganism and Wicca to candle magick, spells, runes, tarot cards, and so much more.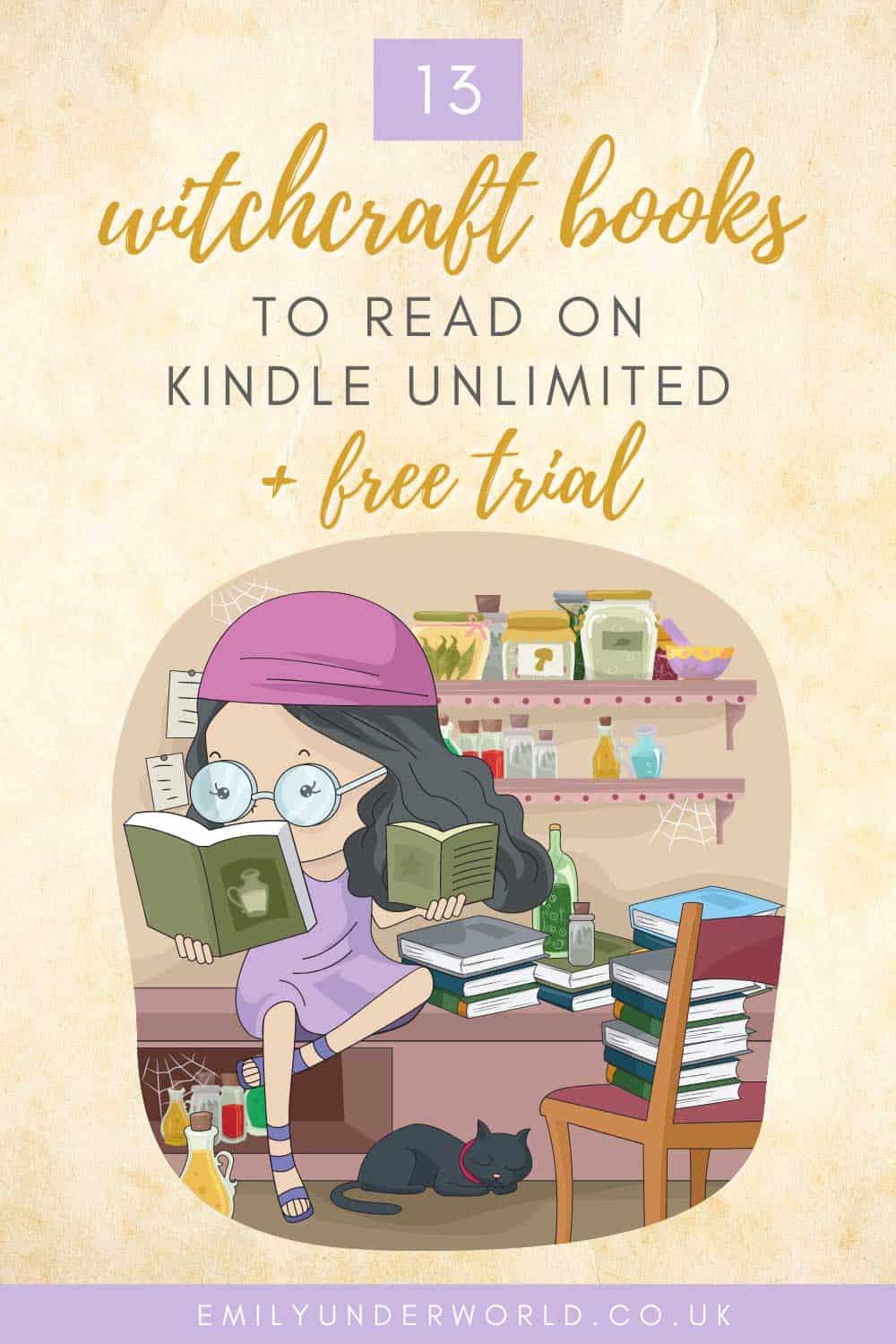 I definitely recommend joining your local library (or library app) and taking advantage of free trials of services like Audible and Kindle Unlimited. That way you can support fellow witches and their writing while saving money for witchcraft supplies.
What is Kindle Unlimited?
Kindle Unlimited is a service that lets you read as many books and magazines as you want from the Kindle Store. You can explore new authors, genres, and subjects not available in your local bookstore or library. I have found so many great reads through this program, and it saves me a lot of money on books! There are over 1 million books currently available to read instantly.
Most of the time, I'll read a book on Kindle or listen to an audiobook before buying a physical copy. I have a small bedroom and my bookshelf is very full, so I want to limit my physical book purchases to ones I would read again.
The great thing about Kindle Unlimited is that you don't even need to own a Kindle to join it. I do have a Kindle myself, but I also read Kindle books on my iPad Mini, and sometimes on my phone too. You can download the Kindle app onto pretty much any device, or use their Cloud Reader on your computer.
Thousands of Kindle Unlimited titles also come with free Audible audiobooks. When you see a "With Narration" icon on a Kindle book, this means you can switch seamlessly between reading and listening without losing your place. This is the best feature for me because at home I read a lot, but when I'm on the bus or the tube I prefer listening to audiobooks.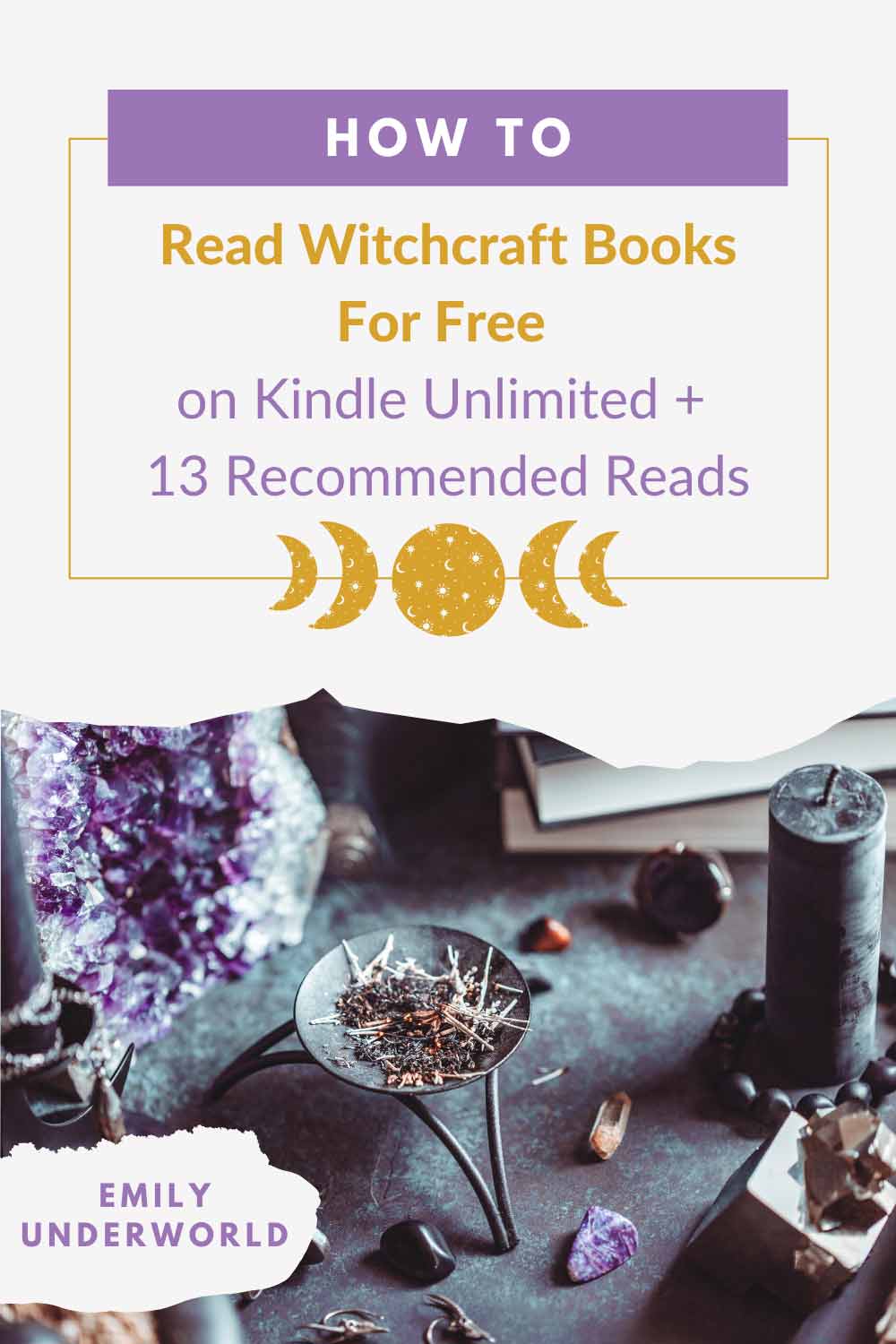 Get 3 free months of Kindle Unlimited
At the moment, you can get 3 months of Kindle Unlimited for free if you're a Prime customer. This offer ends on June 22nd 2021, so be quick if you want to try it out. I know many of you are likely students, so keep in mind that you can get Prime Student at 50% off too.
After June 22nd, the standard free trial offer is 30 days, like Audible. If you're not a Prime customer, you can get a 30-day trial.
Even if you've previously taken a free trial of Kindle Unlimited, it's worth checking to see if you qualify for this offer. It worked for me, so now all my reading is sorted for the summer!
13 Witchcraft Books on Kindle Unlimited
Here are 13 witchcraft, Wicca and paganism books on my reading list right now. I've started reading some of these already, so I'll update this post or write reviews in the future.
It's also worth browsing the categories below on the Kindle Store yourself. There are thousands of relevant books for witches! Select the 'Kindle Unlimited Eligible' button on the Kindle Store sidebar to show what books are available without extra cost.
Kindle Store Categories To Find Witchcraft and Spiritual Books
Religion & Spirituality – Occult
Religion & Spirituality – Spirituality
Religion & Spirituality – New Age – Earth-Based Religions (subcategories include Magic, Wicca, Witchcraft, Druidism).
Religion & Spirituality – Other Practices – Ritual
History – Ancient (great for books on mythology!)
Health & Fitness – Alternative Medicine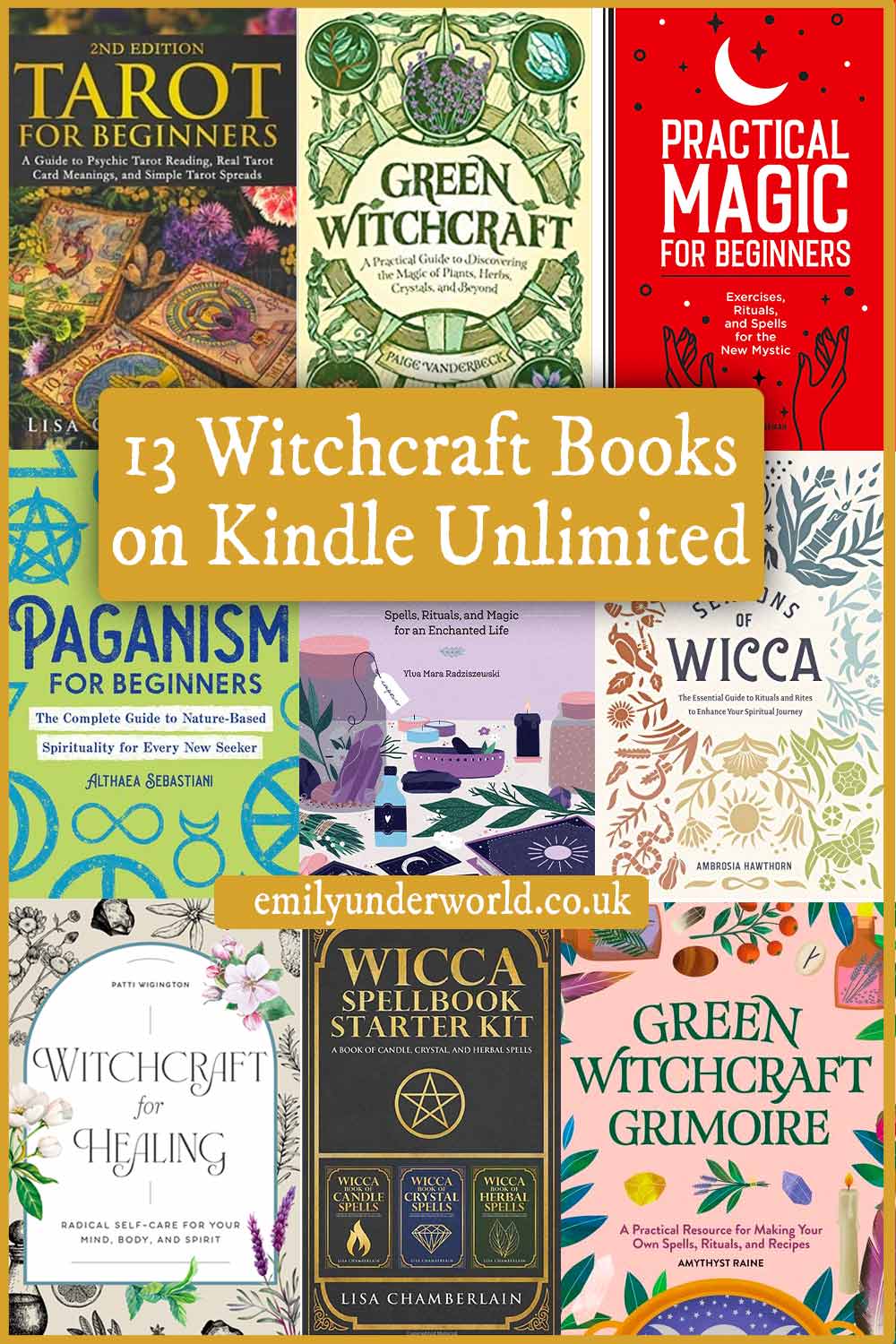 Tarot for Beginners by Lisa Chamberlain, 2nd Edition
Tarot for Beginners is a great read if you're learning tarot. It covers each tarot card in depth, dispels myths about tarot reading, and also provides you with some simple tarot spreads to use. It's a pretty comprehensive guide, and very accessible for beginners.
Lisa Chamberlain is a best-selling author who has written many books about Tarot, witchcraft and Wicca. You'll notice I've also mentioned her starter book set about Wicca later in this post.
I actually have a Lisa Chamberlain book giveaway coming up soon, so make sure you're following my blog and Twitter to catch that!
Green Witchcraft by Paige Vanderbeck
The full title of this one is Green Witchcraft: A Practical Guide to Discovering the Magic of Plants, Herbs, Crystals, and Beyond. You might know Paige Vanderbeck already from her podcast and blog, The Fat Feminist Witch. I recommended it in my Witchcraft for Beginners blog post.
Anyway, I've been reading Paige's work for a while, and I've recently started reading Green Witchcraft. It covers natural magick with herbs and plants, creating your own sacred green space, crystals for healing and more.
Paganism for Beginners by Althaea Sebastiani
I've had Paganism for Beginners on my reading list since it was released last year. The positive reviews on Goodreads encouraged me to get the Kindle edition, and I'm so glad I did! I'm very impressed so far.
Paganism for Beginners is a book that teaches you how to understand the basics of pagan religions. Whether you're already a pagan or interested in finding out more, you'll learn about different pagan practices and how the movement has evolved.
The Element Encyclopedia of Witchcraft by Judika Illes
You might know Judika Illes' other witchcraft books on Kindle Unlimited, including the Element Encyclopedia of 5000 Spells. I decided to feature this one, because it's a great comprehensive guide covering all things witchcraft.
Described as a 'Mammoth Magical Treasure Trove', The Element Encyclopedia of Witchcraft goes over folklore, mythology, spirituality, and magical traditions. This is a long book with over 24,000 pages… no, I haven't read it all yet! So far it's entertaining, and I like how Judika included recipes.
The paperback and hardback copies of this are pricey, so I was very happy to find it on Kindle Unlimited.
Wicca Spellbook Starter Kit by Lisa Chamberlain
Whether or not you're a Wiccan, you'll find these books helpful. The Wicca Spellbook Starter Kit includes 3 titles: The Book of Candle Spells, Book of Crystal Spells and Book of Herbal Spells.
This set from Lisa Chamberlain is great for beginner witches looking to start practising candle magick or working with herbs and crystals. The guides are concise, covering only 13 herbs and 13 crystals – it's an excellent place to start learning without getting overwhelmed with information. In total, the Wicca Spellbook Starter Kit contains 168 spells, charms, rituals and recipes to try out.
The Door To Witchcraft by Tonya A Brown
This isn't one of those witchcraft books filled with 'fluff'. It's concise and explains everything in an easily digestible way. The Door To Witchcraft covers:
Witchcraft through the ages: the history of witchcraft and evolution of the practice up to the modern-day.
Tapping into your powers: a guide to helping you decide what kind of witchcraft you want to practice, and master fundamental techniques for traditions, rituals, and ceremonies.
The art of casting spells: how to manifest your intentions with witchcraft spells for protection, health, friends and family etc.
Tonya Brown is the creator and editor of Witch Way Magazine, a monthly magazine for witches since 2015. I recommend checking it out, they have digital editions you can read at home. There's also a new podcast called The Witch Daily Show!
Practical Magic for Beginners by Maggie Haseman
If you're looking for a book that covers many different aspects of mysticism in a brief way, Practical Magic for Beginners is for you. Maggie Haseman's book doesn't go into much depth, I'll be honest, but it's good for explaining various concepts quickly.
Topics include auras, chakras, crystal healing, tarot, palm reading, astrology, sigils, divination… in only 238 pages. If you're not sure what magic practices and techniques you want to learn, this could be helpful for you. Keep in mind that Practical Magic for Beginners is a brief read, so it's not an all-encompassing guide.
Witchcraft for Healing by Patti Wigington
If you've been reading my blog for a while, you'll know that I'm all about Self-Care. Patti Wigington's book, Witchcraft for Healing, is exactly that: self-care for witches.
This one is another short read with only 187 pages, and it's more of a self-help book than a guide to witchcraft. If you need some practical advice for self-care for your mind, body, and soul, give Witchcraft for Healing a read.
If you already have a self-care routine that works for you, I wouldn't recommend reading Witchcraft for Healing. Why? Because this book is primarily about mindset and looking after yourself. However, if you're struggling with self-care or creating a safe space in your home, you'll likely find it useful.
Seasons of Wicca by Ambrosia Hawthorn
I'll admit that I was drawn to this book because of the cover. It's beautiful!
Seasons of Wicca is separated into two sections: the first part covers what Wicca is and the different types (Gardnerian, Celtic etc), and the second part includes practical tips for following the path of Wicca.
In Seasons of Wicca, you will find information about magical tools, the Wheel of the Year, as well as guidance about how to cast a circle and set up your altar. The end of the book features a useful glossary and recommended resources.
Again, this is a book for beginners. There is of course overlap between Wicca and witchcraft in general, especially when it comes to nature / green magick, so you don't necessarily have to be a Wiccan to find it a useful read.
I will point out that this book unfortunately uses the term 'smudging' for smoke cleansing. I do not condone this, as it is cultural appropriation. Smudging is a Native American indigenous ritual that requires specific ingredients and steps: it is a closed practice.
Ambrosia Hawthorn is the founder of Witchology Magazine.
Green Witchcraft Grimoire by Amythyst Raine
I was pleasantly surprised by the Green Witchcraft Grimoire when I skimmed through it recently.
It features a lot of practical tips for green witchery, including recipes, teas, salves, and useful tools. Amythyst's guide tells you which ingredients to grow or purchase for your craft, and it provides helpful substitution recommendations too.
I also appreciate that the Green Witchcraft Grimoire contains safety warnings, e.g. mentioning which plants are toxic. Safety knowledge is essential when practising witchcraft! Unfortunately, many beginner witchcraft books do not cover the necessary safety advice, it's worrying and could result in injury.
Craft of the Hedge Witch by Geraldine Smythe
Here's one for the beginner Hedge Witches, or those intrigued by Hedge Craft. This isn't something I follow myself, but curiosity always leads me to learn about a variety of witchcraft and spirituality practices.
Whether you know much about Hedge Witchcraft or not, Craft of the Hedge Witch is an incredibly interesting read. Geraldine Smythe's writing is engaging while offering practical guidance on aspects like 'riding the hedge'. Overall, it's fascinating and I definitely recommend reading it on Kindle Unlimited.
A Practical Guide for Witches by Ylva Mara Radziszewski
The illustrations in A Practical Guide for Witches are stunning, it's truly a beautiful book. I wish a book like this existed when I started my witchcraft journey!
The introduction clears up some common misconceptions about witchcraft, and I especially liked how Ylva explicitly states that you do not need to be a cisgender woman in order to be a witch. So many witchcraft books are transphobic, and claim nonsense like 'magic comes from your womb'. Absolutely not. Feel free to read my post about witchcraft books I don't recommend for more info on witchy books to avoid.
Anyway, A Practical Guide for Witches includes magic for all aspects of life: health, wellbeing, home, career and more. It also covers the different types of witchcraft in an easy-to-understand way, and considers that we don't all have access to expensive ingredients.
The Spell Book for New Witches: Essential Spells to Change Your Life by Ambrosia Hawthorn
Another book by Ambrosia Hawthorn, The Spell Book for New Witches focuses on spellwork. I'm stating the obvious here!
I will say that this does emphasise the Threefold Law, which many of us do not believe in. It also leans heavily into New Age 'woo-woo love and light' spirituality, which again, many witches do not follow at all. If you practice traditional witchcraft, you'll likely find yourself frustrated at times when reading The Spell Book for New Witches.
That said, I've decided to include The Spell Book for New Witches in this post because it's organised in a practical way and you can learn helpful spellcrafting tips from it. As a beginner witchcraft book, this isn't great, but as a Spell Book, it's useful.
If you've read any of these books, let me know in the comments below. As always, I recommend a variety of sources, and never follow one book as a cosmic truth. Take everything with a pinch of salt.
I hope you enjoy these witchcraft books on Kindle Unlimited, and make sure to grab the 3 months for free offer while it's available.
For more book recommendations, check out my Books Category, and add me on Goodreads.
All the best,

More Witchcraft Blog Posts