So, you want to be a witch? Welcome to my Witchcraft for Beginners guide! I will be updating this blog periodically, especially if I find any new useful resources for new witches. This is part one of a series, I will work on part two in January 2021!
In this blog post, I will be sharing some witchcraft tips for beginners.
I'll break it down into categories including witchcraft resources, books and supplies for new witches. This blog post will also feature my favourite witchcraft apps and blogs for the modern witch.
Important Disclaimer: Witchcraft is not a trend. It's not an 'aesthetic'. It takes years and years of practice and study. It's not easy, it requires a lot of work.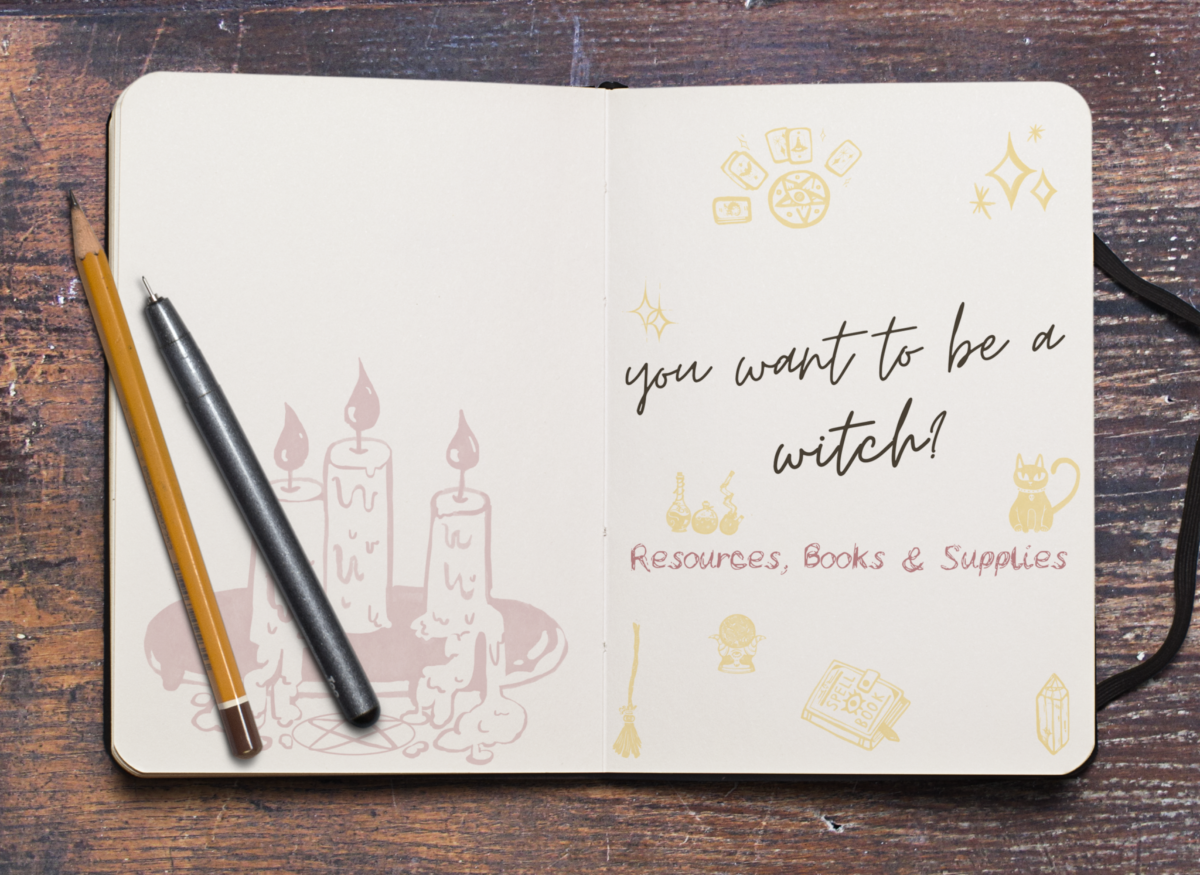 So, You Want To Be a Witch? A Few Questions You May Have…
What is Witchcraft?
Are Witches Real?
How Do I Become a Witch?
Is Witchcraft a Religion?
Are Wicca and Witchcraft the same thing?
I'm going to very briefly answer these questions (let me know if you'd like some more detailed blog posts), and point you in the direction of my favourite online and offline witchcraft resources!
Witchcraft is a practice.
Yes. Although perhaps not in the way you'd imagine from the movies and pop culture! We don't fly around on broomsticks.
Of course, you can become a witch! It's a spiritual practice, a commitment to personal development, to the Earth and to her people (and all living creatures). Personally, I believe in deities. You may not believe in deities at all. Witchcraft is not just for women. Witchcraft can be practiced by anyone. It's important to remember that it won't be easy, and witchcraft is not just a 'fun trend' or 'aesthetic' you've seen on the internet.
Witchcraft itself is not a religion. It's a practice, often used as a part of various Pagan religions. Wicca is a religion.
Wicca and Witchcraft are not the same.
OK, so now we've covered the basics, time for the witchcraft resources I recommend.

Books
I've picked up most of my witchcraft knowledge from books. I'm always reading!
Note: many 'modern witchcraft' books focus on feminism, the divine feminine and the Goddess. Some are quite surface-level / 'New Age-y'. Make sure to read my blog post on Witchcraft Books I Don't Recommend.
Avoid any book that claims witchcraft is just for cis women, e.g. Witch by Lisa Lister. This is transphobic, and simply not true. Also, make sure to not to culturally appropriate from native peoples or minorities!
The first thing you need to know about witchcraft is that there is no set doctrine. It focuses on magick, the power of nature, and free will.
Some choose to practice in a coven (a group of witches or Wiccans), whereas others like myself are solitary. Some follow a specific path, and others practice 'eclectic' witchcraft. I am an eclectic witch, meaning I draw from various traditions.
The second thing you need to know is that one book or blog post will not teach you everything. Nor will one person!
Witchcraft requires study. It'll take years and years of research, learning, and practice. I'm only 25 years old, I don't know everything. I've been practicing for years, but still just scratching the surface!
Quick List of Recommended Reading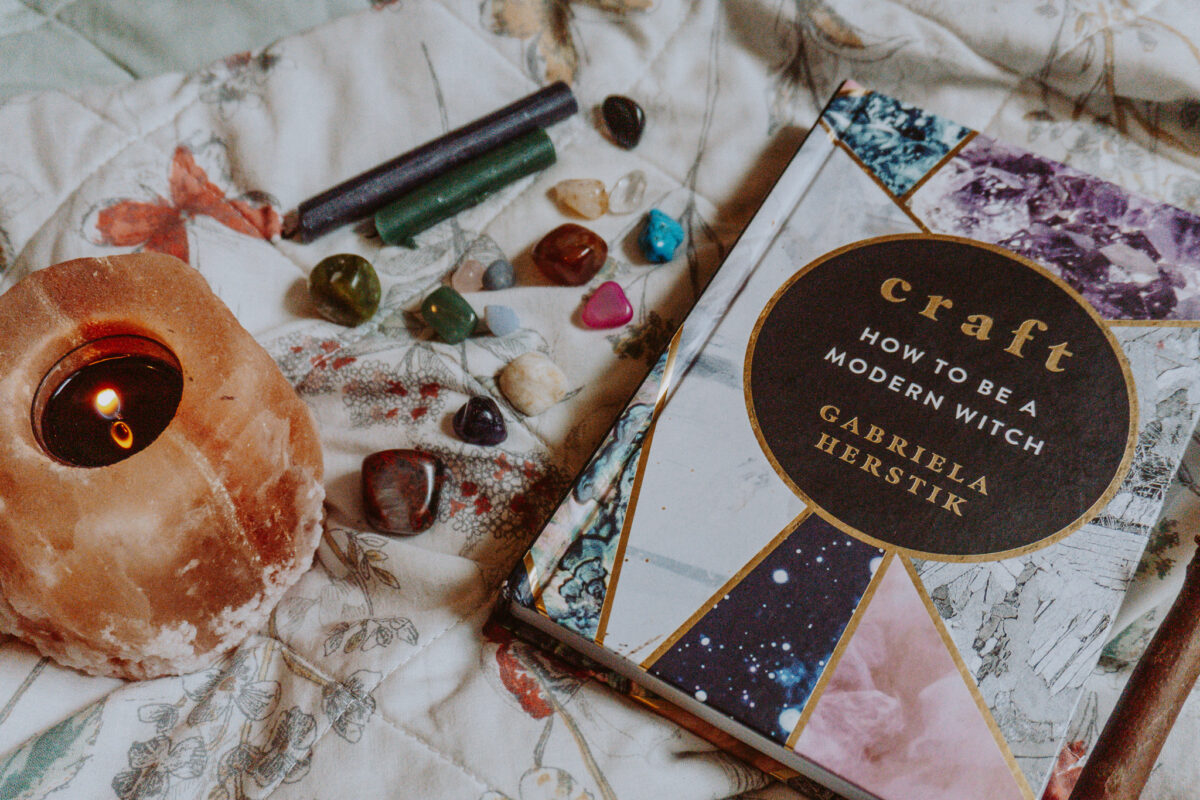 Craft / Inner Witch by Gabriela Herstik
Note: Gabriela's book is titled Inner Witch: A Modern Guide to The Ancient Craft in the US. For UK witches (like me!), her book is called Craft.
This is one of my favourite modern witchcraft books. I devoured it in a few days, but frequently refer back for specific rituals I want to try.
Craft has a good table of correspondences and a bibliography. Although the further reading list is quite short, it's better than many other beginner witchcraft books I've read.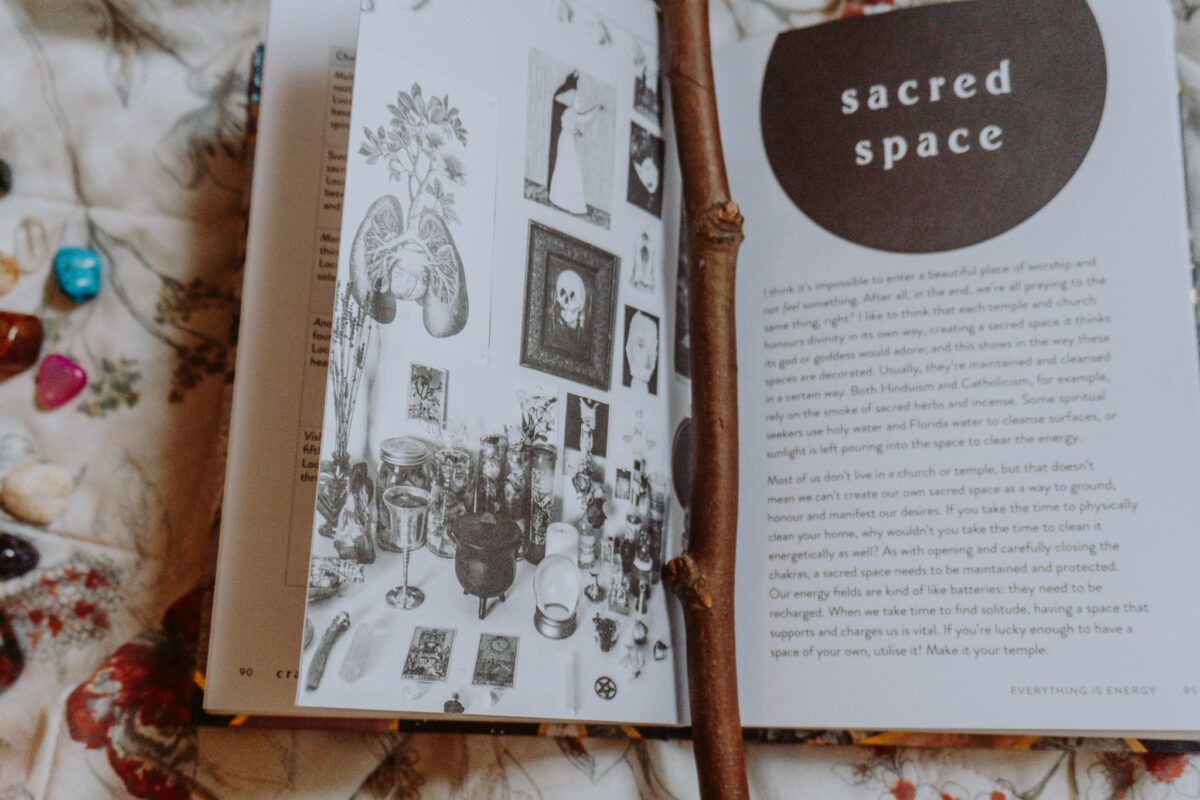 This guide is great for a beginner, and for people not completely sure if witchcraft is right for them.
It's all about finding power with self-care rituals, crystals, tarot, and also features sex magick. If you're a regular reader of Emily Underworld, you'll know that I'm a big believer in Self-Care!
I appreciate the rituals Gabriela provides for a modern-day lifestyle. It's a very accessible read. If you've been practicing witchcraft for a long time, this is still a great book to read.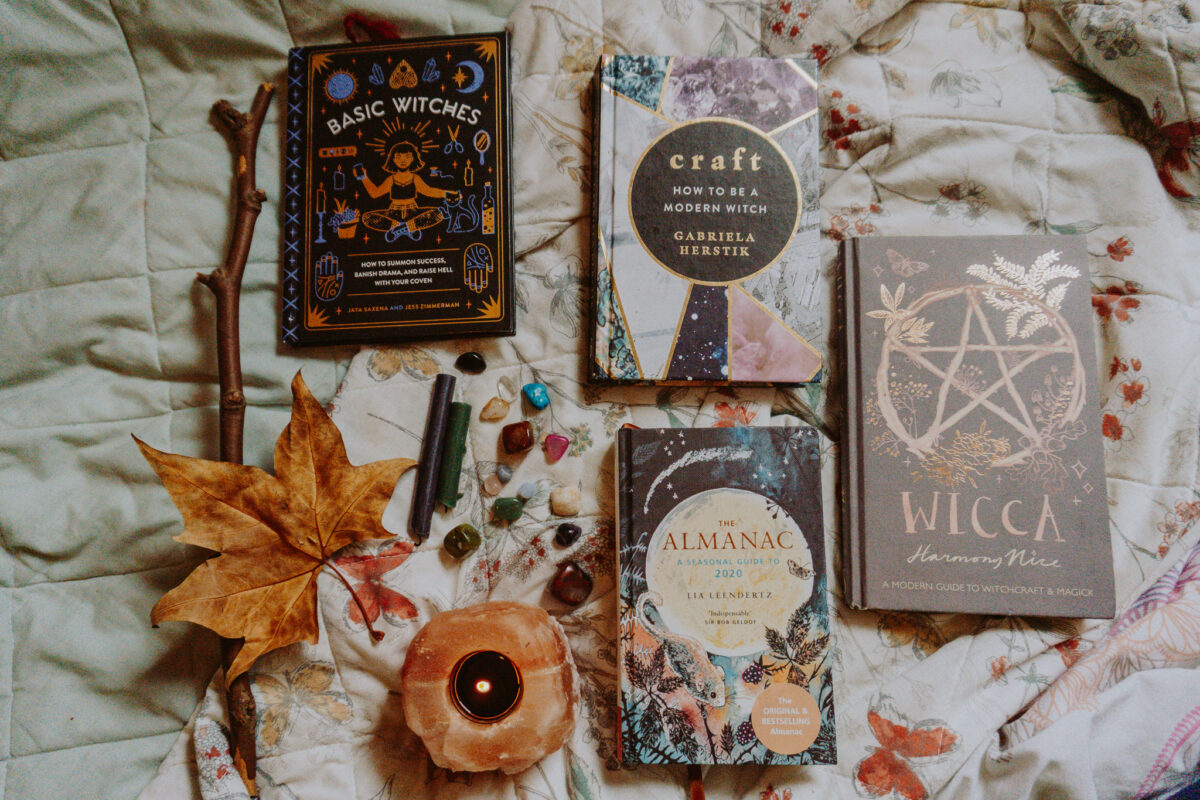 Wicca by Harmony Nice
If you're interested in the Wicca religion specifically and its practices, this one might be right for you.
There are valid criticisms to be made about this book, however. I am not a Wiccan myself, but I have learned about the issues and inaccuracies in Harmony Nice's book. I wrote more about this in my Witchcraft Books I Don't Recommend blog post.
Harmony encourages the "positive impact that ritual, meditation and embracing nature can have on your creativity, confidence and sense of self-worth". This is a message I definitely stand by.
However, Wicca is not a self-care practice. It's a religion.
If you want to become a Wiccan, I suggest reading literature from Wiccans who have practiced for a long time. Check Goodreads reviews before purchasing books. As a starting point, have a look at Traditional Wicca: A Seeker's Guide by Thorn Mooney.
I do recommend checking out Harmony's YouTube series called 'Enchanted Endeavours' though, she's lovely and I enjoy her channel. Harmony has also recently released a beautiful tarot deck.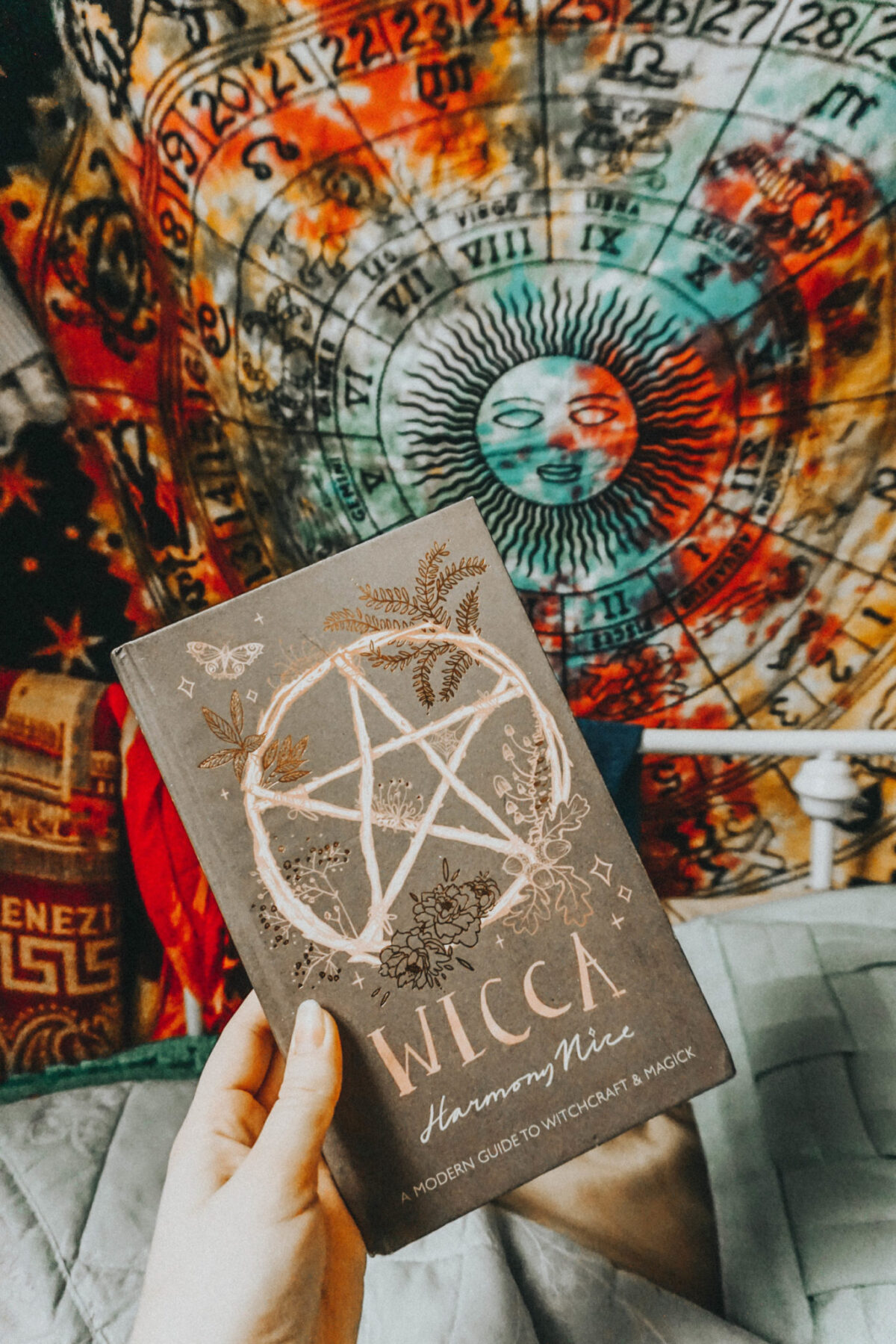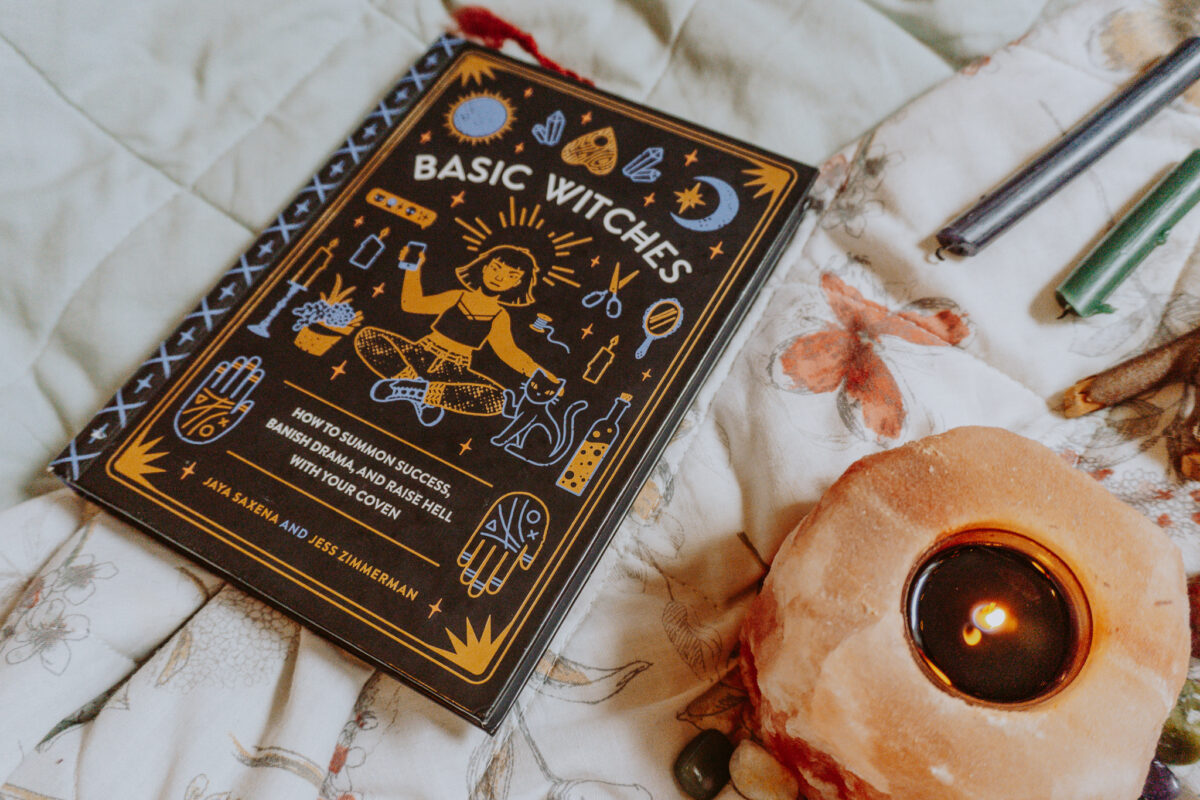 Basic Witches by Jaya Saxena and Jess Zimmerman
This one is definitely surface-level.
It's fun, and I don't think it's aimed at people who want to seriously practice witchcraft. It features rituals for modern-day life, like Social Media and Toxic Relationships.
I did enjoy the historical and pop culture references, as well as the aesthetically-pleasing illustrations.
If you want to truly understand the history and practices of witchcraft, this isn't for you.
To be completely honest, it was a cute gift from a friend, but I would recommend avoiding it.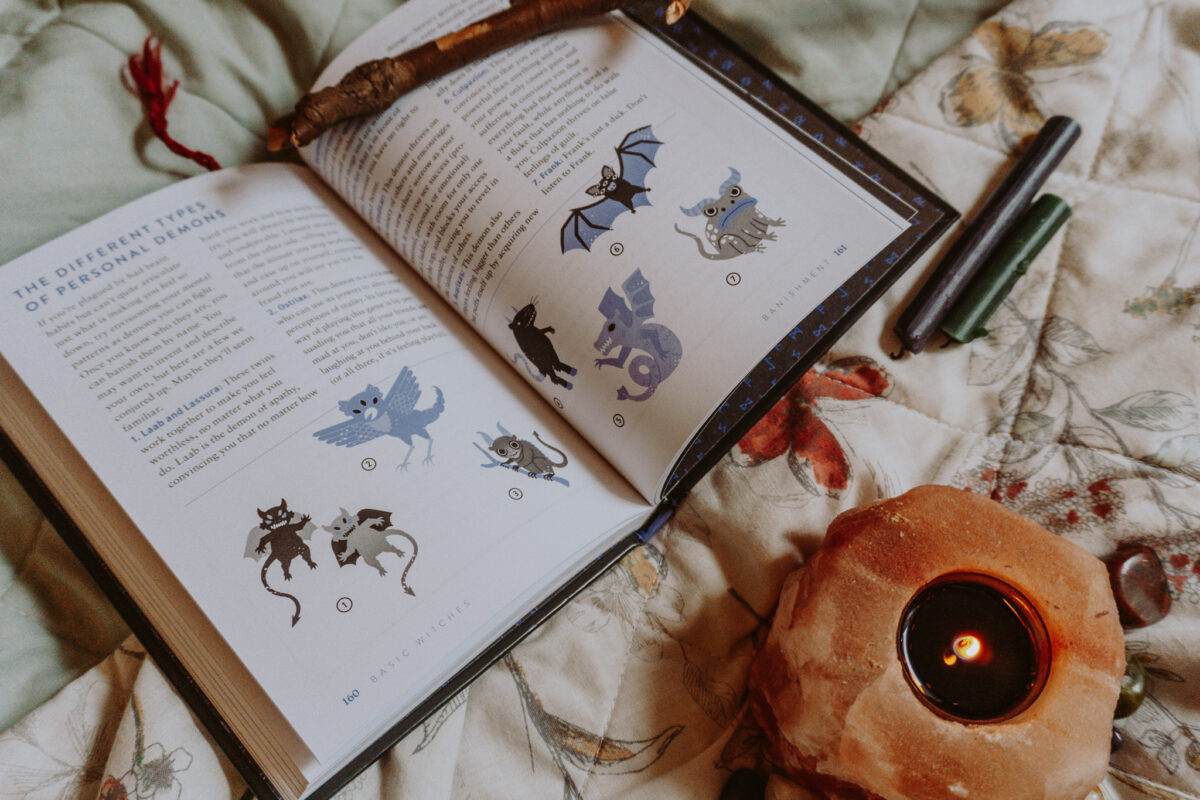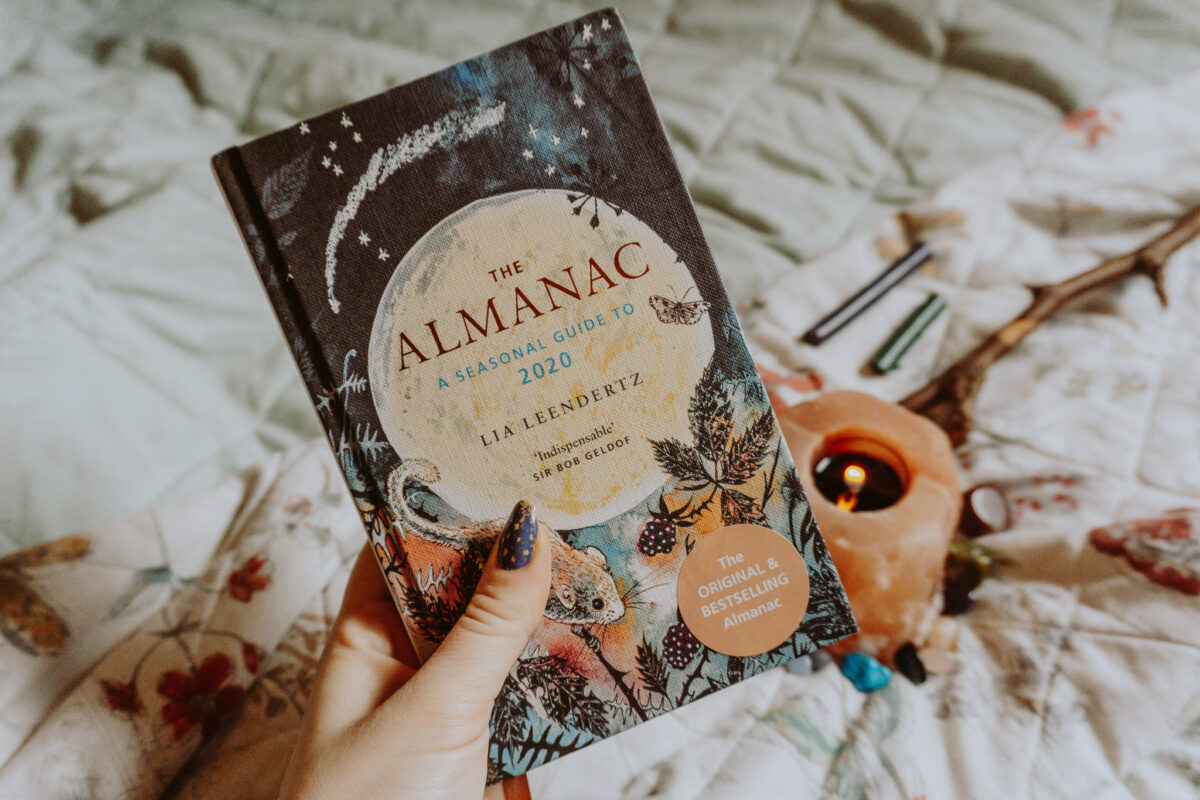 The Almanac
The yearly Almanacs by Liz Leendertz are so useful for my practice. They're full of information about the tides, the moon cycle and what plants are blooming during each month of the year.
This is particularly helpful for witches, as we focus on the changes and cycles in nature.
You could also check out Llewellyn's Spell-a-Day Almanac, or their Herbal Almanac if you want something specifically for witches!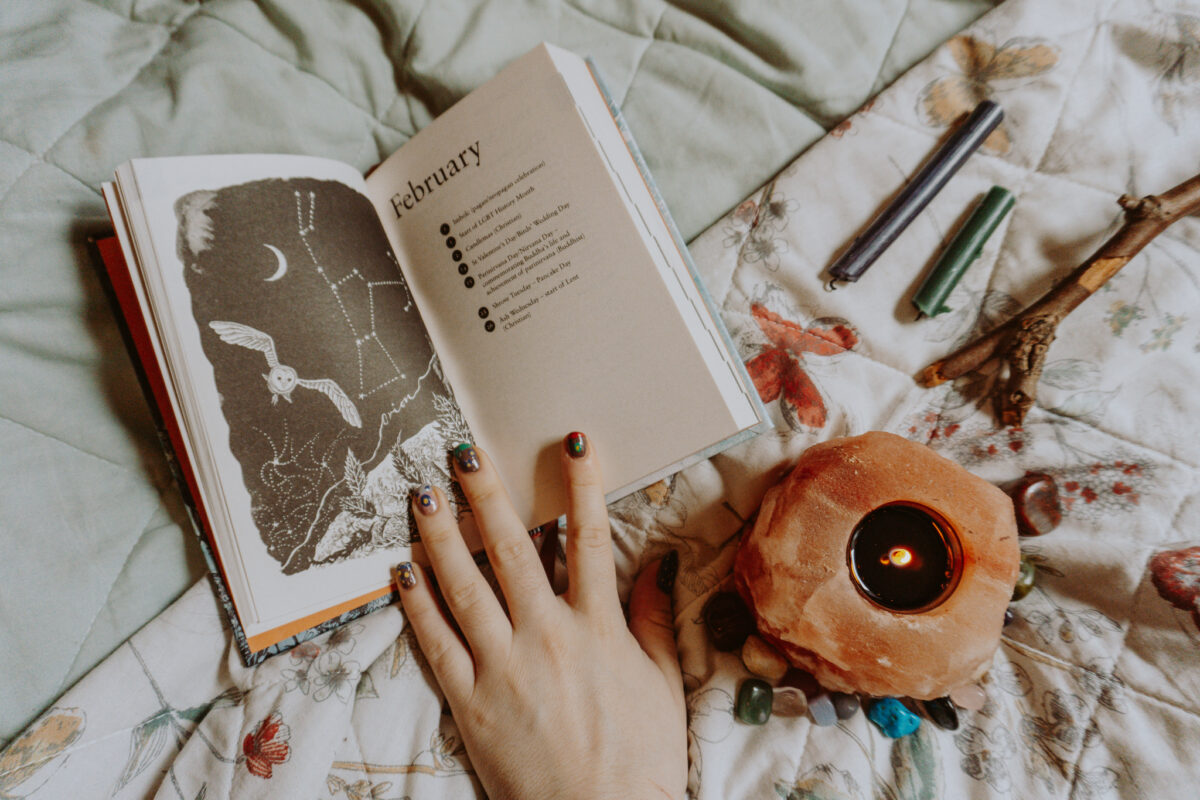 The Almanac: A Seasonal Guide to 2021.
This book provides a toolkit of practical information about nature. It features each month's nature events, including meteor showers, moon and tide tracking charts, and beehive behaviour. It's full of folklore stories and seasonal recipes too!
No wonder it's an Amazon #1 bestseller in astrology, garden flowers, and botany & plant sciences! It's beautifully illustrated, and for me, an indispensable resource.
Witchy Fiction
I love to read witchy fiction to feel inspired! In my 13 Books To Read in 2020 blog post, I featured a few witchcraft-themed books. Feel free to check that out, or add me on Goodreads.
At the moment, I'm reading The Witches of St Petersburg and A Secret History of Witches. I'll write a blog post featuring my favourite witchy fiction books at some point.
Obviously, these books are fantasy, but I enjoy them nonetheless!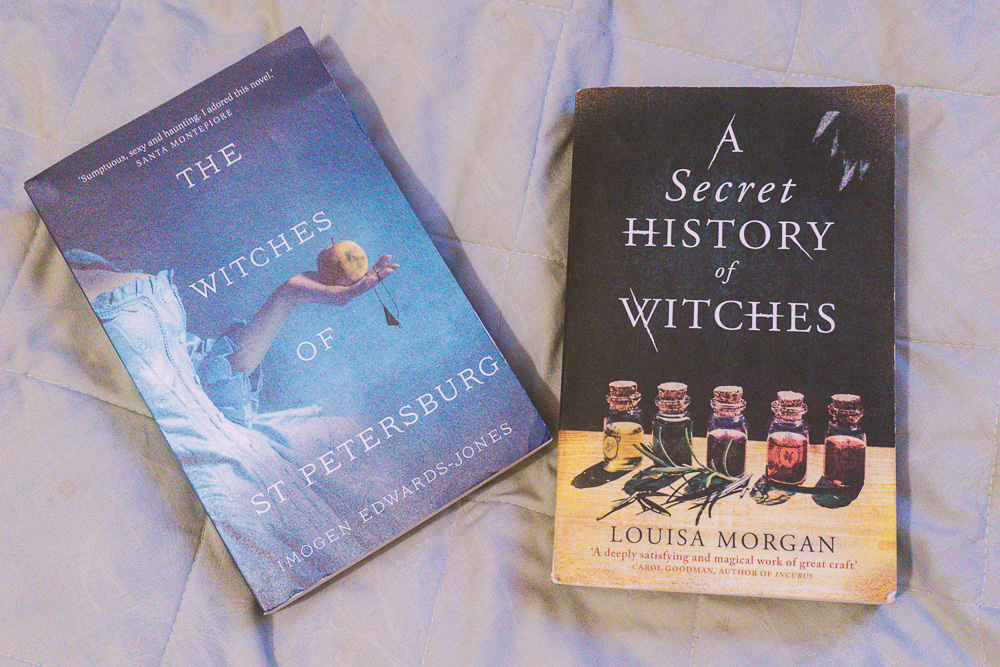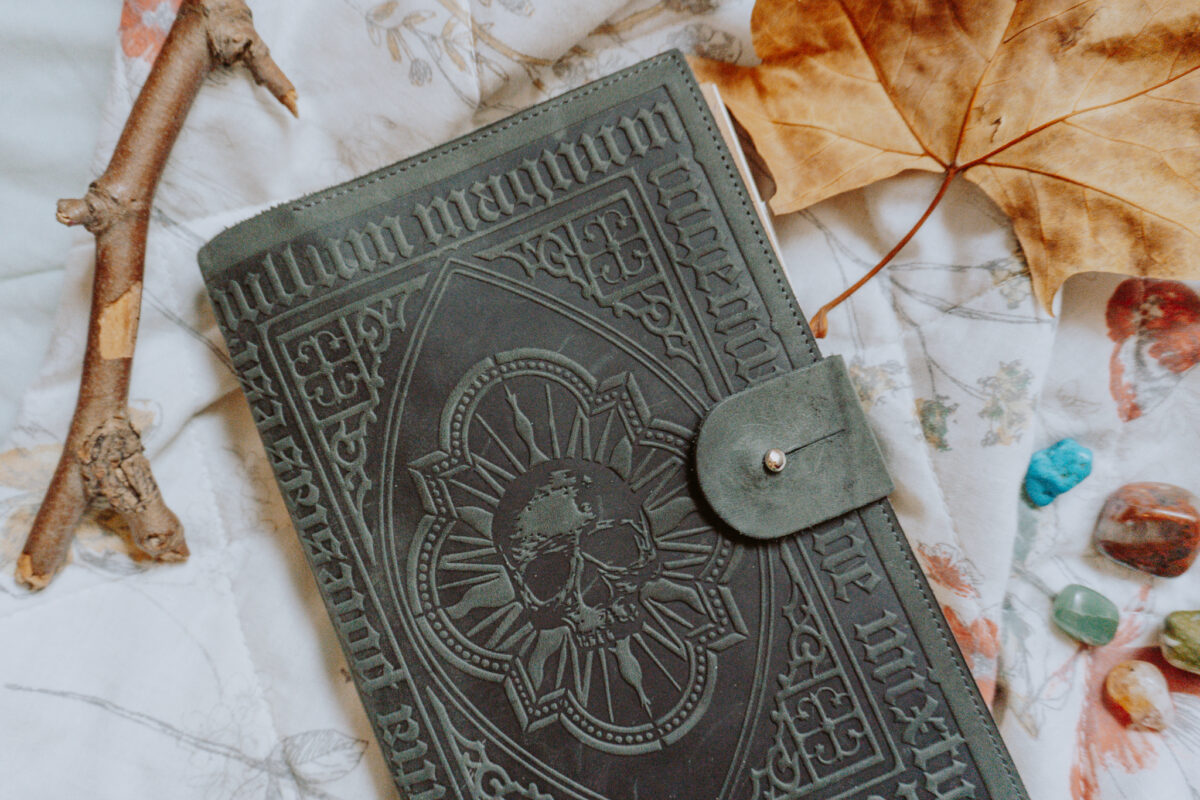 Supplies
A Book of Shadows
This is the number 1 thing I recommend for all witches. A Book of Shadows is your personal journal, spellbook, grimoire… whatever you'd like to call it.
I like to keep mine very creative, so I write personal diary entries, recording any Full Moon or New Moon rituals, as well as general witchcraft and astrology information.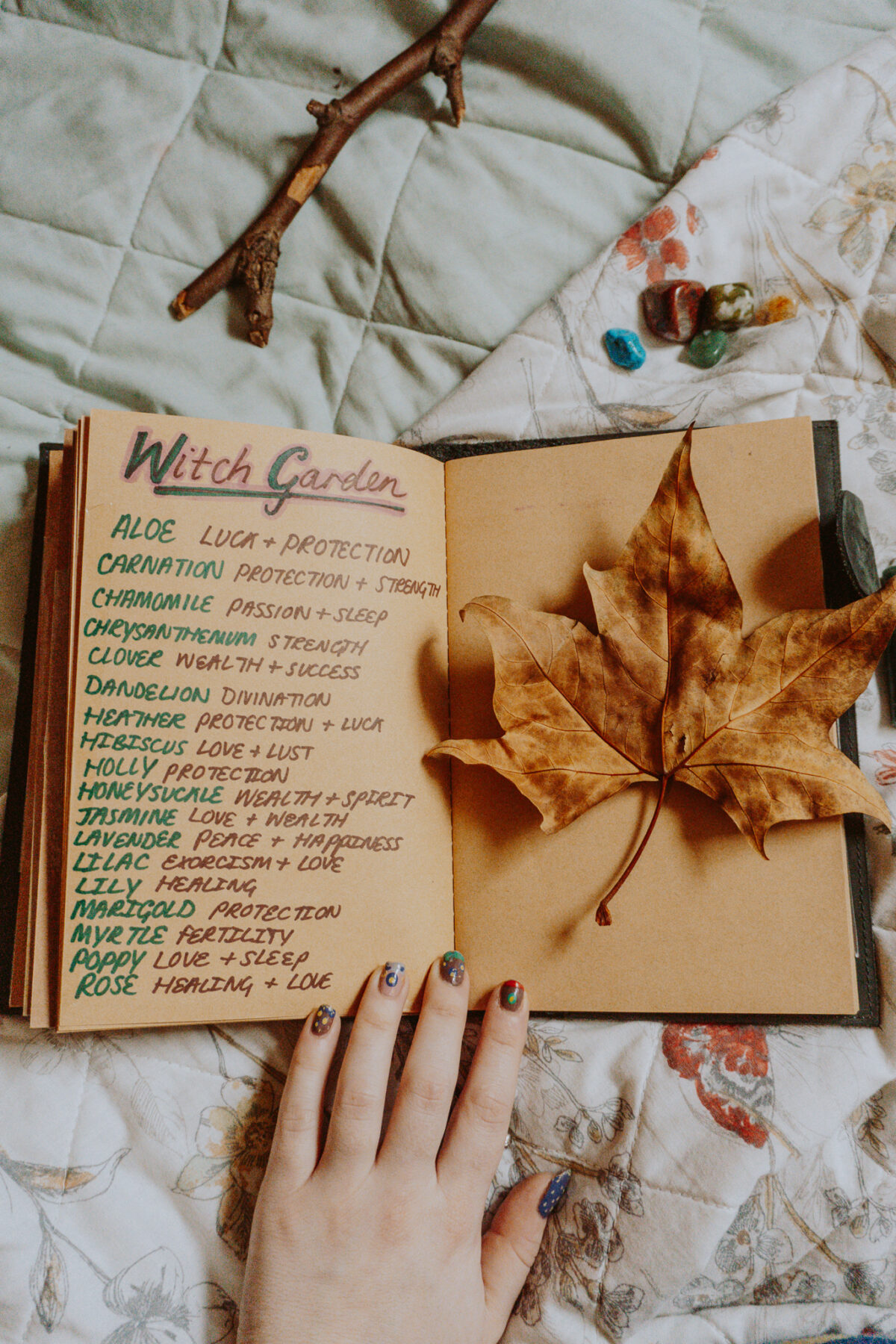 A list of things I keep in my Book of Shadows…
A Calendar of Pagan Holidays.
Crystal Healing Symbolism.
Personal Spells & Rituals.
Herbs and their uses (blog post here).
Affirmations (blog post here).
Astrology!
Tracking the moon phases, alongside personal meditations.
My book of shadows is from Gametee. They also have a Grimoire of Spells version. It's quite expensive, so I've linked a few cheaper options below.
Alternatively, you could make your own from any notebook. I prefer ones where I can remove the little notebooks inside and replace them. I use the pockets inside for storing any extra cards/rituals I have on separate paper.
Some witches use a digital book of shadows or grimoire. There's no 'correct' way! Find what works for you.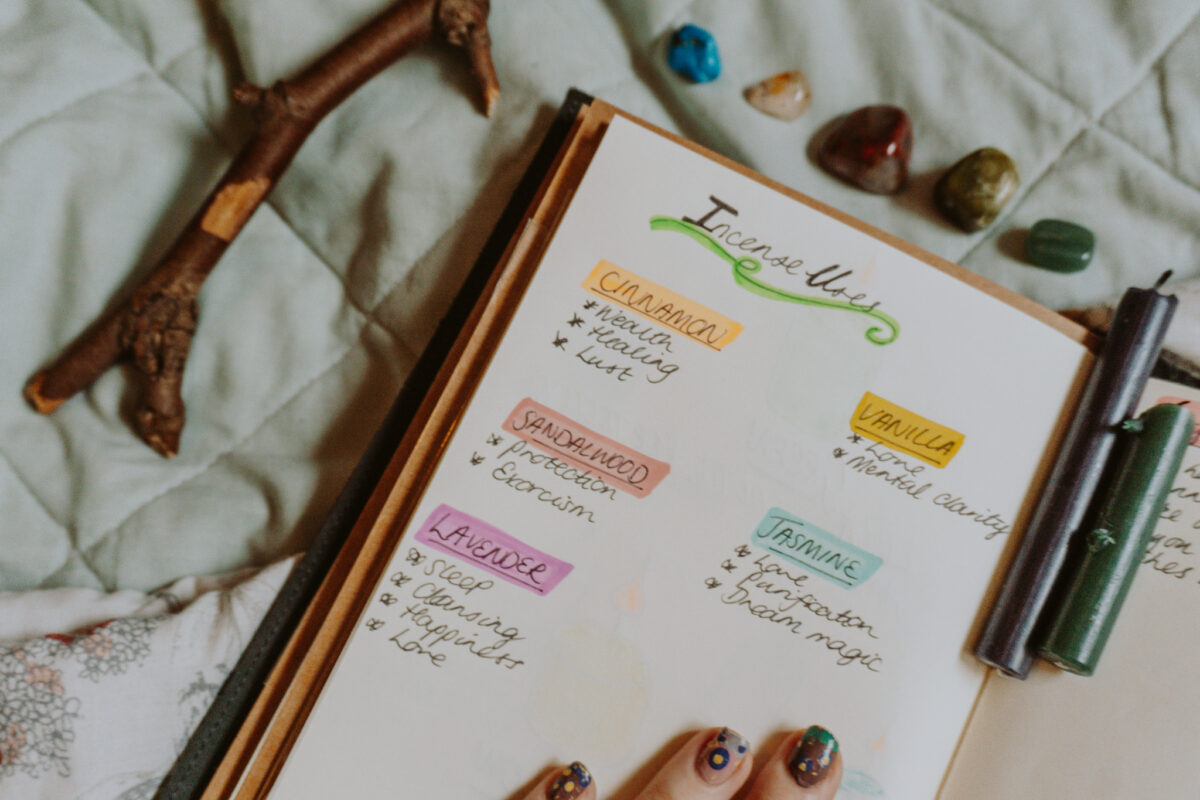 Nature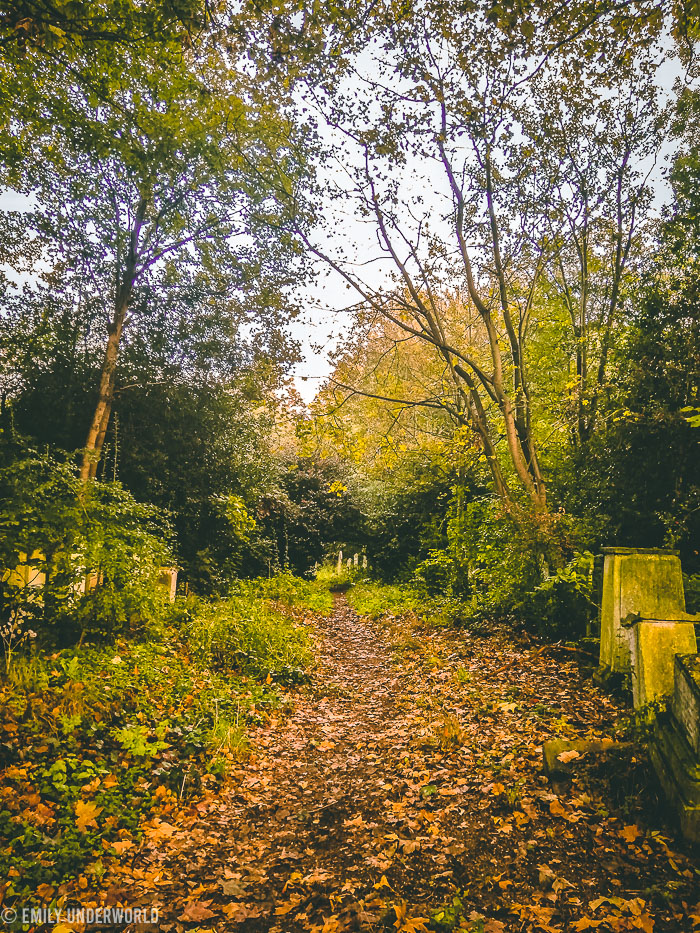 There's nothing like spending time in nature to fuel your witchcraft journey. The Earth is our greatest resource, and it's important to spend time, in solitude, appreciating her energy.
Environmentalism is important to many witches, including myself. Get yourself involved if possible, and go out to help clear up or plant trees!
Even if you live in a very urban area like I do (London, England), I'm sure you can still find pockets of glorious green space. I adore the parks here, they provide well-needed serenity, and the ability to be present.
Mindfulness, meditation and shadow work are very important parts of your spiritual journey. Prioritise them!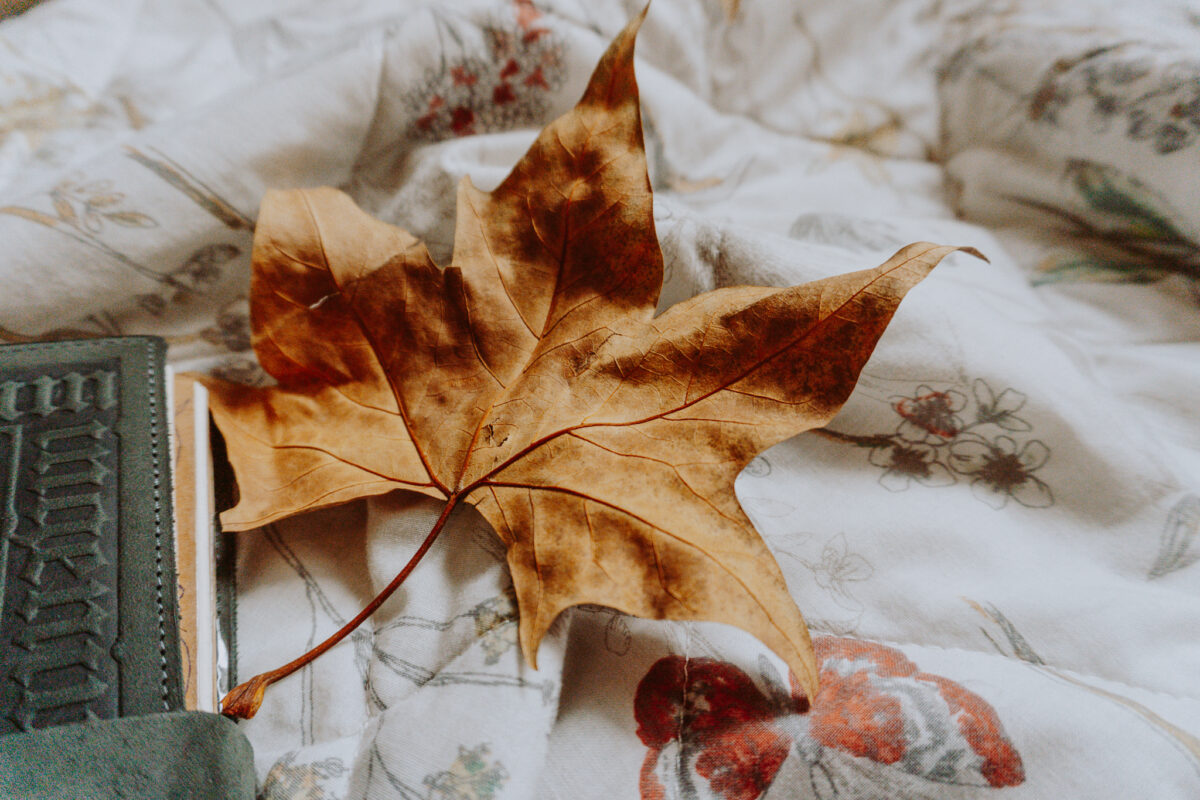 Witch Casket: A Witchy Subscription Box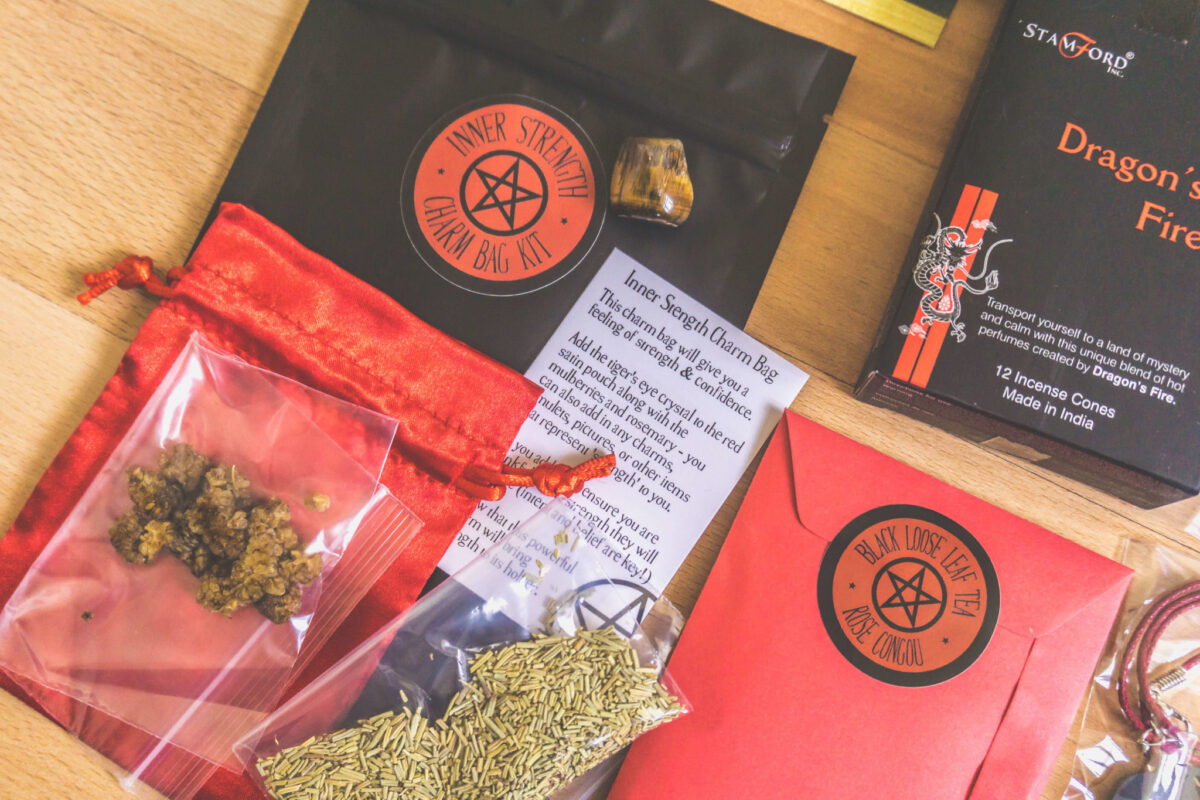 If you're just getting started with witchcraft, or need a little pick-me-up, I cannot recommend Witch Casket enough!
It's a UK monthly subscription box, filled with rituals, herbs, candles, incense and crystals, curated by some lovely witches. They also include fun little witchy lifestyle gifts like enamel pins, tote bags, and cups, which I always appreciate.
Each monthly box has a coherent theme, for example, love, the moon, or the one pictured here, fire.
You can also find many starter witch kits online or in metaphysical shops. Even Amazon stocks many witchcraft supplies! Oh, and don't forget that you can pick up herbs and candles from supermarkets too.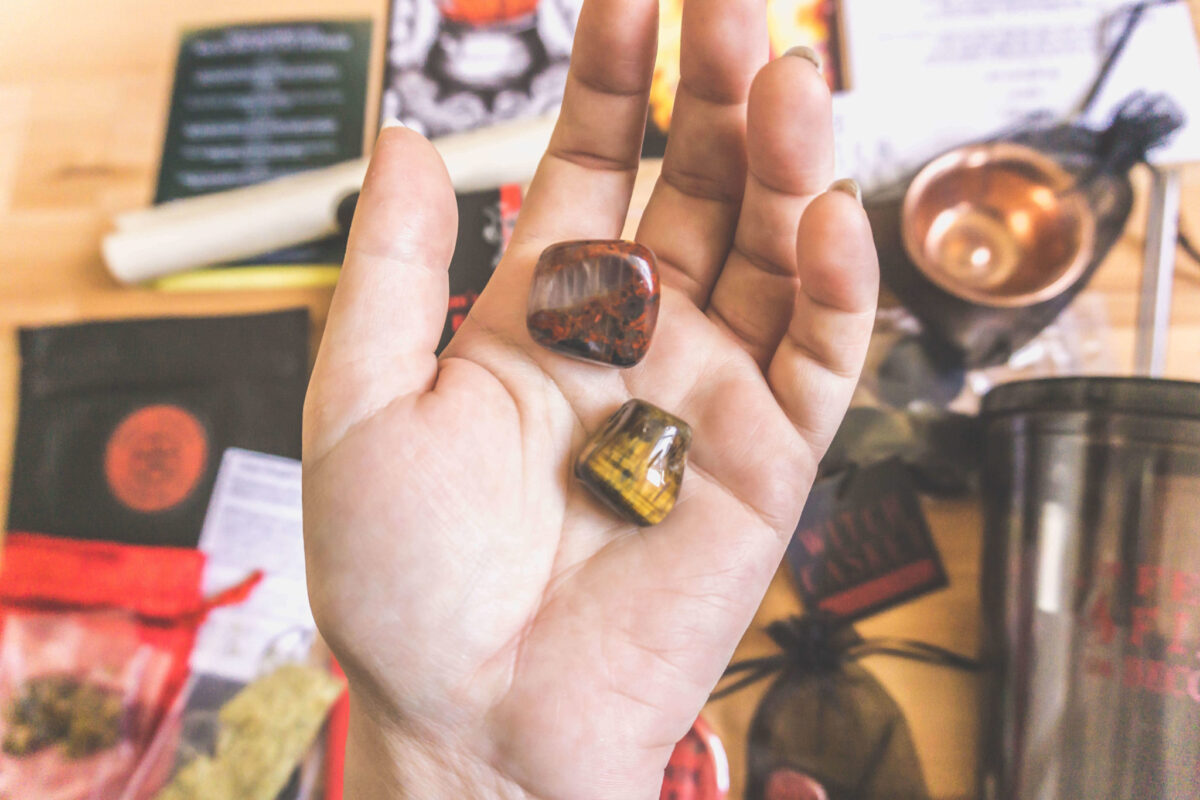 Read my full review of Witch Casket here.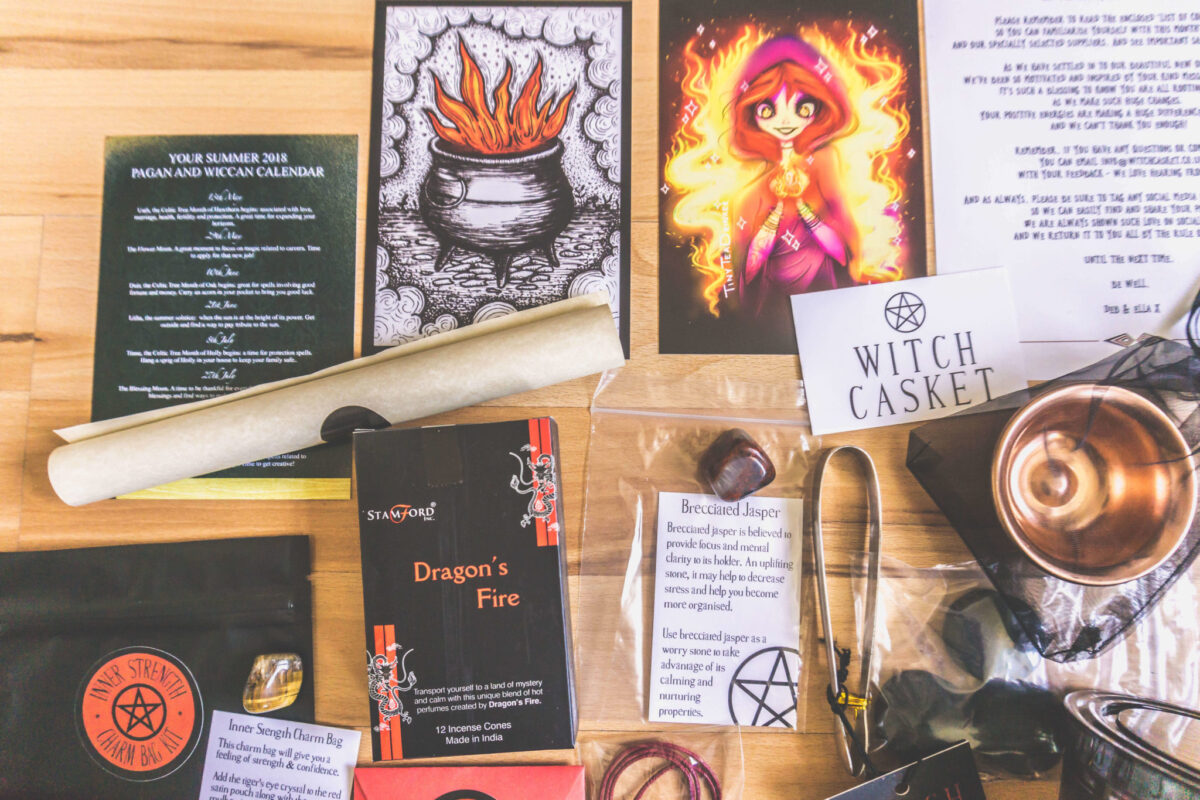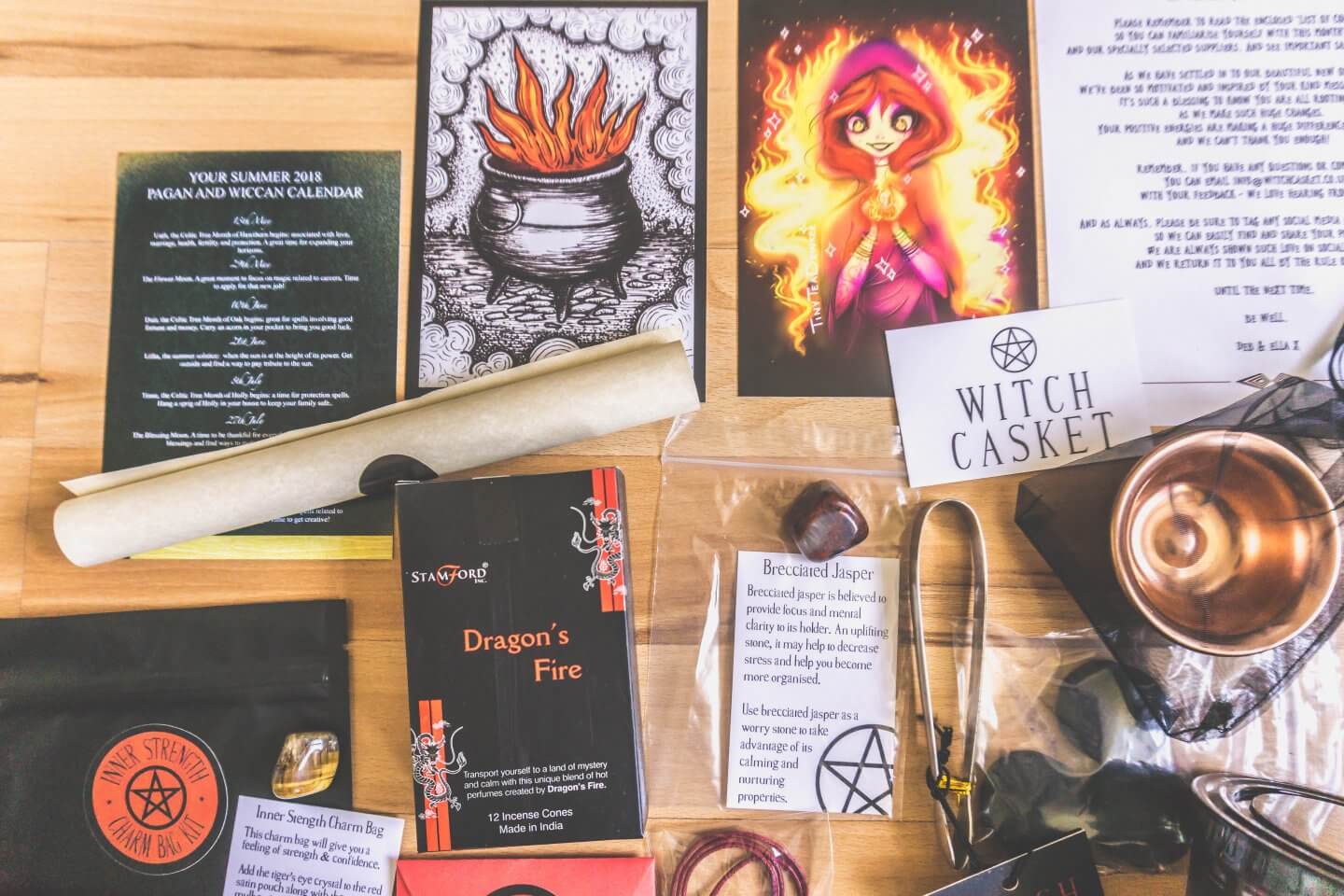 Witch Cake Candles
I've mentioned Holly's magickal candles on the blog before. They're powerful, made with crystals, and beautifully illustrated.
She makes candles inspired by goddesses from the Hellenistic pantheon, as well as unique, seasonal candles.
So far I have burned Holly's Aphrodite and Persephone candles. Artemis and Hecate are on my wishlist…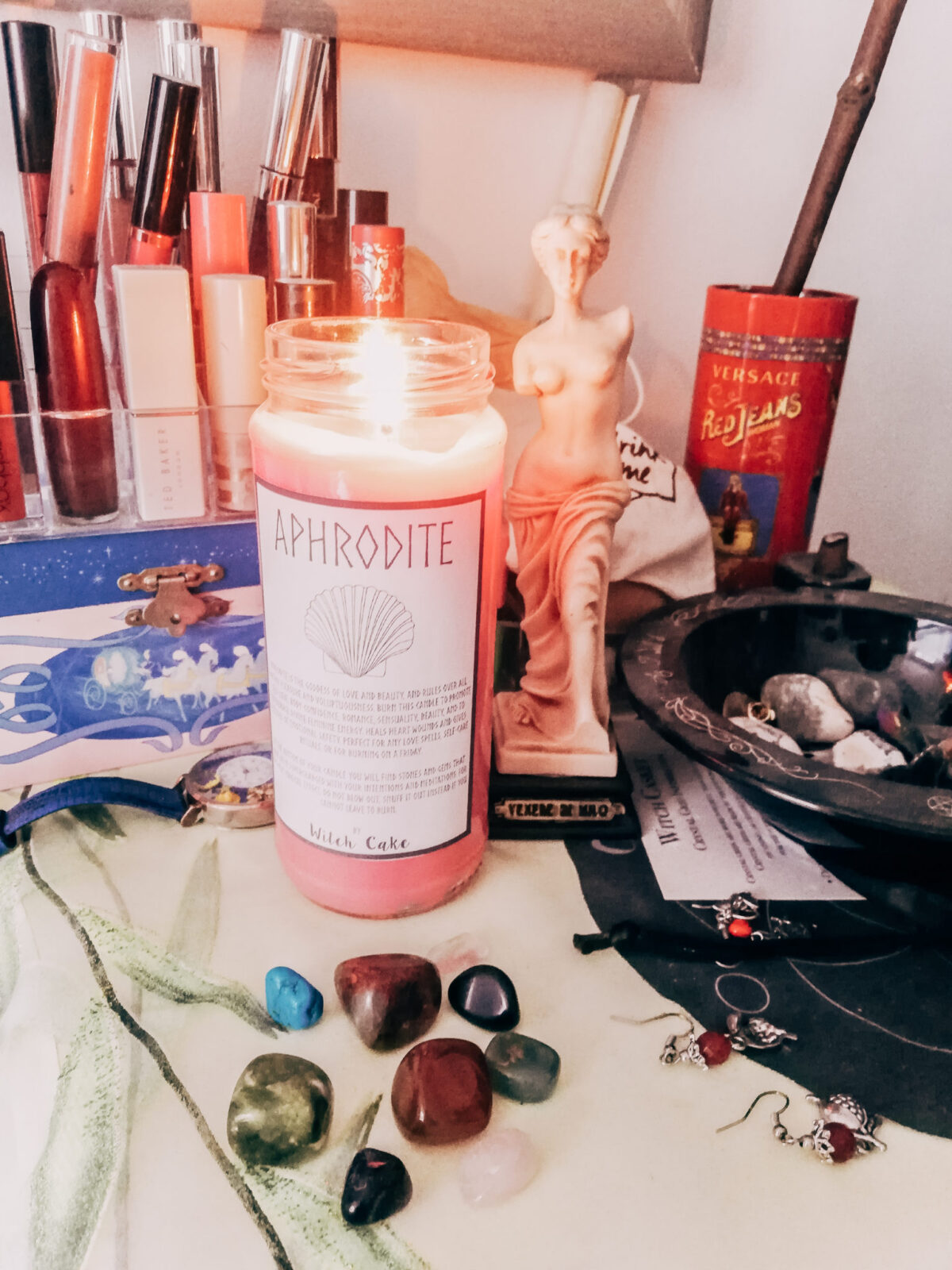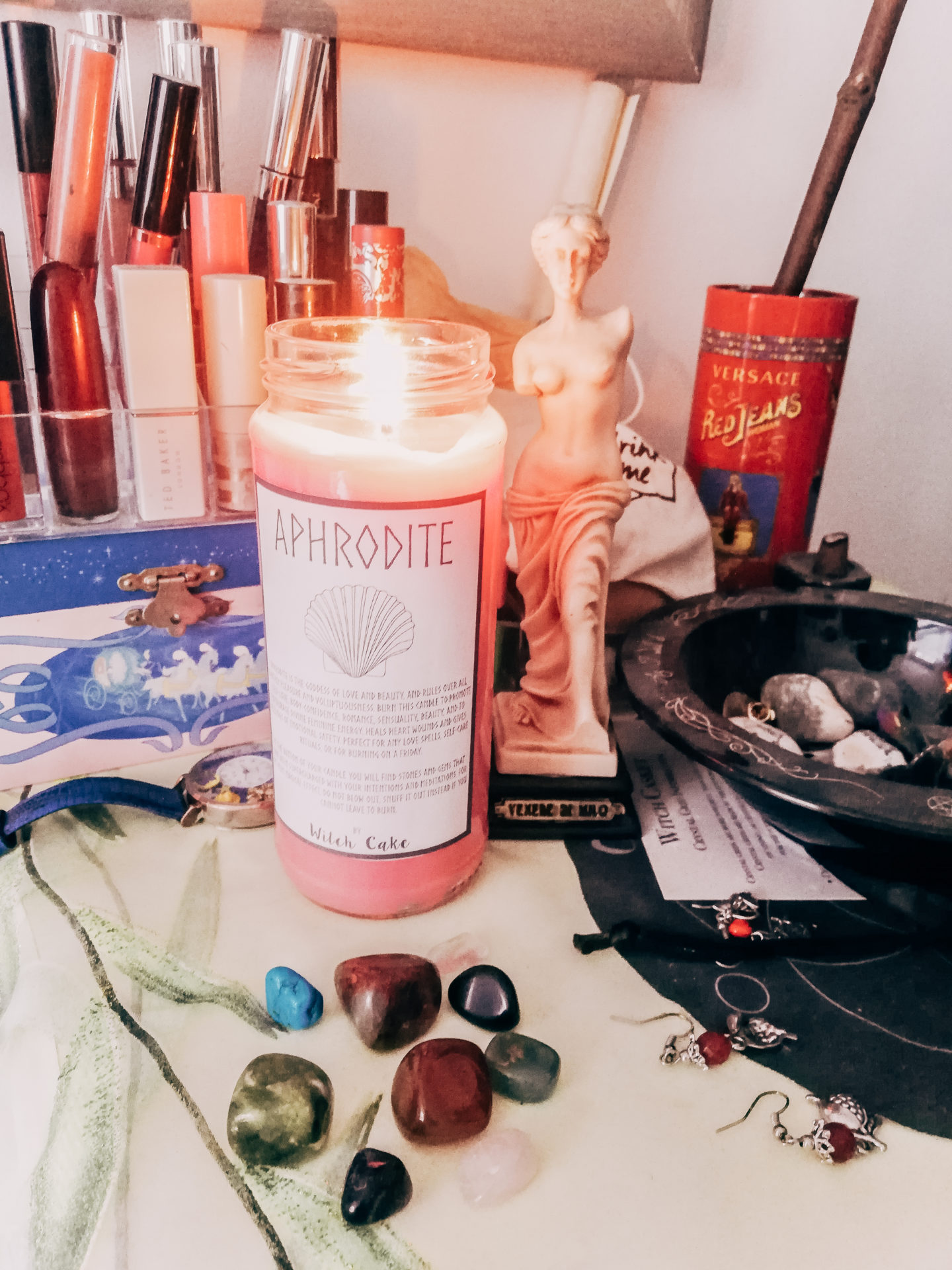 Learn your herbs!
Learn about herbs and/or essential oils for wellness and medicinal use. Pick up a copy of Cunningham's Encyclopedia of Magical Herbs, or learn from the internet. I've linked some of my favourite witchcraft blogs and websites below.
I use herbs and incense in my spellwork, as well as candle magick and moon-charged crystals.
Important: you do not need a huge collection of crystals or herbs to practice witchcraft. I don't have many crystals, and to be honest, I'm not planning on purchasing any more for the foreseeable future. They're not essential for your witchcraft practice at all. If you do use crystals, please make sure they are ethically sourced.
I'm also a firm believer in science and 'mainstream medicine'. You don't have to shun modern medicine to also use herbal remedies!
You Want To Be a Witch? More Resources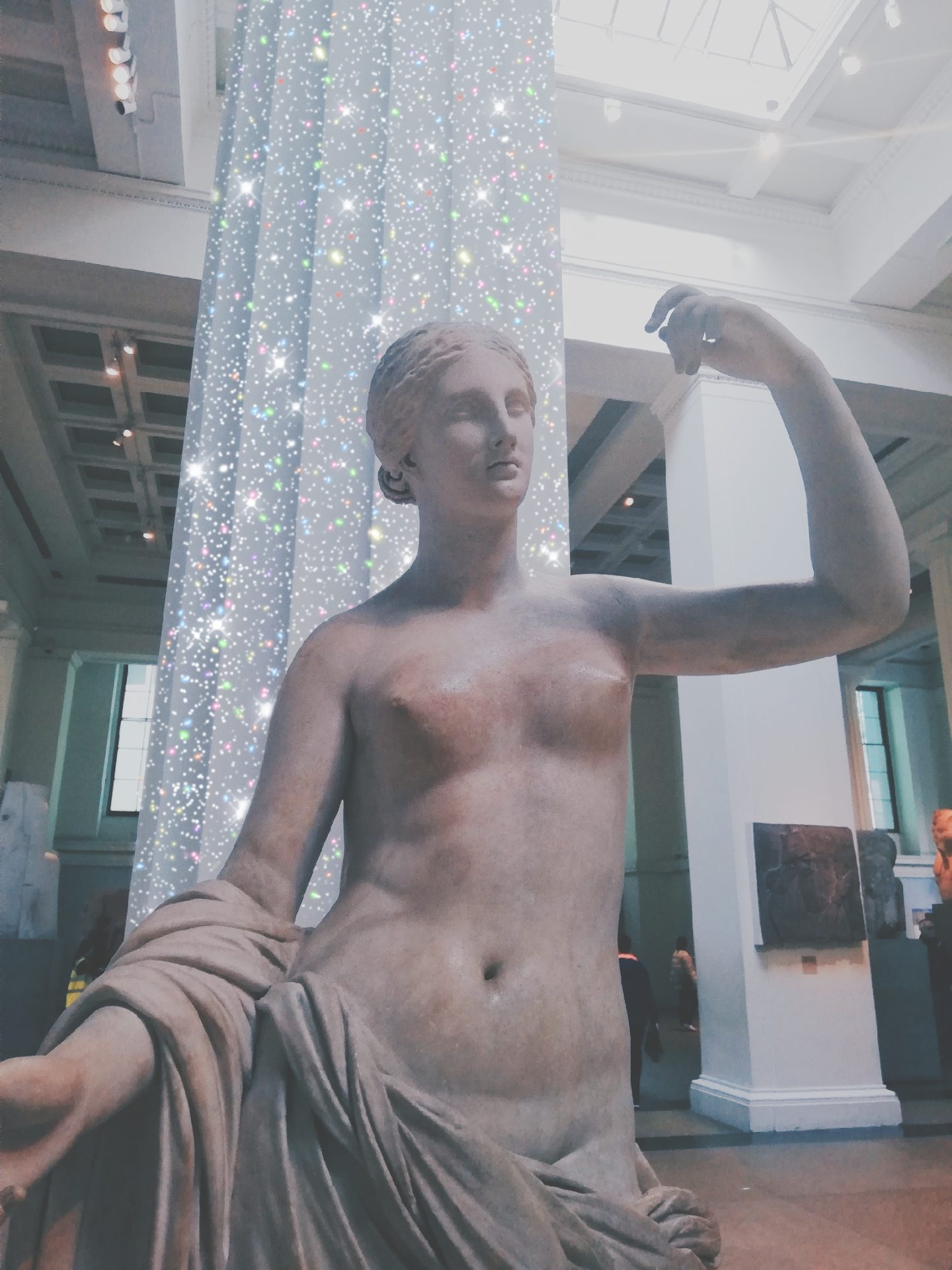 My Favourite Witchcraft Blogs & Websites

My Top 4 Witchcraft Apps
I'll write up a full blog post about these apps and my favourite features, but for now, here are my top 4 witchy apps.
I use these witchcraft apps to:
Track moon phases.
Learn and practice tarot.
Follow the Wicca calendar and keep track of upcoming Sabbats.
To follow my horoscope and astrology transits.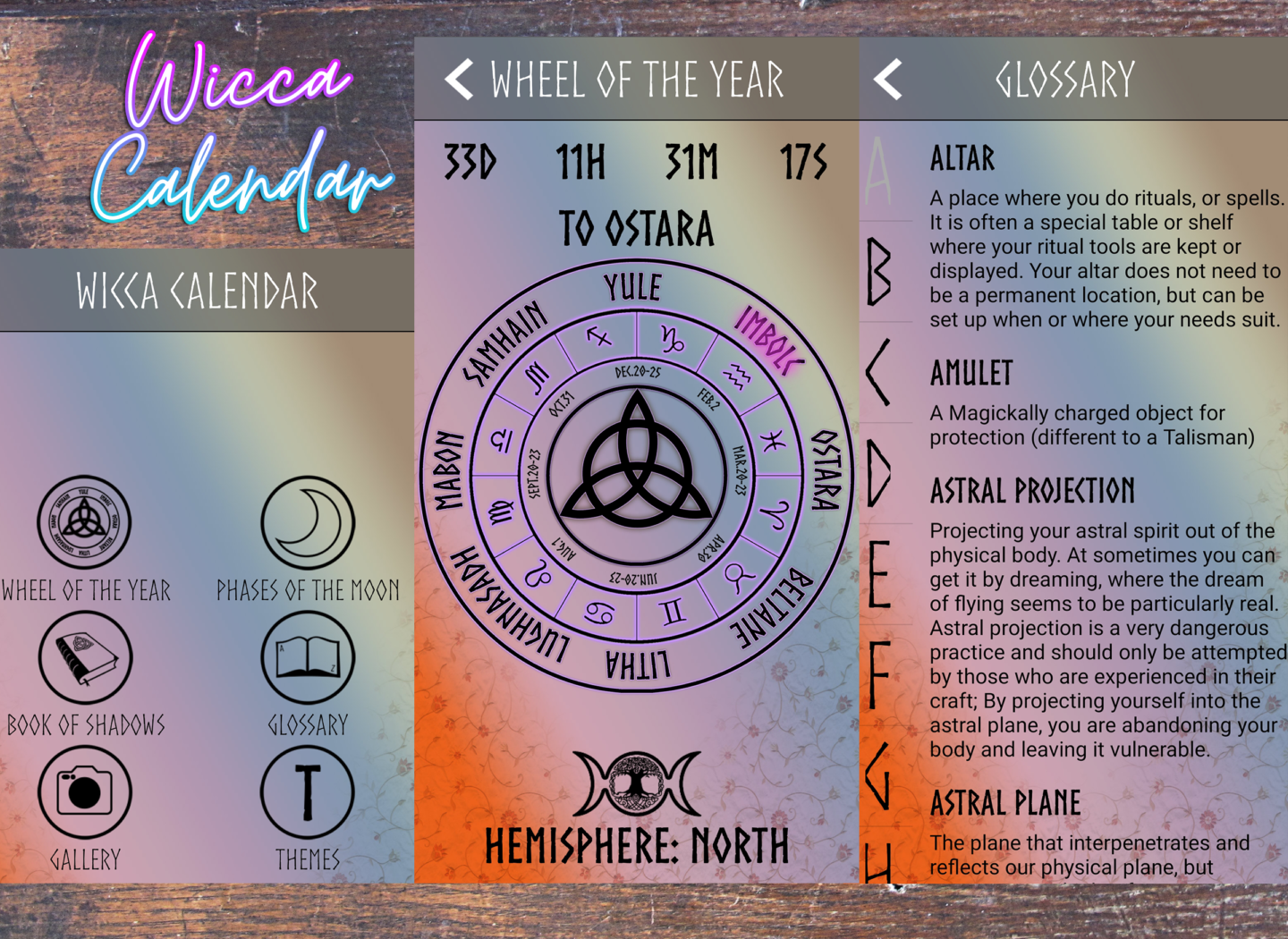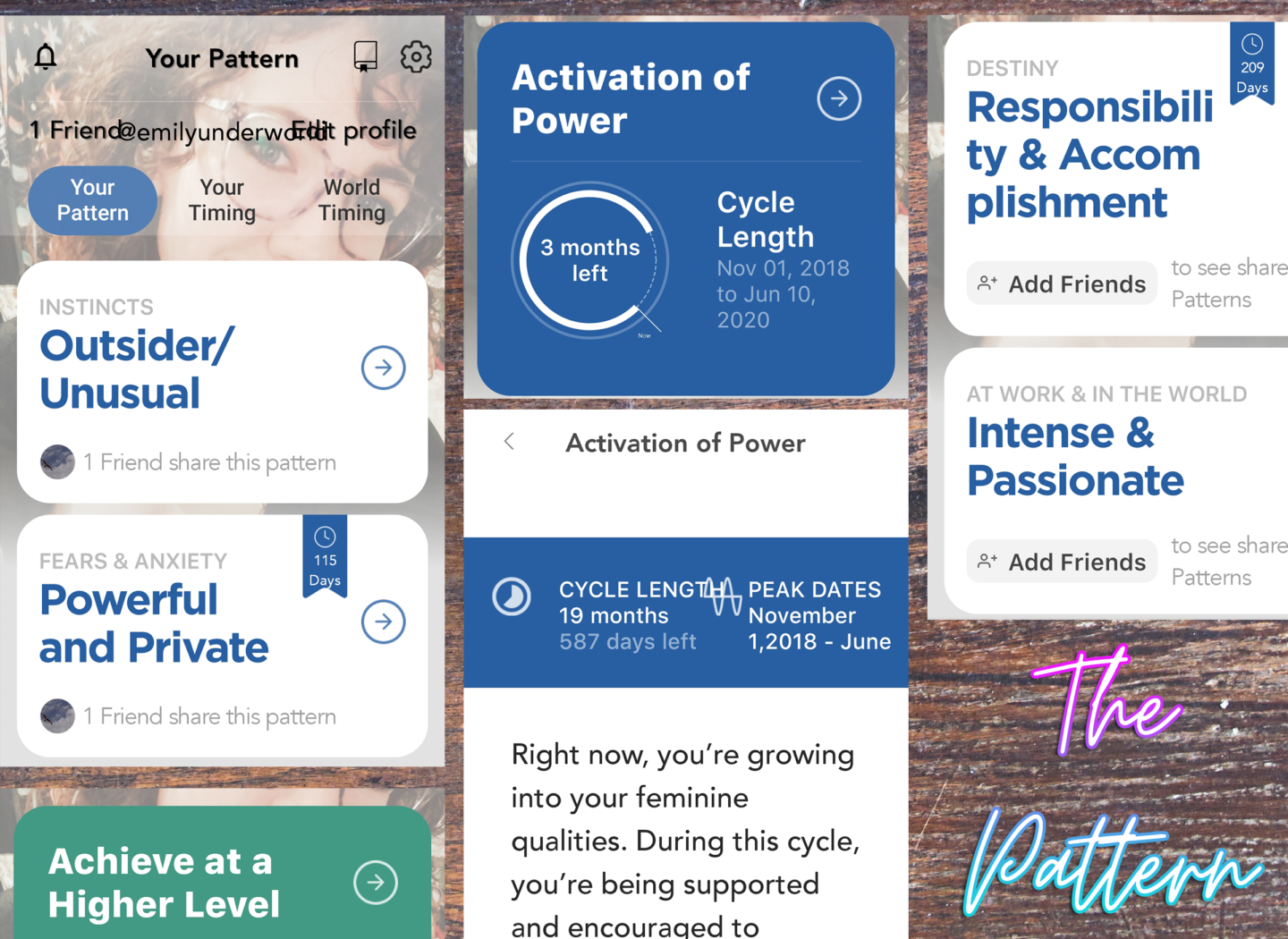 Social Media
You can find all kinds of resources online to help with your witchcraft journey.
Aside from the aforementioned blogs and websites, I enjoy witchcraft content on Pinterest, Tumblr, Instagram, and yes… even TikTok… occasionally. Make sure not to completely rely on this kind of content. A variety of sources and books is key.
Pinterest, in particular, has a lot of beautiful graphics explaining Moon Phases, Crystals, Rituals, Spells, Sabbats and Supplies.
Check out my Witchcraft Pinterest Board for my curated selection of Witchcraft Resources! Find my latest YouTube video below.
I hope this blog post has helped you if you're thinking of becoming a witch or need a bit of help in your witchcraft journey.
My Amazon Idea Lists
Printables + Digital Art for Witches on Etsy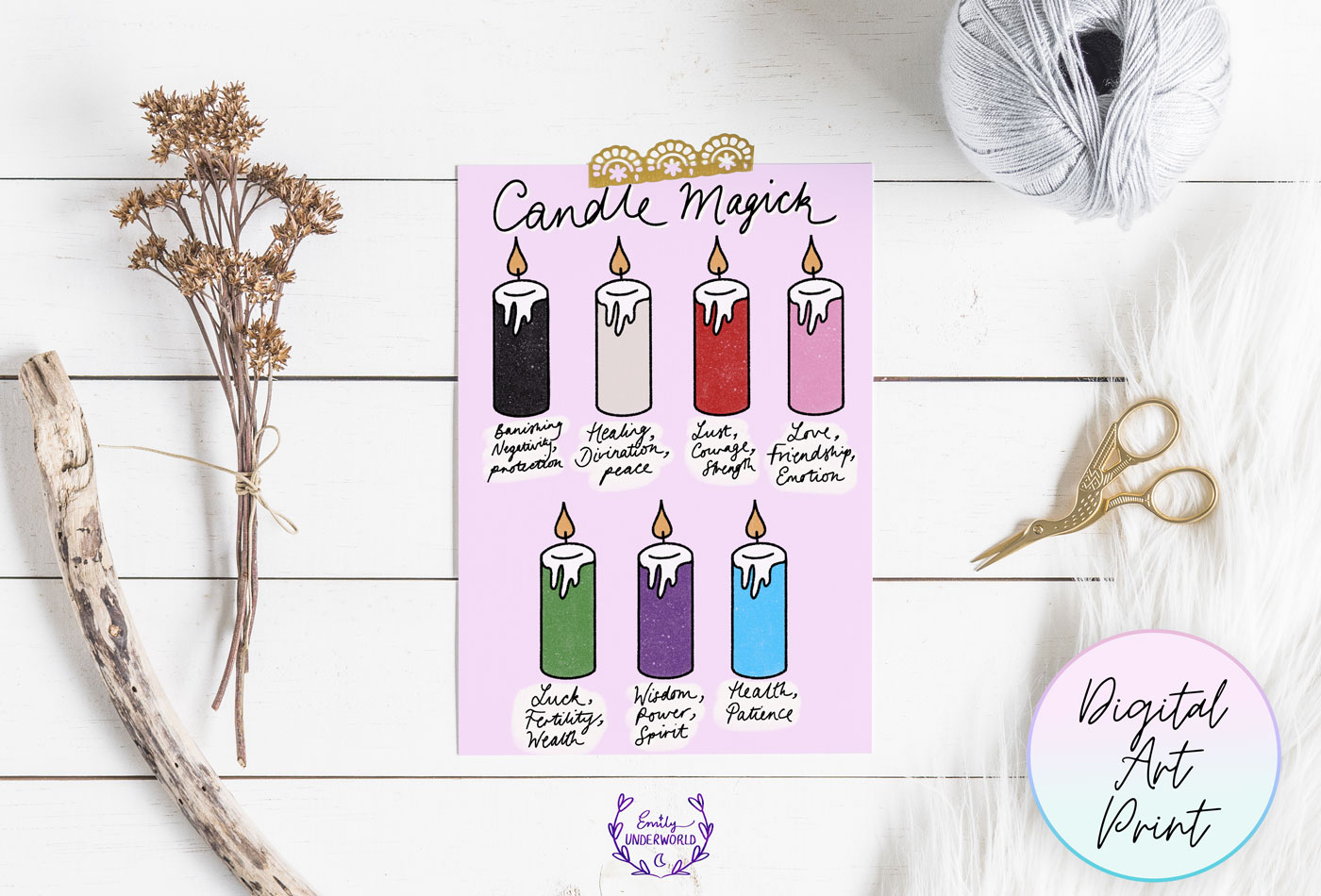 Visit my Etsy Shop for printable planners, digital art prints, and printable grimoire / book of shadows pages.
I'm planning on writing blog posts all about how I personally organise my witchcraft supplies, my altar, and inside my book of shadows. Let me know in the comments if you'd like to read any of these!
All the best,


Pin This For Later?